Education Through Lifelong Learning
New MSM Offered
Babson's new, innovative, nine-month Master of Science in Management in Entrepreneurial Leadership prepares students to take the next step in their career journey with a seamless combination of foundational business knowledge and entrepreneurial leadership skills.
Babson's unique methodology provides a way of learning that allows you to create opportunities in both your professional and personal life—and it starts with our youth. Our lifelong learning opportunities span from activities for preschoolers all the way to college classes for retirees.
Youth Entrepreneurial Leadership Programs
Babson's Bernon Center runs three programs for children in both the Needham and Wellesley Housing authorities, including:
Elementary / Afterschool program, concentrating on homework help and enrichment activities
Middle School / Experiential entrepreneurship program, teaching students how to start businesses, partner with nonprofits, and create, manage, and market products
High School / College access program, focusing on college preparation and admittance
Babson College recently received funding to bring these program to low-income housing developments in Needham and Framingham as well.
Lemonade Day
In partnership with Boston Mayor Thomas M. Menino, Babson brought the nationally recognized Lemonade Day program to Boston. The program teaches elementary and middle school students how to establish a business—a lemonade stand. The experiential learning program improves financial literacy and life skills. In 2013, more than 150,000 children in more than 36 cities around the country, including nearly 2,000 children from Boston, participated. Entrepreneur training begins in the spring, and Lemonade Day 2014 will be celebrated on Saturday, May 3.
High School Summer Study
Babson's Summer Study programs are an opportunity for high school students (29 countries were represented in 2013) to learn how to impact and reshape organizations, industries, and the world. Students gain hands-on experience in developing their ventures while learning about creating social, environmental, and economic value from Babson's top-ranked faculty in their course, the Babson Entrepreneurial Development Experience. Outside of the classroom, students engage with the greater Babson community in social, academic, and cultural programming. Throughout this five-week, residential program, students have the chance to earn college credit, and build their network of peers and business and community leaders. Students learn skills for any career they want to pursue, and add experience to help them stand out in their college applications.
Babson's Global Leadership Development Experience (GLDE)
The GLDE program allows college students to collaborate with student entrepreneurs, corporate and nonprofit executives, and renowned faculty. Students explore the United Nations Millennium Development Goals as a framework while working to create innovative, real-world solutions to social, economic, and environmental issues.
Network for Teaching Entrepreneurship (NFTE)
Since opening its doors in 1991, NFTE New England, located at Babson, has reached more than 13,000 young people from low-income communities with entrepreneurship education programs. Babson partners with NFTE to co-host events throughout the year, including the annual NFTE Youth Entrepreneurship Conference. Babson students serve as NFTE instructors, and Babson professors, research groups, and coalitions serve as NFTE thought partners. The College provides a full scholarship to an outstanding NFTE student each year.
Audit Babson Classes
Wellesley and Needham senior citizens may audit Babson's undergraduate classes on a space-available basis at no cost. During the 2012–2013 academic year, three Wellesley senior citizens audited six courses worth $30,107. Two Needham senior citizens took a total of two courses worth $10,472. Find courses and apply »
Babson's The Empty Space Theater gave a sneak preview of Avenue Q at North Hill.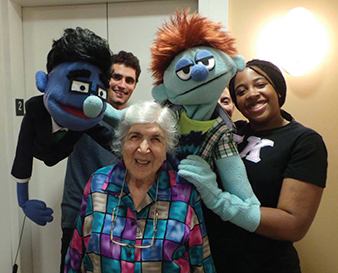 North Hill and Babson College Connection
North Hill and Babson College have a long-standing connection that spans three decades. A number of North Hill residents received degrees from Babson, and Babson faculty often serve as lecturers for North Hill's lifelong learning offerings. North Hill's True North Experience (a celebratory reopening) was supported by Babson College with guest speaker, and former Babson President Len Schlesinger, on September 9, 2013. Babson President Kerry Healey was welcomed by North Hill on August 26, 2013, and mutual board member Betsy Powell was featured in an advertisement in The Wall Street Journal.
Horn Library
Needham and Wellesley residents may use materials on open shelves at Babson's Horn Library, and may check out books for four weeks. Learn more about how you can use the Babson library »