Financing the Future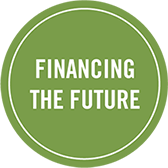 In this Uncommon Table series, hosted in collaboration with The Cutler Center for Investments and Finance, we will explore the crucial role of capital in driving social progress.
How will we finance our future? What new financing mechanisms are being created? What role do large corporations, NGOs, government agencies, community foundations, family offices, philanthropists and investors play? What's working? What's needed?
Investing in social progress and managing societal dilemmas is complex and takes time. It requires a new understanding, new forms of collaborative relationships, innovative financing schemes, and the moral and financial courage to put capital where the highest ROI is recalibrated and recalculated to accelerate economic and social progress.
Spring 2019
Wednesday, February 27
5–6:30 p.m.
Needham/Wellesley Room (Olin Hall)
Measuring Impact
with entrepreneur-in-residence Sara Minard
and professor Brigitte Muehlmann
in collaboration with The Cutler Center and CWEL
Our March and April events will be published soon.
Past Events
October 3
Family Offices & Social Impact
with Steve Shaya, J&B Medical Supply; Peter Braxton, Envoi; James Benedict, Kidd & Company
October 18
Policy & Finance for Good
with C. Sara L. Minard, PhD, Chief Program Officer at College for Social Innovation