Ajay Amalean
IFE Mentor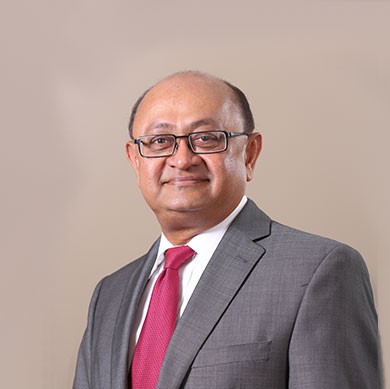 Ajay Amalean (P '12) is co-founder of MAS Holdings, the largest apparel and textile manufacturer in South Asia and internationally recognized for its ethical standards, sustainable working environment, and women empowerment
Ajay serves on the board of directors and is the Managing Director of MAS Brands, responsible for retail growth at MAS Holdings. Ajay was responsible for spearheading the product development and design function at MAS, which todays stands the largest design facility in Sri Lanka's apparel sector.
As a co-founder, Ajay, who is an engineer by profession, has served in several positions across the group covering marketing, operations, supply chain, HR, product development and design over his 30-year career.
His passion, however, is working with people at all levels, and he is considered the heart of the organization.
About MAS Holdings
Headquartered in Sri Lanka with 53 manufacturing facilities placed across 16 countries and over 99,000 people involved in its operation, MAS Holdings manages a portfolio of businesses with a revenue of $2 billion – and is the largest apparel and textile manufacturer in South Asia.
Being an active, caring and contributing member of society has been inculcated in the MAS culture since its inception. MAS empowers all those in their ecosystem to thrive with dignity, maximizing the well-being, health and consciousness of all its stakeholders – including employees, their families, and the community – through continuous engagement and collaboration. MAS believes in being as inclusive as possible and has an aspirational goal for 2025 to be a non-discriminatory employer in terms of age and impairment across the company, with a 1:1 gender ratio in management positions.
In 2016, the company integrated environmental sustainability into the core of its business through the key pillar of sustainable manufacturing called "Products Made Better," which changes how the company manufactures and applies its environmental commitments in its manufacturing processes.
MAS is globally recognized for its ethical standards and sustainable working environment.
More about Ajay Amalean
You can also find Ajay Amalean's profile on LinkedIn.