Impact Unplugged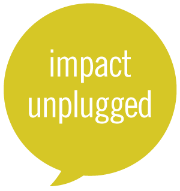 Join us for this Uncommon Table series on service, sustainability, and social innovation.
Sustainable, positive social impact can occur through a wide spectrum of activities. Individuals must first decide what problem they want to solve, and then determine how they can best influence the greatest change. How can you bring an entrepreneurial mindset and social design thinking to more effectively address the UN Global Goals, like poverty, climate action, and inequality?
Impact Unplugged provides a space to share insights that lead to action. This spring, the conversations are organized and moderated by students engaged with Babson's Service & Justice Programs: Spencer Stewart, Daniel Deng, and Madeline Lambert-Hoffstot. They occur on alternating Mondays and Fridays.
As with all of our Uncommon Table conversations, come when you can, stay as long as you'd like.
All are welcome.


Spring 2021 Schedule
Previous Impact Unplugged Sessions
Spring 2021:
April 16: The Future of Agriculture: Agritech and Forseen Crop Crisis
April 5: Sustainability in Startups with Ravish Majithia MBA'18, Founder & CEO of Magnomer and Sumeit Aggarwal MBA'05, Co-founder and Managing Partner of Finhive.
March 26: Innovations in Urban Design with Naksha Satish, an urban designer and urban practitioner studying at the Harvard Graduate School of Design
March 15: Investing in Sustainabilitywith Steve Distante, Chairman and Founder of Vanderbilt Financial Group and Founder of Impact U.film
March 5: The American Healthcare System Under COVID, How has the pandemic deepened America's healthcare system crisis and highlighted existing inequalities?
February 22: Politics and Sustainability with Maria Gunnoe, Executive Director of Mother Jones Community Foundation, Environmentalist and Winner of the Goldman Environmental Prize
February 12: Innovative Breakthroughs in Housing, How are entrepreneurs using innovation to solve housing challenges?
February 1: Inequalities in Education, How does educational inequality affect the future of communities?
Fall 2020:
November 20: Understanding the Global Goals with Cheryl Kiser and Emily Weiner, The Institute for Social Innovation
November 13: Adapting to Climate Change

with Camille Manning-Broome, president and CEO of the

Center for Planning Excellence

(CPEX)



November 6: B Corps

with Ty Thiele MBA'17, CEO and Founder of

Andorra

October 30: Circular Economy

with Ravish Majithia MBA'18, CEO and founder of

Magnomer

October 23:

Inclusive Prosperity

with

Elmer Moore

, executive director of

Scale Up Milwaukee

and founder of Milwaukee Denim

October 16: Demystifying the Social Sector

with

Rick Yngve

, The Institute for Social Innovation Senior Fellow in Social Innovation

October 9: Qualities of a Changemaker with Daquan Oliver'14, CEO and founder of WeThrive
October 2: Careers with Impact, with Dave Stangis, Entrepreneur-in-Residence and Jessica Student, CMO of Net Impact
September 25: Cities Reimagined, with Alex Johnston, founder of Cities Reimagined
September 18: Creating a Movement, with Mike "Ambassador" Bruny, a Babson employee, alumnus, and founder of No More Reasonable Doubt
September 11: The Art of Reflection, with Professor Kerry Gibson, an expert in workplace relationships and relational identity
September 4: What is Social Impact?, How can you use the framework of the UN Global Goals to take action and create social impact right now?
Spring 2020:
June 24: Questioning Justice, with Cheryl Kiser, The Institute for Social Innovation
June 17: A Conversation on Unapologetic Leadership in Times of Social Crisis, with Karen Proctor, The Institute for Social Innovation Senior Fellow in Social Innovation
June 10: The Language of Change, with Deborah Leipziger, The Institute for Social Innovation Senior Fellow in Social Innovation
June 3: Investing in the Global Goals, with Alison Smith, Managing Director of Cornerstone Capital Group
May 27: The Individual Donor's Edge, with Katie Smith Milway, Principal of Milway Consulting and The Institute for Social Innovation Senior Fellow in Social Innovation
May 20: Quantifying Purpose, with Professor Brigitte Muehlmann and Chris Lloyd, The Institute for Social Innovation Senior Fellow in Social Innovation
May 13: Giving Voice to Values, with Mary Gentile, The Institute for Social Innovation Senior Fellow in Social Innovation
April 29: Leading Nonprofits During Crisis, with Pam Martin, The Institute for Social Innovation Senior Fellow in Social Innovation
April 22: Amplified Crisis, with Karen Proctor, The Institute for Social Innovation Senior Fellow in Social Innovation
April 15: Regenerative & Resilient, with Carol Sanford, The Institute for Social Innovation Senior Fellow in Social Innovation
April 8: 10 SDGs, 10 Years, with Zaid Hassan, The Institute for Social Innovation Senior Fellow in Social Innovation
April 1: Mobilizing with Empathy, with Erin Thornton and Mary Galeti, The Institute for Social Innovation Senior Fellows in Social Innovation