Leonard Green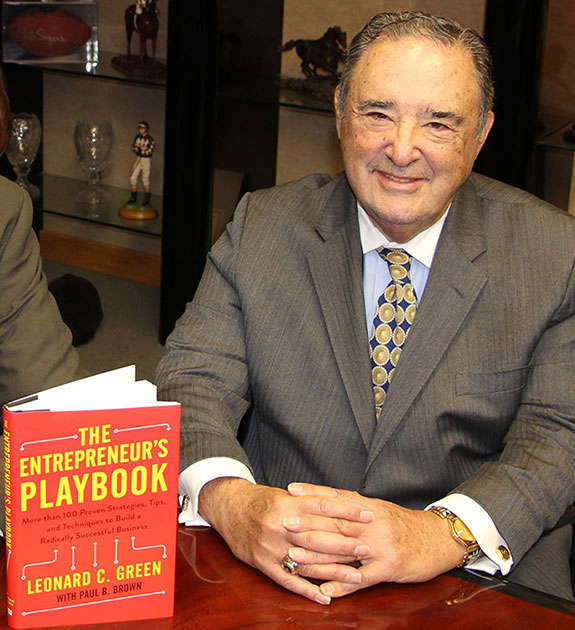 Leonard Green is a CPA, MBA, and entrepreneur-chairman and founder of The Green Group, a tax and financial services consulting firm.
Green has been an owner, advisor, and investor in more than a dozen businesses, including The Green Group, a commercial real estate firm, a thoroughbred racing stable, a publicly traded pet food brand, and a beverage company.
His business accomplishments have "led to my most meaningful position, as a Babson College professor, where I was able to teach over 1,500 students, acquainting them with over 75 entrepreneurs," Green said. "Over the years, I have been amazed by the students' intellect, creativity, and drive—they have taught me numerous life lessons.
He also feels strongly that "now is the time to reciprocate by financially supporting scholarships, internships, athletes, challenges, eTower" and numerous other extra-curricular activities meant to encourage and reward Babson College students.
More than anything, Green expresses enormous gratitude to those around him for his successes, including being honored by the ADE.
"I want to thank Babson presidents Steve Spinelli, Len Schlesinger, and Brian Barefoot, and professors John Altman, Les Charm, Mark Rice, and Jeff Timmons for all they did in assisting me along the way. And, a special thanks to the members of The Green Group, especially Managing Partner Karlene Bauer and the many loyal professionals who worked with me for over 25 years. You are the best at what you do, and you have always gone the extra mile for me."
Green also expressed his heartfelt gratitude for his children, Beth, Debbie, Jonathan, Marty, and Michelle, "for understanding that entrepreneurs do not adhere to standard business hours."
"Finally, I have been fortunate to participate in many successful business collaborations, but the most important partnership I have ever had, is being married to the love of my life, Lois Green.
"I am humbled and privileged to be selected as a member of the Babson Academy of Distinguished Entrepreneurs. I consider it one of the greatest honors of my professional career. Hopefully, my story will inspire others to strive for greatness, just as the previous honorees have inspired me."