Digital Responsibility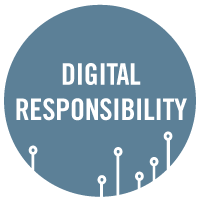 Digital Responsibility is a new Uncommon Table series offered by the Lewis Institute and moderated by technology professor Rubén Mancha.
As our executive director, Cheryl Kiser, says, "If you look at the UN Global Goals, none of them are going to scale without technology." These conversations will explore the responsible development and use of digital technologies – from AI to 5G – in startups and organizations for scaling economic and social value.
As with all our Uncommon Tables, come when you can, stay as long as you'd like. All are welcome.
Join the conversation.
Spring 2021 schedule
Thursday, March 25
1:00 - 2:00pm eastern
Ed + Digital Responsibility: Educating Workers in the Digital Economy
Join our open conversation with Stuart Mills, VP of Trailhead & Ecosystem EMEA at Salesforce, as we discuss the future of work, the future of education, and how a company like Salesforce is aligning with the UN SDGs to deliver on its mission to democratize tech education.
Previous Digital Responsibility sessions:
Mar. 18, 2021: Food + Digital Responsibility: Building Transparency into Supply Chains with Nathalie Marin-Gest, Head of Producer Services, Fair Trade USA.
Feb. 18, 2021: Investing in Minority Tech Entrepreneurs with Daniel Acheampong, general partner at Visible Hands.
Jan. 14, 2021: Responsible Startups in the Sharing Economy
With Babson entrepreneurs:
Alex Kennedy MBA'20 — Founder and CEO at Rostock Media
Bibiana Osorio MBA'20— Founder and CEO at Petventive Care
Leo Song MBA'17— Founder and CEO at Pikurate
Juan Carlos Solidoro MBA'19— Founder and CEO at NETZUN.com
Shreya Dhingra MBA'20— Founding Member & Former Product Marketer at Hoamsy
Oct. 30, 2020: Catalyzing Progress Towards the SDGs with Chris Lloyd, former Executive Director of Public Policy and Corporate Responsibility at Verizon, and Steve Rochlin, CEO of Impact ROI; both members of the Global Enabling Sustainability Initiative (GeSI)