Financing the Future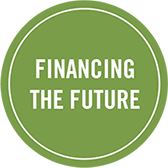 In this Uncommon Table series, hosted in partnership with The Cutler Center for Investments and Finance, we will explore the crucial role of capital in driving social progress.
How are we financing our future? What new financing mechanisms are being created? What role do large corporations, NGOs, government agencies, community foundations, family offices, philanthropists and investors play? What's working? What's needed?
Investing in social progress and managing societal dilemmas is complex and takes time. It requires new thinking and acting. It also demands blurring the traditional and often rigid lines between sectors, forms of capital, and investment tools. Join us for these open conversations as we explore the full range of options available and in-development to invest in economic and social value simultaneously. Hear from leaders on the challenges and opportunities of using capital to accelerate and optimize the highest ROI for economic, environmental, and social progress.
Spring 2021
Thursday, March 18
4:30-5:30 p.m. EDT, Zoom meeting
Mission Investing
How can foundations rethink their capital investments to generate a measurable social or environmental benefit and a financial return? What new models are mission-based organizations using to create positive impact while contributing to their long-term financial stability and growth?

Join our conversation with Philip Carey P'23, P'25, Managing Partner of Lloyd Capital LLC, and Thelma Adams Johnson, President/CEO of Albany Community Together (ACT!).
Previous Events
February 25, 2021: Investing for Sustainability and Resilience
with Julie Davitz, Head of Impact Solutions, Bank of the West/BNP Paribas
September 10, 2020: Investing in the Global Goals
with Alison Smith, Managing Director of Cornerstone Capital Group
February 27, 2020: Redeeming Capitalism
with Dr. Kenneth Barnes, author of Redeeming Capitalism and Sara Minard, Babson Entrepreneur in Residence
January 30, 2020: Impact of Family Offices
with Maggi Alexander, Partner at The Philanthropic Initiative, and Jim Coutre, Vice President, Insights and Connections at Fidelity Family Office Services
November 7, 2019: Asset Stewardship
with Caitlin McSherry, Assistant VP & ESG Analyst, Asset Stewardship at State Street Global Advisors
October 29, 2019: The Nature of Investing
with Katherine Collins, Head of Sustainable Investing, Putnam Investments

October 17, 2019: Investing for Impact
with Stephen Franco, lead portfolio manager for Bank of America's Socially Innovative Investing

September 26, 2019: Sustainable Finance
with Sara Minard, Entrepreneur in Residence

April 24, 2019: Pay for Success
with Deborah De Stantis '85, president/CEO of Corporation for Supportive Housing (CSH)
Feb 27, 2019: Measuring Impact
with Sara Minard and Brigitte Muehlmann
October 18, 2018: Policy & Finance for Good
with C. Sara L. Minard, PhD, Chief Program Officer at College for Social Innovation