Mobility in Context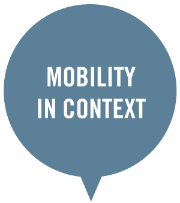 Evolution in mobility has the potential to radically reshape human interactions, communities, industries, and even the future of our planet. Come share your ideas as we explore how innovation in mobility is intersecting with a range of contexts—including human behavior, climate, health, equity, economics, big data, AI, and ethics.
Mobility in Context is a series of conversations held over light snacks at The Lewis Institute (Olin 240-249 suite).
As with all our Uncommon Table conversations, come when can, stay as long as you'd like. All are welcome.
Spring 2020
Thursday, February 6
5–6:00 p.m.
The Lewis Institute (Olin Hall 240-249)
Understanding the Self-Driving Future
The arrival of autonomous and shared autonomous vehicles is already starting to disrupt entire industries, and fundamentally change how we move.
with Ian Goh, Director of Product at Perceptive Automata
Tuesday, February 25
5–6:00 p.m.
The Lewis Institute (Olin Hall 240-249)
Design Thinking and the SDGs
How can advances in mobility help shape a better future? How will changes in technology intersect with human behavior and mindsets? What entrepreneurial opportunities exist in this evolving landscape?
with Dhairya Pujara, Entrepreneur and CEO of Ycenter

Thursday, March 5
5–6:00 p.m.
The Lewis Institute (Olin Hall 240-249)
Moving Health Care Forward
The future of mobility will likely bring dramatic changes to the health care sector—impacting health care access and shifting how and why health care gets delivered. Envisioning a better future for health care requires understanding what is and isn't working today: How do mobility and the design of mobility systems impact health care and wellness? Whose needs are—and aren't—being met? What needs to change? What entrepreneurial opportunities exist in this rapidly evolving landscape?
with Eileen McNeely, PhD, NP, and Director of the Sustainability and Health Initiative for NetPositive Enterprise (SHINE) at the Harvard T.H. Chan School of Public Health.
Thursday, April 9
4–5:15 p.m. EDT
Zoom meeting
Equity in Motion
Mobility systems can be powerful drivers of inequality and inequity. As we look to an emerging mobility future, and grapple with the unfolding impact of COVID-19, we must create mobility systems that provide everyone with access and meet everyone's mobility needs. What needs to change to ensure fair, equitable access? What will the long-term impact of COVID-19 be? What entrepreneurial opportunities exist in this evolving landscape?
with Betsy Gardner, Research Assistant and Writer, Ash Center for Democratic Governance and Innovation at Harvard Kennedy School
Angela Johnson-Rodriguez, Statewide Organizing Director, Transportation for Massachusetts
Katie Kalugin, Transit Equity Programs Specialist, Massachusetts Bay Transportation Authority