Rethink Ed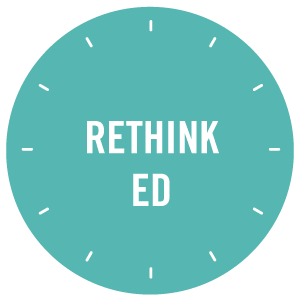 Education has significantly changed and continues to change. These changes raise issues—both old and new—around access, quality, equity, and dignity in the education space.
Rethink Ed is a space to talk about how we can use an entrepreneurial mindset to address education, from policy and research to ed-tech and the science of learning. How can you and I contribute? Where do we need to involve larger teams or stakeholders? How do we develop better business models and enable quality learning opportunities for all? What needs to systematically evolve or even be disrupted?
This Uncommon Table series is in honor of Sudeeksha Bhati, whose vision was to improve the quality of and access to learning. A Babson undergraduate, she was a living example of the positive impact education can have on a person and a community. Despite her short presence on this earth, her courageous entrepreneurial leadership became an immense inspiration to us all. Through these conversations, we aim to inspire action that continues Sudeeksha's legacy: an unwavering pursuit of excellence—and equity—in education for all.
Spring 2021
Tuesday, April 6
11:00am - Noon eastern
Growing an EdTech Unicorn
How can we grow an EdTech business that drives value for both investors and learners? Join our conversation with Ashley Rudolph '08, MS'10, VP of Product Operations at Newsela, on driving value for investors and learners alike.

Past Events
Previously called EdTech Space.
March 25, 2021: Ed + Digital Responsibility: Educating Workers in the Digital Economy
with Stuart Mills, VP of Trailhead & Ecosystem EMEA at Salesforce
March 10, 2021: Interventions for Better Learning with Adam Green, US Content Lead, Khan Academy
Nov. 17, 2020: Future of Learning and Work with Charles Fadel, founder of the Center for Curriculum Redesign
Oct. 21, 2020: Ethics in EdTech
Sept. 29, 2020: Digital Transformation with Andrew Farman, Associate Director of Technology at the Wardlaw+Hartridge School

June 25, 2020: Who Teaches Values?
May 19, 2020: Redesigning Online Learning
April 16, 2020: Reaching Learners during Pandemics with Rashi Dhanani, Team Lead at Central Square Foundation (CSF) and Former Director of Callido Learning
February 27, 2020: Future Ready Learners with Carol Atwood, Babson Entrepreneur in Residence, impact investor, and Founder & CEO of Spartacus Capital
January 20, 2020: Breaking Barriers to Learning with Dr. Richard Rowe, Chairman and CEO of Open Learning Exchange