Corporate Innovators: Roles, Responsibilities, and Career Paths
March 30 - April 20, 2021
Online
The Right People in the Right Roles for Corporate Innovation
Strategic innovation is more relevant and vital than ever. To be successful, companies must develop an innovation function, complete with its own people, processes, metrics, and culture that operates within the company. This is the team that can translate emerging science, technology, and business models into whole new platforms of growth that will fuel the company's future health.
The world is different now than it was even a few months ago, which is why strategic innovation is so important. Prepare for the future by learning how a strategic innovation capability works within a large, established organization. Build your company's strategic innovation framework with an understanding of the talent management and skills needed to succeed at corporate innovation.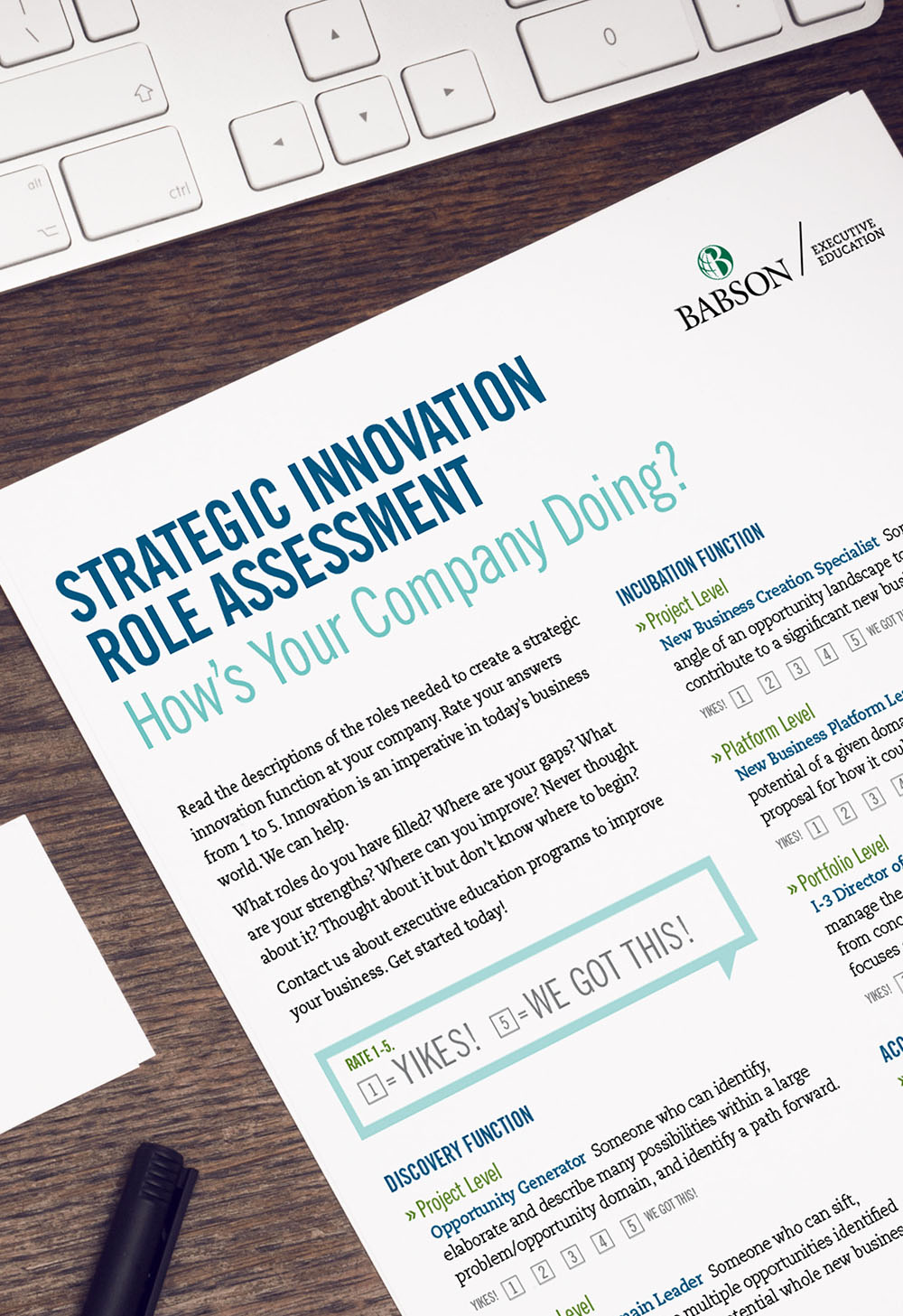 Is Your Company Filling the Right Roles for Strategic Innovation?
Take the Strategic Innovation Role Assessment and see how your company is doing.
What Will You Learn?
This program provides specific tools and exercises, so you can advance a strategic corporate innovation function within your organization. Our program covers the following topics:
The roles and responsibilities within a strategic innovation function, and the distinctions between them
The appropriate innovation role(s) best suited for you and/or your team now and in the future
The challenges associated with building and sustaining a strategic innovation function in large, established organizations
The management system necessary to enable strategic innovation to succeed in a large established organization
Communicating a strong case for investing in and creating a strategic innovation capability
How to partner with HR and Organizational Development to support this new and emerging capability within your organization
Next Date
March 30 - April 20, 2021
Duration & Time Commitment
Four weeks; 3-4 hours/week
Who Should Attend?
Babson's course is designed for professionals in established company settings:
Individuals who want to explore newly emerging corporate innovation roles in order to maximize their ability to contribute to an organization in this capacity, support their individual career interests and ambitions, and become empowered with the self-insight required for informed career decisions.
Members of the HR/OD community who want to build skills and capabilities to support the strategic innovation objectives of their organization.
This four-week online program includes:
Self-paced prework beginning March 30 + kickoff meeting @ 11:30 am - 12:00 pm ET
Office Hours March 31 @ 12:00 - 1:00 pm and 5:30 - 6:00 pm ET
3 live online sessions: April 6, 13 and 20 @ 11:30 am - 1:00 pm ET
Program materials include live webinars, and independent study such as watching lectures, completing weekly exercises, and participating in online discussion boards.
What Makes Babson Executive Education Different?
Babson Executive Education works with organizations and professionals around the world to turn ideas and challenges into opportunity. Babson cultivates an entrepreneurial mindset that is the basis for many of the world's most innovative businesses and leaders.
Our programs are about more than theory; they're about action, and equipping you with the practical tools and strategies necessary to have an immediate impact on your organization or business.
The answer to boosting innovation isn't just about R&D spending, but about building a robust innovation capacity.
Gina Colarelli O'Connor
Professor of Innovation Management
Our Experts in the News
Highly regarded, widely published, and a frequent speaker, Gina Colarelli O'Connor has co-authored three books on breakthrough innovation. A strong partner to large established companies, her insights show how they can renew themselves through organic growth via step-out, game-changing, breakthrough, and strategic innovation. Read more of her insights.
Interested in Team Training?
Set your company up for success by bringing a customized version of Corporate Innovators: Roles, Responsibilities, and Career Paths to your organization. Babson Executive Education custom programs are tailored to your unique needs.
How and when will I have access to the course materials?
Course materials are provided via Canvas, Babson's online learning portal. Materials will be made available to participants between 1 and 7 days prior to the first live virtual session, depending on the amount of pre-work that participants are expected to complete in advance.
Where can I find the schedule for the days and times of the online sessions?
The schedule will also be sent to registered participants in the registration confirmation email (see link to the EVERYTHING YOU NEED TO KNOW document).
Do I need to join the virtual webinar sessions live? Will they be recorded?
We highly recommend that participants join the live virtual sessions. It is an opportunity to ask questions, participate in rich discussion, and learn from the experience of your program peers. All sessions will be recorded and posted to Canvas within 24 hours.
What technology do you use for the virtual programs?
Canvas – Course materials, the agenda, pre-work, assignments, faculty bios, etc. are posted here.
Video-conferencing Platform – We will use a virtual meeting application (like Webex or Zoom) that allows you to see and communicate with other participants simultaneously and in real time. Your instructor can share documents and interactive media, invite participants to share content, and engage with you in real-time participation. Links to sessions and more information will be provided on Canvas.
What do I need to participate? How do I prepare for the webinar?
We recommend a computer/laptop with a webcam (built in or external camera) for optimal viewing, but you may also join from a tablet or cell phone
Internet connection or cell hotspot
Operating system: Windows: 7,8.1, or 10; Apple: OS 10.9 or higher
Recommended browsers for optimal experience: Google Chrome, Firefox, Safari 8 and up (Microsoft Edge, Internet Explorer 8, 9, 10, and Safari 7 are not recommended.)
Headset with microphone (Recommended but optional)
What happens if I have technical issues?
Additional, detailed instructions will be provided on Canvas. Babson staff will be online and available to assist you, and will identify themselves during each virtual delivery. Contact the staff via the chat function for help, or email them if needed. Contact information is available in the EVERYTHING YOU NEED TO KNOW document.
How long will I have access to the online materials?
Course materials on Canvas will be available for 6 months following the completion of the program.
When is payment due and what types of payment do you accept?
Payment is due in full at the time of registration. Babson accepts Visa, MasterCard or American Express
Do you offer discounts?
We offer discounts for the following:

If you are an alumni of Babson College (undergraduate or graduate)
Current Babson graduate students
Parents of current Babson students or Babson alumni
If you come in a group of three or more
If you have taken an online or multiday face-to-face Babson Executive Education program in the past
Please email Rachel Crane at rcrane@babson.edu for discount codes before registering.
Do you offer online programs for large groups from the same company?
We are pleased to offer programs from our diverse open enrollment portfolio and we can customize a program to your company's specific needs. Please contact Rachel Crane rcrane@babson.edu for additional information.
What will I receive upon completion of the program?
Each program participant receives a certificate of completion. We invite participants to add the program to their LinkedIn profile by filling in the Certifications section and/or sharing the certificate of completion image and tagging Babson College. Note that a certificate will not be provided if there is no evidence of participation.
Do you have translation for non-English speaking participants?
We do not offer translation in our open enrollment programs. Although we do not require TOEFL, it is a prerequisite that you speak, read, and write English proficiently.
All Babson Executive Education programs are taught in English. To participate, we ask that you can speak, read, and write English to get the most out of our programs.
Where can I find information for in-person programs?
What is your cancellation policy for online programs?
Registration changes must be requested in writing to Babson Executive Education.

If requested 30 days or more prior to the program start date: Cancellations receive a 100% refund / Substitutions* are allowed, subject to a $250 administration fee / One-Time Transfers* allowed subject to a $250 administration fee, to be ustilized within a one year period
If requested 8-29 days prior to the program start date: Cancellations receive a 50% refund / Substitutions* are allowed, subject to a $250 administration fee / One-Time Transfers* are not allowed
If requested 7 days or fewer prior to the program start date: Cancellations do not receive a refund / Substitutions* are not allowed / One-Time Transfers* are not allowed
*Substitions and transfers are subject to approval to ensure that participants and programs are suitable.
Get Started
By completing this form, you will begin receiving information from Babson about your program of interest.
READY TO TALK NOW?
Contact Rachel Crane, Sr. Director Business Development:
+1-781-239-4349
rcrane@babson.edu