Online Resources & Content

Online Resources & Content
Whether its online learning, a new book, DIY activities, or an Instagram workout, we have resources to keep you and your kids healthy and engaged!
From Alumni to Alumni
Tinkergarten
Brian Fitzgerald '95
Classes and DIY activities for children between 6 months and 8 years old
ClassHook
Alexander Deeb '14
Helps engage students through popular television shows and movies.
Caribu
Max Thuchman, WIN Lab Alum
Video-calling app integrating children's books and activities for a "virtual playdate."
Chop Chop Family
Connie Askin MBA'99
Simple, learn-to-cook recipes with items from your pantry for children 2 - 12 years old.
StudyPoint
Rich Enos MBA'07
Small group, online tutoring progam to help families with kids in 2nd through 6th grades adjust to the new normal.
DownMiami
Joshua Neman '08, MBA'20
Instagam account to help people cope being at home during this crisis by elevating the arts. Family friendly content will be featured!
Other Resources
From Alumni to Alumni
Babson Alumni Supporting Entrepreneurs (BASE)
Complimentary virtual consultations to support business questions and challenges
Free Resume Consultations for those impacted by COVID-19
For anyone who is feeling the economic effects of Coronavirus (if you've been laid off, furloughed, your company is temporarily or permanently shut down, you want to move from an in-person environment to a more virtual workplace), Jen Rompre '08 is now offering free resume consultations to help you land your next job. Jen has spent her career at the intersection of organizations and their talent - reviewing, selecting and hiring hundreds of people over the years. Submit your resume here or send via email here to get help.
Life Coaching
Meli Bolanos MBA'11
One-on-One coaching ranging from managing stress, self-love, creating sustainable changes, and more.
Red Poppy Cakery
Janina Kotulich '17
Virtual baking lessons
Seasoned
Connie Askin MBA'99
Quarterly cooking magazine for adults that guides adults on basics like shopping and storing food, minimizing waste, stretching ingredients, plus how to make nutritious, affordable and ethnically-diverse meals for a healthful lifestyle as they age to help prevent chronic illness. Follow the Instagram account for recipes, tips, and updates!
Stocks, Mortgages, and Houses Oh My!
Jason Highland '03
Virtual panel on buying and selling homes in wake of the coronavirus
Other Resources
From Alumni to Alumni
Sarika Dance Fitness
Sarika Patel Ringer '13
Sarika discovered dance fitness in 2013 to fill a void in her 9-to-5 corporate lifestyle post-graduation. She has obtained multiple fitness licenses and has 15+ years of performance and choreography. She is offering free at home workouts and live classes on her Instagram.
LightenUp Lifestyle
Michael Proffitt MBA'03
A weight loss program that uses a three-phase approach to educate, reinforce and sustain healthy habits. With an individualized approach, one-on-one nutritional guidance, physical advice and emotional support, LightenUp Lifestyle focuses on enhancing and maintaining overall health.
Wishroute
Jessica Lynch '13, MS'13, MBA'18
Wishroute delivers the personal accountability that people need to build healthier habits. This service is delivered by text message, guided by behavioral science, and operated by real people on the other side of the phone. They help users get the most from their current resources. Use code BABSON for a free week trial.
FightCamp
Thomas Duquette '12
FightCamp delivers the most exhilarating and effective form of home fitness through interactive boxing workouts, streamed to your device on demand.
CurveswithMoves
Jessica Diaz-Herrera '10
Curves with Moves is not your typical dance class. Jessie Diaz-Herrera ensures that the environment is judgement free, incorporating body positive talk and affirmations during session to make students feel comfortable at any dance level. Her mission is to teach dance while empowering students to love their bodies.
Moviing
Allison Grekin '13
Moviing is a subscription based yoga & fitness marketplace offering unlimited on-demand, online classes by the most respected and influential instructors & studios from all around the world.
Brooklyn Boulders & BXBX
Lance Pinn '06 & Jeremy Balboni '05
Brooklyn Boulders is an indoor rock climbing space that merges fitness, arts + culture, and events to build an active lifestyle community. BXBX brings fitness, technoloy, and recovery together inspired by adventure. The team is offering daily classes on each respective instagram account to get you moving!
Other Resources
From Alumni to Alumni
Other Resources
Zoom Backgrounds
Add some Babo pride into your next video call with colleagues, family, or friends.
Based off the "Flat Stanley" book and activity, we present to you: Flat Biz E. Beaver. A fun activity for you, your friends, and the kids in your life, we hope this inspires you to view the community you live in with a new set of eyes. Read how Biz got flattened, and then print, color and safely adventure around your community and show them around - what is a must for Biz to see and do? Share your pictures on social media with #FlatBizE or submit the photo(s) here.
Download: Flat Biz E. (PDF)
An activity for any age, follow Biz E. Beaver on his adventures around campus!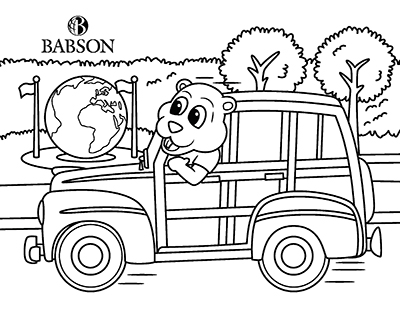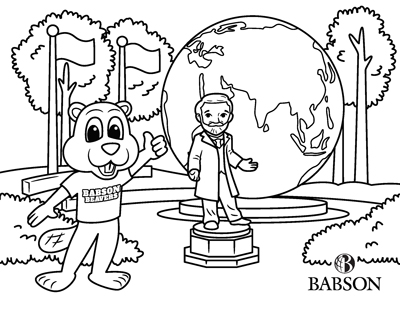 Biz_Driving (PDF) Biz_TheGlobe (PDF)
Virtual Jigsaw Puzzles
Test your brain with these fun puzzles of Babson's campus. Find all the puzzles here.
Babson Bingo
How many Bingo's will you cross off? Share with us on social and tag @babsonalumni
Download: Bingo Card (PDF)