Inductees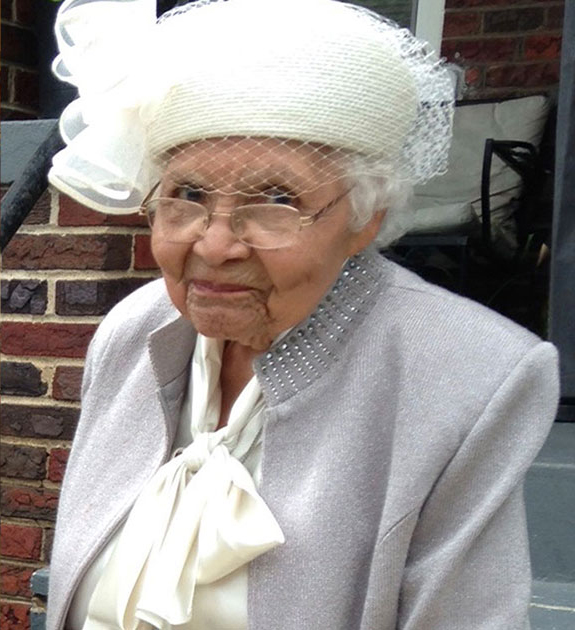 Vanilla Beane
Owner and Operator of Bené Millinery & Bridal Supply
Vanilla Powell Beane is the owner of Bené Millinery & Bridal Supply in Washington, D.C. Her hats have adorned the heads of such luminaries as the late Dorothy Height, former president of the National Council for Negro Women, and Washington Mayor Muriel Bowser. Though Bené Millinery sells hats made by other designers, each custom-made hat is designed by Beane herself. No two are exactly the same.
At 101, Beane still owns and operates Bene Millinery & Bridal Supply, which she opened in 1979. Customers range from church-goers, to derby-goers, to Washington's well-heeled. She has created hats for movies, charity events, and even for a guest attending the Royal Ascot horse race in England. In 2018, a green turban, Beane's personal favorite style of hat, was selected as part of Google's 3D interactive exhibit curated at the National Museum of African American History and Culture. She was honored to see her hats displayed for the museum's opening in 2016. Others have been on display at the National Museum of American History and the former Black Fashion Museum in Harlem.
Beane's most notable client was the late civil rights activist, and President Emeritus of the NAACP, Dorothy Height. At Height's funeral in 2010, the iconic headpieces were mentioned by President Barack Obama: "We loved those hats that she wore like a crown." One of these crowns is immortalized on top of a call box in front of Height's southwest D.C. home. Another is depicted on a U.S. Postal Service stamp.
Beane did more than dream of making hats—she manifested her dream into reality. In 1955, she took a job at the Washington Millinery Supply Company, a shop she frequented while working as an elevator operator in the same building. When preparation met opportunity, Beane was able to purchase the stock of millinery supplies from the shop owner when he retired. She then was able to build her own millinery business. Twenty years after she got her start, the award-winning "hat lady" who turned a hobby into a career, was inducted into the National Association of Fashion and Accessory Designers Hall of Fame.
In 2019, on her 100th birthday, Bowser declared September 13 "Vanilla Beane Day" in the District of Columbia.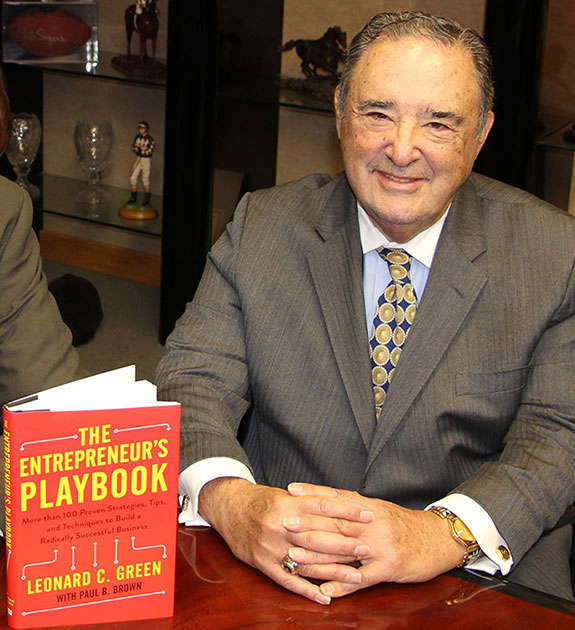 Leonard Green
Entrepreneurship Division Adjunct Lecturer, and Chairman and Founder of The Green Group
Leonard Green is a CPA, MBA, and entrepreneur-chairman and founder of The Green Group, a tax and financial services consulting firm.
Green has been an owner, advisor, and investor in more than a dozen businesses, including The Green Group, a commercial real estate firm, a thoroughbred racing stable, a publicly traded pet food brand, and a beverage company.
His business accomplishments have "led to my most meaningful position, as a Babson College professor, where I was able to teach over 1,500 students, acquainting them with over 75 entrepreneurs," Green said. "Over the years, I have been amazed by the students' intellect, creativity, and drive—they have taught me numerous life lessons.
He also feels strongly that "now is the time to reciprocate by financially supporting scholarships, internships, athletes, challenges, eTower" and numerous other extra-curricular activities meant to encourage and reward Babson College students.
More than anything, Green expresses enormous gratitude to those around him for his successes, including being honored by the ADE.
"I want to thank Babson presidents Steve Spinelli, Len Schlesinger, and Brian Barefoot, and professors John Altman, Les Charm, Mark Rice, and Jeff Timmons for all they did in assisting me along the way. And, a special thanks to the members of The Green Group, especially Managing Partner Karlene Bauer and the many loyal professionals who worked with me for over 25 years. You are the best at what you do, and you have always gone the extra mile for me."
Green also expressed his heartfelt gratitude for his children, Beth, Debbie, Jonathan, Marty, and Michelle, "for understanding that entrepreneurs do not adhere to standard business hours."
"Finally, I have been fortunate to participate in many successful business collaborations, but the most important partnership I have ever had, is being married to the love of my life, Lois Green.
"I am humbled and privileged to be selected as a member of the Babson Academy of Distinguished Entrepreneurs. I consider it one of the greatest honors of my professional career. Hopefully, my story will inspire others to strive for greatness, just as the previous honorees have inspired me."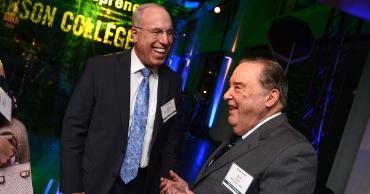 In 2021, longtime faculty member Leonard Green and Bené Millinery & Bridal Supply hat shop owner Vanilla Beane were officially inducted.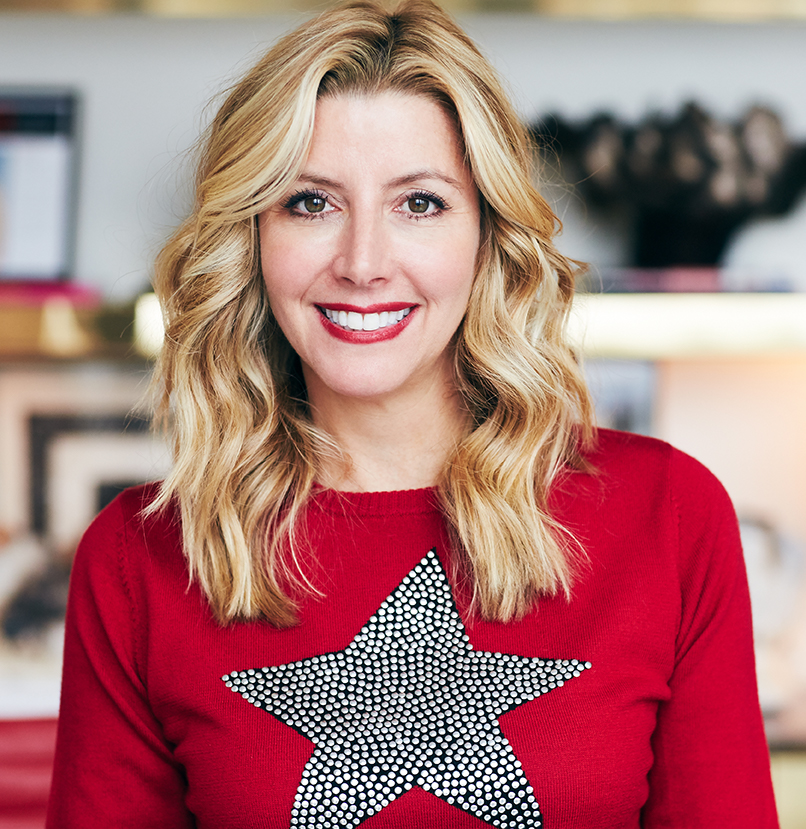 Sara Blakely
Founder and CEO of SPANX Inc.
Sara Blakely is the founder and CEO of SPANX Inc. The dynamic women's brand has revolutionized an industry and changed the way women around the world get dressed.
Spanx is known for inventing smarter, more comfortable, must-haves for women including bras, leggings, activewear, undies, Arm Tights™, and, of course, their famous shapewear which creates the perfect, smooth canvas under clothes! Sara was selected as one of Time magazine's 100 Most Influential People in the world and has been featured on the cover of Forbes magazine. In support of her mission to empower women, Sara created the Spanx by Sara Blakely Foundation in 2006, and, in 2013, she signed The Giving Pledge committing to donate half of her wealth to charity. Sara and her family reside in Atlanta, Georgia. Sara is a native of Clearwater, Florida, and a graduate of Florida State University.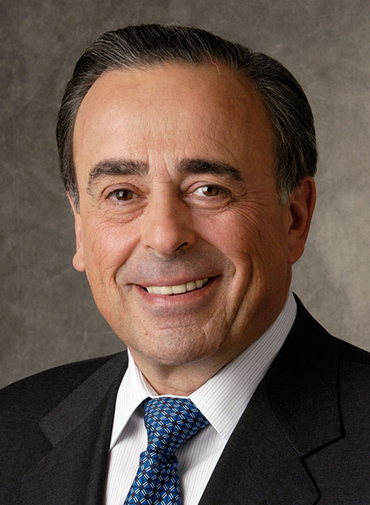 Roger Enrico '65, H'86
Former Chairman and CEO of PepsiCo Inc.; Former Executive Chairman of DreamWorks
Over the course of 30+ years at PepsiCo, Roger Enrico combined a piercingly sharp business mind with a flair for the dramatic. He had the ability to instantly get to the heart of the matter and communicate in a way that was understandable and memorable.
Originally from Minnesota, Roger attended Babson College on a scholarship, and became the first in his family to graduate from college. After graduation he joined General Mills for a year before joining the Navy ROTC program and was then deployed to Vietnam as a supply officer. Following his service, he returned to General Mills. His success quickly attracted the attention of Frito-Lay and he was appointed brand manager for Funyuns. He went on to lead PepsiCo's regional operations in Japan and Brazil and became chief executive of Pepsi-Cola USA at the unprecedented age of 38.
Roger immediately launched the "Cola Wars" by signing a multimillion-dollar sponsorship deal with Michael Jackson. The campaign included Lionel Ritchie, Madonna, and Michael J. Fox and successfully grew Pepsi's market share. This success led Coca-Cola to change its formula. Roger famously said on the day that Coca-Cola announced the change: "After 87 years of going at it eyeball to eyeball, the other guy just blinked." Seventy-nine days later, Coca-Cola revived its old formula in response to customer outcry.
After being named Chief Executive and Chairman of PepsiCo in 1996, Roger spun off the restaurant division, composed of Taco Bell, KFC, and Pizza Hut chains, as an independent public company. He oversaw PepsiCo's acquisition of Tropicana, Quaker Oats, and Gatorade.
At PepsiCo, Roger devoted considerable time to mentoring talent by creating a Leadership Development program and the first frontline recognition program which celebrates hundreds of plant workers and route drivers from around the world. He gave generously to employees and their children through scholarships and other opportunities.
Following his PepsiCo retirement in 2003, Roger was named Chairman for DreamWorks Animation. Roger also served as a board member of the National Geographic Society, the Environmental Defense Fund, and the American Film Institute.
For more than three decades, the generous philanthropy of Roger Enrico inspired the Babson Community. To date, Roger and Rosemary have supported 35 students through the Roger and Rosemary Enrico Scholarship, which was established to provide full-tuition, need-based scholarships for economically disadvantaged students from Dallas Public Schools. The scholarship is life-changing for the recipients.
In 2015, Roger was awarded The Babson Medal—the highest honor Babson bestows on an individual for outstanding achievement and commitment to the College. It is presented to a dedicated graduate or friend for distinguished service to the community and College.
Roger also supported Babson Athletics through The PepsiCo Pavilion. The Pavilion serves as an indoor practice facility for Babson's varsity teams, as well as numerous intramural and recreational activities. It will be rededicated "The PepsiCo Enrico Pavilion" on November 15, 2018.
Roger is survived by his wife, Rosemary, his son and daughter-in-law, Aaron and Catie, and three grandchildren, Daniel, Gisele, and Joseph.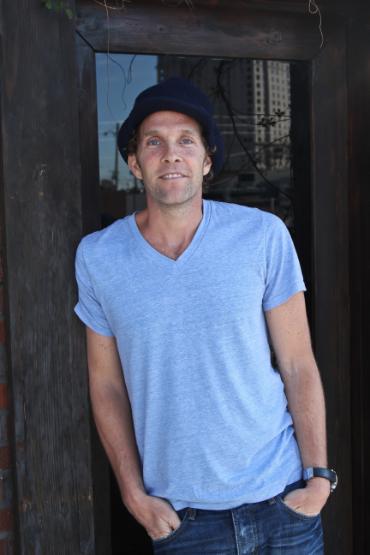 Jesse Itzler
Co-founder of Marquis Jet
Jesse Itzler only eats fruit until noon, loves Run-D.M.C., and enjoys living life "out of the box," actually, he doesn't even have a box. He co-founded Marquis Jet, the world's largest prepaid private jet card company in 2001, which he and his partner sold to Berkshire Hathaway/NetJets. He then partnered with Zico coconut water, which they sold to The Coca-Cola Company in 2013. He is a former rapper on MTV and he produced and sang both the NBA's Emmy Award-winning "I Love This Game" music campaign and the popular New York Knicks anthem "Go NY Go." Itzler also is the author of Living With a SEAL (New York Times Bestseller , #1 LA Times, #1 Amazon, #1 iTunes audiobook) and Living With the Monks. When he's not out training for his next 100-mile run or being a dad, Jesse can be found at the NBA's Atlanta Hawks games, where he is an owner of the team. He is married to Spanx founder Sara Blakely and the couple and their four children live in Atlanta, Georgia.
Eric Johnson '72, P'08
President and CEO of Baldwin Richardson Foods
As a child growing up on Chicago's South Side in the late 1950s, Eric Johnson '72, P'08, watched his father successfully build Johnson Products, a manufacturer of ethnic hair-care products. Seeing how a business could strengthen a community, as Johnson Products did by creating jobs and paying good wages, made an impact on the young Johnson.
Following in his father's footsteps, in 1989, Johnson became the chief executive officer of Johnson Products Company, the nation's first African American-owned publicly traded company. Today, Johnson is the president and chief executive officer of Baldwin Richardson Foods, one of the largest African American-owned businesses in the food industry. With more than 323 employees and $274 million in sales, Baldwin Richardson Foods is a leading manufacturer of custom food and beverage ingredients for global brands including McDonald's Corporation, Kellogg, General Mills, Dunkin Brands, Starbucks, and Frito-Lay Quaker Oats.
A common thread throughout Johnson's storied career: giving back, especially to organizations that educate and expand opportunities for urban minority communities facing economic and educational disadvantages.
"In our business, we believe that diversity leads to the quality of our decision making," said Johnson. "As entrepreneurs, we are accountable for ourselves and if successful, for others. This is a belief that I fully embrace."
In 2016, Johnson was inducted into Babson's Alumni Entrepreneur Hall of Fame. He was awarded the Ronald McDonald House Charities' Crystal Heart Award in 2011, the National Black McDonald's Operators Association (NBMOA) Lee Dunham Visionary Award in 2012 and McDonald's System First Award in 2014.
Niraj Shah and Steve Conine
Co-founders of Wayfair
Armed with only a shoestring budget and a big idea, Niraj Shah and Steve Conine co-founded Wayfair, now one of the world's largest online destinations for home, in 2002. What started as a single website soon grew into more than 250 standalone sites selling everything from barstools to birdhouses. In 2011, they took a giant leap and moved all of their e-commerce sites into a single online destination for everything home—and the Wayfair brand was born.
Shah and Conine rapidly grew the business from a two-person team in Boston to what is now a Fortune 500 company with more than 14,500 employees globally. Wayfair and its family of brands—Joss & Main, Birch Lane, AllModern and Perigold—generated $8 billion in net revenue for the 12 months ended June 30, 2019. Today, Shah serves as CEO, co-chairman, and co-founder while Conine serves as the company's co-chairman and co-founder.
"I'm very proud of the team we've built and seeing our employees succeed," said Shah.
When asked what he loves about being an entrepreneur, Conine shared: "A large portion of the waking hours of your life you spend with the people you work with. As an entrepreneur, I love having a very direct influence on the culture and team that I work with every day. I also love the constant change. I love the high degree of personal responsibility and personal initiative it requires."
Shah and Conine have been lifelong entrepreneurs. After graduating from Cornell University with engineering degrees, the pair co-founded Spinners Incorporated, an IT services firm, which was sold to iXL in 1998. Shah and Conine then created Simplify Mobile, an enterprise software company that was sold in 2001.
Shah has been included in Fortune Magazine's 40 under 40, and has won the Ernst and Young's Entrepreneur of the Year award. He also serves on the board of the Massachusetts Competitive Partnership, the Greater Boston Chamber of Commerce, and the Federal Research Bank of Boston.
Conine is a member of the Board of Directors of CarGurus, a leading global online automotive marketplace.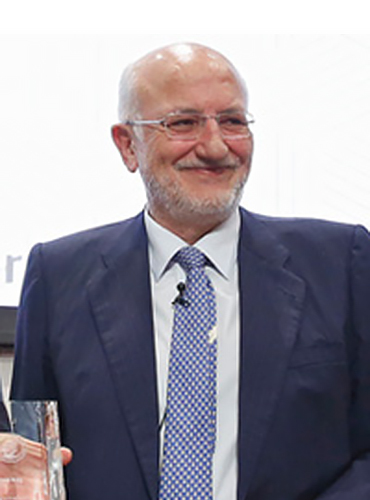 Juan Roig
President of Mercadona
President of Mercadona and Founder of Marina de Empresas—an initiative that convenes local entrepreneurial resources under one roof to provide local entrepreneurs with the training, advising, and financing they need to succeed.
Juan Roig Alfonso was born on October 8, 1949 in Valencia, where he was named Honorary Citizen in 2014. He is married to Hortensia Herrero, and together they have four children and 10 grandchildren.
Roig studied at the University of Valencia, where in 1973, he graduated in economic science and completed the PADE programme in IESE Business School. Furthermore, he was awarded an Honorary Degree by the Valencia Polytechnic University, becoming the first entrepreneur to receive the acknowledgement from this University Community.
In 1975, he joined his father's company, Cárnicas Roig, which at the time had a butcher and a convenience store division. On October 17, 1981, Juan Roig started managing the company, and in this way, it started operating independently as the Roig Group. This is how the Mercadona project started; at the time, it had eight stores in Valencia and a total surface area of approximately 300 m2, whereas today there are 1,627 supermarkets in Spain and some 84,000 employees.
Juan Roig is a university graduate whose real calling is being a "shopkeeper", and who decided to move the company in a totally different direction in 1993, when he led the implementation of the Total Quality Model. Its basic pillar is the satisfaction of the company's five components, namely The Client, known internally as "The Boss", The Employee, The Supplier, Society, and Capital.
Roig is Honorary President of the Spanish Commercial Coding Association (AECOC), Vice-President of the Spanish Association of Convenience Stores and Supermarkets (ASEDAS), and Honorary President of the EDEM Business School. Additionally, he operates in close collaboration with the Family Business Institute (IEF), where he has also served as President. On a personal level, he fosters the educational and entrepreneurial project Marina de Empresas (which unites under one roof EDEM Business School, Lanzadera, a Startup Accelerator, and Angels, a seed investor). In Marina de Empresas, students, entrepreneurs and business people alike learn from Juan Roig's wisdom. Furthermore, he sponsors Valencia Basket Club, and presides over the Trinidad Alfonso Foundation, from which he supports sporting patronage initiatives.
By way of acknowledgement of his entrepreneurial initiative, he has been awarded the Príncipe Felipe Award for Corporate Excellence, the Valencia Government's High Distinction, the Jaume I el Conqueridor Grand Cross, and the Gold Medal for Merit in the Workplace.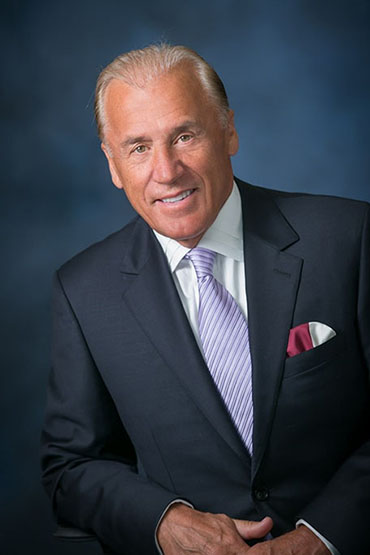 C. Dean Metropoulos '67, MBA'68
Chairman and CEO of Metropoulos & Co
C. Dean Metropoulos '67, MBA'68, Chairman and CEO of Metropoulos & CoC. Dean Metropoulos' early career was with GTE International, initially as CFO of Europe, Middle East, and Africa and subsequently as the company's youngest Senior Vice President/CFO of its International Business, including Telecommunications, Home Entertainment, Lighting, and Precision Materials. GTE operated in every continent, often in partnership with local governments (telecom) and local businesses, as well as through its own operations. Metropoulos attributes the differentiated and respected investment and management skills, widely identified with Metropoulos & Co., to his early international career and to Babson College's excellent entrepreneurial education.
Metropoulos & Co., a boutique acquisition and management firm started by C. Dean Metropoulos and later joined by his sons, Evan and Daren, has been involved in building, restructuring, and growing numerous businesses in the U.S., Mexico, and Europe. Many of these were subsequently taken public or sold to strategic corporations or other private equity firms.
Some of the "buy-build" private equity transactions led by Metropoulos include:
Stella Foods—the No. 1 specialty cheese company in the U.S. and Canada
The Morningstar Group, Inc.—traded on the NASDAQ at the time
International Home Foods, Inc.—Chef Boyardee, Pam Cooking Spray, Gulden's Mustard, Bumble Bee Tuna, traded on the NYSE at the time
Ghirardelli Chocolate Co.
Mumm and Perrier Jouët Champagnes, of France
Hillsdown Holdings, PLC—Premier International Foods, Burton's Biscuits, and Christie Tyler, of UK/Europe
Pinnacle Foods Group, Inc.—Swanson/Hungry-Man, Vlasic Pickles, Open Pit Barbecue Sauce, Duncan Hines, Log Cabin Syrup, Mrs. Butterworth's Syrup, Aunt
Jemima Frozen Breakfast, Mrs. Paul's Seafood, Van De Kamp's Seafood, Celeste Pizza, and Lender's Bagels
National Waterworks
Solar Marine—a private international dry cargo shipping company
Pabst Brewing Company
EPAQ—an integrated oil drilling company
Hostess Brands, LLC
Utz Quality Foods, Inc.—one of the oldest East Coast salty snack companies
Golden Flake Snack Foods—salty snacks
Metropoulos has been involved in more than 80 acquisitions in many parts of the world during the past 30 years, and has earned some of the most attractive returns on Wall Street. Highly respected for his integrity and commitment, Metropoulos is a sought-after partner by many of the major private equity firms and international investors.
The Metropoulos family is very active philanthropically, including commitments to the Gates Foundation's Giving Pledge, the Campaign to End Childhood Hunger, Hole in the Wall Gang Camps, veterans, education, medical research, and others.
Dean Metropoulos and his wife, Marianne, of 40 years, have two sons, Evan and Daren, who are an integral part of Metropoulos & Co.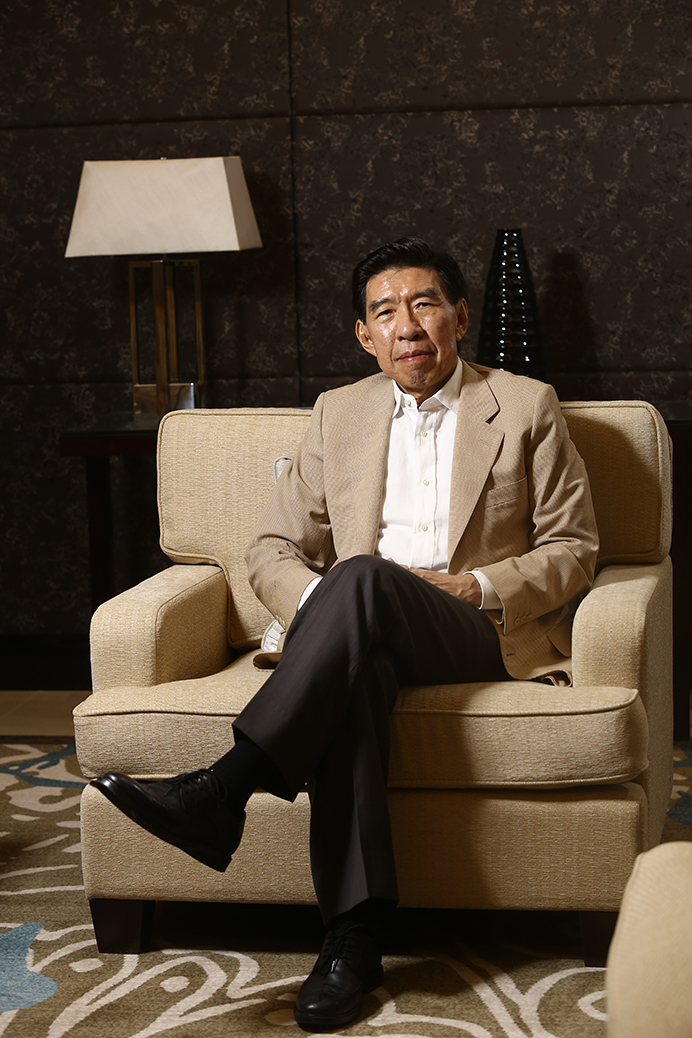 Harry Susilo P'96
Founder and Chairman of the Sekar Group
Harry Susilo, PBM is the founder of the Sekar Group of Companies, an Indonesian based international conglomerate whose core business is in food production but also has significant interests in property and mining.
Harry Susilo started his company in 1966, as a small fishing operation in a poor rural village in East Java. Gradually building the company up over 50 years, it now employs around 20,000 people and exports its products worldwide. The Group's FINNA brand is a household name in populous Indonesia.
Harry is a strong advocate of business being more effective when adopting a "win-win" philosophy so that all parties benefit. In this way Harry's businesses' have contributed to improving the lives of over 400,000 people.
The Groups' contribution to Indonesia and its local community, is recognized through the government commissioned Jayandaru monument in their hometown of Sidoarjo.
An active supporter of international trade, Harry and has represented Indonesia and Singapore as part of numerous trade delegations, including to the USA, China and Europe. Harry is also a regular attendee of the China Overseas Exchange Association and the Sichuan Provincial Overseas Exchange Association.
Harry Susilo is a firm believer in pedagogical causes and has sponsored the building of educational facilities in the USA, China and Indonesia. He has served on advisory boards at Boston University, Babson College and the Beijing Language and Cultural University. Harry Susilo is the founder and benefactor of the Harry Susilo Institute for Ethics in the Global Economy at Boston University's Questrom School of Business.
Harry is active in social advancement programs and in 2015 was awarded Singapore's Public Service Medal (PBM), the highest honor given by the President, for contributions to Singapore's society and outstanding public service.
Harry Susilo is Chinese, born in Indonesia. His eldest daughter Finna attended Babson College and graduated Magna Cum Laude with double Majors in Entrepreneurship and Economics. Harry himself has an honorary degree from Babson. He now lives in Singapore.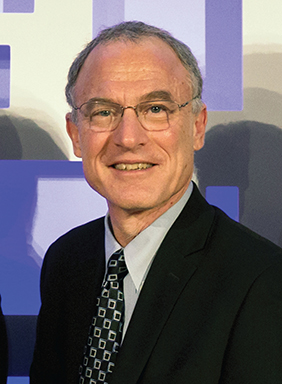 Stephen Kaufer
CEO and Co-founder of TripAdvisor
Stephen Kaufer is the president and CEO of TripAdvisor. He co-founded TripAdvisor in 2000 with the mission to help travelers around the world plan and book the perfect trip. Under his leadership, TripAdvisor has grown into the largest travel site in the world. As CEO, Kaufer has led the growth of TripAdvisor Inc., which includes 24 other travel media brands that operate in 48 markets worldwide.
Prior to co-founding TripAdvisor, he was president of CDS Inc., an independent software vendor, and prior to that, was co-founder and vice president of engineering of CenterLine Software. Kaufer holds several software patents.
He has won a number of awards for his entrepreneurship and leadership in the travel industry, including being inducted into the 2015 British Travel & Hospitality Hall of Fame and receiving the 2015 Pioneer Award by the International Society of Hospitality Consultants and the 2005 Ernst & Young Entrepreneur of the Year Award.
Kaufer is on the board of directors at Glassdoor; CarGurus; and the Neuroendocrine Tumor Research Foundation. He earned his degree in computer science from Harvard University.
TripAdvisor's Stephen Kaufer on Shifting from Founder to CEO »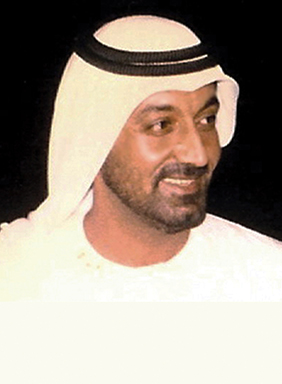 His Highness Sheikh Ahmed bin Saeed Al Maktoum
Chairman and Chief Executive of Emirates Airline & Group
His Highness Sheikh Ahmed bin Saeed Al Maktoum has been at the forefront of Dubai's remarkable economic development for 25+ years, spearheading the expansion of aviation and, more recently, formulating economic, investment, and fiscal policies and strategies for the emirate. Sheikh Ahmed embarked on his career in aviation in 1985 as president of the Dubai Department of Civil Aviation (DCA), overseeing Dubai International and Dubai Duty Free, among others. In that year Emirates Airline, Dubai's international carrier, was launched with Sheikh Ahmed as chairman. He is now chairman and chief executive of Emirates Airline and Group, which includes dnata—the region's leading travel services and ground handling company—and other aviation entities. Under Sheikh Ahmed's guidance, Dubai aviation witnessed impressive growth and historical milestones. The Dubai Civil Aviation Authority (DCAA) was created; Dubai Airports became owner and operator of Dubai International and Dubai World Central. Dubai International became the world's fourth-busiest airport for international passenger and cargo traffic; Emirates Airline became the world's fastest-growing intercontinental carrier. Dubai launched flydubai, its first budget carrier. The opening of Dubai World Central (DWC) was the first major step toward establishing Dubai as the world's preferred aviation and logistics hub. Dubai International's Terminal 3 opened to wide acknowledgement in the industry as the most successful launch of a terminal of its size. Dubai's firm establishment as the region's most desirable leisure destination is in no small measure due to Sheikh Ahmed's leadership. Sheikh Ahmed holds a number of government positions and is increasingly pivotal in leading Dubai's finance and energy sectors; and despite numerous business activities, he is patron to many charitable organizations. He also has received numerous recognitions and accolades from governments and multinationals. Sheikh Ahmed earned his bachelor's degree from the University of Denver, Colorado, USA. He is well-known internationally for contributions to the region's development of aviation. The Royal Aeronautical Society, one of the industry's oldest, most respected professional associations, honored his achievements in aviation with a fellowship at the 1994 Farnborough Air Show in the United Kingdom.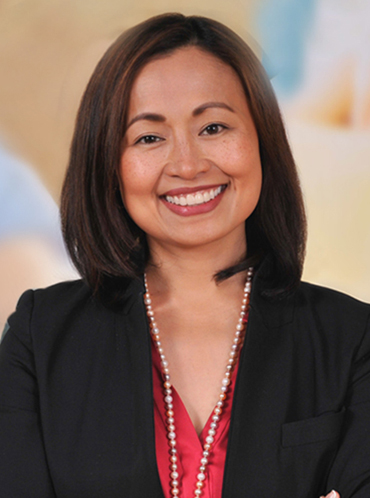 Sheila Lirio Marcelo
Founder, Chairwoman and CEO of Care.com
Sheila Lirio Marcelo is the founder, chairwoman, and CEO of Care.com. Her inspiration to found Care.com stemmed from both her personal and professional experiences. A young mother with two small children who also became part of the sandwich generation caring for her parents at an early age, Marcelo was challenged to find quality care solutions. She knew this problem was not unique to her family and that there had to be a better solution than the yellow pages. Her career firmly rooted in technology, she knew that was the answer and founded Care.com in 2006. Today, the company is the world's largest online destination for finding and managing family care, with more than 20.7 million members in 18 countries.
Marcelo's passion for technology developed during her time as a management consultant and a teaching fellow at Harvard Business School. Her growing appreciation for the power of technology to help solve real problems for people led her to Upromise, where she was vice president of product management and marketing for the service that helped families save for college, and then to executive search engine TheLadders.com, where she was vice president and general manager. Following TheLadders.com, she was an Entrepreneur in Residence at Matrix Partners, where she developed the plan for Care.com.
As Care.com has grown and scaled, she has been honored with numerous accolades, including one of the Top 10 Women Entrepreneurs at Fortune's Most Powerful Women Summit (2009) and in Fortune magazine (2014), the youngest recipient of the lifetime award by Harvard Business School, the Harvard Business School Alumni Achievement Award (2014), and bestowed one of the highest honors for Filipinos, the Filipino Heritage Award orPamana ng Pilipino from President Benigno Aquino III of the Philippines.
Marcelo also is a Henry Crown Fellow with the Aspen Institute (Class of 2012), was awarded a Marshall Memorial Fellowship (Class of 2011), and named a Young Global Leader by the World Economic Forum (Class of 2011).
She is a board trustee of the Philippine Development Foundation, a nonprofit organization that works with the Philippine government on education, innovation, and entrepreneurship initiatives. In addition, she sits on the advisory board for the Harvard Business School Rock 100 Entrepreneurs Summit, and is an adviser to several startup companies.
She founded WomenUp.org in 2010 to increase women's roles in the global economy by providing leadership training, mentorship, and support to girls and women through every stage of their lives and careers. A frequent speaker on women in technology and female entrepreneurship and leadership, Marcelo has spoken alongside President Obama at the White House Summit on Working Families (2014), with global political and business leaders at the World Economic Forum (2013, 2015), and to emerging female leaders at Harvard University (2013) and CEOs at Northeastern University (2013).
She graduated magna cum laude with a degree in economics from Mount Holyoke College, which also conferred upon her an honorary Doctorate of Humane Letters in 2015. She earned her JD and MBA degrees with honors and the Dean's Award from Harvard University.
Care.com's Sheila Lirio Marcelo's Advice for Entrepreneurial Women »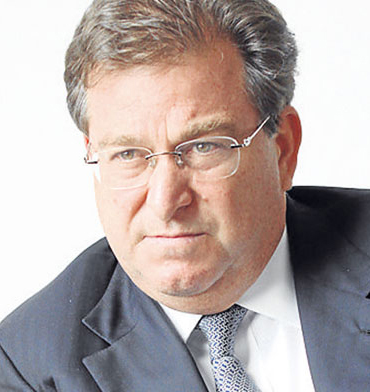 Jaime Gilinski​
Chairman, Banco GNB Sudameris SA
Jaime Gilinski is an established investor with extensive holdings, primarily in banking and real estate, in Latin America and Spain. He controls a network of banks in Colombia, Panama, Peru, and Paraguay and is the largest shareholder in Banco de Sabadell, the fourth-largest banking group in Spain. In partnership with London & Regional Properties, Gilinski is developing Panama Pacifico, a business and residential development in Panama City, Panama. Gilinski also is a philanthropist, supporting various nonprofit organizations. He is very active in the Fundación Santa Fe de Bogotá, a hospital in Bogotá, which is recognized as Colombia's most technologically advanced institution. Through the Jaime and Raquel Gilinski Endowment, Gilinski supports the David Rockefeller Center for Latin American Studies at Harvard University and has established the Jaime and Raquel Gilinski Fellowship at Harvard Business School. This fellowship is awarded to deserving MBA students from Colombia and Panama, as well as to students from other Latin American countries, including, Chile, Ecuador, Peru, and Venezuela. He is the chair of capital projects for the Chabad House at Harvard University, a Jewish student organization that provides educational, social, and recreational programming for students and faculty. With a BS in industrial engineering from Georgia Tech and an MBA from Harvard University, Gilinski spent a year as an associate at Morgan Stanley & Company in investment banking and the next nine years planning and implementing business strategies for consumer-product and snack-food businesses in South America, in conjunction with several major multinational U.S. companies.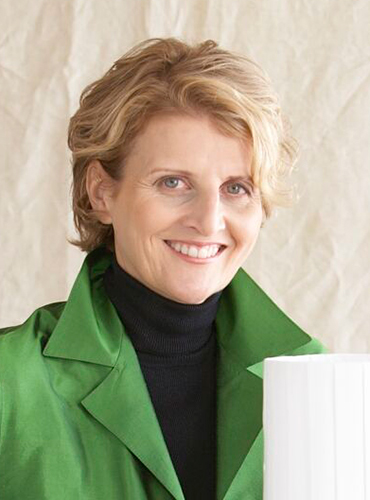 Dorothy Cann Hamilton
Founder of the International Culinary Center
Dorothy Cann Hamilton, Founder & CEO of the International Culinary Center (ICC), is one of the most respected culinary leaders in the world today. Thirty years ago, Hamilton founded the school in Manhattan as The French Culinary Institute. Today, it has grown to be one of the world's leading centers for culinary education with additional campuses in California and Italy. ICC has world-renowned chefs as its deans including Jacques Pépin, José Andrés, Jacques Torres, as well as more than 15,000 notable alumni hailing from more than 80 countries, including chefs Bobby Flay, David Chang, Wylie Dufresne, Dan Barber and Christina Tosi.
A true entrepreneurial educator and culinary leader, Hamilton was selected to serve as President of Friends of the USA Pavilion at the 2015 World Expo in Milan, which runs from May through October 2015. Together with the James Beard Foundation, she helped curate various cultural programs and events at the Pavilion. The Pavilion's main goal is to showcase U.S. leadership in the global food arena and highlight the country's role in advancing culinary sustainability.
Hamilton has received remarkable accolades, including being decorated by the French government with the Legion d' Honneur; "Entrepreneur of the Year" from the International Association of Culinary Professionals; "Who's Who of Food and Beverage in America" from the James Beard Foundation; "Silver Spoon" from Food Arts magazine; "Outstanding American Educator" from Madrid Fusion; and many more. She is a mentor for international business accelerator Food-X, and was awarded the "Italian Cuisine Worldwide Award 2015" from it-chefs-GVCI/Grana Padano.
Hamilton is creator and host of Chef's Story, a weekly radio program on the Heritage Radio Network and a 26-part television series on PBS and co-author of its companion book. She earned her BA Honours degree from Newscastle-upon-Tyne in England, then spent three years in the Peace Corps, and later earned her MBA from the Stern School of Business at New York University. Hamilton is a graduate of the OPM program at Harvard Business School.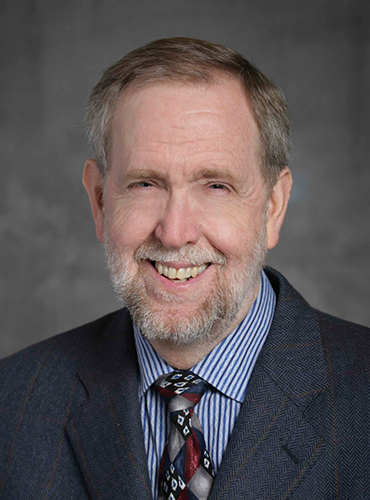 Doug Rauch
Founder and President of Daily Table; Former CEO of Conscious Capitalism; Past President of Trader Joe's ​
Doug Rauch spent 31 years with Trader Joe's Company, the last 14 years as a president, helping grow the business from a small, nine-store chain in Southern California in 1977, to a nationally acclaimed retail success story. He developed their prized buying philosophy, created their unique private label food program, and wrote and executed the business plan for expanding Trader Joe's nationally. In 1995, Rauch was promoted to the new position of president, Trader Joe's East (to compliment the new position of president, Trader Joe's West). Executing on the business plan for expansion, he brought Trader Joe's to the East Coast, with the first stores opening in Brookline and Cambridge in June 1996. During the next 12 years, he grew the business into the mid-Atlantic, Midwest, and the South, expanding to more than 100 locations in 18 states. In 2006, he was promoted to the new national position of Trader Joe's president. He also championed the very successful Trader Joe's University program for developing the crew, and he was instrumental in promoting their renowned customer experience. He retired from Trader Joe's in 2008.
Rauch was a senior fellow at Harvard's Advanced Leadership Initiative from 2010–2012 where he worked on ways to tackle the issue of hunger/obesity and wasted food in America. As a result of this fellowship, he founded Daily Table, a new retail concept designed to bring affordable nutrition to the food insecure in our cities through utilizing the excess, wholesome food that would otherwise be wasted at growers, manufacturers, distributors, and retailers. Daily Table opened June 4, 2015, in Dorchester, MA. It offers both "grab-n-go" meals freshly prepared in a kitchen onsite as well as a variety of healthy grocery items (produce, dairy, bakery, etc.) all at prices that make nutrition affordable to all. All items in the store also meet a strict nutritional guideline prepared by a consortium of the top Med-Ed community in Boston, making Daily Table not only the most affordable food market in New England, but the healthiest. Daily Table also will provide a free teaching kitchen for both children and adults.
Rauch also is: the CEO of Conscious Capitalism Inc., a nonprofit dedicated to elevating humanity through business; a trustee at F.W. Olin College of Engineering; on the board of overseers at WBUR; and serves on the board of several for-profit and nonprofit companies.
He earned his Executive MBA from the Peter Drucker School of Management, Claremont University, where he won several honorary awards including the Early Career Outstanding Entrepreneur Award from Peter Drucker.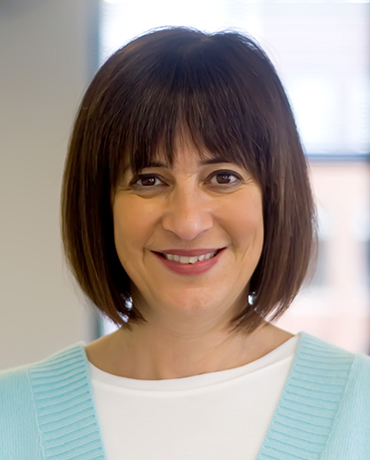 Diane Hessan
Founder and Chairman of C Space
Diane Hessan is a successful marketer, entrepreneur, and author. She is the founder and chairman of Communispace, a leading consumer collaboration agency "with a Blue Chip client list that would make a Madison Avenue giant jealous," according to Advertising Age. A pioneer in creating online communities to help marketers get inspiration from their consumers, Hessan helped found Communispace in 1999—when no one knew what social media was—and hasn't looked back.
Today, she leads Communispace's 500+ employees in building and managing the nearly 700 private communities the company has created for a premier list of more than 200 global corporations. Communispace's revenues have tripled in the last four years, and the company enjoys a 90+ percent client retention rate. It has received a wide range of awards for product innovation, marketing leadership, and corporate culture, including the Mass Econ Gold Award for the company that has had the Most Significant Economic Impact in Greater Boston. In 2011, in light of the company's decision to expand its global operations rapidly, Communispace investors and employees sold Communispace to Omnicom, the premier global marketing services conglomerate. Communispace still operates independently, and Omnicom is investing in the company's global presence, as evidenced by its recent expansions into China, France, South Africa, Mexico, and Brazil.
Hessan has spent her 35-year career helping companies become customer-focused—both as a business executive, and as co-author of the book Customer-Centered Growth: Five Strategies for Building Competitive Advantage. The book was a Business Week best-seller and was published in 11 languages. She has received many honors for her leadership, including Ernst & Young's Entrepreneur of the Year (National Finalist), the Greater Boston Chamber of Commerce Entrepreneur of the Year, Boston Business Journal Most Admired CEO, the Boston Chamber Pinnacle Award, a Mass High-Tech All-Star, and a range of Best Boss citations. Recently, The Boston Globe listed her as No. 3 on its Top Women in Technology List, and Communispace was listed as one of 25 Top Places to Work in Boston.
Hessan serves on the boards of numerous organizations including The Tufts University Board of Trustees, Panera, The Boston Philharmonic (where she was chair), the Advertising Research Foundation, and Horizons for Homeless Children. She has been a major player in the development of Boston's Innovation District, where she has mentored and inspired hundreds of entrepreneurs to bring their businesses to new levels. In 2012, Horizons and Massachusetts Governor Deval Patrick presented Hessan with an award to recognize her work building awareness of the problem of homeless children in Massachusetts. She was selected to join Governor Patrick on his first trade mission to Israel, and also was elected to the Governor's Innovation Council.
She is a graduate of Tufts University and Harvard Business School, and is the co-founder of The Sound Bytes, an a cappella group that sings about business.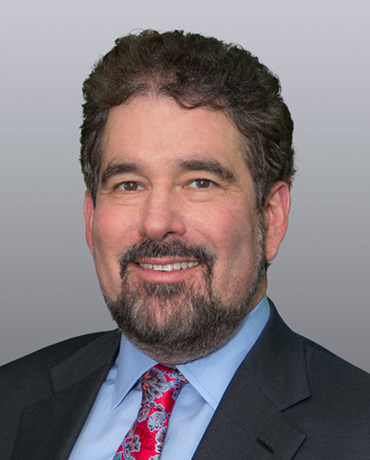 Alan Trefler
Founder and CEO of Pegasystems​
Alan Trefler also serves as chairman of the Pegasystems Board of Directors. His recent book, Build for Change, describes a new generation of customers who have unprecedented power to make or break brands and the changes businesses must embrace to succeed in today's digital world. A best-seller on 800-CEO-Read, the book has been reviewed and featured in national media outlets including Forbes, TheStreet.com, Computer Weekly, and 1to1Media.
Trefler was named Public Company CEO of the Year in 2011 by the Massachusetts Technology Leadership Council, and received the American Business Award's Software CEO of the Year for 2009. He frequently presents to international business and technology audiences and at industry conferences.
He has been interviewed and profiled in national print and broadcast media, including CNBC, Fast Company, Fox Business News, Forbes, Fortune Magazine, Inc. Magazine, The Boston Globe, The New York Times, Bloomberg Television, Barron's, Reuters, TheStreet.com, and Investor's Business Daily, and he has contributed thought-leadership articles to publications such as TechCrunch and the Huffington Post.
Trefler has consulted extensively in the use of advanced technologies and work automation. In addition, he has been named the inventor of five issued patents for Pegasystems' distinctive Inherited Rule-Based Architecture, which provides the framework for Pegasystems' solutions. His interest in computers originates from collegiate involvement in tournament chess, where he achieved a Master rating and was co-champion of the 1975 World Open Chess Championship. His passion and support for chess and the game's community and current champions continues to this day. He earned a degree with distinction in economics and computer science from Dartmouth College.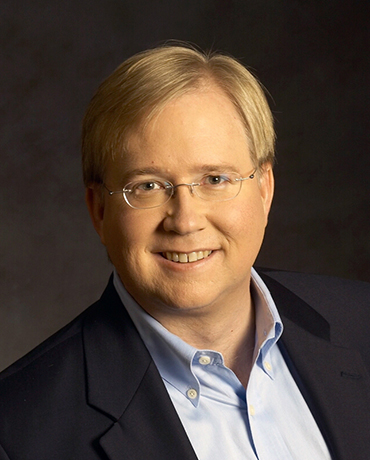 Graham Weston
Former Chairman of Rackspace Hosting Inc.
From an early age, Graham Weston saw entrepreneurial opportunities in everything around him. He launched his first business venture as a seventh-grader, marketing organic pork in newspaper ads that read "Go Hog Wild!" In high school, he built another business that took photos at livestock shows, and sold them to contestants.
He attended Texas A&M, where he launched another business. This one was inspired by his successful appeal of the multiple, conflicting property tax bills levied by various government entities upon his father's small ranch, and led him to help other property owners appeal their bills.
Weston went into the real estate business. When prices fell during the Savings and Loan Crisis of the late 1980s, he led his family to buy and develop the Weston Centre, one of the premier office towers in downtown San Antonio. At the same time, he developed a keen interest in the possibilities of the Internet. In 1998, he and a partner provided the original capital for a business idea pitched by three local Trinity University students. They called it Rackspace.com. Weston joined the enterprise as CEO and remained in that position until 2006, when he became chairman.
He returned to the CEO post in February 2014 upon the retirement of his longtime friend and colleague, Lanham Napier, and will remain in that role until the board concludes a careful search for Napier's long-term successor.
In 2005, Weston was honored by the City of San Antonio for converting one of his vacant properties, an abandoned shopping mall, into a temporary shelter for victims of hurricanes Katrina and Rita. Nicknamed the "Hilton of Shelters," by The Denver Post, it housed more than 2,500 refugees. That property has since been extensively repurposed to LEED sustainability standards and serves as Rackspace's headquarters.
Weston is active in the development of new options for urban living, entrepreneurship, and entertainment in downtown San Antonio. He helped launch the mayor's SA2020 initiative, and created Geekdom, which provides a co-working space downtown, along with mentorship and funding for tech startups. He also funds the 80/20 Foundation, which invests in programs to encourage entrepreneurship, technology education, and development in downtown San Antonio.
He was named a Best Boss by Fortune Small Business magazine and was recognized as regional Entrepreneur of the Year by Ernst & Young.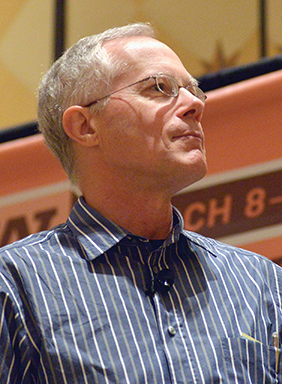 Scott D. Cook
Founder and Chairman of the Executive Committee of Intuit Inc.​
Scott Cook co-founded Intuit Inc. in 1983, and now serves as the chairman of the Executive Committee. The idea for Intuit came to him one day when his wife was looking for a simpler way to pay the bills, which led to the creation of Quicken. Today, Quicken, QuickBooks, and TurboTax stand as testament to the company's commitment to revolutionize the way people manage their small businesses and personal finances.
Before founding Intuit, Cook managed consulting assignments in banking and technology for Bain & Company, a corporate strategy consulting firm. He previously worked for Procter & Gamble, the household products giant, in various marketing positions including brand manager, for four years.
Cook is a member of the board of directors of eBay, Procter & Gamble, the Asia Foundation, the Harvard Business School Dean's Advisory Board, and the Intuit Scholarship Foundation. In 2002, Cook and his wife, Signe Ostby, established the Center for Brand and Product Management at the University of Wisconsin–Madison School of Business, the nation's first university-based center focused exclusively on training MBAs in brand and product management.
Cook earned an MBA from Harvard University, and a bachelor's degree in economics and mathematics from the University of Southern California.
Scott D. Cook Talks Entrepreneurship at Babson »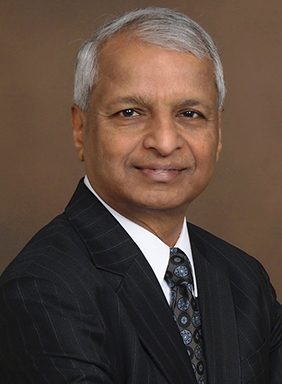 Gururaj "Desh" Deshpande
President and Chairman of Sparta Group LLC
Gururag "Desh" Deshpande is the chairman of Sparta Group LLC, A123 Systems, Sycamore Networks, Tejas Networks, Sandstone Capital, and HiveFire. He is an influential technology entrepreneur and visionary whose companies and ideas often reshape entire industries.
Deshpande co-founded Sycamore Networks in 1998, with the vision of creating next-generation optical networking technology. Prior to co-founding Sycamore Networks, he founded and was chairman of Cascade Communications. Between 1991 and 1997, Cascade grew from a one-person startup to a company with $500 million in revenue and 900 employees. In 1997, Cascade was acquired by Ascend Communications for $3.7 billion.
A member of the MIT Corporation, Deshpande's generous donations have made possible MIT's Deshpande Center for Technological Innovation. The Deshpande Center supports a wide range of emerging technologies including biotechnology, biomedical devices, information technology, new materials, tiny tech, and energy innovations. Since 2002, the Deshpande Center has funded more than 90 projects with more than $11 million in grants. Twenty-six projects have spun out of the center into commercial ventures, having collectively raised more than $350 million in outside financing.
Deshpande earned a BTech in electrical engineering from the Indian Institute of Technology– Madras, an ME from the University of New Brunswick in Canada, and a PhD from Queens University in Canada. He and his wife, Jaishree, are the trustees of the Deshpande Foundation, and are involved in several nonprofit initiatives that include support for MIT, IIT, Akshaya Patra Foundation, and the Social Entrepreneurship Sandboxes in India and the United States. Deshpande serves as Chairman Emeritus of the Board for The Indus Entrepreneurs (TiE) Boston organization and serves on the TiE Global Board. Additionally, he co-chairs a national council to support President Barack Obama's innovation and entrepreneurship strategy with Mary Sue Coleman, president of the University of Michigan, and Steve Case, co-founder of AOL.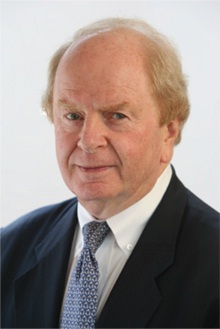 Howard H. Stevenson P'03
Sarofim-Rock Baker Foundation Professor emeritus; Former Senior Associate Dean, Director of Publishing and Chair of the Harvard Business Publishing Company
Howard H. Stevenson is Sarofim-Rock Baker Foundation Professor (Emeritus), senior associate dean, director of publishing, and board chair of the Harvard Business Publishing Company board. The Sarofim-Rock Chair was established in 1982 to provide a continuing base for research and teaching in the field of entrepreneurship. Professor Stevenson is its first incumbent.
He served as the vice provost for Harvard University Resources and Planning and senior associate provost; senior associate dean and director of external relations at Harvard Business School, leading a successful capital campaign; chair of the Latin American Faculty Advisory Group; and senior associate dean and director of financial and information systems for Harvard Business School. Additionally, he has been chair of the Owner/President Management Program in Executive Education, and of the Publications Review Board for the Harvard Business School Press of Harvard Business Publishing Company.
Stevenson was a founder and first president of the Baupost Group. When he resigned from active management, Baupost assets had grown to more than $400 million. Now, he co-chairs the advisory board of Baupost LLC, a $22 billion registered investment company. Additionally, Stevenson was vice president of finance and administration and a director of Preco Corporation, a large, privately held manufacturing company. He also served as vice president of Simmons Associates, a small investment banking firm specializing in venture financing.
Prior to 1978, Stevenson held various academic appointments at Harvard University, specializing in real property asset management and general management. He earned his BS in mathematics with distinction from Stanford, and his MBA with high distinction and DBA degrees from Harvard University. He was a recipient of the ALCOA and Ford Foundation Fellowships for graduate study, and was awarded an honorary doctoral degree in 2007, by the Université de Montréal.
Stevenson has authored, edited, or co-authored 12 books and 42 articles. He also has authored, co-authored, or supervised more than 150 cases at Harvard Business School. Currently, Stevenson is a director of CDM Smith as well as a trustee for several private trusts and foundations. He is a life trustee of the Boston Ballet and has been a director of Sudbury Valley Trustees, where he served as president from 1996 to 2000. He is on the board of National Public Radio, and served as chairman of National Public Radio board of directors from 2008–2010. He is a trustee of Mount Auburn Hospital, the Isabella Stewart Gardner Museum, and a trustee emeritus of the Nature Conservancy of Massachusetts. Stevenson is a member of the governing board of INSPER School of Business in Sao Paulo, Brazil.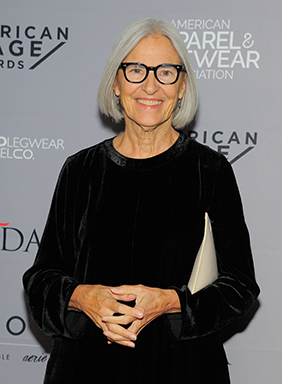 Eileen Fisher
Clothing Designer and Founder of EILEEN FISHER Inc.
Eileen Fisher's goal is to live simply. That includes getting dressed! "I'm a mother, a clothing designer, and a business woman," says Fisher, "my wardrobe meets my varying needs. The idea is, you just put your clothes on and go. You don't have to fuss, you don't think about them all day, you're just ready to…do what you need to do."
In 1984, with $350 in the bank, she designed and introduced four basic pieces at The Boutique Show in New York City, where she received $3,000 in orders. At her second show, three months later, she expanded the line to eight pieces—and brought in $40,000 in orders. EILEEN FISHER Inc. was born.
Fisher's original concept—high-quality, simple comfortable women's clothing that works as a "wardrobing concept"—still defines the evolving line that now fills 52 EILEEN FISHER stores and is sold in department and specialty stores across the U.S. and Canada.
Fisher was born and raised in Des Plaines, Illinois, and graduated from the University of Illinois at Urbana-Champaign. She moved to New York in 1973, working first as an interior designer and then as a graphic artist until 1983. She founded her company in 1984 with clothing that filled a void in the market. As one customer put it, "What I love most about EILEEN FISHER clothes is that they allow me to be myself."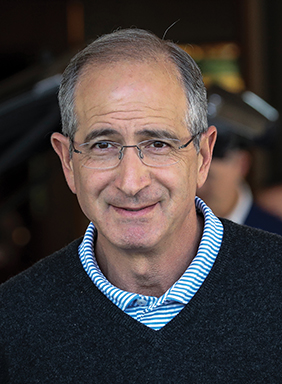 Brian L. Roberts​
Chairman and CEO of Comcast Corporation
Under his leadership, Comcast has grown into a Fortune 100 company and is the nation's largest video provider, largest Internet services provider, and fourth-largest phone company. The company is the majority owner and manager of NBCUniversal, which owns and operates entertainment and news cable networks, the NBC and Telemundo broadcast networks, local television station groups, television production operations, a major motion picture company and theme parks.
Roberts is a member of the board of directors of the National Cable and Telecommunications Association where he served as chairman for two consecutive terms from 2005 to 2007. Roberts also is a member of the Business Roundtable, a CEO only organization based in Washington, D.C., and serves on the President's Council on Jobs and Competitiveness.
Roberts has won numerous business and industry honors for his leadership. In 2008, Roberts was recognized by Big Brothers Big Sisters for his outstanding leadership in the community. In May 2007, he was presented with the cable industry's highest honor, the National Cable and Telecommunications' Vanguard Award for Distinguished Leadership.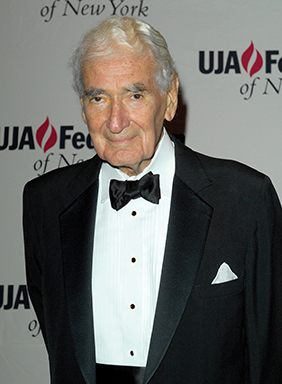 Ralph J. Roberts
Founder of Comcast Corporation​
Comcast began its humble roots with the purchase of a 1,200-subscriber cable television system in Tupelo, Mississippi, in 1963. Today, Comcast has a majority ownership in Comcast-Spectacor, whose major holdings include the Philadelphia Flyers NHL hockey team, the Philadelphia 76ers NBA basketball team, and a large multipurpose arena in Philadelphia.
Prior to starting Comcast, Roberts was president and CEO of Pioneer Industries, a leading men's clothing accessories company, vice president of Muzak Corporation, and an account executive with Aitken Kynett Advertising Agency.
Roberts graduated from the Wharton School of the University of Pennsylvania and served a four-year tour of duty in the U.S. Navy. He also participated in continuing education programs at Harvard Business School.
Mr. Roberts, 91, is involved in numerous community and civic activities. He currently serves on the boards of Council of Emeritus Directors of the Philadelphia Orchestra and the Brandywine Museum and Conservancy, as well as the advisory board of the Greater Philadelphia Urban Affairs Coalition, and the Penn Medicine Board of Trustees, University of Pennsylvania Health System. He also is a charter member of the World Business Council.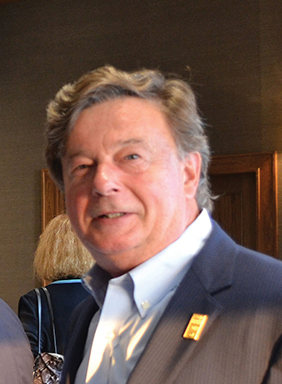 Henri A. Termeer
Former Chairman, President, and CEO of Genzyme Corporation
Mr. Termeer was appointed president of Genzyme Corporation in 1983, two years after the company's founding.
He became its chief executive officer in 1985 and chairman in 1988. Under his leadership, Genzyme has grown from a modest entrepreneurial venture to one of the world's leading biotechnology companies.
Mr. Termeer is recognized as a pioneer in developing and delivering treatments to patients with rare genetic diseases around the world. This work has provided the foundation for Genzyme's success, and today the company is diversified across medical areas including genetic diseases, kidney disease, orthopedics, cancer, transplant and immune diseases, and diagnostic testing.
Widely acknowledged for his contributions to the biotechnology industry and health care field, Mr. Termeer is active in the areas of humanitarian assistance, policy issues, and innovation in providing access to health care. He serves on the board of directors of the Pharmaceutical Research and Manufacturers of America. He is a director of Massachusetts General Hospital, a board member of Partners HealthCare and a member of the board of fellows of Harvard Medical School.
Mr. Termeer is chairman of the Federal Reserve Bank of Boston's board of directors and a board member of Abiomed Inc. In 2008, he was appointed to Massachusetts Governor Deval Patrick's Council of Economic Advisors, and he is a co-chair of the Leadership Council of the Mass. Life Sciences Collaborative. Mr. Termeer is also chairman emeritus of the New England Healthcare Institute, a nonprofit, applied research health policy organization he was instrumental in founding.
Mr. Termeer studied economics at the Economische Hogeschool (Erasmus University, The Netherlands) and earned an M.B.A from the Darden School at the University of Virginia.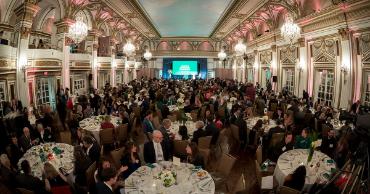 Three more esteemed entrepreneurs joined the Academy in 2019: Eric G. Johnson '72, P'08, and Steve Conine and Niraj Shah, co-founders of Wayfair.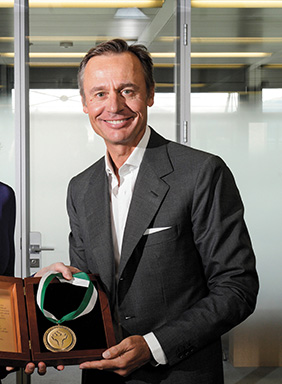 Ernesto Bertarelli '89
Chairman of Waypoint Capital Group; Co-chair of Bertarelli Foundation
A successful business executive, passionate yachtsman, generous philanthropist, and family man, Bertarelli leverages his success in every endeavor to produce positive change and advance technological growth.
Born in Rome, he moved with his family to Switzerland in 1977. He graduated from Babson in 1989, and earned an MBA at Harvard Business School. In 1996, he became CEO and deputy chairman of the global biotechnology firm Serono SA, which he would soon inherit from his father. Under Bertarelli's leadership, Serono shifted its focus from pharmaceuticals to biotechnology, and revenues increased from $809 million in 1996 to $2.8 billion in 2006. The company gained fame and profits from its discovery of a natural hormone used in treatment against female infertility. In 2006, Serono was sold to Merck KGag of Germany for $13.3 billion, forming a new company Merck-Serono.
Known as a personable, approachable and likable leader, he enjoys his reputation as a global player who assembles international talent to achieve results in business and on the water. In 2000, he founded the yachting syndicate Team Alinghi. In 2003, Alinghi won the Louis Vuitton Cup before beating Team New Zealand in Auckland to win the America's Cup. Bertarelli served as navigator aboard Alinghi in 2003 and as an afterguard runner and grinder on the boat in 2007.
Bertarelli's Team Alinghi defended the America's Cup in Valencia, Spain, in 2007, winning again over Team New Zealand. In recognition of his victory, Bertarelli was given two extraordinary national honors: the Knight of the National Order of Merit, Légion d'honneur by President Jacques Chirac of France, and the Cavaliere di Gran Croce by President Carlo Azeglio Ciampi of the Italian Republic.
Focusing on philanthropy with a mission, Bertarelli and his family established a foundation in 1999 for promoting understanding of the cause and cure of infertility. The Foundation FABER, in Lausanne, and the Bertarelli Foundation, in Trelex, Switzerland, merged in 2006. Since 2002, Bertarelli has been a director of UBS AG, the global financial services firm. He is a member of the Harvard Medical School Board of Fellows.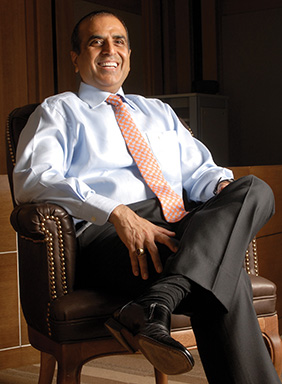 Sunil Bharti Mittal
Founder and Chairman of Bharti Enterprises Ltd.
Bharti Airtel, India's leading integrated telecom company, has been at the forefront of the telecom revolution and has transformed the telecom sector with its world-class services built on leading-edge technologies.
Mittal started his career at 18 after graduating from Punjab University in India. He founded Bharti, with a modest capital, in 1976. Today, at 50, he heads a successful enterprise, among the top five in India, with a market capitalization of approximately $40 billion and employing more than 30,000 people.
Bharti has grown successfully in partnership with leading global companies, including Singapore Telecom, Vodafone, Warburg Pincus, and British Telecom. The other businesses in the group are Beetel, communication and media devices, Bharti AXA, a financial services JV with AXA of France, and FieldFresh, a joint venture with Del Monte to offer fresh and processed fruits and vegetables in the domestic as well as international markets. Recently, Bharti forayed into the retail sector with its subsidiary Bharti Retail. It also has entered into a joint venture with Wal-Mart for setting up the supply chain, logistics, and cash and carry to support the burgeoning retail market in India.
He has been conferred with one of India's highest civilian awards, Padma Bhushan, and is serving as the president of the Confederation of Indian Industry, the premier industry body in India. He also is a member of the Prime Minister's Council on Trade and Industry and an Honorary Fellow of The Institution of Electronics and Telecommunication Engineers. In addition to being nominated to serve on many distinguished boards, committees, councils, and juries, Mittal was named CEO of the Year in 2007 by Business Standard, and the Asia Businessman of the Year in 2006 by Fortune.
He earned a Doctor of Science degree (Honoris Causa) from the G.B. Pant University of Agriculture and Technology and is an alumnus of Harvard Business School.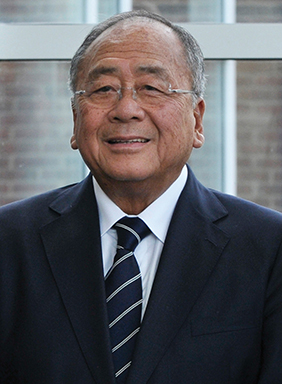 Lee Man Tat
Chairman of Lee Kum Kee
In 1954, Lee joined Lee Kum Kee to assist his father, Lee Shiu Nan, in managing the business. Taking over the role as chairman in 1972, he built a renowned brand of Ethnic Chinese Enterprise through his determination and marked a new chapter of this reputable enterprise.
With endurance and innovative spirit, Lee is a business leader of foresight. His great aspiration and intelligence, coupled with constant entrepreneurship, have successfully led the company to grow and become a household name across the world. Today, Lee Kum Kee's wide range of products is marketed to more than 100 countries and regions. Even though he ended his formal education at an early age, Lee has never given up his quest for learning and knowledge. He holds a strong belief in sharing the fruits of success and contributing to the community, including donations to educational and medical services. He is particularly supportive of educational causes in the People's Republic of China.
Throughout the years, Lee has received a number of significant international awards and recognition, including Strategic Development Advisor by Tsinghua University, Beijing, in 2007; Senior Economic Advisor by Hong An Municipal Government, Hubei Province, in 2006; China Top Ten Men Award by the China Condiment Industrial Association in 2005; and the Hong Kong Business Mastermind Award by the Hong Kong General Chamber of Commerce in 2004.
Currently, Lee also serves as honorary chairman of the Chinese People's Political Consultative Committee of Xinhui, adviser of the Overseas Chinese Committee of Hong Kong-Macau-Taiwan, Chinese People's Political Consultative Committee of Zhuhai City, and president of the Federation of Hong Kong Guangdong Community Organizations.
Born in Macau in 1930, Lee's hometown is in Xinhui of Jiangmen City in the Guangdong Province of the People's Republic of China. Married to Ms. Choi May Ling in 1954, Lee has four sons and one daughter who work in the Lee Kum Kee Group.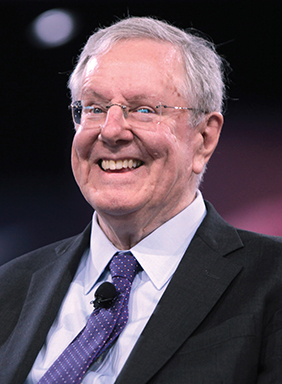 Malcolm Stevenson "Steve" Forbes Jr.
Chairman and Editor-in-Chief of Forbes Media
Since Mr. Forbes assumed his position in 1990, the company has launched a variety of new publications and businesses. They include: ForbesLife (formerly FYI), the irreverent, lifestyle supplement; Forbes Asia; and Chinese, Korean, Japanese, Russian, Arabic, Hebrew, Polish and Turkish editions of the magazine. Forbes also publishes the Gilder Technology Report, as well as a number of investment newsletters.
In 1996 Forbes entered the new media arena with the launch of Forbes.com. Now receiving more than 10 million unique monthly visitors, it has become a leading destination site for senior business decision-makers and investors.
Other company divisions include: Forbes Conference Group and Forbes Custom Media.
Mr. Forbes is also Chairman of the company's American Heritage division, publisher of American Heritage magazine and two quarterlies, American Legacy and American Heritage of Invention & Technology.
The company's flagship publication, Forbes, is the nation's leading business magazine, with a circulation of more than 900,000. Forbes combined with Forbes Asia and the company's eight local-language editions together reach a worldwide audience of over five million readers.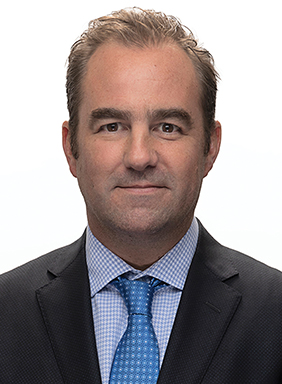 Geoff Molson MBA'96
Owner, President & CEO of Montreal Canadiens
Geoff Molson is all about the beer and the beer business. It makes perfect sense, as he is a seventh generation member of the founding family of Molson Brewery.
Geoff is currently the Vice-President Marketing for Molson Canada. He also plays a strategic role in strengthening partnerships with key stakeholders. Molson brands sponsor thousands of sports and entertainment events and partners throughout the country.
Geoff has worked for Molson, in various roles, in the US and Canada for the past 8 years. His most recent positions at Molson USA include Vice-President of Sales and Vice-President Quality and Distributor Development.
In January 2006, Geoff moved back to Montreal, where John Molson, his four (4) greats grandfather opened his brewery for business 220 years ago.
Endorsing the Molson tradition, giving back to the community is also fundamental to Geoff. Molson's family have endowed a foundation to proudly support philanthropic initiatives across Canada in the fields of global health and welfare, education, social and cultural development, national development, and the humanities.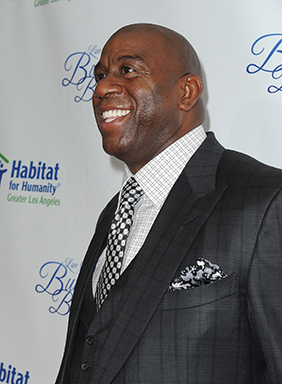 Earvin "Magic" Johnson Jr.
Founder and CEO of Magic Johnson Companies
Universally known for his illustrious professional NBA career, has redefined himself as a businessman. To date, he has provided more than 20,000 jobs to minorities through his many business ventures.
As chairman and chief executive officer of Johnson Development Corporation (JDC), he has helped revitalize underserved communities by providing quality entertainment services, creating much-needed jobs, and employing local minority contractors and service vendors. Through JDC, Johnson has 92 Starbucks, 16 Canyon-Johnson Urban Fund properties, six Magic Johnson Theatres Theaters, and 27 Washington Mutual Home Loan Centers.
Johnson also heads Magic Johnson Enterprises (MJE), which is responsible for the direction and expansion of the Magic Johnson Brand. His business ventures through MJE include Lincoln Mercury, NASCAR, (Johnson is co-chair of their Diversity Steering Committee), Burger King, ZMagic, Cadbury Schweppes and 24 Hour Fitness Centers.
Johnson is Founder of the Magic Johnson Foundation, a nonprofit that empowers minority communities through advancing and supporting worthy charitable organizations. Johnson also serves on the board of trustees for the American Cancer Society Foundation.
Johnson won five national championships with The Los Angeles Lakers, three MVP awards, and a gold medal at the 1992 Olympics in Barcelona, Spain. He played in 12 NBA All-Star Games.
Robert K. Kraft H'02
Founder, Chairman, and CEO of The Kraft Group
The Kraft Group's holdings in paper and packing include the Rand-Whitney Group and the International Forest Products Group of Companies. In addition, The Kraft Group is the controlling shareholder of Carmel Container Systems Ltd., one of the largest packaging companies in the Middle East. Together, they comprise one of the largest privately owned paper and packaging companies in the world, conducting business in 83 countries.
The Kraft Group's holdings in sports and entertainment include the New England Patriots, Gillette Stadium, and Major League Soccer's New England Revolution. Kraft purchased the Patriots in 1994, saving the team from leaving New England. Kraft has built an organization that many observers view as a model sports franchise. Under his leadership, the Patriots have played in four Super Bowls and have won three titles, earning more Super Bowl appearance and championships than any other NFL team since 1994.
Kraft is on the board of directors for Viacom, the executive committee of the Federal Reserve Bank of Boston, and the executive committee of the Dana-Farber Cancer Institute.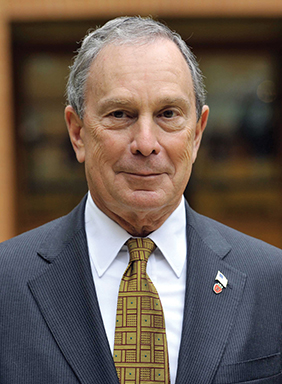 Michael R. Bloomberg
Founder of Bloomberg L.P.
In 1966, Bloomberg was hired by Salomon Brothers to work on Wall Street. He left in 1981 after Salomon was acquired by another company and used his stake from the Salomon sale to start his own company, creating a financial information computer that would collect and analyze different combinations of past and present securities data and deliver it immediately to the user.
In 1982, Bloomberg L.P. sold 20 subscriptions to its service; 20 years later, Bloomberg L.P. had 165,000 subscribers and counting. Bloomberg L.P. now employs 8,000 people—including 2,500 in New York City—in more than 100 offices worldwide.
Bloomberg has dedicated much time and energy to philanthropic and civic affairs and has served on the boards of many organizations.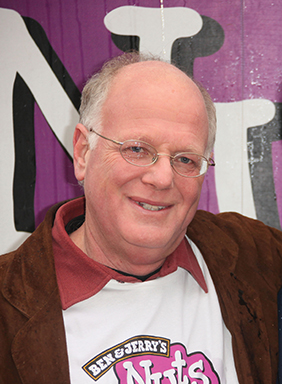 Ben Cohen
Co-founder of Ben & Jerry's Ice Cream Inc.
The business started as a homemade ice cream parlor in a dilapidated former gas station in 1978 on an initial investment of $8,000. Over the years Ben served as chef, route salesman, CEO, Director of Sales and Marketing, new flavor development specialist, and Chairman. Ben and his partner Jerry were awarded the Small Business Person of the Year award in 1988. By 1999 the enterprise had grown with annual sales volume of over $250 million and 700 employees. Ben had become a pioneer in the area of socially responsible business.
The Wall Street Journal recognized Ben and Jerry's as having one of the top ten corporate reputations in the United States.
Ben is President of Business Leaders for Sensible Priorities and its TrueMajority campaign and is also the Chairman of two social venture capital funds: The Barred Rock Fund, and Hot Fudge Ventures, which started SweatX, a sweatshop free clothing factory in Los Angeles that is unionized and pays a livable wage.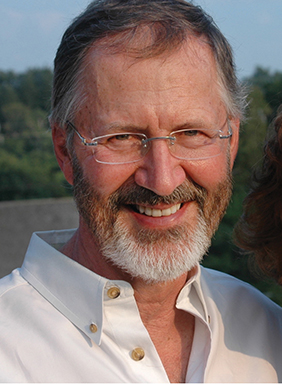 Steven B. Dodge
Founder of American Tower Corporation
Based in Boston, Massachusetts, the company is the leading independent owner and operator of more than 14,000 broadcast and wireless communications towers in the United States and Mexico.
Established in 1995, American Tower owns, manages, develops, and leases wireless and broadcast communications sites. Today, American Tower has evolved into a full-service solutions provider, offering a wide range of products and services, including radio frequency engineering and fixed network design, site development, management and leasing to construction, and components manufacturing and site monitoring.
Prior to the formation of American Tower, Dodge was the founder and CEO of its then-parent company, American Radio Systems Corporation(ARS). Mr. Dodge grew ARS from a start-up into the fourth-largest radio company in the United States. In 1988, he founded Atlantic Radio, L.P., the forerunner to ARS. Previously, Dodge served as chairman and CEO of American Cablesystems Corporation, a cable television company he founded in 1978.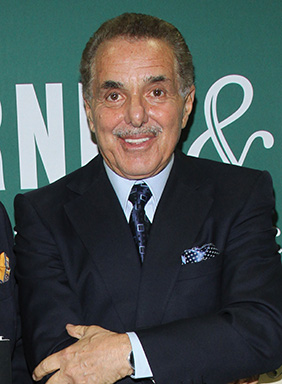 Leonard Riggio
Founder and Executive Chairman of Barnes & Noble Inc.
Barnes & Noble also operates GameStop (NYSE: GME), the nation's largest operator of video game and entertainment software stores. Mr. Riggio is also the chairman of Barnes & Noble.com (www.bn.com), the number one electronic-commerce site of any retailer on the World Wide Web. In addition, he is the chairman and major shareholder of several privately held companies, including Barnes & Noble College Bookstores, the largest operator of college bookstores in the country, serving more than 400 universities and colleges across America; and MBS Textbook Exchange.
In all, the companies controlled by Mr. Riggio operate more than 2,400 retail stores and employ more than 80,000 people. Today, Barnes & Noble bookstores have become vibrant components of nearly every large and mid-size community in America.
Mr. Riggio also devotes himself to many philanthropic initiatives, having served on nearly two dozen not-for-profit boards.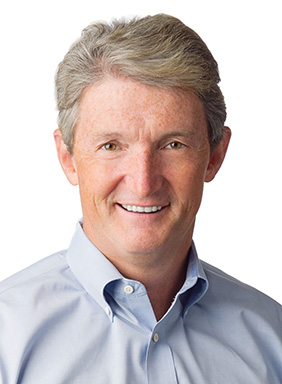 Robert Davis MBA'85
General Partner, Highland Capital Partners; Founder, Former President and CEO at Lycos Inc.
Davis was the first employee of Lycos Inc. in 1995 and served as president and chief executive officer until its $12.5 billion merger into Terra Networks.
After the merger, Davis served as the CEO of Terra Lycos until leaving in 2001 to join Highland Capital, an early-stage venture capital firm.
During his tenure at Lycos he completed the fastest IPO in NASDAQ history and through a string of joint ventures and over two dozen acquisitions or investments, transformed the company from an Internet search engine with just $2 million in funding into one of the most powerful Internet hubs and media companies worldwide with an audience of over 90 million people in an industry leading 41 countries.
Davis is a frequent lecturer on the Internet, having addressed numerous groups, including the US Council on Foreign Relations, the United Nations, and the United States Congress. He served as a member of then President George Herbert Walker Bush's technology advisory committee, and advised then President Clinton on matters relating to Internet regulation. He is also the author of Speed is Life, a Random House/Doubleday book providing a guide to managing a business in the 21st century.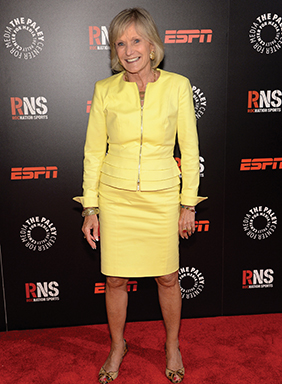 Kay Koplovitz
Founder of USA Networks
Koplovitz founded USA Networks as the first advertiser-supported basic cable network, and grew it into a leading cable network and provider of original programming worldwide.
USA Networks began in 1977 as an all-sports service (Madison Square Network) and she was the first to negotiate the national cable rights to major league sports and was the first female network president in the history of television. In 1980, USA Networks became a general entertainment network, and in 1989 she led the company to become the first basic cable network to feature regularly scheduled original movies. Under her leadership, the network expanded to include the Sci-Fi channel, one of the industry's fastest growing networks and USA Networks International.
In 1998, then President Clinton appointed her to chair the National Women's Business Council (NWBC), an advisory council for women-owned businesses. In conjunction with the NWBC, she created and founded Springboard 2000, a national initiative to match female entrepreneurs with venture capitalists, which has already produced over $400 million in funding for these entrepreneurs.
In 2000, Koplovitz joined Working Woman Network as chief executive officer to oversee the launch of WorkingWoman.com and the Women and Minority Business Exchange.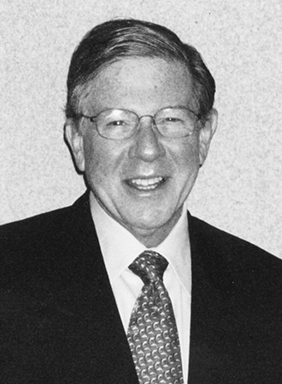 Robert M. Rosenberg H'97, P'94
Former CEO of Dunkin' Donuts and Baskin Robbins
Rosenberg served as chief executive officer of Dunkin' Donuts from 1963 until his retirement in 1998.
Under his leadership, the company grew from a regional family business to one of America's best known and loved brands. Rosenberg received his MBA from Harvard Business School, and in just weeks after graduating at the age of 25, assumed the position of chief executive officer.
Dunkin' Donuts was a publicly owned company from 1968 until 1989, and earned a reputation for extraordinary stockholder returns. In that 21-year period, it earned its investors a 35% compound rate of return and won accolades from Peter Lynch, famed Fidelity fund manager, who referred to Dunkin' Donuts as one of his greatest "ten baggers."
In 1990, Dunkin' Donuts was purchased by Allied Domecq PLC, a large UK diversified food and beverage company. Rosenberg remained with Allied Domecq for nearly nine years, continuing his leadership of Dunkin' Donuts, as well as assuming responsibility for Baskin Robbins, a subsidiary of Allied Domecq since the 1970s.
Upon his retirement, Rosenberg had grown the Dunkin' Donuts chain to over 4,000 stores worldwide with annual system-wide sales in excess of $2 billion.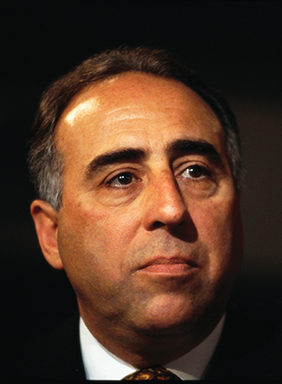 Robert Annunziata
Founder of Teleport Communications Group
Annuziata founded the country's first and largest competitive local exchange carrier, Teleport Communications Group (TCG).
Annuziata built TCG from the ground up and for 15 years he served as chairman and chief executive officer. In 1998 he sold the company to AT&T for $12 billion. TCG, which is now the local services of AT&T, laid 10,000 miles of fiber optic cable and built 50 local switches connecting 85 major U.S. metropolitan service areas. After the sale of TCG to AT&T, Annunziata accepted the role of president of AT&T's business services group which is responsible for AT&T's global network and for providing voice, data, and Internet services to 8 million business customers worldwide.
Annunziata joined Global Crossing Ltd. as chief executive officer and a director in February 1999. Global Crossing, founded in 1997, is building the world's first seamless fiber optic network which, when complete, will connect more than 170 leading business cities worldwide. For more information on global crossing, please visit www.globalcrossing.com.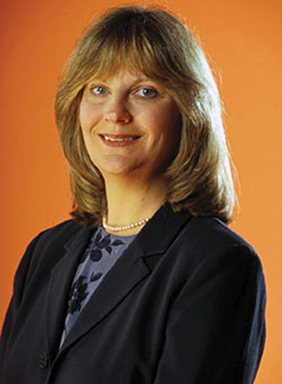 Patricia Gallup
Chairman, CAO, and Co-founder of PC Connection Inc.
Gallup, an anthropologist, met David Hall while hiking on the Appalachian Trail and she later went to work for his family's audio business in rural New Hampshire.
Their business, PC Connection, a leading direct marketer of computers, software and peripherals was born from their frustrating first experience with buying a computer. In 1982 they founded their direct sales company with an emphasis on customer satisfaction. Gallup has since guided the company to national prominence and has built a company respected for its treatment of its employees and the environment.
Gallup appeared on Fortune's list of top young entrepreneurs, and for the last six years has been named as one of the top 50 women business owners in the United States by Working Woman magazine. In 1997, she was honored as one of the top women entrepreneurs in the world, and in 1998 received the National Entrepreneur of the Year Award for Principle-Centered Leadership. Her company is repeatedly recognized as one of the top 50 companies doing business on the Internet and was the only computer reseller on the 1999 list of the "Top 100 Technology Companies that are Changing the World" which appeared in PC Magazine.
In addition, PC Connection has won PC World magazine's prestigious "World Class Award" eight times over the past ten years, including 1999. For more information on PC Connection, please visit www.pcconnection.com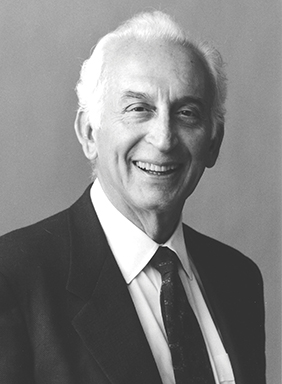 George N. Hatsopoulos G'20
Co-founder of Thermo Electron Corporation
Dr. Hatsopoulous founded Thermo Electron in 1956 because he wanted to create a company that would foster innovation and allow outstanding engineers, scientists and entrepreneurs to apply technology to emerging societal needs.
Since then, Thermo Electron has grown into an international company recognized as a world leader in environmental monitoring and analysis instruments and a major producer of paper-recycling equipment, biomedical products, alternative-energy systems, and other products and services related to environmental quality, health, and safety.
Dr. Hatsopoulous' training began in his native Greece at the National Technical University of Athens and continued at the Massachusetts Institute of Technology (MIT), where he received his bachelor's (1949), master's (1950), engineer's (1954), and doctorate (1956) degrees all in mechanical engineering. In addition to his work at Thermo Electron, Dr. Hatsopoulos has testified at numerous congressional hearings on national energy policy and capital formation, and has served on many national committees on energy conservation, environmental protection, and international exchange.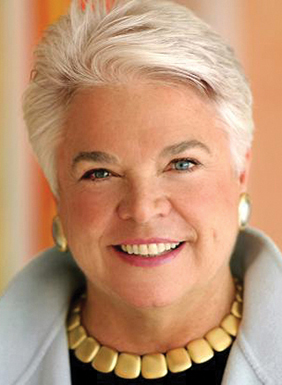 Pleasant T. Rowland
Founder of The Pleasant Company (American Girl Brand)
As a teacher, writer and an entrepreneur, she has created educational programs, books, dolls and toys that integrate learning and play experiences and emphasize important traditional values. She began her career in 1962 as an elementary school teacher and for the next two decades worked in a variety of capacities within education and educational publishing.
In 1985, inspired by a trip to Colonial Williamsburg, Rowland combined her love of American history and commitment to high-quality educational products to create The American Girls Collection. A year later, she founded Pleasant Company to market and distribute the line of historically authentic books, dolls and accessories. In July 1998 Pleasant Company was acquired by Mattel, Inc. for $700 million dollars and Rowland was named Vice Chair at Mattel. For more information on Pleasant Co. please visit www.americangirl.com.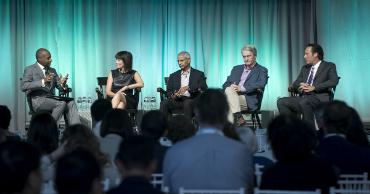 In candid interviews in front of an international audience of students and alumni, 11 ADE honorees offered behind-the-scenes stories about how they built their companies.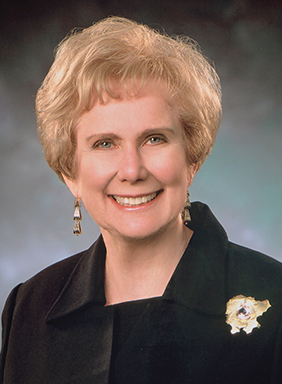 Ellen Gordon
Chairman & Chief Executive Officer of Tootsie Roll Industries Inc.
Gordon's dedication and entrepreneurial spirit has perpetuated the success of a unique candy that was created more than 100 years ago into Tootsie Roll Industries, Inc., one of the top companies in the candy industry. She is president and chief operating officer.
Gordon is credited as being the second woman to ever rise to the presidency of an exchange-listed company, and her entrepreneurial management style has been the key to Tootsie Roll Industries' success. Gordon encourages a family atmosphere at the company and believes in participatory management rather than directing from above. She promotes the cross-training of workers, saying that "cross-training not only makes them perform their job better, but also gives them a company-wide view." Cost control is also an important aspect of Gordon's management style along with long-term growth of the company. She has kept the company abreast of technological advances by focusing on automation, and strives to continuously improve production and minimize costs.
Her ambition and achievements have stretched far beyond her company. She has served as a role model for many by finding equal success both personally and professionally. She began her undergraduate studies at Vassar College, married at the age of 18, and then continued her education at Wellesley College. She left college and raised four daughters while also leading Tootsie Roll Industries, Inc. to new heights. Seventeen years later, she completed her degree work at Brandeis University.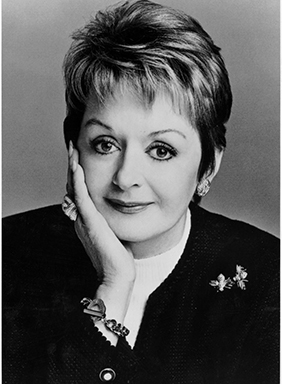 Marie Gray
Co-founder of St. John Knits Inc.
St. John Knits, Inc. began in 1962 when Marie hand made a dress to impress Robert Gray, her fiancée at the time. He was so impressed with her that he brought the dress to several department store buyers and returned home with orders for 84 dresses. Currently, Marie is vice chairman and chief designer, and Robert is chairman of the board and chief executive officer. Their daughter, Kelly Gray, has been president since 1996.
Quality and classic styling have always been the foundation of St. John Knits, Inc., and it is this focus that has brought the company the success it has enjoyed for many years. Over the past ten years, sales have grown from $37 million to $242 million, with 1998 third-quarter sales increasing by 24 percent over last year's third-quarter sales. Third-quarter sales for company-operated retail boutiques also increased by 22 percent. Company lines include St. John Knits, St. John Sport, St. John Coat Collection, Griffith & Gray, accessories, and fragrance. Eyewear and watch lines have recently been added.
Another key to St. John's success has been customer focus on businesswomen as a target market. This market has been the key to the company's top quality reputation and steady growth. The company also has a unique approach to manufacturing. It owns and operates every design and manufacturing phase for its core product lines.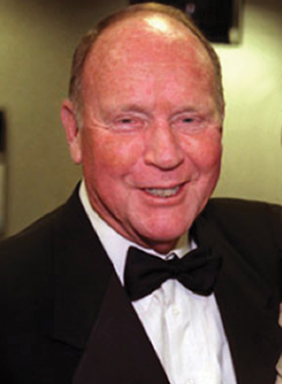 Robert Gray
Co-founder of St. John Knits Inc.
St. John Knits, Inc. began in 1962 when Marie hand made a dress to impress Robert Gray, her fiancée at the time. He was so impressed with her that he brought the dress to several department store buyers and returned home with orders for 84 dresses. Currently, Marie is vice chairman and chief designer, and Robert is chairman of the board and chief executive officer. Their daughter, Kelly Gray, has been president since 1996.
Quality and classic styling have always been the foundation of St. John Knits, Inc., and it is this focus that has brought the company the success it has enjoyed for many years. Over the past ten years, sales have grown from $37 million to $242 million, with 1998 third-quarter sales increasing by 24 percent over last year's third-quarter sales. Third-quarter sales for company-operated retail boutiques also increased by 22 percent. Company lines include St. John Knits, St. John Sport, St. John Coat Collection, Griffith & Gray, accessories, and fragrance. Eyewear and watch lines have recently been added.
Another key to St. John's success has been customer focus on businesswomen as a target market. This market has been the key to the company's top quality reputation and steady growth. The company also has a unique approach to manufacturing. It owns and operates every design and manufacturing phase for its core product lines.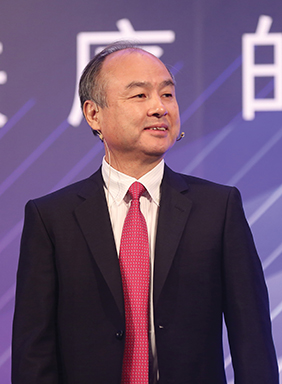 Masayoshi Son
Founder, Chairman, and CEO of SOFTBANK Inc.
Masayoshi Son is the founder, president, and chief executive officer of Softbank Corporation, Japan's largest distributor of software and systems hardware, and Japan's largest publisher of computer magazines and books. The corporation has also grown to become a leading producer of technology-related trade shows and expositions.
The innovative flare that is characteristic of Son is the basis of Softbank's success. His strategy of diversification has given Softbank a strong position in several key areas. The corporation's mission is to be a premier infrastructure provider to the computer industry, creating the means by which the leading software developers, hardware manufacturers, and service providers can display, explain, and distribute their products.
Softbank is continually expanding into new areas. In 1988, it began multinational activities by establishing Softbank America, which coordinates Softbank's business in North America. Over the past several years, Softbank has expanded to international markets through a series of joint ventures, partnerships, and acquisitions. For example, in 1990, a joint venture called Novell Japan was created with Novell, Inc. and involved companies such as Canon, Fujitsu, NEC, Sony, and Toshiba. Son has currently begun investing in various Internet companies and already holds a 31 percent stake in Yahoo! Inc.
In addition to the multifaceted role Son has at Softbank, he also serves on the board of directors of Cisco Systems, Inc., the leading global supplier of enterprise networks. Forbes Magazine has called him "Japan's hottest entrepreneur," and for the past two years has listed Son among the top ten of the "global power elite." U.S. News & World Report has also named him "Japan's most renowned digital-age entrepreneur."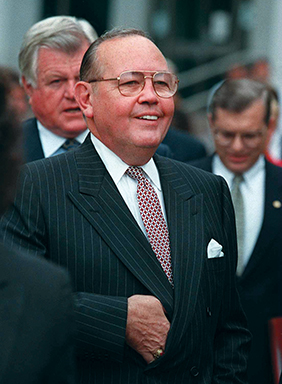 Richard J. Egan P'89
Co-founder of EMC Corporation
Richard Egan founded the EMC Corporation in Hopkinton, Massachusetts in 1979. He identified a niche in the computer industry for computers with more memory at a better price than was currently the case, while working for Intel. According to the company profile, it is the only company worldwide to "focus entirely on rapidly delivering intelligent enterprise storage and retrieval solutions that enable companies and organizations to leverage their growing volumes of information into profitability, growth and competitive advantage."
EMC is the worldwide leader in designing, manufacturing, marketing and supporting high performance storage products. In 1996 EMC's annual revenue surpassed $2.27 billion and the company currently employs 4,800 people in over 80 offices throughout the world. EMC's largest breakthrough came in 1990, when it was the first company to introduce intelligent storage systems which bundle arrays of disks to handle the massive storage and rapid retrieval demands of IBM mainframe users. It has kept this advantage by developing a standard design called MOSAIC: 2000, which allows new technologies to be incorporated more rapidly and enhances portability to non-IBM environments.
From 1979, Richard Egan held the position of president and chief executive officer, until 1992 when he became the chairman of the board and Michael Ruettgers was appointed president and chief executive officer. Mr. Egan has been active in the technology industry, specifically storage systems, since graduating from Northeastern University in 1961. He began his career in the Data Processing Division of Honeywell and moved on to The Draper Laboratory at MIT in 1963, where he aided in the development of the Apollo Guidance Computer. His first entrepreneurial adventure began when he co-founded Cambridge Memories, Inc. He brought this company to a profitable level before leaving to join Intel as the general manager of the Commercial Systems Division. He continues to hold the position of chairman of the board of the EMC Corporation and is very active in the educational and high-tech community of Boston.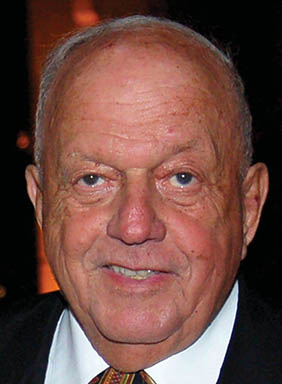 Abraham D. Gosman P'88
Founder of The Meditrust Companies
Abraham Gosman's career has been that of a true entrepreneur. Even before he graduated from the University of New Hampshire, he began his first venture by developing an inexpensive way to attach alligator and lizard skin to shoes, thus, earning him the title of "the largest reptile laminator in the US." He moved on to the heath care real estate industry in the 1960's by purchasing large, rundown mansions and restoring them into nursing homes. By the 1980's Mr. Gosman took his company, Mediplex, public and in 1985 established a spin-off company, Meditrust, of which he assumed the positions of Chairman of the Board and Chief Executive Officer. In 1986 he sold Mediplex to Avon Products for $220 million, while Meditrust continued to grow under his direction. Mediplex struggled under the Avon's management and in 1990 Mr. Gosman repurchased the company for a mere $42 million. Once again, he turned Mediplex into a profitable company and in 1994 sold Mediplex again to Sun Healthcare for $320 million.
Meditrust is the largest health care real estate investment trust in the nation, investing in health care related facilities, with a diversified investment portfolio made up of 65% nursing homes, 14% retirement and assisted living facilities, 12% rehabilitation facilities, 4% medical office buildings, 3% acute care hospitals, and 2% psychiatric, alcohol and substance abuse facilities. The company purchases these facilities then leases the facilities back to the original management, thus achieving Meditrust's main goal of producing and distributing its' income to shareholders. Meditrust is exempt from corporate income tax since it distributes at least 95% of its taxable income to shareholders.
Mr. Gosman has always achieved ideal industry positioning, and has led his company to total assets of approximately $2.3 billion and built a personal fortune estimated between $300 and $400 million. He established Meditrust with the intention to buy or develop high quality facilities and lease them back to the operator. These investments have proven to be well timed due to the growth of HMOs and the decline in in-patient hospital care, combined with the aging baby-boomer population and an increased concern in keeping health care costs down.
As in his business ventures, Mr. Gosman has become an enthusiastic philanthropist. He is a Fellow of Brandeis University; a Trustee of the Wang Center for the Performing Arts; a Board Member of the Kravis Center in West Palm Beach; a member of the Board of Visitors of Boston University School of Medicine; a Trustee of Boston University, the Dana-Farber Cancer Institute, the Recuperative Center Association and Beth Israel Hospital; and is a Director of the University of New Hampshire Foundation. In 1992, he was the first United States Naval Institute Commodore to receive the Ellis Island Congressional Medal of Honor. Mr. Gosman's son, Andrew is a 1988 graduate of Babson College.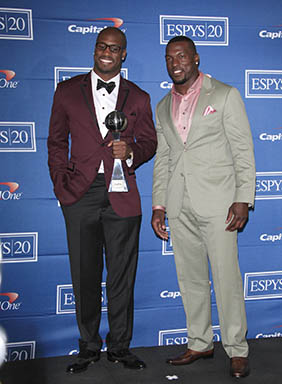 Willie D. Davis
Former President and CEO of All-Pro Broadcasting Company
Whether tackling education, business ventures, philanthropic service, or an NFL Superbowl title, "Willie" Davis excels with great skill and enthusiasm every time.
As President and CEO of All-Pro Broadcasting Company, Davis runs four radio stations including KACE in Los Angeles, the number two adult contemporary station and WLUM, Milwaukee's highest rated top-40 station.
Yet Davis was managing challenges way before his radio days. Struggling through a childhood of poverty in Louisiana, he graduated with a BS from Grambling State University in 1956 as a Dean's List student and captain of the football team.
Running with his athletic talent, Davis went on to play defensive end for twelve years with the NFL, ten of them as a Green Bay Packer with legendary coach Vince Lombardi. Davis holds the Green Bay Packer record for consecutive games played, never missing one in ten years.
This amazing feat of stamina was matched only by his success in the record books. He is a member of the five-time World Champion Green Bay Packers; team captain of Superbowl I and II; six-time selection to the NFL-All Pro team; and an inductee into the 1975 Green Bay Packer Hall of Fame.
Still, his greatest athletic milestones were yet to come. In 1981 Willie Davis was selected to the NFL Hall of Fame and the following year was first recipient of the Vince Lombardi Varsity Scout Award. He was voted NFL Man of the Year in 1987 and honored with the Supreme Court Justice Byron White Award to athletes for outstanding service to country, community, and team.
Davis's football experience nurtured leadership and teamwork skills shaping him for the captain of industry he would become in the business world. While still playing the game, he actively prepared for the future, earning an MBA from the University of Chicago in 1968 and in 1969 retired from football to buy West Coast Beverage Company.
As president for 18 years, he acquired smaller distributorships and led the wine, beer, and beverage distribution company to steady growth, driving sales up from $2 million in 1970 to $20 million by 1988.
Davis displays this same dedication and drive in boardrooms of the numerous corporations and civic organizations he serves. He is a director of Sara Lee Corporation; K-Mart Corporation; Dow Chemical Company; MGM Grand Incorporated; Alliance Bank; WICOR Incorporated; Johnson Controls Incorporated; LA Gear; Strong Fund; Rally's Incorporated; Kauffman Foundations; University of Chicago; Marquette University; Occidental College; Milwaukee School of Engineering; and Winston-Salem University.
In 1984, he served as Director of the US Olympic Committee and President Reagan appointed him to the President's Commission on Executive Exchange.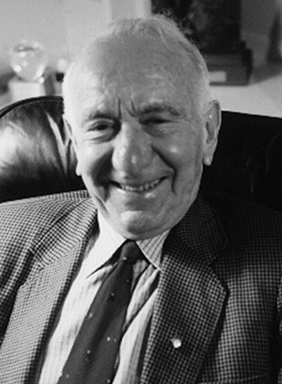 Leo Kahn
Co-founder of Staples Inc.
As an airforce navigator during World War II, Leo Kahn kept a sharp eye on the target. Today at age 80, he continues—with great vigor—to track and capture new markets.
Last fall he opened the Boston region's largest natural-foods supermarket. Nature's Heartland in Bedford Mass., is bigger (at 41,000 square feet) with a more price conscious policy than its main competitor, Bread & Circus, owned by Whole Foods Market Inc. of Texas. The innovative store stocks a wide selection of natural and prepared foods. Hearth stone pizza, fresh sushi, and oven ready meals are served up daily for the health-sensitive take-out generation, an underserved $9.2 billion market that has doubled since 1990. Nature's Heartland is Kahn's second natural food venture. He was an investor in Fresh Fields Inc., which has 22 stores in Washington, Chicago, New York, and Philadelphia. In 1994 Kahn sold his stake in Fresh Fields.
Kahn says it's easy to come up with new ideas. The challenge, he insists, is to make them work. After the War, he went into the retail grocery business and started what became Purity Supreme, Inc. The company operated with supermarkets, warehouse food and drug stores, and Mom and Pop convenience stores. In 1984 Purity, with annual sales of $800 million, was sold to Supermarkets General Corporation.
Later, Kahn applied the discount warehouse concept to selling paper clips and notepads. He is co-founder and member of the board of directors of Staples, Inc., a retail office supply chain, now publicly traded and worth billions. His retailing expertise is shared in the boardrooms of numerous companies including Health Development Corporation, a chain of exercise centers; Big V Supermarkets; Grossman's, Inc.; High Road Bicycle Stores; and Cambridge Soundworks. Before acquiring the golden touch in retailing, Kahn spent time as a journalist. He is a graduate of Harvard College and Columbia University's School of Journalism; and was a beat reporter with the New Bedford Standard Times.
Part of Kahn's success is his intuitive sense of news and market trends. His advice to entrepreneurs is to grow with the concept. Entrepreneurs need to know when to change and when to be true to their original principles. Master this concept, Kahn is convinced, and you too will soar.
Leslie C. Quick, Jr.
Co-founder of Quick & Reilly
In 1974, Les Quick founded Quick & Reilly on the principles of customer before company and ethics before profitability.
The firm soon became the first member of NYSE to offer discount transaction fees to retail investors, and is currently listed as leading discount broker in the US behind Charles Schwab and Fidelity Investors. Since its inception, Quick & Reilly has increased growth and profitability each quarter, earning itself a spot in the best 200 small companies in America named in 1993 by Forbes magazine. Third Quarter Ended November 29, 1996 posted a 22% increase of net income to $18,437,000. Currently The Quick & Reilly Group, Inc., consists of three subsidiaries: Quick & Reilly, Inc., U.S. Clearing Corp., and the JJC Specialist Corp.
The company recently established a presence in the international market through their Quick & Reilly Limited subsidiary. It offers institutional discount brokerage services through an office near Zurich and an office in London. Combined, the subsidiaries represent 116 national brokerage offices, an execution and clearing service with a client base of over 300 firms, and a market for 280 New York Stock Exchange issues, representing 230 companies, including 44 S&P 500 corporations.
In 1950, Quick graduated from Widener University with an undergraduate degree in Business Administration. His business experience includes vice president and business manager of Forbes magazine and president of Leslie Quick Associates, a money management firm that Quick founded prior to the Quick & Reilly Group.
The company is a conservative, family-run business that has been deliberately slow to expand to avoid exposure in depressed business cycles, and bases the company's success on low cost service for investors, strategic growth and acquisition and effective cost control. Since 1983 Quick & Reilly has provided their customers with convenient electronic access to trading services. Quick attributes strong results this quarter in part, to the successful launch of QuickWay Net, a 24 hour trading service on the Internet.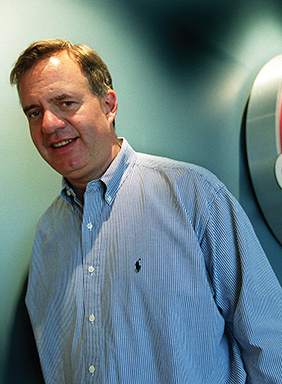 Thomas G. Stemberg
Co-founder of Staples Inc.
Thomas Stemberg is founder, chairman of the board, and chief executive officer, Staples, Inc., pioneer of the office superstore industry with more than 620 office products superstores throughout North America, Germany, and the UK. Staples is one of the fastest growing specialty retailers in North America. In 1995 the company became the sixth publicly traded US company to reach $3 billion in annual sales in less than ten years.
Staples employs more than 25,000 associates, both full and part time. For fiscal year 1996, Staples reported sales of $4.0 billion. Tom Stemberg has a formula for retail success: devote your career to developing and implementing bold new ways for customers to save money.
Stemberg, fresh out of Harvard College ('71) and Harvard Business School (as a George F. Baker Scholar, '73), joined Jewel Companies' corporate training program in 1973. He trained in every department of Jewel's Star Markets stores, moved to headquarters, and rose to vice president of sales and merchandising in 1980.
At Star Market, Stemberg developed and launched the first line of generic, or unbranded, foods to be sold in the US. While most in the food industry dismissed the price-cutting idea as too radical, the overwhelming consumer response gained Star national headlines. Star's success with that program spawned a national trend; generics are now offered by every major supermarket chain in the country. By 1982, Star Markets' sales ranking in the competitive Boston market had risen from fourth place to a dead heat (with Leo Kahn's Purity Supreme chain) for first.
That year, Stemberg moved on to Connecticut-based First National Supermarkets as senior vice president of sales and merchandising. In 1983, he was named president of its Edwards-Finast division. He led the company out of the doldrums, in part by opening a network of high-volume megastores under the Edwards Food Warehouse banner. The Edwards formula was simple: cut costs, buy in volume, and slash selling prices.
That's the formula that Stemberg put to work in developing Staples, the Office Superstore, and in pioneering the deep discount office supply industry. With the backing of former supermarket adversary Leo Kahn, he founded Staples, Inc. in 1985, and opened its first store in May, 1986.
Stemberg serves as a director of PETsMART, another dynamic deep-discount retailer, and Duane Reade Drug Stores. He maintains close ties to his alma mater, Harvard; his many associations there include the post of co-chairman of Friends of Harvard Basketball. He serves on the Visiting Committee of Harvard Business School; the board of Overseers of the Boston Symphony Orchestra; and the Executive Council of the Archdiocese of Boston Inner City Scholarship Fund. Stemberg received the 1996 Torch of Liberty Award from the Anti-Defamation League.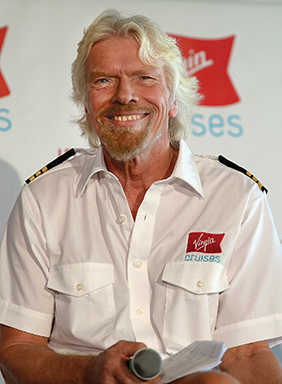 Sir Richard Branson
Founder of The Virgin Group
"You will either go to prison or become a millionaire," the headmaster told the young man. That was nearly 30 years ago, and while Richard Branson never made it to the "gaol," he has most assuredly become a millionaire…many times over. He is founder and chairman of the Virgin Group of Companies, one of the United Kingdom's largest private, multinational groups, consisting of airline, media, entertainment, and travel interests.
Branson is filled with ideas. Where others see pitfalls and disaster, he sees opportunity and success. What he lacks in sophisticated knowledge of a business, he is able to coax from others. His first enterprise was a magazine called Student, which he started at age 16 by selling $10,000 in advertising over the telephone. It was a commercial failure, yet somehow, Branson had been able to attract such notables as Vanessa Redgrave and John LeCarre to write for it. A year later, he created a student advisory service center to help young people with medical, psychological, and legal problems.
By 1970, with ideas still bristling, Branson founded Virgin as a mail-order record company and then opened a record shop in London. In 1972, he built a recording studio and started a record label. His first big break came when his friend and composer, Mike Oldfield, recorded "Tubular Bells," an album that sold more than five million copies. Over the years, such artists as Steve Winwood, Paula Abdul, Belinda Carlisle, Genesis, Phil Collins, Peter Gabriel, the Rolling Stones, Janet Jackson, and many other well-known performers helped make Virgin one of the top six record companies in the world. In 1992, Branson sold Virgin Records to Thorn/EMI for slightly less than one billion dollars.
In 1984, Richard Branson entered other ventures. One of those was Virgin Atlantic Airways. While the flying has not always been smooth for Virgin, Branson believes the future of the airline is secure. "The worst is definitely over," he says. Confident of his prediction and his ability, Branson has expanded the range of products carrying the Virgin brand. He has licensed the Virgin name for use on personal computers, and has established joint ventures to market Virgin vodka and Virgin cola.
While his business and management style embodies boundless energy –15-hour workdays are not uncommon – and a flair for the outrageous, Branson has made the time to serve as a trustee with several charitable organizations. Among these are the Healthcare Foundation, a leading charity organization instrumental in fighting AIDS through education. The Foundation has also become involved in a lobbying campaign, called "Parents Against Tobacco," to restrict tobacco advertising and sponsorship in sports. Branson has helped to raise more than $50 million for these efforts.
What does the Virgin name mean? "We're a company that likes to take on the giants," Branson says with his puckish grin. "In too many businesses, the giants have had things their own way. We're going to have a lot of fun competing with them." It may be fun for Branson, the man with a million ideas, but perhaps not for "the giants."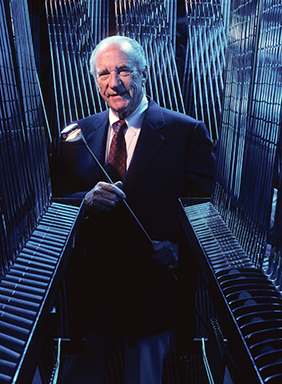 Ely Callaway Jr.
Founder of Callaway Golf
Ely Callaway was told by his father, "Don't go to work for the family." It seemed like strange advice at the time, since practically everyone else in La Grange, Georgia, worked for one or another of his Uncle Abner's businesses. But the young man, a recent graduate of Emory University who had studied history and been president of his class, took his father's advice and began to carve his own niche in the business world…and what a niche it is.
Joining the U.S. Army Reserve, Callaway found himself at the Philadelphia quartermaster depot, the Army's Central Apparel Procurement Headquarters since 1776. During World War II, he was the sole purchasing and contracting officer responsible for the Army's procurement of cotton clothing. Perhaps more important, he became friends with Levi Strauss, Hart Schaffner & Marx, and executives at the Arrow Shirt Co. After the war, he went to work for Deering, Milliken & Company, a giant textile supplier, figuring that "the best thing I can do is get a job selling to the people I've been dealing with."
Leaving Deering, Milliken & Company in 1954, Callaway joined forces with a 1978 inductee into Babson's Academy of Distinguished Entrepreneurs, Royal Little, founder and chairman of Textron. While at Textron, Callaway oversaw the merger of American Woolen and Robbins Mills. Later, when Textron sold Little's division to Burlington Industries, Callaway went along, too. By 1968, he had become president of Burlington, "the biggest textile company on earth," he would proudly proclaim.
Callaway's goal at Burlington, however, was the chairmanship – nothing less would do – and when this was not forthcoming five years later, he left Burlington and went west, to California, to make wine. Callaway gambled his own money ("I wanted to keep my friends," he explains) and began raising grapes in an area that was considered by many to be nothing more than desert. His risk paid off in spectacular fashion in 1981 when he sold his successful vineyard and winery to Hiram Walker for $14 million.
When he was past 60, Ely Callaway turned his attention to golf, one of his favorite pastimes – he had been a tournament champion in his youth. Unable to keep his restless entrepreneurial spirit under control, Callaway founded The Callaway Golf Company in 1983. As with every venture with which he had ever been involved, Ely Callaway made a total commitment to his new venture. Incorporating the company's patented design concept, Callaway introduced the golfing world to Big Berth Metal Woods, Big Bertha War Bird, Big Bertha Irons, and the new line of Great Big Bertha Drivers and Fairway Woods. Today, Callaway Golf is the industry sales leader, and Ely Callaway is a master entrepreneur who has turned his dream into reality – "mainly due to sweat and lots of luck," he says.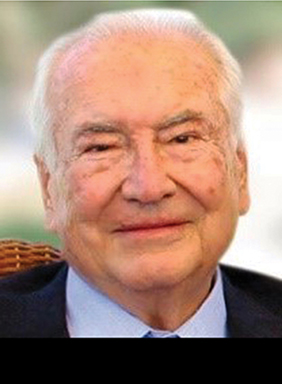 A. Andronico Luksic
Former Chairman of the Luksic Group
Andronico Luksic built his fortune by following a simple business dictum: "Follow the philosophy of the ant" – that is, focus on accomplishing little things, and soon you'll move mountains. The Luksic Group has already moved some very big mountains.
The Group is into banking and brewing. It mints coins and mines copper. It serves school lunches and sells cellular phones. It encompasses six listed companies and scores of privately held companies. But is wasn't always that way.
Andronico Luksic bought his first copper mine in 1954. At the same time, he purchased a stake in a Ford dealership that served the booming copper economy around his hometown of Anofagasta, Chile. By the end of the 1950's, he had expanded his dealership into an equipment leasing company, serving the big mines of the region, and he controlled the agency. He also used part of the proceeds from the mine sale to venture into fishing, buying out Star-Kist's local subsidiary.
His businesses prospered during the 1960's when he made several important investments in mining and other companies. It was during this period that he gained control of the Lota Schwager coal mines and Madeco, the dominant copper products maker. In the 1970's, the arrival of the Unidad Popular government marked the beginning of the expansion and internationalization of Andronico Luksic's businesses. He began looking at opportunities outside Chile, and in particular, in Argentina. He sent some of his executives to open a Ford agency and an iron-ore mine in Brazil. He established a packaging company in Colombia. In 1990, he bought a copper manufacturing company in Argentina and several other firms.
Today, Andronico Luksic heads Chile's first truly multinational corporation. The Luksic Group owns Chile's largest brewery, Cia Cerveceria Unidas; Madeco, the copper products company; and a major food products group, Empresas Lucchetti. The Group's assets also include the railway that ties the country's copper belt to the sea, two large banks – Banco O'Higgins and Banco de Santiago – a telecommunications company, several mines, ranches, and one of Santiago's finest hotels, the Carrera. Currently, the Luksic Group consists of more than 50 companies with assets of $9 billion.
Andronico Luksic has demonstrated that hard work, determination, a keen eye for business, and the ability to "follow the philosophy of the ant" can bring success in a variety of areas.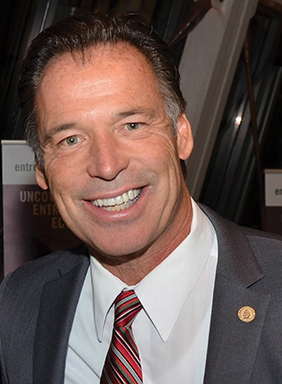 The Honorable Craig R. Benson '77, H'03
CEO of Soft Draw Investments; former Chairman and CEO at Cabletron Systems, Inc.; Former Governor of the State of New Hampshire
If there is one thing that distinguishes the true entrepreneur, it is the ability to succeed in the face of adversity.
Successful entrepreneurs struggle with limited resources, endure the treacherous start-up years, and eventually flourish. The founders of Cabletron Systems, Inc., a computer connectivity corporation in Rochester, New Hampshire, exemplify the triumphant spirit of the entrepreneur.
Theirs is a textbook example of a start-up business. The company began in 1983 when S. Robert Levine, then an independent electronics contractor, was approached by a customer who requested lengths of cable that were shorter than what conventional suppliers were willing to furnish. Craig R. Benson B'77, a business contact of Levine's, suggested that he buy a large order of cable, cut it, and fill the customer's order. Levine and Benson would sell the remaining lengths of cable. The two hauled all of the cable into Levine's Ashland, Massachusetts garage and, during their lunch hours, cut it into shorter lengths. The first year, they made a modest $100,000 doing exactly what they had done that first day in the garage.
From there, the partners continued to provide connectivity cable to customers for what is now known as networking. They also began installing the networks and providing the hardware needed to control them. In 1991, Benson and Levine shared the honor of being named Inc. magazine's "Entrepreneurs of the Year." By January 1992, Cabletron's growth and success had accelerated to the point that its corporate headquarters building was selected by President George Bush as one of the key stops on his New Hampshire primary campaign. "Welcome to Cabletron, Mr. President," read the huge sign that greeted him as he entered Rochester.
Their distinct personalities and skills make them unlikely, but complementary, partners. The industry press refers to them as "the odd couple." S. Robert Levine, president and chief executive officer of Cabletron and the student voted "least likely to succeed" in his high school class, is a powerhouse of energy and dedication. His maverick tactics add the character to Cabletron that distinguishes the company from its competition. Craig R. Benson, chairman and chief operating officer, is married and has two children. With a personality quite opposite from that of his partner, Benson is the financial driving force. His attention to cost details and professional management of the company's rapid growth have been essential to Cabletron's rise in the industry.
Both entrepreneurs have fought the bureaucracy that can accompany corporate growth, and focus on creating an environment that will position their employees to perform and respond to the needs of customers. Says Levine, "I hire dedicated people, brighter than me, and give them the chance to succeed." Today, Levine and Benson's Cabletron, once a garage start-up, proves that vision and dedication hold the keys to business success.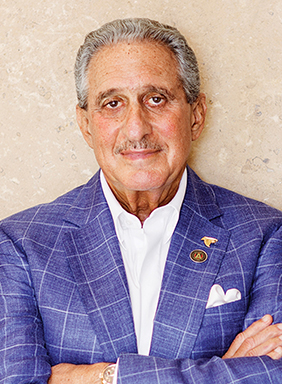 Arthur M. Blank '63, H'98
Owner and Chairman, Blank Family of Businesses; Co-founder of The Home Depot
"I think of myself primarily as a servant leader. My job is simply to support the people in our stores, to create a workplace that excites them. If I do my job well, they'll enjoy personal growth. And from that, the company will find financial growth," says Arthur M. Blank '63 H'98
Indeed, the formula is working. The Home Depot, co-founded by Blank and Bernard Marcus, has grown since 1979 to 350 stores in the United States and Canada, with total sales in 1994 exceeding $12 billion, by far the largest home improvement retailer in the United States.
Back in 1979, the picture did not look quite so optimistic for Marcus and Blank. Both had been dismissed by their hardware retail employer, but responded with resiliency. They joined forces to fill a need they had observed in the industry: a hardware store with value and customer service. Their new store, The Home Depot, was built around a commitment to the "do-it-yourself," or DIY, business. Low prices, high volume, and, most importantly, service and quality remain the cornerstones of The Home Depot.
Employees are the other essential element in The Home Depot equation. They are encouraged to hold a stake in the company through stock ownership. Offsetting our conventional ideas about organizational structure, Marcus notes that, "the employee who rings up the sale is the highest guy in the company." Employees describe The Home Depot as "our store" and shoppers as "our customers." Home Depot employees are well-known for their loyalty. After Hurricane Andrew struck southern Florida in the fall of 1992, some employees barricaded themselves in their stores to prevent looting even before they had returned to their own homes. When the stores reopened, they sold plywood and other essential supplies at a loss.
Arthur Blank was already an entrepreneur as an undergraduate at Babson, where he ran both a landscaping business and laundry service, and has not lost the hands-on approach to management. Bernard Marcus, the son of Russian immigrants, put himself through the Rutgers College of Pharmacy and worked in pharmaceutical sales before switching to retail and then later to hardware retailing. He still loves nothing so much as walking through The Home Depot, meeting with customers. Both Blank and Marcus are frequently found wearing the distinctive orange apron (competitors refer to The Home Depot as "agent orange") and jeans as they visit stores throughout the southern, western, and northeastern United States.
Pivotal to the continued growth of the company is their "work in process" attitude that leads to continuous improvement. When Marcus discusses The Home Depot employees, he says, "We listen to them. We care about them. We do the things they say are right. And when they show how stupid we are in the systems we have, we change the systems." No wonder the company is among "America's Most Admired," according to Fortune magazine's 1994 ranking.
Edward C. Johnson III
Former Chairman and CEO of Fidelity Investments
Ned Johnson is a native Bostonian, a man who has propelled the business started by his father into an investment company known worldwide for its long-term performance.
Perhaps he is not the first person one would expect to find promoting the Japanese concept of kaizen. But kaizen, or "making small improvements in all areas of the company over an extended period of time" in the words of Johnson, is an accurate description of the impact this business leader has had on Fidelity Investments.
Ned Johnson stays out of the public eye, preferring to spend quiet time with his wife and three children, collect art and antiques, and play tennis. Despite a low profile, he has earned the respect of his community, his business peers, and Fidelity employees, who look forward to Johnson's visits to their department floor. Often, he offers work process suggestions and new ideas. His involvement in so many different aspects of Fidelity's business is testimony to the leadership of this influential entrepreneur.
Early in life, Johnson demonstrated an interest in machines. He enjoyed taking them apart and examining them to understand how they functioned. Eventually, what most intrigued him was the power of computers, and he learned as much as he could about them. Today, it is clear that the application of information technology, spearheaded by Johnson himself, provides a strong competitive advantage to his successful company.
Johnson joined Fidelity, the family business, as a stock analyst in 1957 immediately after receiving his bachelor's degree from Harvard. Said his college roommate, "He wasn't a scholar, but he was reading a Wall Street Journal before I even knew what it was." So eager was he to be judged on his own merit, Johnson referred to his father as "Mr. Johnson" while at the office. From 1961 to 1965, Ned ran Fidelity's Trend Fund, which ranked No.1 among growth funds throughout the period. In 1972, he was named president of the company.
Ned Johnson is credited with bringing about profound change, not only to this private investment company, but also to the industry at large. His innovations include the introduction of check writing on Money Market funds as well as identifying and entering the enormous market for supplying discount brokerage services to banks, insurance companies, and consumers. Johnson's vision and risk taking have moved the company forward for more than 35 years and he has always had an eye toward the long-term success of the business. Under his leadership, Fidelity invested in new computers and telephone systems, even in 1974, a year when assets dropped by one-third. These investments positioned Fidelity to better serve its customers in the bull market of the 1980's, using innovations such as toll-free investor services and walk-in investor centers across the United States.
Ned Johnson became chairman and chief executive of Fidelity in 1977, and today holds the positions of CEO, chairman of the board, and director, FMR Corp. Even so, he is a frequent visitor to the computer room for updates on new technology, and follows stocks and funds from his desktop. In the Boston offices, he has been known to join the legion of telephone representatives so that he can learn from the customers, who are the best source for Fidelity's ongoing innovations.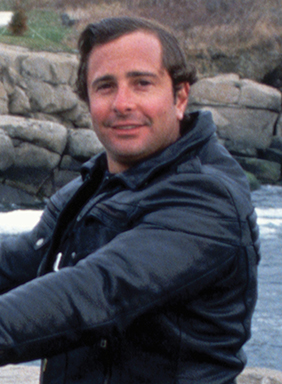 S. Robert Levine
Former President and CEO of Cabletron Systems Inc.
If there is one thing that distinguishes the true entrepreneur, it is the ability to succeed in the face of adversity. Successful entrepreneurs struggle with limited resources, endure the treacherous start-up years, and eventually flourish. The founders of Cabletron Systems, Inc., a computer connectivity corporation in Rochester, New Hampshire, exemplify the triumphant spirit of the entrepreneur.
Theirs is a textbook example of a start-up business. The company began in 1983 when S. Robert Levine, then an independent electronics contractor, was approached by a customer who requested lengths of cable that were shorter than what conventional suppliers were willing to furnish. Craig R. Benson '77, H'03, a business contact of Levine's, suggested that he buy a large order of cable, cut it, and fill the customer's order. Levine and Benson would sell the remaining lengths of cable. The two hauled all of the cable into Levine's Ashland, Massachusetts garage and, during their lunch hours, cut it into shorter lengths. The first year, they made a modest $100,000 doing exactly what they had done that first day in the garage.
From there, the partners continued to provide connectivity cable to customers for what is now known as networking. They also began installing the networks and providing the hardware needed to control them. In 1991, Benson and Levine shared the honor of being named Inc. magazine's "Entrepreneurs of the Year." By January 1992, Cabletron's growth and success had accelerated to the point that its corporate headquarters building was selected by President George Bush as one of the key stops on his New Hampshire primary campaign. "Welcome to Cabletron, Mr. President," read the huge sign that greeted him as he entered Rochester.
Their distinct personalities and skills make them unlikely, but complementary, partners. The industry press refers to them as "the odd couple." S. Robert Levine, president and chief executive officer of Cabletron and the student voted "least likely to succeed" in his high school class, is a powerhouse of energy and dedication. His maverick tactics add the character to Cabletron that distinguishes the company from its competition. Craig R. Benson, chairman and chief operating officer, is married and has two children. With a personality quite opposite from that of his partner, Benson is the financial driving force. His attention to cost details and professional management of the company's rapid growth have been essential to Cabletron's rise in the industry.
Both entrepreneurs have fought the bureaucracy that can accompany corporate growth, and focus on creating an environment that will position their employees to perform and respond to the needs of customers. Says Levine, "I hire dedicated people, brighter than me, and give them the chance to succeed." Today, Levine and Benson's Cabletron, once a garage start-up, proves that vision and dedication hold the keys to business success.
Bernard Marcus
Co-founder, former Chairman and CEO of The Home Depot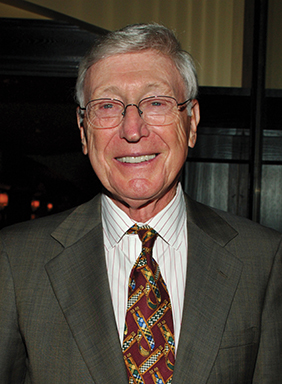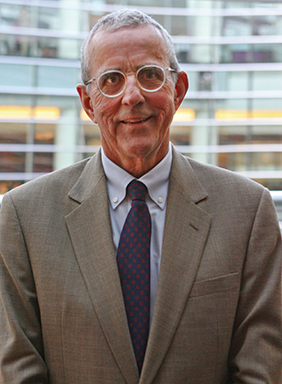 Leon A. Gorman
Former President and Chairman of L.L.Bean Inc.
On the wall for all to see, are letters of complaint and praise from customers. Over the letters is a sign that reads "messages from the boss."
This bold display supports the principles of Leon Leonwood "L.L." Bean, who founded the business in 1912. Bean counseled, "Sell good merchandise at a reasonable profit, treat your customers like human beings, and they'll always come back for more."
In 1912, Mr. Bean borrowed $400 to produce his now famous rubber-bottomed hunting boots. Bean designed the boots himself to keep his feet dry when he traversed the Main wilderness. The unique design quickly became popular with other outdoor lovers and the company became a successful venture. It employed 120 people and had annual sales of $3 million when Mr. Bean died in 1967 at age 94.
His grandson, Leon Gorman, became president upon his grandfather's death. A graduate of Bowdoin College, he came to Bean in 1961 after Navy destroyer service and a trainee job a Filene's department stores. He brought with him a new vision for the company. Hiring some aggressive young managers, Gorman pioneered the mail-order business that has sustained an annual growth rate of nearly 20 percent since he took the helm, and launched innovations in data base management and customer service. Now a giant specialty mail-order business, L.L. Bean serves as a model for the industry.
L.L. Bean relies on the many people who perform tasks more efficiently than machines and "who don't break down in the process," states John Findlay, Bean's senior vice president for operations. By emphasizing human potential, L.L. Bean has become the most successful and efficient mail-order business in the United States and perhaps the world.
They do it by placing a high value on the employee and the customer. Employee ideas are sought after and listened to, and have led to streamlining the distribution centers. Even seasonal employees are given substantial training. The company's ethical treatment of employees makes it an extremely desirable place to work - doubling the work force for the holidays poses no problem for L.L. Bean.
To L.L. Bean the customer is sovereign. L.L. Bean offers an unconditional guarantee: they will exchange anything for any reason. Orders are processed in two or three days, unlike most mail-order companies where two weeks is typical. And if customers have to call for any reason, they will find operators so friendly and courteous that they may feel as if they've made a new friend.
Uncommon in today's business climate, L.L. Bean remains a family held company. Three nephews, Bill, Jim, and Shawn Gorman are also currently employed with the company. It is unlikely that you will see LLBEAN on the New York Stock Exchange soon. Mr. Gorman has a broad smile when he declares, "Everyone seems happy with the present arrangement." And they plan to leave it that way.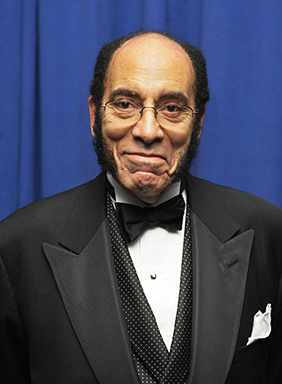 Earl G. Graves
Founder of Black Enterprise Magazine; Chairman of Earl G. Graves Ltd.
On the 20th anniversary of BLACK ENTERPRISE, Earl G. Graves reflected, "I think we've been the drum major in this country for black business and for black professionals. We've been able to show that, when given the opportunity, black people can be as good as anybody, and in many cases, better."
Earl G. Graves may be the best illustration of his own point.
The son of West Indian immigrants, Graves began his career as an administrative assistant to Senator Robert F. Kennedy. Following the Senator's assassination, Graves established his own consulting company to advise corporations on urban affairs and economic development. Graves observed an increasing number of people like him - African-American professionals who needed information on careers, personal finance, and the unwritten rules of networking in corporate America. The visionary entrepreneur created BLACK ENTERPRISE to speak to this need.
Throughout its 24-year history, BLACK ENTERPRISE has followed a mission of service. It has advised African-Americans about how to navigate business and government organizations to attain positions of influence, and how to bring success to their personal and professional lives. BLACK ENTERPRISE communicates the importance of black-owned businesses to the economy by each year listing the BLACK ENTERPRISE 100 industrial/service businesses in the country that are owned by blacks.
In his role as editor of BLACK ENTERPRISE, Earl Graves strives to influence the future as well as the present. He urges black professionals to safeguard the wealth and security of future generations with a simple formula: teaching their children the value of money.
The entire Graves family is closely involved in their businesses. Barbara Graves, now a professional grandmother, at one time ran every department by sales at BLACK ENTERPRISE. Two sons, Butch and John, work for the magazine and Michael works for Pepsi-Cola of Washington D.C.
Graves' professional achievements are inspiration to all entrepreneurs. Today, he is the president and chief executive officer of Earl G. Graves, Ltd., the parent company of Earl G. Graves Publishing Company, publisher of BLACK ENTERPRISE magazine. He is also the chairman and CEO of Pepsi-Cola of Washington D.C., the largest minority-owned Pepsi-Cola franchise in the United States. He was recognized in 1972 as one of the ten most outstanding minority businessmen in the country by the President of the United States, and has received the National Award of Excellence for his achievements in minority business enterprise.
However, the finest and most lasting tribute to Graves' economic, political, and social influence may be the fact that the gross sales of the BLACK ENTERPRISE 100 companies has increased from less than $450 million in 1970 to more than $9 billion today. The owners and managers of many of these companies would be the first to tell you how much of their success is due to Earl G. Graves.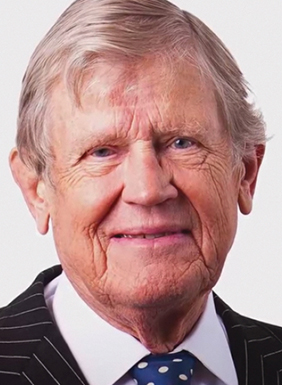 Jacob Stolt-Nielsen, Jr. P'87
Former Chairman and CEO, Stolt Tankers and Terminals (Holdings) S.A.
For over a century, shipping and risk-taking have been characteristic of the Stolt-Nielsen family. In 1891, Botholf Stolt-Nielsen invested 60 percent of his savings in a deadweight steamer, and by 1899 he was the third largest ship owner in Norway. The family has owned ships ever since - through two world wars and good and bad economic times.
Jacob Stolt-Nielsen Jr. founded Stolt Tankers and Terminals in 1959. It was his interest in carrying a variety of cargoes aboard a single ship that led him to a position of prominence in the shipping industry and that gave rise to the world's largest parcel tanker company. His secrets included double-skinned tanks and independent pumps, pipes, and temperature controls for each tank. This breakthrough permitted the company to handle even toxic chemicals safely - although company policy is to refuse any such cargoes - or any of over 800 other liquids. Stolt-Nielsen's most sophisticated parcel tankers have 58 stainless steel and coated cargo compartments.
Stolt-Nielsen controls a variety of ancillary shipping operations. For example, the terminal division of Stolt Tankers and Terminals operates the terminals where the ships are berthed and liquids stored. Stolt Terminals are located throughout North and South America. There is also a transfer terminal in Rotterdam, the Netherlands. Stolt Tank Containers, the company's fastest growing business, operates of 5,000 intermodal stainless steel tank containers. In the early 1970's, Jacob Stolt-Nielsen started two new marine businesses, seafood and underwater contracting. While part of the Stolt organization, they have operated independently since 1977. Stolt Sea Farm is an aquaculture company employing modern techniques to breed, farm, and process quality seafood in controlled environments. Stolt Seaway is a major marine and subsea contractor specializing in the installation, inspection, repair, and maintenance of underwater structures for the offshore oil and gas industry.
For over 100 years, Stolt-Nielsen has been called the first name in world-wide shipping. In the company's 1991 annual report, Jacob Stolt-Nielsen Jr. wrote, "It would have been fun to show my grandfather one of our stainless steel chemical tankers today. It would also be fun to see what they will look like a century from now." In all probability, those tankers will also bear the Stolt-Nielsen name.
Robert A. Swanson
Co-founder of Genentech
Robert Swanson is not easily deterred. In 1975, when he first became intrigued by the commercial potential of recombinant DNA technology, he confronted a wall of skepticism. Many scientists and businesspeople believed that commercialization was 20 years away. In a meeting with Herbert Boyer, a biochemist at the University of California at San Francisco, the two agreed to investigate the commercial feasibility of biotechnology. It was a move that gave birth to Genentech.
From the beginning, Swanson realized the opportunities for recombinant DNA technology to create beneficial products. Under his guidance, Genentech provided broad applications of science to modern society, developing new products such as human insulin, interferons, human growth hormone, and thrombolytic agents. Recently, the company announced that is will invest $17 million in Gen Vec, a new company developing a treatment for cystic fibrosis.
Genentech was the first biotechnology company to carry a drug from the promise of the laboratory to the reality of a marketed pharmaceutical. The company has done so two more times. As a result, many children who might otherwise be severely short are reaching normal height, heart attack victims who might otherwise be disabled or dead carry on with their lives, and a few children with a rare disorder who have been plagued by constant infections fight them off more easily. Today, Genentech is a leading biotechnology company that discovers, develops, manufactures, and markets human pharmaceuticals for significant medical needs.
Genentech has taken a leadership role in addressing issues that affect the welfare of its employees and patients who could benefit from the company's products but who cannot afford them. In 1989, Genentech opened the nation's largest company-sponsored, on-site day-care center for children of its employees. The company also believes its drugs should be available to all patients who need them. Genetech's Uninsured Patients Program (UPP) makes its drugs available free to patients who are uninsured and cannot afford the treatments. Since the program began in 1986, Genentech has provided more than $76 million worth of products to uninsured patients.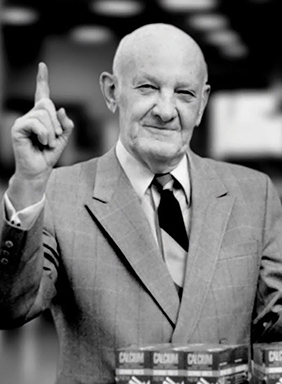 Ewing Marion Kauffman
Founder of Marion Merrell Dow Inc.
Mr. Kauffman, better known as "Mr. K," exemplifies the word entrepreneur.
In 1950, he founded Marion Laboratories, Inc., a pharmaceutical manufacturing firm in Kansas City. He led the company from gross sales of $36,000 and a net profit of $1,000 in its first year to become a diversified health care company that now exceeds $2.5 billion in annual sales. In 1989, Marion merged with Merrell Dow Pharmaceuticals to form Marion Merrell Dow, Inc., where Mr. Kauffman serves as chairman emeritus. In addition, "Mr. K" is the sole owner of the Kansas City Royals Baseball Club.
Through the Ewing Marion Kauffman Foundation, "Mr. K's" philanthropic efforts work within the context of human development. Special emphasis is placed on helping at-risk children and youth become productive members of society and in stimulating the growth of entrepreneurship in America. Ultimately, the Foundation seeks to offer people a choice and hope for their future.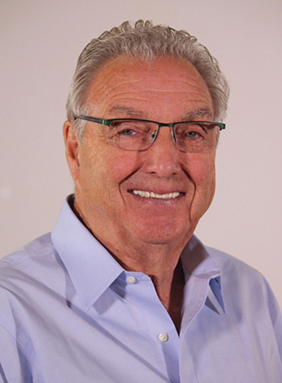 John C. Merritt '61
Owner and President of Dockside Marine Supply; Former Chairman and CEO of Van Kampen Merritt Holding Corp.
Jack Merritt became an entrepreneur out of necessity.
"Money was tight when I was at Babson," he says, "and one of the few ways of getting more was to have your own business." With two classmates, Merritt founded a laundry business on campus and launched his entrepreneurial career. "That was back in the days when we had to wear shirts and ties to class," he laughs, "so ours became a booming business."
Following his graduation in 1961, Merritt went to work with Drexel and Company as a municipal bond analyst. In 1965 he transferred to Philadelphia to take charge of Drexel's municipal underwriting and trading activities. Seven years later, Merritt joined Butcher & Singer where he was responsible for creating the first state insured bond fund, as well as the first state open-end managed tax-exempt bond fund. He was later named president of Butcher & Singer Asset Management Corporation. In that capacity Merritt headed the portfolio buying area for the company's state open-end fund. In 1976, he left his position to become the Marketing Director of Butcher & Singer and head of the newly created Unit Trust Division. He believed that packaged products were the wave of the future for individual investors and that marketing, an often overlooked aspect of Wall Street, was the key to success. In addition to other creations, he was the first to package a state managed mutual fund.
Eager to try new ventures, Merritt joined Robert Van Kampen in founding their own firm in 1980. As president of Van Kampen Merritt, he developed the underwriting, marketing, and Easter Seabord unit trust business for the firm. His unique concept of manufacturing products for regional investment banking firms became highly regarded and successful.
In 1983, Van Kampen Merritt was acquired by Xerox Corporation. Today, the company retains its original name while a member of Xerox Financial Services and Merritt has become its chairman and chief executive officer.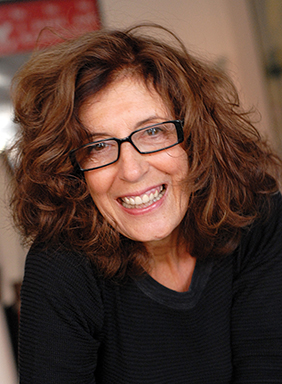 Anita Roddick
Founder of The Body Shop
Her formula is simple: profits with principles…and for Anita Roddick, founder of The Body Shop, it works.
Starting with a $7,000 loan and a desire to produce and sell cosmetics made from fruit and oil rather than animal fats, Roddick hired a local chemist and began selling her products from a small shop in Brighton, England. Today, The Body Shop Plc. is one of the world's most successful young companies, with more than 700 stores.
But profits are not Ms. Roddick's chief concern. "Our business is about two things: social change and action, and skin care," she says, "social change and action come first."
"Business can be a force for social change," says the highly successful entrepreneur who has also been called part human rights activist, part rain forest savior, and part environmental educator. According to Anita Roddick, "You must give back to the community, give back to the environment, and give back to the Third World."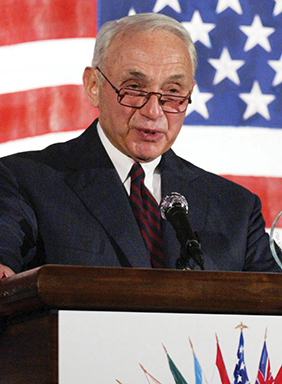 Leslie H. Wexner
Founder, Chairman and CEO of The Limited Brands Corporation
Leslie Wexner likes to move fast. Four years after graduating from the Ohio State University he founded The Limited. In its first year, the Columbus Ohio store recorded sales of $160,000. Today, Wexner has built The Limited, headquartered in Columbus, into the largest retailer of women's apparel in the world with 4,200 stores, 75,000 employees, and 1991 sales in excess of $6.1 billion. He has redefined the specialty store by offering customers a distinctive mix of fashion and value in an exciting shopping environment.
Much of the growth of The Limited, Inc. has come through aggressive internal expansion and through the development of successful experiments into stand-alone stores and divisions such as Limited Stores, Express, Structure, Limited Too, Cacique, Victoria's Secret Bath Shops, and Bath & Body Works. The company also reaches its customers through the Victoria's Secret, Lane Bryant Direct, Roaman's, and Lerner Direct fashion catalogs.
The company has also grown through acquiring and turning around unprofitable businesses such as Lerner New York, Lane Bryant, Victoria's Secret, Abercrombie & Fitch, Henri Bendel, and Penhaligon's. Under Wexner's direction these businesses were reformatted, remerchandised and redesigned.
As chairman, Wexner is a hands-on manager and works with division presidents on merchandising, marketing and store design. He also believes in motivating company employees, more then 80% of whom own shares of the company's stock. Strongly committed to a philosophy of "the best people for the job," Wexner has an extraordinary record of promoting women in high ranks in his organization. According to one writer, "Even in retailing, where women have more opportunities than in many other industries, The Limited stands out." Henri Bendel, Victoria's Secret, Abercrombie & Fitch, Victoria's Secret Catalog, and Lane Bryant are all headed by women.
In addition to his responsibilities with The Limited, Wexner presently serves as director and member of the executive committee of Banc One Corporation, Sotheby's Holdings, Inc., the Smithsonian Institution, and he supports a variety of national and local civic, educational and cultural philanthropic organizations. His gift last year of $250 million to set up the Ohio Higher Education Trust is among the largest ever made to a foundation or for education.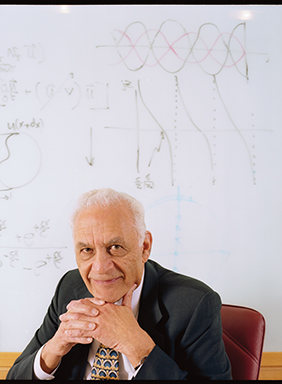 Amar G. Bose
Founder of Bose Corporation
Today, Bose Corporation sales are more than $350 million a year.
While its main operation is located in Framingham, Massachusetts. Dr. Amar Bose believes that "man is a 100-cylinder engine running on only one cylinder.
While that may be true for many, this human dynamo has been cranked up and running at full blast since the age of 13 when his first entrepreneurial venture was undertaken. While he had studied violin, Bose was more interested in radios. World War II was raging, and those with the technical expertise to repair radios were doing so for the military. Young Amar, who was already building his own radios, saw the need for repair work, learned how to fix radios, and built a radio service business that grew to be one of the largest in Philadelphia. So successful was he that Bose was given permission by his father to stay out of school on Fridays to tend to his repair business - as long as he maintained his good grades.
Bose entered M.I.T. as a freshman in 1947 and never left. In 1956 he earned his doctorate in science and joined the M.I.T. faculty, a position he holds to this day.
Shortly after he began teaching, Dr. Bose decided to reward himself with a "hi-fi" system. Selecting the "best" components, he built his system only to find that the sound it produced was disappointing. The concept for Bose Corporation was born.
Armed with volumes of psychoacoustic research and the grim determination to succeed, the company was launched in 1964 with one paid employee. Today, Bose Corporation sales are more than $350 million a year. While its main operation is located in Framingham, Massachusetts, Bose also has production facilities in New Hampshire, Michigan, Canada, Ireland, Mexico, and Australia, as well as a number of subsidiaries in Europe and the Far East.
The story of Professor Bose is the story of a brilliant man unafraid to take risks. "If you take a risk," he says, "you either go down or you are way ahead. I think a certain amount of that is absolutely necessary if you want to do exciting things." One of the major testimonials to the company's quality is that Bose loudspeakers are the number one sellers in Japan, beating all other competition in a country that is known for its electronics genius. But perhaps radio commentator Paul Harvey has said it best: "Amar Bose is the Thomas Edison of our time. He is to acoustical science what Edison was to electricity."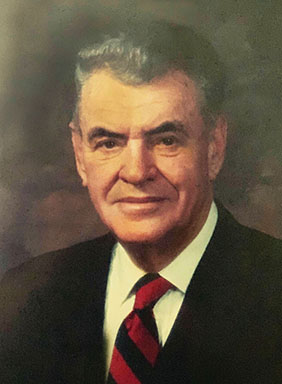 John R. Furman
Founder of Furman Lumber Inc.
If necessity is the mother of invention, then survival was the father of Furman Lumber.
In 1956, faced with abandonment by their parent company, nine men led by John Furman decided to start their own business. Through hard work, perseverance, and good judgment, they built a small, regional, wholesale operation into a prosperous, nationally respected lumber distribution business. Today, Furman Lumber ranks with such wholesaling giants as Georgia-Pacific and Weyerhaeuser.
From nine people and $4 million in sales in 1956, the company has grown to more than 200 people and $285 million in sales in 1990.
From the beginning, Furman emphasized working together - teamwork and loyalty - so that employees would have long-term employment. Rather than constantly turning over the sales force, he believed a system would be built where everyone could win. He maintains "We wanted to provide a means to earn our living, educate our children, pay our mortgages, enjoy the people with whom we were working, and enjoy business." Understanding the value ofteamwork is not a new concept to Furman. As an undergraduate at Cornell, he captained the heavyweight crew. Later, as a Lieutenant Commander in the U.S. Navy in World War II, he commanded the destroyer, U.S.S. Register, one of five vessels that rescued survivors from the shark-infested waters after the sinking of the heavy cruiser, U.S.S. Indianapolis.
Furman believes that to be successful, people only have to be willing to work hard for themselves. Their success will spill over to others, and the company will remain a team - a family. "Everything comes back to getting the right people," he says, "people who want to be part of the team and who put the company ahead of themselves." The philosophy of John Furman is summed up in a quotation from President Calvin Coolidge, "Nothing is the world can take the place of persistence. Talent will not; nothing is more common than unsuccessful men with talent. Genius will not; unrewarded genius is almost a proverb. Education will not; the world is full of educated derelicts. Persistence and determination alone are omnipotent. Press on…" For John Furman, 35 years of persistence and determination have meant success and satisfaction.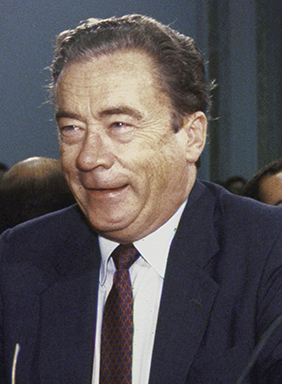 William G. McGowan
Founder of MCI Communications Corporation
For William G. McGowan, a little ignorance has created a great deal of bliss.
McGowan admits that he had no real experience in the telecommunications industry when he bought Microwave Communications, Inc. "Fortunately, I didn't know anything about the industry," he says. "Because if you knew enough about it, you were told you were insane to try to get into it. But it didn't bother me."
Very little seems to bother Bill McGowan. He is a ferocious competitor in business and in his personal life. In his role as founder and leader of the United States' second-largest long-distance company, McGowan orchestrated MCI's climb from an upstart telecommunications firm to its present status as a worldwide communications giant with revenue of nearly $8 billion. Today, MCI employs approximately 25,000 people worldwide with divisions headquartered in four major U.S. cities. MCI's international operations are based in New York with offices in London, Tokyo, Geneva, and more than 40 other countries. The company offers a vast array of domestic and international long-distance services including voice, data, electronic messaging, fax, and telex services to more than 180 countries.
Four years ago, the MCI chief's personal crisis began with a supposed businessman's heart attack. When a rehabilitation program failed to improve his condition, McGowan became a candidate for and eventually received the heart of a 20-year old car crash victim. Of the 9,000 people who have had heart transplants, McGowan has been among the most active, and he is the first chairman of a major corporation to go back to work following a cardiac transplant.
McGowan is most often credited as the catalyst for competition in the long-distance industry. The early years were a tough uphill climb. AT&T was king of the hill, unwilling to concede even an inch of territory. McGowan was responsible for leading MCI's charge to end AT&T's long-distance telephone monopoly in the courts and at the FCC. This set the stage for AT& T's 1984 breakup and spawned genuine competition in the industry.
As an industry leader, McGowan has actively promoted innovative or improved telecommunications technologies such as the use of information technologies as a strategic business tool. His contributions have been recognized by a number of leading business publications and industry groups including The Wall Street Journal's Centennial Journal feature acknowledging his contributions as a milestone in American business history.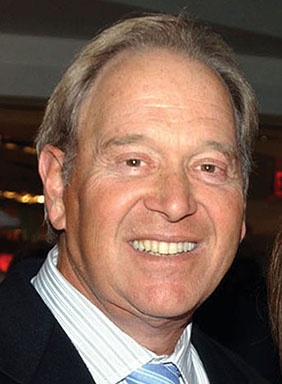 Paul Fireman H'94, P'00
Chairman of Fireman Capital Partners
In 1979, Paul Fireman acquired the rights to distribute running shoes in the United States for a small, high-quality manufacturer of custom-made track shoes. Fireman recognized the potential of the century-old J.W. Foster & Sons and decided to take a risk on the Bolton, England company.
Three years later, the running shoes were doing a modest business. Fireman noted an emerging trend on the horizon - aerobic fitness. He introduced the first aerobic shoe in the United States and quickly followed with a full line of garment leather aerobic shoes in a spectrum of fashion colors.
Fireman subsequently moved the company into new categories ranging from cycling footwear and apparel, children's shoes and women's fashion footwear - Metaphors - and a full line of performance sportswear. This marketing strategy has made Reebok the hottest footwear and apparel brand in the country. By 1984, U.S. sales were at an astounding $66 million, up from just $1.2 million in 1982. Fireman organized a buy out from the British founder in 1984 and reorganized as Reebok International Ltd. Reebok stock was offered to the public in 1985. Its shares were listed on the New York Stock Exchange, and the company continued its explosive growth, recording sales of $307 million in 1985, $919 million in 1986, $104 billion in 1987, and $1.8 billion in 1988.
Fireman's efforts on behalf of Reebok have not gone unnoticed. He has been named Ad Week's Marketer of the Year and Man of the Year by the National Shoe Retailer's Association and Footwear News. He has also received the Academy of Achievement's Golden Plate Award.
What does the future hold for Reebok and Paul Fireman? With the purchase of Boston Whaler last summer, Fireman demonstrated that he is ready to move outside the areas in which he has achieved success.
Fireman considers education to be a vital aspect of the future. "What I hope we can instill is motivation. I believe that the way you're going to inspire people is by getting them to understand that there is opportunity and by providing an atmosphere where achievement is encouraged." By turning his company into the largest and most successful designer, developer, and marketer of high-quality athletic and casual footwear and apparel in the country, Paul Fireman has certainly taken full advantage of the opportunities that have been presented to him.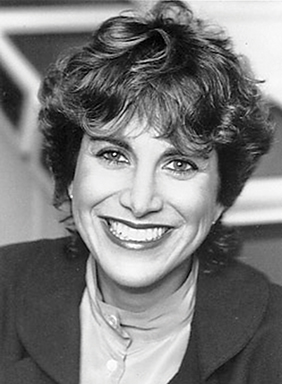 Sandra L. Kurtzig
Founder and Chairman of Kenandy; Founder of ASK Computer Systems Inc.
In 1972, the chief executive of Silicon Valley start-up firm asked Sandra Kurtzig to write a computer program to track inventory for his manufacturing company. Perceiving this as a golden opportunity, she left her sales job at General Electric to start her own custom-programming business.
To set up an office in the second bedroom of her apartment, Kurtzig used $2,000 in savings to rent a computer time-sharing terminal and buy a desk, chair, and filing cabinet. At the age of 24, Sandra Kurtzig, Silicon Valley's leading female CEO founded ASK Computer Systems, Inc. Today she jokes, "In an area where garage start-ups like Hewlett-Packard and Apple were the norm, I couldn't even afford the garage."
She decided at an early stage to focus exclusively on manufacturing companies. "From my experience selling computer time-sharing services for G.E., I knew the manufacturing market and understood its potential. I saw a critical lack of software for the manufacturers seeking to computerize their operation and decided to fill that need."
In 1978, after recognizing that software could boost hardware sales, ASK seized the opportunity and quickly became the world's largest reseller of Hewlett Packard computers. The company later became a major reseller of computers for Digital Equipment with revenues at $13 million, Kurtzig decided to take ASK public. Company stock sold out immediately.
When sales reached $79 million in 1985, Kurtzig resigned as CEO and president. In February 1989, she resigned as chairman of the board to set off on personal pursuits that included writing an autobiography, spending time with her two sons, and building a house in Hawaii.
At the request of the board of directors, Sandy returned to ASK in September 1989. She assumed the title of CEO, president, and chairman. "Sales were flattening," Kurtzig said. "But more ominous was the fact that no major new products had been developed in many years. The company was crashing. I didn't come back to repeat what I've already done. ASK, with its 900 employees, is a new company, a $200 million start-up with a solid customer base and the potential of becoming one of the most exciting companies in America. I plan to be around for the fireworks." Recognized by Business Week editors as one of America's most influential business leaders, there is little doubt that Sandra Kurtzig will, indeed, be around for the fireworks.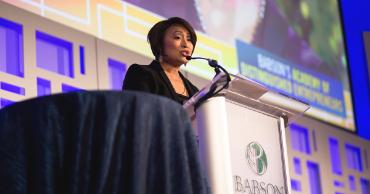 The accomplishments and stories of ADE honorees provide valuable lessons in business, teamwork, and making an impact on the world. Here's what we've learned.
Alan Bond
Chairman of the Board, Dallhold Investments, Pty. Ltd.
"… determination, incurable optimism … and a dogged refusal to accept that long-established things cannot be changed." Those are some of the attributes a Newport (RI) newspaper listed for Alan Bond after his historic 1983 Newport victory in the America's Cup.
Mr. Bond's yachting attributes, however, might just as well be applied to his business acumen, for Alan Bond is almost certainly the best known and most successful Australian business leader in the global arena. As executive chairman of the Bond Corporation Holdings Limited, he heads one of the top 50 companies in Australia. At the end of the last financial year, Bond Corporation's annual revenue was more than $5 billion; total Group assets exceeded $9 billion; and after-tax profits totaled $402.5 million.
All of this is not bad for an immigrant from Britain who dropped out of school at age 13. Bond began his career painting signs in Perth while studying accounting at night. He noticed that the properties bearing his "for sale" signs were sold within a few months. Inspired, he scraped together a modest bankroll and began trading in real estate. By the age of 21, he was a millionaire and firmly convinced that, as he says, "I was smarter than the people I painted signs for."
Today, Alan Bond runs an empire that stretches over five continents. It includes investments in Chile's telephone company, Australia's first private university, an oil venture in China, and properties near Rome. Bond Corporation Holdings Ltd. Focuses on five industries: brewing - he controls half of the Australian beer market and owns the number five American brewery - media, real estate, energy, and mining.
The Bond Corporation began with property development in suburban Perth. In 1969, he formed the corporate identity which was eventually to become the organization it is today. Its real estate activities range from the Bond Centre in Hong Kong and development of major prime-site commercial ventures in Sidney and Perth to the development of the famous St. George Hospital in London and the St. Moritz Hotel in New York.
With the acquisition of G. Heileman Brewing Company, Inc. in 1987, Bond Brewing became of the worlds top five brewers. Bond Media Limited owns newspapers and television stations in Australia, operates the only television service in Papua, New Guinea, and controls the Chile Telephone Company. Bond International Gold (BIG) is a globally-based gold mining company with operating properties in North American, South American, and Australia.
Bond first started making sailing news in 1970 as owner and skipper of an 18-meter racing sloop, Apollo. After a number of successes in ocean races, he entered the America's Cup competition, ultimately becoming the first non-American to capture it in 1983. This spectacular victory made him a national hero and the most famous businessman in Australia. His victory not only established Bond's personal reputation, it also lent new status to the Bond group. He said, "If we have the determination to win The Cup, people figure we have the management to succeed with the company."
The strategy of Bond's company is to finance debt with either good assets or strong cash flow. Both property and brewing bear out this definition, causing Bond Corporation to operate like its founder - fast, on instinct, and in a style that leverages the company to high levels in order to finance new ventures.
As one banker put it, "Bond Corporation by nature is going to be moving forward all the time."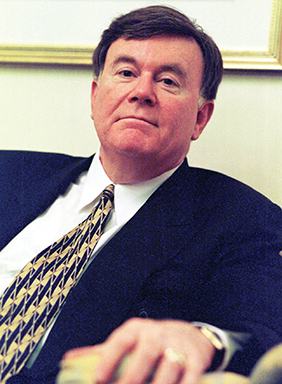 Patrick J. McGovern
Co-founder of International Data Group (IDG)
We all have dreams, but the significant difference between the movers and shakers of the world and the also-rans is the conversion of a dream into reality. Patrick McGovern has converted his dream.
In 1959, McGovern envisioned himself as the messenger of the computer revolution, responsible for helping "everyone in the world realize how computers can make their lives more fulfilling." Today, he presides as chairman and CEO of International Data Group (IDG), the computer publishing empire consisting of 100 publications in 36 countries, reaching 16 million readers, all contributing to sales of $300 million, a 25 percent share of the estimated $1.5 billion market.
The impact of McGovern's IDG has been described to be so extensive that the success or failure of a new computer product rests on how his magazines treat the new product. William Gates, chairman of Microsoft, says, "They (IDG publications) can determine what people are thinking." McGovern's dream, to the world's delight, has been transformed into reality.
Computerworld, McGovern's answer for those managers uninformed of the potential achievements of computer systems, was his first publication. Today, it remains his most successful and the largest business publication in the United States. Other publications include PC World, InfoWorld, Macworld, and PC World USSR, introduced last year as a farsighted response to the increasing demand in the Soviet Union for computer-related information.
There is more to Patrick McGovern, however, than his business success and personal wealth. He is a man whose often unrestricted character permeates his company. He is known for his daring escape from Soviet authorities and his seemingly impulsive pursuit and marriage to a woman he saw on the cover of Inc. magazine. He attended a company meeting in Alaska dressed as "Nanook the Eskimo" and he insists on flying coach and driving a used car.
McGovern's employees affectionately refer to him as "Uncle Pat." He has initiated plans to turn 51 percent of the business over to his employees by 1990, a generous gesture considering his plans to bring the company to $1 billion in sales by that time. That is not impossible. The company has experienced a 35 percent growth over the past several years.
His generosity also extends to bonuses, an exciting company ritual where money is delivered by two armored cars from which armed guards carry approximately a half-million dollars into the various buildings. "Uncle Pat" then personally distributes these Christmas "gifts" to most of his 2,600 employees.
Although he freely rewards his employees, McGovern has made a bold example of the virtues he would like his employees to espouse such as thriftiness and respect. Yes, he does fly coach, and a story has been told that he once saved $200 by getting up at 5 a.m. to "catch an earlier flight." He also makes a point of listening to people, acting on suggestions, and remembering their names. Pat McGovern genuinely believes in the value of his people to his company. He states that he tries to read all of his company's publications and will send a congratulatory note to those responsible for exceptional work. Bill Laberis, editor of Computerworld, was quoted in The Wall Street Journal as saying, "It sounds hokey as hell, but the guy's spirit really is pervasive in this place."
McGovern attributes his success to the following philosophy: "If you're good at picking people and giving them the freedom of authority to do what they like to do, you will succeed. Of course, you need a valid concept of your marketplace. And, if you have the right people, then all you have to do is meet once a year and ask, 'how did it go?'."
For Pat McGovern, a name synonymous with computer publishing, things have gone very well, and will continue to do so as long as he holds onto his dream.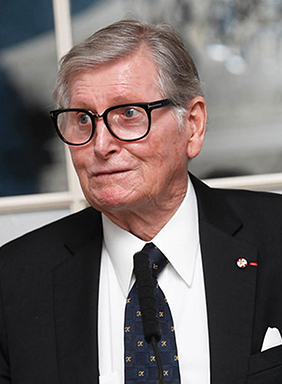 Sir Michael W.J. Smurfit
Former Chairman and CEO, Jefferson Smurfit Group p.l.c.
Michael Smurfit took control of the Jefferson Smurfit Group p.l.c. (JSG) in 1977; and, since then, this shrewd businessman from Ireland has experienced nothing short of one remarkable success after another. Through his diligent work, Smurfit has created the largest paper-based packaging company in the world.
The Jefferson Smurfit Group p.l.c., founded by Michael's father, is based in Ireland and has operations in 13 countries on five continents. During the 1980s, JSG's most prosperous period, Smurfit led the company through takeovers of ailing paper-product businesses.
Considered a major step in the growth of JSG, a larger company, Mobil Oil's Container Corporation of America, was acquired. JSG made a 50-50 joint venture with Morgan Stanley to purchase this large packaging company. Smurfit's motive behind the investment was to increase the size of his company, a task at which he succeeded brilliantly.
According to Smurfit, "There's no such thing as a bad company, just bad management. The company is a child, if you will. All I am looking forward to is another successful year in business and then a three-day break in Acapulco."
The key to Michael Smurfit's success is his ability to locate excellent opportunities, assess the value and risk associated with obtaining the opportunity, and, finally, act immediately to tie down the deal. Smurfit claims that "tactics, superior execution, and speed" are the abilities on which he relies to be successful.
Meticulous in his management, Smurfit demands a strict, error-free running of his company. He is intolerant of foolish mistakes. According to Paddy Wright, managing director of Smurfit Ireland, "I've seen grown men cry when they've got a tongue lashing from Michael Smurfit." But one should not believe that his strict control over JSG is an indication that his employees are not treated well. Smurfit hires individuals who he believes not only can do a job, but who also will be able to move up in the company. When individuals wish to resign, they must go through an interview process to determine if JSG could have prevented the loss, in order that the company may learn from the few mistakes that they make.
Everybody in the company respects Smurfit. As Paddy Wright will attest, "He's a demanding boss, but he's a fair one. You see guys here who dress like Michael, get their hair cut like Michael - we all like to think there's a bit of Michael in us." Smurfit, with the amount of respect he receives from his fellow workers, combined with dedication and his keen business instinct, will surely continue as a very successful businessman at the helm of the very successful Jefferson Smurfit Group.
Kazuo Inamori
Founder of Kyocera and KDDI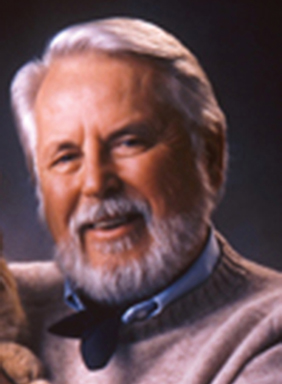 Edward Lowe
Founder of Edward Lowe Industries Inc. and the Edward Lowe Foundation
Who is responsible for helping the cat replace the dog as the most popular pet in America? Many people would point to Edward Lowe, the man who originated the cat box filler industry in 1947.
With his first product, Kitty Litter Brand cat box filler, Lowe ushered in a new era for cat owners, allowing them to bring their cats indoors for good.
The industry Lowe started continues to grow: retail sales of cat box filler will top $400 million in 1987. As the founder and chairman of Edward Lowe Industries, Inc., Ed Lowe presides over the industry's largest manufacturer, with sales over $100 million annually.
Lowe's Midwestern roots are one of his keys to success. He was born July 10, 1920, in St. Paul, Minnesota, to Lulu and Henry E. Lowe. His family later moved to Cassopolis, Michigan, where he attended public grade schools. He graduated from Cassopolis High School and served four years in the Navy, from 1941 to 1945.
After leaving the Navy, Ed joined his father's company which sold industrial absorbents, including sawdust and absorbent clay. One day in 1947, Ed was approached by a neighbor who was tired of using ashes in her cat's box and dealing with sooty paw prints. She asked for some sand; Ed suggested clay as a replacement. Soon the neighbor would use nothing else. She found the clay was much more absorbent and didn't track all over the house.
Betting that other cat owners would love this new cat box filler, too, Ed filled 10 brown bags with clay, wrote the name "Kitty Litter" on them and called on a local pet store. With sand available for next-to-nothing, the shop owner doubted anyone would pay $.65 for a five-pound bag of Kitty Litter Brand. "So give it away," said Lowe. Soon customers were asking for more - and were quite willing to pay for it.
Ed then started visiting cat shows. In exchange for a booth to display his new product, he would clean hundreds of cat boxes a day, refilling them with Kitty Litter Brand. He criss-crossed the country, stopping at local pet shops to sell Kitty Litter Brand from the back of his 1943 Chevy Coupe. Cat owners loved its odor control and absorbency, and they bought the product, says Ed, "like crazy."
Ed Lowe prospered with his company. In Cassopolis, his 3,000-acre farm compound includes several private homes built in the 1800s and named for their original owners. These homes, which serve as guest quarters for compound visitors, have been carefully restored and decorated by Darlene Lowe, Ed's wife and an accomplished interior designer. The Lowe's themselves live in a renovated barn at the top of a hill. They also maintain homes in Sarasota, Florida; Paris, Indiana; and Chicago.
Ed's success can be attributed to many factors. One is his continual push for innovation - he is constantly seeking new ideas. He has patented a system to make his cat box fillers 99% Dust Free, a convenience and health improvement for cats and their owners. Soon, Kitty Litter Brand will include Healthguard, and ingredient that helps control bacteria growth in the cat box.
Quality is always uppermost in his mind; Ed Lowe strives to have his products set the standards for the industry. At Edward Lowe Industries' Cat Care Center in Cassopolis, researchers are continually testing and refining products. And Lowe's Cattery is equipped to be home to more than 120 cats, housed in great style, who give Lowe's products their toughest testing. "I love cats," says Ed, "and I want people to know the cat box filler industry business is serious business."
Ed is as devoted to serving cats and their owners today as he was in 1947. Each bag of Lowe's cat box filler contains a money-back promise of satisfaction from Ed. To him, that's not just good business, it's a personal responsibility.
The success of Lowe's has increased Ed's desire to expand his interest. He is still an entrepreneur at heart and is currently working to establish the Edward Lowe Foundation and the Business Opportunity Center (BOC). The center will act as a clearinghouse to bring together other entrepreneurs, investors and financial institutions for the mutual benefit of all.
The Center is just one of many plans Ed has for the future. And with his track record of innovation and success, any goals he sets - for himself or his company - are not out of reach.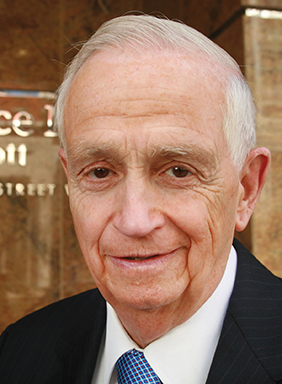 J. Willard Marriott Jr.
Executive Chairman and Chairman of the Board of Marriott International
J. W. Marriott, Jr., the son of Marriott Corporation founder J. Willard Marriott, was born in Washington, D.C., in 1932. He attended St. Albans School in Washington, D.C., and graduated from the University of Utah in 1954 with a degree in banking and finance. He then spent two years as a ship's service supply officer on the aircraft carrier USS Randolph.
Mr. Marriott, Jr. served in a number of capacities in his father's Hot Shoppes restaurant chain during his high school and college years, joining the company full-time in 1956. Just eight months later, Mr. Marriott took over the company's hotel operations shortly after the Twin Bridges Motor Hotel, Marriott's first venture into the lodging industry, opened in Washington, D.C.
Mr. Marriott was elected executive vice president and member of the Board of Directors in January 1964 and president of the company in November 1964. In November 1972, Mr. Marriott succeeded his father's death two months earlier.
Since he became president in 1964, the company has grown at an annual compounded rate of approximately 20 percent in sales, net income, earnings per share and stock price. In 1964, Marriott had total sales of $84 million, and 9,600 employees. In 1986, sales exceeded $5.2 billion. Marriott now has over 200,000 employees, making it one of the 10 largest employers in America.
Today, Marriott is a diversified lodging and food service company, with operations and franchises in all 50 states and 27 countries. Its businesses include over 175 full service hotels and resorts; a rapidly growing chain of moderate price hotels; over 1,500 fast food, family and turnpike restaurants; in-flight catering operations serving over 150 airlines; over 2,200 institutional food service accounts; airport terminal operations at 48 domestic and 5 international airports; and a fleet of three cruise ships. The company serves five million meals a day.
Mr. Marriott is a director of Outboard Marine Corporation. In addition to his corporate commitments, he is active in public service. He serves as director of the Chamber of Commerce of the United States, the Polynesian Cultural Center, the Business-Industry Political Action Committee (BIPAC) and the United States Marshals Foundation. He also is a member of the national executive board of the Boy Scouts of America, and the board of trustees of the Woodrow Wilson International Center for Scholars.
Additionally, he is a member of the Conference Board, the United States Trade Representative Services Policy Advisory Committee (SPAC), The Business Council, The Business Roundtable and the executive committee of the President's Council for International Youth Exchange. He serves on the boards of trustees of the Mayo Foundation, the National Geographic Society and the Federal City Council (Washington, D.C.). He also serves on the advisory council of the Stanford University Graduate School of Business and is a trustee of the advisory council for the Appeal of Conscience Foundation.
An active member of the Mormon Church, he currently serves as president of its Washington, D.C. stake. He previously served as bishop of the Chevy Chase ward and first counselor of the Washington, D.C. stake.
Mr. Marriott is married to the former Donna Garff. He has four children and six grandchildren.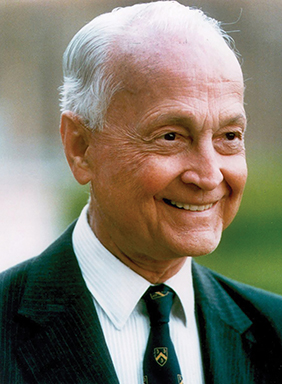 Sir John Marks Templeton H'92
Founder of Templeton Growth Fund and John Templeton Foundation
In 1987, the late Ray A. Kroc, founder of McDonald's, told the Founders Day audience, "Be rich in your heart, in your soul, in your mind, and I'll guarantee you that if you put that kind of feeling back of it, you'll be rich in dollars, too."
It has been the richness of heart and soul and mind that has led to the success of Sir John Marks Templeton. As one writer stated, "Creatively and humbly, he seeks out a positive, inspirational outlook on financial and spiritual matters. His prosperity spills over into many areas, including his Templeton Prize, the largest financial award honoring progress in religion, and in his book, Humble Approach: Scientists Discover God. One obvious, simple factor motivates him to succeed: he wants to help other people."
Sir John Templeton is a master money manager and a pioneer in the concept of global investment. His formula is simple - find the best bargains and buy when the stocks are selling at a fraction of their value. While that formula is far from unique, Sir John carries it one step further - find those bargains in the world market, not in a single market. His global view has served him well. Between 1966 and 1974 when the Dow Jones Average fell 43 percent, the Templeton Growth Fund rose 129 percent because he had switched into Japanese, Canadian, and German stocks. Another example of the success of his formula is the Templeton Growth Fund, one of several mutual funds bearing Sir John's name. An investment of $10,000 in 1954 would have given the investor more than $700,000 in profits by 1986, assuming the distributions were reinvested. Sir John simplifies the formula even further by stating, "The secret of our success has to be hard work, plus using common sense to change from those methods which have become too popular to other methods that are not yet quite so well-known."
Hard work is nothing new to Sir John. He is not the son of a wealthy family. During his second year at Yale, he learned from his father that family funds could no longer assist in his pursuit of a degree. Not to be swayed from his goal, he worked his way through college, graduating Phi Beta Kappa. He then received a Rhodes Scholarship, enabling him to study at Oxford for two years, receiving his M.A. from Balliol College. Returning to the United States, he moved from Tennessee to New York, working first with Fenner & Beane, one of the predecessors of Merrill Lynch. In 1940, he founded his own investment advisory firm, Templeton, Dobbrow & Vance. That firm grew to manage more than $300 million by the early 1960s. Wall Street could not, however, hold John Templeton, who had wondered for 25 years, "Where is the world would we really want to spend the rest of our lives?" His answer was Lyford Cay in the Bahamas, and it is from there that he operates the Templeton Funds, serving more than 400,000 investors.
The other side of Sir John Templeton is as refreshing as his investment philosophy. A deeply religious man, he says that during the building of his career he became more concerned that the urgent things were squeezing out those that were truly important. Approximately 20 years ago, he promised himself to devote 50 percent of his time working with churches and charities, and the other half managing the investments of his customers. Some years ago, he endowed an annual award for progress in religion which is known as the Templeton Prize. "Alfred Nobel left a blank spot when he wrote his will giving prizes in chemistry, mathematics, and medicine," says Sir John. "So I started to give an annual prize larger than Nobel because I wanted to say to the world that progress in religion is more important than progress in all other areas combined." Recipients of the Templeton Prize have included Mother Teresa, Brother Roger of Taize, and Billy Graham. The basic criterion is "original spiritual achievement that increases man's love and understanding of God."
For over 30 years, Sir John Templeton's investment performance has been outstanding. Equally important is the fact that during the same period, his performance as a humanitarian ranks as one of the best public records in the world.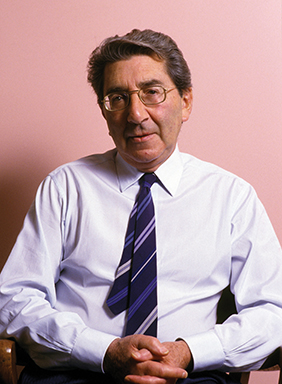 Gilbert Trigano
Former President Club Méditerranée, S.A.
He was a writer, an actor, a resistance fighter, and a journalist - all before the age of 25. Now, more than 40 years later, he is best known as the genius behind the leisure industry's largest, most original, and most successful vacation empire, Club Mediterranee S.A.
Gilbert Trigano is a visionary whose success has come from his intuitive realization that leisure is a growth industry, and from his ability to imagine how people will want to spend their vacation time, often before they realize it themselves.
Club Med began in Majorca, Spain, in 1950. Adult guests, living in a Spartan environment, cooked their own meals and slept in surplus U.S. Army tents provided by the Trigano family's camping supplies business. In 1954, Mr. Trigano joined Gerard Blitz, who ran the small vacation camp in Majorca; and together, they built Club Med. In 1964, Mr. Blitz gave the reins of leadership to Mr. Trigano who proceeded to turn the small tourist organization into the IBM of holidays, a multinational conglomerate with vacation villages throughout the world. "Our formula is simple," he says. "We strive to break down the artificial differences among people. At heart, we are all the same. We react in the same way to a beautiful landscape, the open sea, a good meal." Obviously, it is a formula that works.
According to one early report, the Club Med concept was an organized mixture of hedonism and "back to nature," a stigma that Club Med officials maintain was never particularly accurate, and one that Mr. Trigano has worked hard to dispel. To combat the image and to broaden its appeal, Mr. Trigano created miniclubs and baby clubs at some of its more than 100 resorts. At least 50 percent of Club Med members are married, and nearly 60 percent are between 30 and 60 years of age. "G.O.s" or gentil organisateurs, as the camp counselors are known, still encourage informal esprit among the "G.M.s" or gentil members, but the Club Med vacation need no longer be structured as the original programs were. Today, one can learn a foreign language, become a mime, a clown, a magician, a diver, or a computer expert - or one can do nothing but relax. A special effort is now being made to lure corporate clients to Club Med villages around the world. Renault, Sony, and Nikon, as well as Harley-Davidson and Pizza Hut have taken advantage of the company's relatively inexpensive package deals. The new, corporate appeal helped increase Club Med's revenues by 17 percent in 1985 to $843 million, and profits by 8 percent to $38 million.
Who is the man behind Club Med? He rejects the label of socialist, preferring to call himself "an ever-evolving man - I never know what I'm going to end up being." He becomes evasive when questions about his political friendships, although his ties with Socialist President Francois Mitterand are well documented. In explaining his relationships with the French majority as well as the opposition, Mr. Trigano says, "I am obliged to be like a woman of easy virtue - in the noble sense for her and the unfavorable sense for me." His friends are few - but very, very dear.
With the age of retirement just past, Gilbert Trigano nurtures two kinds of ambitions for his business and for himself: "I hope that in 10, 20, or 30 years, the Club will continue to unleash as many passions, questions, and interests - and that it will continue to merit such responses by its constant renewal and its commitment to being a laboratory of ideas, constantly searching for innovation. For me, I hope I will have the right to keep an eye on it all; and that, wherever I may be, I will know the Club is alive and functioning."
His other ambition, a secret and especially paradoxical one coming from the king of vacations: to take a vacation - a real one. Nine times out of ten, he cancels them - on 24 hours' notice.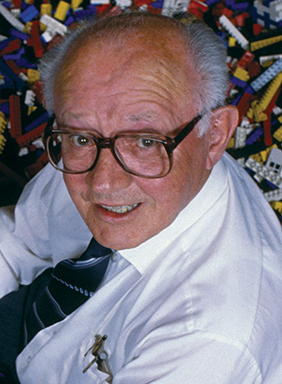 Godtfred Kirk Christiansen
Former Managing Director of The LEGO Group
Billund, Denmark, was once described as a "God-forsaken railway stopping point where nothing could possibly survive." Today, the town's railway station has been replaced by an expanding airport; and Billund, known in Denmark as "The Town that Toys Built," is one of the largest attractions in the country, ranking a debatable second only to Copenhagen's famous Tivoli Gardens and attracting nearly one million visitors annually.
Billund's remarkable turnaround is the brainchild of Godtfred Kirk Christiansen, the man who patented a plastic toy known all over the world as the LEGO brick. In the early 1960s, GKC, as he is known, decided to build a new land, a wonderland, a place where fantasy would have no limits. The result is the 11-acre LEGOLAND park in Billund, a miniworld where one can walk through a typical Danish village as it might have looked more than 50 years ago, view a perfect replica of the Mount Rushmore Monument … created with over 1.5 million LEGO bricks.
Life has not been easy for GKC. Born into poverty in 1920, and with little formal education, he became the business mind behind the LEGO group of companies' world wide. His father, Ole Kirk Christiansen, a carpenter, founded LEGO in 1932 out of necessity. His Billund Woodworking and Carpentry Shop, which built houses in the summer season and furniture during the winter, was severely affected by the Great Depression. Ole switched production to the necessities—ironing boards, milking stools, stepladders—and wooden toys made from the scraps of other products. His four sons joined the business, but it was 12-year old GKC who took a particular interest.
In two years, the popularity of the wooden toys surpassed that of the other items, and Ole began to market them under the name LEGO, a combination of two Danish words, "leg godt," meaning ""play well." It would not be until sometime later that the Christiansens would learn the Latin meaning, "I study, I put together."
Following World War II, the LEGO company became the first in Denmark to buy a plastics injection molding machine for toy production. In ten years, GKC perfected the stud-and-tub coupling system of the LEGO brick and, in 1958, received his patent. It was also a sad year for Godtfred Kirk Christiansen because his father died.
By 1960, LEGO employees numbered about 450. The same year, the wooden toy store was destroyed by fire…for the third time! It was decided to cease production of wooden toys and concentrate exclusively on plastics. Through an informal management style and an ability to persist and motivate, GKC was building a remarkable, privately-owned organization. In 1961, the LEGO group "invented" the wheel; in 1966, the train, with its own rails and a 4.5 volt motor; and in 1968, a long-time dream came true as the gates were opened to LEGOLAND Park. Expansion and innovation followed with operations being established in nearly 20 countries in Europe, Asia, Africa, Australia, and North America. Gearwheels joined dollhouse furniture, ships and minifigures in the variety of LEGO toys. And the third generation, Kjeld Kirk Kristiansen, joined the LEGO management team.
Today, LEGO remains a privately-held company. GKC doubts that his high product standards and ethical code would be upheld by public shareholders, and he constantly reminds those around him of the motto which hung on the wall of his father's workshop, "Only the best is good enough for our children," a motto which he lived and worked by throughout his life.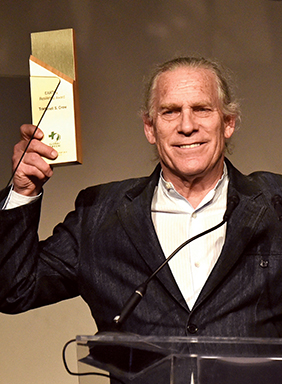 Trammell Crow
Founding Partner of Trammell Crow Company
Trammel Crow's management philosophy is simple … "I was brought up to work, that's all," he says. "Work is more fun than fun." And Trammel Crow has had a great deal of "fun" since he entered the real estate development business in 1948, building the most successful company of its kind in the United States.
Like Godtfred Kirk Christiansen, Crow has risen from very humble beginnings. He grew up in Dallas; and, while working during the day as a bankteller, he pursued an evening program in law and accounting at Southern Methodist University. In 1938 he became a CPA.
With the outbreak of World War II, Trammell Crow joined the Navy and, after five years, was discharged as Commander. Two years later, he began to buy excess warehouse space and to lease it out in the Dallas area. His first major project was the now 7.6 million-square-foot Dallas Market Center, considered the largest wholesale merchandise mart in the world.
That marked the beginning for the man who built his empire on three foundations: an unexcelled talent for marketing, a sense of style, and a reputation for intelligence, drive and, above all, integrity. When asked at Harvard Business School gathering for the principal secret of his firm's success, Crow gave a one-word answer. "Love," he replied. Some might find it difficult to believe that "love" could be a part of the "hard-ball" world of commercial real estate; however, according to a Newsweek article, "Crow is almost universally recognized as one nice guy who finished first."
In the truest sense, Trammell Crow epitomizes Babson's definition of an entrepreneur. He has been willing to take risks. He constructed the first, second, and third large atriums in modern edifices, which have proliferated into common usage today. Although Dallas' Infomart, the first of several computer marts to open, has yet to prove its worth, one report stated, "If Trammell Crow can't make the magic of marts work for selling computers, the grand plans of other developers will probably never get off the ground."
Crow's willingness to invest his own money and energies in ventures that have made positive contributions to society mark him as an outstanding candidate for Babson's Academy of Distinguished Entrepreneurs. And none can refute the fact that it was Trammell Crow who originated and remains the prime mover of the company which bears his name.
In addition to his various mart developments, Crow's less profitable passion is the hotel business, a portfolio of properties that were built primarily to support adjacent Crow developments. Recently, he has established the Crow Hotel Development Company, with the Loews Anatole being its first major project. He also formed the Wyndham Hotel chain which includes a hotel management company.
A modest proposal to build a 150,000 square-foot office building at the corner of Atlantic Avenue and Beach Streets was announced last month by the Trammell Crow Company.This will mark the first time that Trammell Crow has built in Boston, although the company has erected some suburban office buildings in the Greater Boston Area.
As one long-time friend recalls, "Back in 1951, he knew what he wanted to do. He wasn't content just to be wealthy; he wanted to be known as the best and the biggest in the world." It would certainly appear that in the field he chose, that is exactly what Trammell Crow has become.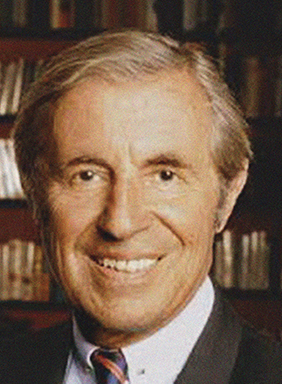 Ueli Prager
Founder of Mövenpick Hotels and Resorts
A Roman expression, variatio delecat—variety makes life sweet—describes both the success and personality of Ueli Prager, founder and president of Movenpick, the innovative international restaurant and hotel chain.
Established in Zurich in 1948, the multimillion dollar business has set new standards in European dining by providing a wide variety of high quality meals and snacks served anytime, rather than only at luncheon and dinner hours. In addition, an attractive and widely varied ambience sets each restaurant apart and provides affordable prices.
Placing quality ahead of profit and variety ahead of traditional Swiss restaurant policies, Prager has created a company which has grown from one restaurant to 177 restaurants and hotels.
Born in 1916, Prager is the son of Hugo Prager, owner of the Carlton-Elite, a Zurich hotel. Initially not attracted to the hotel and restaurant business, Prager studied economics and spent time traveling to London, Paris, and Geneva where he worked as commis debarrasseur—the one who clears the tables.
After serving as a cavalry captain in World War II, Prager worked as an auditor for the Swiss Hotel Fiduciary Company. This move eventually led him back to his father's business because his job involved implementing legislative measures that addressed issues in the hotel and restaurant industry.
By 1945, he had developed a plan to improve the restaurant business by basing his establishment on variety and fast affordable service. When the 1,000-office Claridenhof complex was built in Zurich, Prager decided to try his new innovations in a restaurant which would serve the occupants of the new complex. Movenpick was born.
The name, Movenpick was chosen because it represents the swoop of a seagull as it elegantly snatches a piece of food and flies away. This concept of simple, yet fast and enjoyable dining was the goal of Prager's establishments.
The original principles which brought Prager initial success are still at work today. In a message to shareholders last year, Ueli Prager stated, "The right men and the right women—the operations managers—are the ones responsible for the right atmosphere and working conditions in their spheres of responsibility. They define the style and the standards of quality. They have to create the right spirit which expresses itself in the engaging manners and the eagerness of their staff. Through their positive attitude—through meticulously fulfilling their obligations—they create conditions under which their employees enjoy their work. They care about their employees and in return they expect the realization of our overriding goal: the total satisfaction of our customers."
In "doing the unexceptional exceptionally well," Prager has brought Movenpick to its present position as a leader in the restaurant/hotel business world-wide. It is a concept of quality to which Ueli Prager committed himself in 1948 and to which he remains committed today.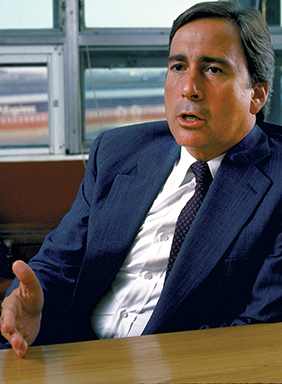 Donald C. Burr
Founder of PEOPLExpress Airlines
In the spring of 1981 Donald Calvin Burr, former Wall Street analyst of aviation stocks and former rescuer of a nose-diving Texas airline, founded People Express with three used Boeing 737s purchased from Lufthansa. With 250 employees, over a half-billion dollars in assets it is the tenth busiest airline in the country, carrying nearly one million passengers per month. With the addition of several aircrafts scheduled for delivery next month, the airline will have 73 planes in use, and that, according to one source, is the fastest growth in aviation history.
As amazing as the process of growth of People's is, it is the manner in which it was achieved. Don Burr leads a company that has no traditional supervisors, no secretaries and no organization charts. People employees belong to no union and are expected to perform a variety of tasks—it's called "cross-utilization."
Mr. Burr's interest in aviation is inborn. As a child he was fascinated by airplanes, and he and his older brother often visited the airport just to watch the planes come and go. At Stanford University, however, he reluctantly shelved his hobby, deciding instead to major in English and go on to law school. By chance, a conversation with two visitors to Stanford, W. Peter Slusser, an investment banker, and Keith Funston, chief of the New York Stock Exchange, changed all of that. Both encouraged Burr to enter the world of business. Don Burr graduated with a major in economics, earned his private pilot's license, received his MBA from Harvard, and joined the National Aviation Corporation, a small Wall Street securities firm. Eight years later, at 30 years of age, he was named president of the organization.
In 1973, Mr. Burr went to work for Texas International Airlines, a small regional carrier in Houston. In 1978, with Mr. Burr as chief operating officer, the airline had become profitable. He was named president but resigned six months later, stating that the company "had no vision, no excitement."
The federal government deregulated the airline industry in 1978 and opened the door for Don Burr to start his own airline. People Express began business in the best location Burr could obtain—an unpropitious corner of Newark Airport's north Terminal. Some experts believed that the location itself would kill the business before it got off the ground. But Burr persisted, aided by the ready supply of venture capital funds, the availability of cheap aircraft, and a large pool of experienced airline personnel who had been laid off by other airlines and were willing to accept lower, nonunion wages in return for a piece of the action. In 1981 People Express … took off!
Today, the successful People's operates, as it did in its infancy, on the theory that people will work harder and have a better time at it if they are given four ingredients: a financial stake in the company; the opportunity to learn and hold a variety of jobs; and organizational structure that allows employees to make large and small decisions based upon a company philosophy and tradition; and a sense of belonging, not just to a company but to a family. It is a family that has been created by Donald Burr, and one of which he and its members are justifiably proud.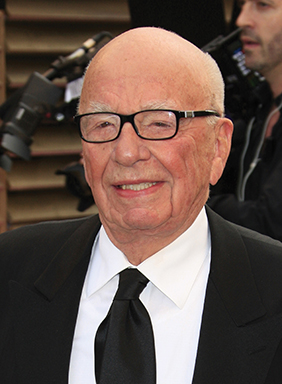 Rupert Murdoch
Founder of News Corporation
Rupert Murdoch has been called an unusual mixture—part account, part gambler, part brilliant marketer, and part shrewd journalist. No one can deny, however, that at age 54, the Australian publishing magnate has successfully parlayed a struggling two-paper publishing company into a three-continent publishing empire.
Born in Melbourne in 1931, Mr. Murdoch is founder of Australia's biggest media company. While a student at Oxford, he spent his summers on London's Fleet Street, learning the newspaper business by working on Lord Beaverbrook's Daily Express. After graduation, Mr. Murdoch remained in England for two years, returning to Australia in 1954 to take over News Limited, a small South Australian publishing firm in which his late father had bought a controlling interest two years earlier. Under his leadership, the company diversified into magazines, radio and television.
In 1960, Mr. Murdoch moved to Sydney, taking over the ailing Daily Mirror, an afternoon tabloid. The vigorous competition which broke out between the Mirror and its rival raised the circulation of both papers. It also established Rupert Murdoch as a force to be reckoned with in the publishing industry. By 1964 News Limited was operating as a truly national Australian organization, publishing newspapers in every state, with profits of $1.5 million. Mr. Murdoch launched The Australian, the country's first and only national daily, printed by electronic facsimile process simultaneously in four cities. It is now Australia's most influential daily, with a heavy emphasis on national politics, foreign news, business and the arts.
News Limited acquired the western world's largest selling newspaper, The News of the World in 1969. Shortly after, the British company, renamed News International, purchased the ailing national daily, The Sun, formerly the Daily Herald, and successfully relaunched it as a tabloid.
Following successes in Australia and England, Mr. Murdoch moved into America in 1973, purchasing the Harte-Hankes' owned publishing operation in San Antonio. A few months later, he began publishing The Star, a national weekly magazine. In 1976, he bought the New York Post and shortly afterwards, New York Magazine and The Village Voice. Mr. Murdoch has also acquired Times Newspapers, Ltd., in Britain, William Collins plc., one of Britain's most important book publishing firms, The Boston Herald, and the Chicago Sun-Times. In November, 1984, his News America Publishing purchased the Ziff-Davis Publishing Company Business Publications Division, comprised of 12 publications in the travel and aviation fields. The division, renamed Murdoch Magazines, is the company's first venture into trade publications.
Peter J. Sprague H'88
Chariman and Founder of Satellite Displays; Former Chairman of National Semiconductor Corporation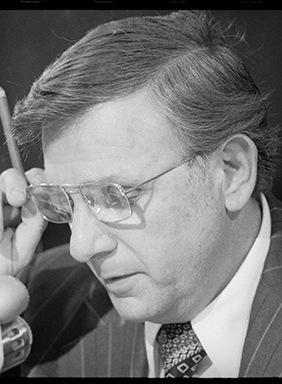 Henry W. Bloch
Co-founder of H&R Block Inc.
"Most people think that the rapid expansion of H&R Block was part of a grand plan," says Henry, "but nothing could be further from the truth."
Nearly 30 years ago the Internal Revenue Service haltered its program of tax preparation. Two Kansas City brothers, one a bookkeeper, decided to fill the void, offering to complete anyone's tax return for five dollars. Today, Henry Bloch, bookkeeper-turned-entrepreneur, can look with pride at over 12,000 H&R Block offices across the nation, offices that serve millions of Americans.
"Most people think that the rapid expansion of H&R Block was part of a grand plan," says Henry, "but nothing could be further from the truth. We did a land-office business that first year, so we opened a few more storefront offices the next year and did even better. I told my brother that if we could do so well in Kansas City, we could do a lot better in a place like New York."
Although HRB has been one of the fastest growing companies of the past several decades, the road has not always been smooth. In 1972, for the first time in its 17-year history, the company registered a decline in profits. Block stock dropped markedly and the crowning blow came when the IRS began to attack commercial tax-preparation services. Although most of the competition was driven from the marketplace, HRB recovered and prospered. In the mid-70s, Henry Block began to consider diversification as an avenue for improving HRB's position.
In 1978 the company acquired Personnel Pool of America, Inc., now the largest proprietary home health care agency in North America. Two years later CompuServe, Inc. became part of the Bloch companies thus giving the corporation a firm toehold in the fast-paced computer services business. In the same year Block Management Company, which provides administrative and marketing services to Hyatt Legal Services, was founded.
In fiscal 1983 and in the first quarter of its current year, HRB earned $3.34 per share. Looking ahead, analysts project earnings in the range of $3.80 to $4 per share for fiscal 1984 and upwards of $5 per share for fiscal 1986. Henry Bloch sums it up in his usual understated manner, "We're well positioned for the future," he says modestly.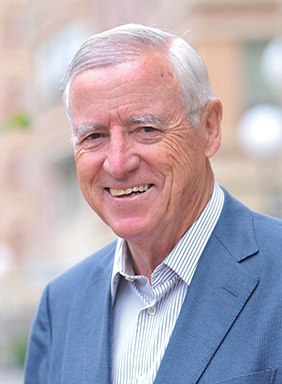 John J. Cullinane
President of The Cullinane Group Inc.; Former Chairman and CEO, Cullinet Software Inc.
Recently named by the Wall Street Transcript as a top executive in the computer industry, John Cullinane is living proof that David really can compete in the same arena as Goliath, for his company, Cullinet Software, Incorporated (formerly Cullinane Corporation), has thrived by selling software exclusively for IBM-compatible computers.
In 1965, while working for a small computer programming company, Cullinane helped develop a concept for a generalized payroll software program for several banks. He had an idea: why not repackage the same system and market it to any bank? The fixed price could cover the amortized programming costs, marketing and support expenses, plus a healthy profit.
Three years later, armed with a software products company proposal, Cullinane headed for New York. He raised $500,000 from 25 investors, and Cullinane Corporation was established.
By 1972, however, Cullinane's dream was rapidly becoming a nightmare. All that remained of the original half-million dollars was $500, and he had to meet an $8,500 payroll in one week. Fortunate, a check from a customer arrived in time to save the company.
Within a year Cullinane acquired the rights to market the B.F. Goodrich data base management system, which he reworked and renamed Integrated Database Management Systems (IDMS). Combined with a new product called Integrated Data Dictionary, IDMS gave the company a new range of customers and a competitive edge against IBM's outmoded data base system, IMS.
In 1978 Cullinane became the first publicly traded software company and in 1982 joined the New York Stock Exchange. Today there are more than 9,800 Cullinane installations worldwide. Cullinane has established the National Education Center in Framingham, Massachusetts, a complex of 18 classrooms and five computer labs, which 7,000 students are expected to attend in 1984, its first full year of operation. In addition, the firm has opened regional education centers in 13 U.S. cities, offering Cullinet customers the high quality curriculum available in Framingham.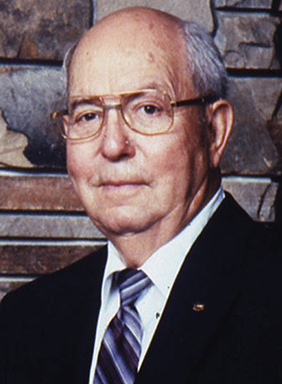 John K. Hanson
Former Chairman of Winnebago Industries
His philosophy of life has always been to seize the opportunities placed before him. "If I miss an opportunity," he says, "the blame is mine for having failed in some manner or another; and then I try to live with it in the best way possible, yet always looking ahead."
John K., as he has been known throughout his life, has missed few opportunities and has had little blame placed on his shoulders for having failed. Chairman of the quarter-century-old Winnebago Industries, Incorporated, John Hanson is considered by many to be the father of recreational vehicles and the driving force behind the success of an entire town—Forest City, Iowa.
Born in 1913 on a farm in Thor, Iowa, Hanson began working at age 10 in his father's farm implements store. At 14 he had learned enough to manage the shop for three weeks while his father was out of town on business.
By 1955 Hanson's experience extended to retail auto and furniture sales, the funeral business, and the marketing and sale of items as diverse as small appliances and tractors. John K. purchased these businesses from his father one by one. In 1954 he sold his International Harvester/Oldsmobile franchise, and the building lay vacant until a Forest City development group lured a California trailer manufacturer to town. When the firm went bankrupt, Hanson took command and began to manufacture hardtop trailers. From this beginning, Winnebago Industries was born.
Winnebago expanded to new plants, added different lines of travel vehicles, and outsold the two other top manufacturers through innovative construction and marketing techniques. Using foam rubber and sandwiched styrofoam, Hanson created a trailer that was lighter, stronger, and better insulated than the traditional wood-based vehicle.
John K. went into semiretirement in 1977, just before the gas crunch and the rise in interest rates. Two years later he returned to rescue his company by transforming an $18 million debt to an $18 million cash surplus. Today Winnebago is the world's largest motor home manufacturer with production under one roof, and it is a major industrial force in the state of Iowa.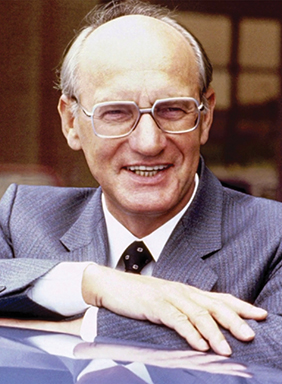 Heinz Nixdorf
Founder of Nixdorf Computer AG
When Heinz Nixdorf began his studies at Johann-Wolfgang-von-Goethe University in Frankfurt in 1947, his talent in the fields of science and mathematics was already apparent. He studied physics and later became interested in management.
In 1951, while a student working at Remington Rand Corporation in Frankfurt, Nixdorf proposed that he and physicist Dr. Walter Sprick form a company that would manufacture and sell multiplication and calculating machines. Sprick declined the offer, but the 26-year old Nixdorf was not deterred. He offered to create the simple accounting device for the largest power utility in Germany. Funded with $6,000 and operating from a basement workshop, Nixdorf built counting equipment which could be connected to punch card machines. One year later he founded the Laboratory for Pulse Technology to develop and produce electronic and mechanical parts and systems for German and international manufacturers of office equipment.
Success came quickly, and Nixdorf developed an electronic computer using cathode ray tubes. This was followed by an accounting machine with an electronic multiplication unit, an electronic desk calculator with printer, and a minicomputer using semiconductors. Wanderer-Werke became his principal customer, but in 1968, envisioning the potential of transistors for rapid data manipulation, Nixdorf bought Wanderer-Werke and with the Laboratory for Pulse Technology, founded Nixdorf Computer AG with headquarters in Paderborn.
Extensive company development began with independent research and development, manufacturing, and sales activities. Nixdorf expanded to the United States, increased manufacturing facilities in Paderborn, and created a new production center.
By 1979 over 70,000 Nixdorf computer systems were installed world-wide. Two years later the company brought forth IBM compatibles and in 1982 launched Germany's first digital telephone system. Nixdorf employs 16,000 in 12 German companies and 60 foreign affiliates. Its sales are approaching $1 billion. From humble beginnings in a cellar in Frankfurt, Heinz Nixdorf has built his company into a leader among international computer manufacturers.
Nolan K. Bushnell
Chairman, Pizza Time Theatres Inc.
From Pong to pizza to personal robots, Nolan Bushnell has done it all, and he's done it before reaching age 40.
Bushnell's entrepreneurial career began in 1971, when he invented the first successful coin-operated video game, Pong. The following year he and a partner contributed $500 each to start an electronic game company with the unlikely name of Atari—in the Japanese game of Go, the word is equivalent to "check" in chess. Bushnell ultimately developed and manufactured 35 video games before selling the company to Warner Communications in 1976 to serve as chairman of the board of Atari until 1979. In October Bushnell will launch another video game enterprise, one that will compete with Atari. He calls it Sente, the Go term for "checkmate."
In 1976 Bushnell founded his second successful company, Pizza Time Theatre, a new concept in family entertainment. It combines a pizza restaurant with electronic games, amusements, and musical entertainment provided by the Pizza Time Players, computer-controlled robot characters.
Most recently Bushnell has been involved with Catalyst Technologies, a company he founded in 1982. Catalyst conceives, finances, staffs, and guides fledgling enterprises. As each company is born, it is headquartered in the Catalyst building in Sunnyvale, California, and benefits from the parent company's expertise. Bushnell believes that the combined thinking of the Catalyst group will prevent the young companies from making typical start-up mistakes and bring them to profitability sooner.
One of Catalyst's companies, Androbot, produces what may be the realization of one of man's greatest dreams—a personal robot programmed to do its owner's bidding. As Bushnell enthusiastically puts it: "Can anyone really envision the year 2000 without robots running around the home?"
Bushnell has been called a dynamo and a revolutionary. One publisher has written, "When you are with Nolan Bushnell, you see the future … and you know it will work."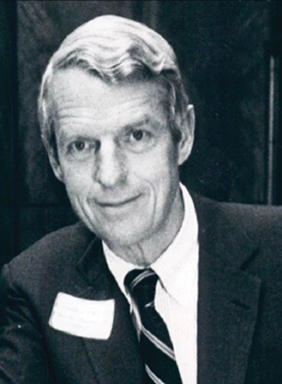 Frederic C. Hamilton '48, H'98, P'82
Former Chairman of The Hamilton Companies LLC
When Frederic Hamilton left Babson in the late 40s, he could have gone into the family's natural gas transmission business. Instead he joined the army, served his country, and then took a job with a Texas oil company as a roughneck, a member of an oil-drilling crew.
It wasn't long before he became addicted to the oil business; and in 1950 he and his brother Ferris went into business for themselves. The Hamilton brothers bought a broken-down 6,000-foot drilling rig for $5,000. The owner, delighted to unload the equipment, carried a $45,000 note and gave the Hamiltons a few drilling contracts to get them started.
From the small one-rig operation has emerged a Denver-based group of 12 affiliated natural resources companies which had combined revenues of over $226.8 million in 1982.
Fred Hamilton has been described as a big game hunter, not content with seeking small sources of gas and oil. "It takes jus as much time to find the big fields as the little ones," he says, "so why not spend our time looking for the big fields?"
He proved the soundness of this reasoning in 1956. Hamilton theorized that beneath the famous Texas Hugoton gas field were even larger untapped reserves. Where the deepest wells were 3,000 feet, he went to 6,000 and 8,000 and struck a subterranean lode worth millions of dollars.
In 1962 Hamilton took aim at the Edson Field in Canada and added another trophy to his collection-recoverable gas reserves of two trillion cubic feet, the second largest gas field in Canada. He scored again in 1964 when the discovery of Canada's Nipisi oil field and its reserves in excess of 400 million barrels.
Since that time the company has made major oil and gas discoveries in the North Sea, Oklahoma, the Gulf of Mexico, South America, and the East China Sea. As operations expanded, a public company, Hamilton Brothers Petroleum Corporation, was formed. Operations continue to grow, and the company now employs over 1,250 people in seven countries.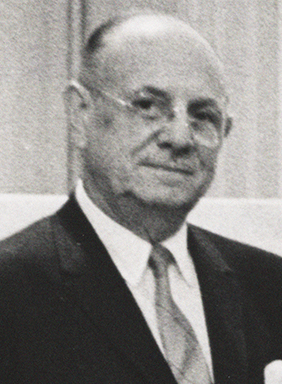 Sidney R. Rabb
Former Chairman of The Stop & Shop Companies
"When I made a statement one day that a corporation has to have a soul people said cut it out you sound a little bit nutty."
He is called "Mr. Sidney." Over a period of half a century, his business acumen has built The Stop & Shop Companies into New England's largest and most innovative supermarket chain.
In 1918, while attending Harvard College, Sidney Rabb began working as assistant to the general manager of Economy Grocery Stores, a food store chain. In six months the 19-year old Rabb had become general manager. "It didn't take any genius to be in the right place at the right time," he states. But the Economy chain was in financial trouble, and young Rabb, using his summer experience as manager of one of its stores, his skills learned at Harvard, and his own marketing brilliance, soon had Economy earning a profit. By age 30, Rabb was chairman of the board.
During the Depression, Rabb determined that shoppers wanted large "warehouse" grocery stores – a radical experiment in those difficult times. The concept of the supermarket was launched from this experiment, and in 1937 the first of Rabb's new stores opened. It did as much business in four days as 35 of Economy's other stores did in a week. Today, Stop & Shop Companies includes 120 supermarkets and 106 Bradlees discount department stores along the East Coast from Maine to Virginia. Three other chains round out the company's merchandising efforts: Medi-Mart, 50 drug, health, and beauty items stores; 53 C.B. Perkins tobacco stores; and 72 Off the Rax women's clothing stores.
Rabb's dedication to building a successful business chain is matched by his commitment to helping others. There are few charitable, cultural, and educational institutions in Massachusetts that do not list him on their board of directors and fewer still that have not benefited from his philanthropy.
"When I made a statement one day that a corporation has to have a soul, people said, 'cut it out; you sound a little bit nutty,'" he says. "But I meant it."
Today, at age 82, "Mr. Sidney" still puts in a full week's work as chairman of the board of Stop & Shop. And he also finds time to devote to those charities with which he has worked for years. "After all," he says with a smile, "shrouds have no pockets."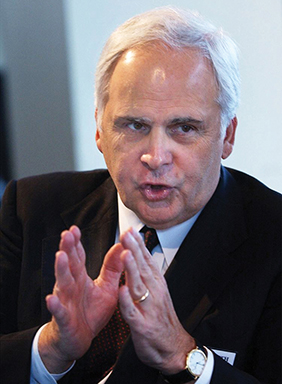 Frederick W. Smith
Founder and Chairman of Federal Express Corporation
In 1981 Dun's Business Month named Federal Express Corporation one of the nation's five best managed companies. In fiscal 1982 the company's revenues were over $800 million – not bad for an organization that lost $29 million in its first 26 months of operation and whose payroll once had to be met with its founder's winnings at blackjack.
The story of Federal Express is the story of one man, founder Fred Smith. As a Yale undergraduate, Smith submitted an overdue economics paper proposing a revolutionary "hub-and-spokes" overnight package delivery service. "To cut cost and time," he wrote, "packages from all over the country would be flown to a central point, there to be distributed and flown out again to their destination." His professor was unimpressed and gave Smith an acceptable "gentleman's C" for his effort.
Following his graduation in 1966, Smith went to Vietnam as a Marine Platoon leader, was wounded twice, and was promoted to company commander. He enrolled in flight school, reasoning that his second tour of duty would be in Hawaii or Japan.
Wrong. He went right back to Vietnam in forward air control, flying more than 200 ground-support missions. By the time of his discharge, Smith had received the Bronze and Silver Stars as well as a dozen Air Medals.
Smith left Vietnam weary of destruction and eager to begin constructing something. At age 28 he put together a venture capital package that totaled nearly $80 million, a sum reputed to be the largest ever raised for a new company, and Federal Express was born.
Federal has grown from a handful of packages and aircraft on its first day of operation in 1973 to more than 140,000 shipments daily and a fleet of more than 60 aircraft. The company also operates 4,500 radio-equipped vans, which pick up and deliver shipments, and has a work force of over 12,000.
Almost two decades have passed since Smith received his "gentleman's C." It hasn't always been easy, but today his revolutionary overnight package delivery service is flying high.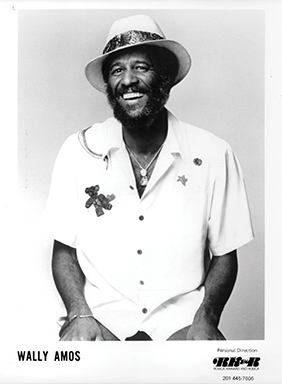 Wally Amos
Founder of Famous Amos Chocolate Chip Co. L.L.C.
The success of "Famous" Wally Amos is proof that fanaticism can be profitable. "I've got a love affair with chocolate chip cookies," Amos says, "that borders on being fanatical."
Today, Wally Amos is chairman of The Famous Amos Chocolate Chip Cookie Corporation, which grosses over $6 million a year and bakes six tons of cookies every week.
It's been a rough road to success for Wally Amos. Like many successful entrepreneurs, he did not complete high school. In 1957, he was stock clerk at Saks Fifth Avenue, hired for the Christmas holidays only. He was asked to stay on, promoted to supply manager, and sent to New York University to study retailing and merchandising. After his request for a raise was denied, Amos left Saks to become a trainee with the William Morris Agency. Before long, he was a talent agent, booking the Temptations, the Supremes, Marvin Gaye, and Bobby Goldsboro, and signing the then unknown Paul Simon and Art Garfunkel. In 1967, Amos formed his own talent agency on the west coast. On his daily rounds he would pass out chocolate chip cookies which he had baked from his Aunt Della's recipe. Soon he became known as "the chocolate chip man," and was urged to open his own retail store.
In 1975, Amos succumbed to the wishes of his friends, opening his first store on Sunset Boulevard. By working 18-hour days, he turned his cookies and himself into celebrities. His costume—a Hawaiian print shirt and straw hat—is in the Smithsonian Institution collection. The company logo, a picture of Amos balancing a giant cookie on one finger, now appears on jewelry, T-shirts, and bumper stickers. His cookies sell in elite department stores such as Neiman-Marcus and Bloomingdale's, and in some supermarkets.
Since 1970, Wally Amos has been the national spokesman for Literacy Volunteers of America (LVA), which helps educate the 23 million adult Americans who are functionally illiterate. As he puts it, "To support the community is to support yourself, because the community is your customer."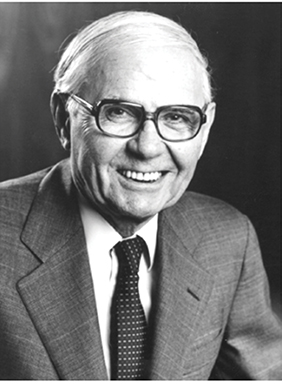 William C. Norris
Former Chairman and CEO of Control Data Corporation
Born on a Nebraska farm, William C. Norris attended the University of Nebraska, graduating in 1932 with a degree in electrical engineering. In 1957, he founded Control Data Corporation and today serves as chairman and chief executive officer of that $3 billion company.
Norris began his career as a sales engineer for Westinghouse Electric. Serving in the Navy during World War II, he became interested in electronics through work on a project which helped to break the German code. After the war he co-founded Engineering Research Associates, Inc., in St. Paul, Minnesota. ERA made contributions to the development of digital computer technology, and later merged with Sperry Rand Corporation. Norris headed the Univac Division of Sperry Rand before leaving to found Control Data.
He financed his new company by selling 615,000 shares for one dollar each. According to a recent article in Time, those original shares are now work $324 apiece.
Today, Control Data is actually two operations: the original scientific computer business, greatly expanded and diversified, and Commercial Credit, a financial and insurance services company.
As head of CDC, Norris has led the movement among American corporations to locate plants in rundown urban areas. He believes that business must work with government and technology to solve society's problems. This has led to ventures in seven depressed areas under the aegis of City Venture Corporation. Norris also established Rural Venture, to upgrade poverty-stricken rural areas by bringing in industry.
Although he heads a large corporation, Norris encourages small business, chiefly through providing business and technology centers for budding entrepreneurs. These centers offer space and utilities to fledgling business owners, and also advice on management of new ventures. In addition, Control Data Corporation operates Control Data Institute, a group of 36 centers that train computer programmers and technicians.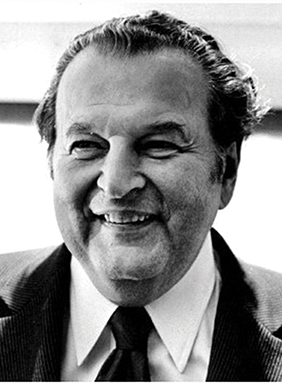 Carl G. Sontheimer
Founder of Cuisinarts Inc.
Physics and cooking might seem to have little in common, but Carl G. Sontheimer, a retired MIT-trained physicist and accomplished cook, has combined his two loves.
In 1971, Sontheimer and his wife, Shirley, founded Cuisinarts, Inc. He intended it to be a part-time venture which would import top-quality stainless steel cookware. Today, the name Cuisinart is synonymous with food processor.
After college, Carl Sontheimer worked for RCA, invented 47 patented gadgets, sent his inventions to the moon as components of radio microwave system, and founded three electronic companies – all before his 53rd birthday. Then he retired from the world of electronics, taking up a career as a newspaper writer and specializing in his lifelong avocation, cooking.
At a French housewares show, the Sontheimers were intrigued by a commercial food preparation machine marketed to restaurants. "That machine gave me the horrors," Sontheimer recalls. "It was totally unsafe." He spent the next 18 months perfecting the prototype of a home version of the machine. The Sontheimers are the sole owners of the firm, which had $100 million in sales in 1980 and employs 150 people. The home office is in Greenwich, Connecticut.
In 1978, Sontheimer began publishing The Pleasures of Cooking, a bimonthly magazine. The publication is an outgrowth of customers' requests for recipes.
What does Sontheimer see happening in American kitchens in the years ahead? "The population will grow; land will not," he says. "There will be less living space, and kitchens will have to grow smaller. There will also be less storage space and less energy available per person. All ovens will be convection ovens; food processors will become more capable." Following his own advice, Carl Sontheimer introduced a convection oven with a glass bubble cover.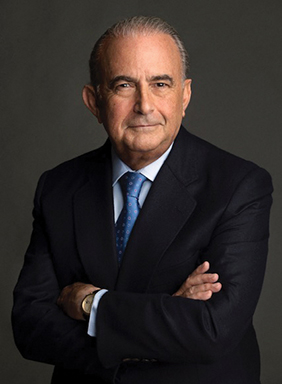 Gustavo A. Cisneros '68, H'19
Chairman of Cisneros
Designated by Business Week as "one of eight men who run Latin America," Gustavo Cisneros, a 1968 Babson Graduate and trustee of the college, became president and chief executive officer of Organizacion Diego Cisneros (ODC) in 1970 at the age of 25.
ODC, a $2 billion complex of diversified companies based in Venezuela and controlled by the Cisneros family, operates in seven basic areas: communications, food retailing, manufacturing of industrial and consumer products, services, real estate, and finance. As a major voice in the television, radio, and magazine industries, the company's influence is powerful and far-reaching. However, the welfare of the Venezuelan people and the priority needs of the country itself are foremost concerns when ODC plans its programs.
Besides the media, major areas of control are Venezuela's largest supermarket chain, the Pepsi-Cola and Burger King franchises, and the company representing NCR Corporation in Venezuela.
Healthy profits and topnotch management have given ODC the flexibility to enter high-risk investment areas, such as agriculture, livestock raising, and construction of low-cost housing. "Zero rewards or zero risks are both alien to us," says Cisneros, whose 10-year plan for ODC is to spread 50 percent of its business outside Venezuela.
Cisneros sees ODC as the bridge between entrepreneurs in Latin America and the rest of the world. This vision has led ODC toward becoming one of the few true multinational companies in South America by acquiring properties and investments in the United States.
Franklin P. "Frank" Perdue
Former President and CEO of Perdue Farms
Marcus Wallenberg
Former Honorary Chairman of Skandinaviska-Enskilda Banken
An Wang
Co-founder of Wang Laboratories Inc.
J. Peter Grace
Former President and CEO of W.R. Grace and Company
Mary Hudson
Co-founder of Hudson Oil Company
Mary Wells Lawrence H'72
Founding President of Wells, Rich, Greene
Lewis E. Lehrman H'81
Founder of L.E. Lehrman & Co.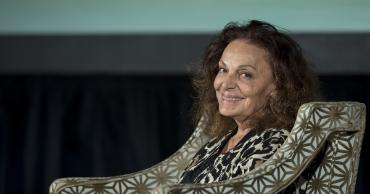 Diane von Fürstenberg sat down to speak with former Babson College President Kerry Healey to discuss life, work, and entrepreneurship.
Lee Byung-chul
Founder of Samsung Group
Thomas Mellon Evans G'04
Former Chairman of Crane Company
John H. Johnson
Founder of Johnson Publishing Company
John Erik Jonsson
Co-founder of Texas Instruments Inc.
Diane von Fürstenberg
Founder and Chairwoman of DVF Studio LLC
Berry Gordy
Founder of Motown Records
Soichiro Honda
Founder of Honda Motor Car Company Ltd.
Ray A. Kroc
Founding Chairman of McDonald's Corporation
Royal Little
Founder of Textron Inc.
Kenneth H. Olsen
Co-founder of Digital Equipment Corporation