Kerry Murphy Healey Park
Global diversity and perspectives play a critical role in shaping and defining our community.
Our diverse student body and alumni network includes current students from more than 80 countries and an international network with more than 42,000 alumni in 129 countries. Kerry Murphy Healey Park celebrates Babson's long-standing commitment to global diversity and impact. Visitors arriving on campus are greeted by the Babson World Globe and Flags, representing the global diversity and mindset of our student body and providing inspirational green space for community members to gather to collaborate in line with Roger W. Babson's vision. The vision for Kerry Murphy Healey Park included 100 flagpoles to provide a visual reflection of the diversity of Babson's international student body and a Centennial Walkway with historical markers that tells the story of our first 100 years.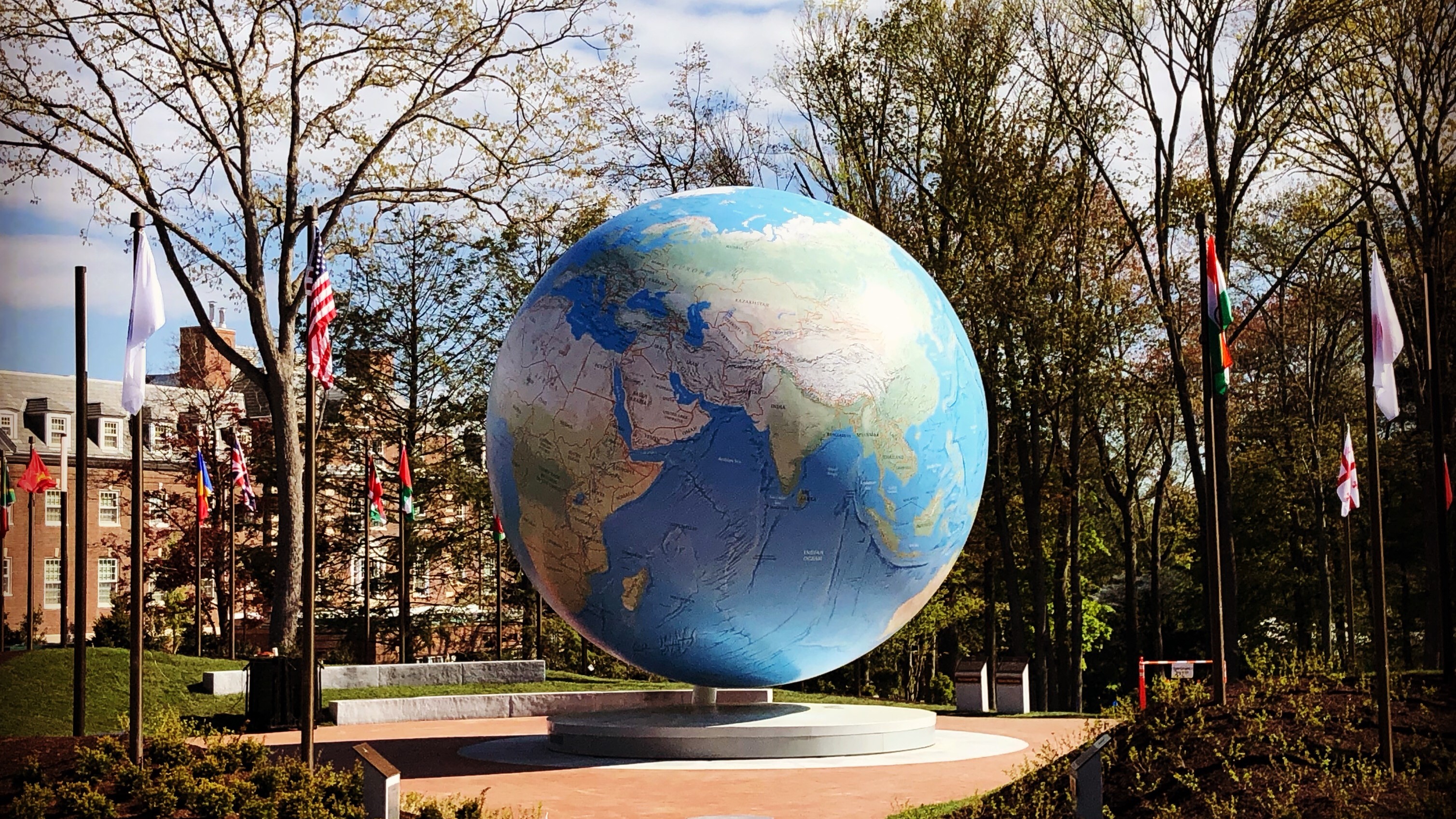 As of today, 53 of the 100 flagpoles included in the design have been installed. The 53 flags currently flown represent common countries for some current students in spring 2019 and flags from countries of other members of the global Babson community. Installation of the 47 additional flagpoles and the Centennial Walkway is expected to be completed during the upcoming academic year. This work was delayed by underground utility work that must be completed first.
In the future, the flags flown in Centennial Park will always reflect countries of our students. Each semester a list of flags will be confirmed based on currently enrolled students. Whenever there are more countries represented than flagpoles available the list of flags to be flown will be in alphabetical order during the fall semester and reverse alphabetical order during the spring semester. This will ensure that the flags for all countries of current students will be flown at some time during each academic year. The Glavin Office in cooperation with the Registrar's Office will confirm the list of flags within the first 6 weeks of each semester based on the Registrar's final list of enrolled students. The USA, Commonwealth of Massachusetts and Babson flags will be flown continuously in the park.
Inquiries about the flags can be directed to the Glavin Office.