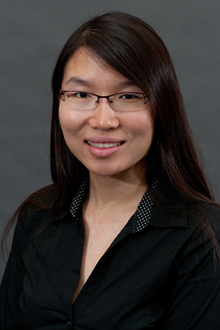 Xinghua Li
Academic Division:
History & Society
Academic Degrees
Ph D, The University of Iowa
MA, The University of Iowa
BA, Fudan University
Academic Interests
Global/Comparative Media; Critical Cultural Theory; Advertising and Consumer Culture; Environmental Communication; Ecocriticism; Sustainability and Environmental Issues
Courses
Degree Courses 2018

AHS 1000 AHS NATURE AND THE ENVIRONMENT
MDS 4620 MEDIATING THE WILD
Publications
Book Chapters
Li, X. (2020). Chinas Wilderness Excursions: Daoism, Confucianism, and The North Faces Go Be Wild Advertising Campaign: Green Communication and China: On Crisis, Care, and Global Futures. University of Michigan Press.
Li, X. (2007). From the "Love of Nature" to Natural Love: Brokeback Mountain, Universal Identification, and Gay Politics": Reading Brokeback Mountain: Essays on the Story and the Film. Page: p.106-117. McFarland & Company.
Books
Li, X. (2016). Environmental Advertising in China and the USA: The Desire to Go Green: Environmental Advertising in China and the USA: The Desire to Go Green. Page: 172. Routledge. link
Other
Li, X. (2015). Becoming Critical Participants of Media Culture. Babson College. link
Journal Articles
Li, X. (2013). A Comparative Analysis of Hybrid Car Advertisements in the USA and China: Desire, Globalization, and Environment. Environmental Communication. Vol: 7, Issue: 4, Page: 512-528. Routledge.
Li, X. (2011). Whispering: The Murmur of Power in a Lo-Fi World. Media, Culture & Society. Vol: 33, Issue: 1, Page: 19-34. Sage.
Conference Proceedings
Li, X. (2013). Eco-Jokes and Their Relation to the UnCO2nscious: Larry Davids "Curb Global Warming" Campaign and Other Environmental Comedies: Communication for the Commons: Proceedings for the 2013 Conference on Communication and the Environment (COCE). International Environmental Communication Association.
Working Papers
Li, X. (2012). The Organi-vores Dilemma: A Comparative Analysis of Organic Food Advertising in China and the U.S. (Paper 125): Babson Faculty Research Fund Working Papers. Digital Knowledge at Babson. link
Professional Services
Program Organizer

International Communication Association, Environmental Communication Division (2016)

Reviewer, Ad Hoc Reviewer

Global Media and China (journal) (2017)

Officer, Secretary

International Communication Association, Environmental Communication Division (2015)

Reviewer, Ad Hoc Reviewer

Environmental Communication: A Journal of Nature and Culture (2013)

Reviewer, Ad Hoc Reviewer

Journal of Advertising (2012)

Reviewer, Conference Paper

Biannual Conference on Communication and Environment (2011)

Reviewer, Conference Paper

Annual Convention for the National Communication Association (2009)
Professional Memberships
International Environmental Communication Association

(2012)

International Communication Association

(2008)