Summer 2023 Newsletter
Welcome to Babson College's Boston campus newsletter! This spring, the Boston Hub hosted several diverse academic programs highlighting the college's commitment to infuse entrepreneurial leadership with social impact.
Located in the heart of Boston's financial district, our campus at 100 High Street continues to provide students with collaborative workspaces and academic suites, seminar and course options for academic credit, and opportunities to connect with Boston's business leaders, as well as some of the many Babson alumni who work in various industries in the city.
International Programming
The Boston campus was delighted to host two study-abroad groups this spring. In March, we had the pleasure of hosting the Sardinia Talent Up, a Babson Executive Education-sponsored program, for their final pitch presentations. Participants completed the eight-week program, spending their last week at Babson Boston for their final presentations. Sponsored by the government of the region of Sardinia in Italy, the program is part of a larger initiative aimed at growing a new generation of highly qualified local entrepreneurs to strengthen the region's entrepreneurial ecosystem.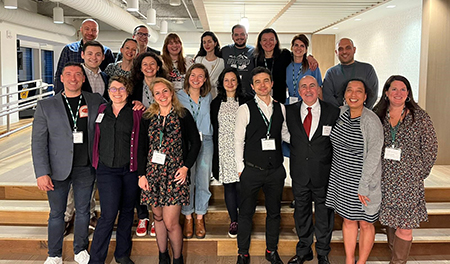 America For Bulgaria Program Participants and Babson Staff at 100 High Street
We were also joined by the America for Bulgaria Foundation (ABF), which partnered with Babson to sponsor early- to mid-career Bulgarian professionals through Babson's Accelerator for Growth, Innovation, and Entrepreneurial Leadership program (BAGILE). This spring's program was the first international application of the BAGILE program, which provides customizable lessons in leadership and entrepreneurship to public, private, and non-profit organizations. The participants spent three weeks in the United States honing their entrepreneurial leadership skills with Babson faculty. They covered topics that examined how entrepreneurship can build stronger communities and create social impact. During their stay, the group spent time in New York City, at Babson's main campus in Wellesley, and a week at the Babson Boston campus.
Spring Happenings and Summer Venture Program 2023
The campus saw high enrollment and in-person attendance for our Spring semester. One particularly popular choice was Professor Mark Potter's Finance course.
I very much enjoyed my experience teaching at the Boston campus. The students are great, engaged, and always willing to help each other out. We really built a strong bond over the six-week course, where we covered everything from why Silicon Valley Bank went under, the impact of interest rates on investment strategies, and how to evaluate new product ideas and value entire companies. I felt as though it was a positive experience for everyone.
Professor Mark Potter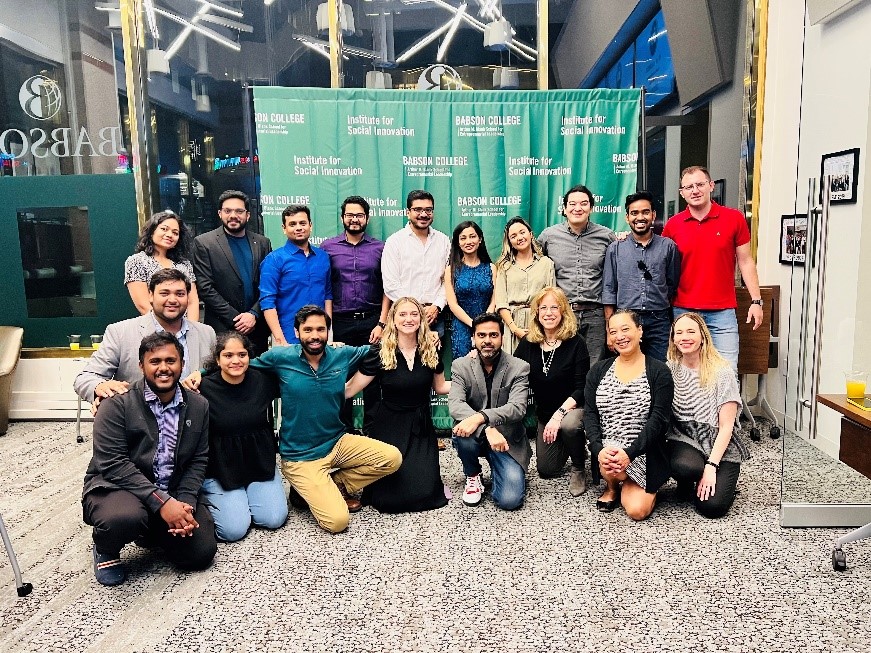 Members of this Spring's Social Innovation Meeting
In April, nearly 30 social innovation champions, primarily from Babson's MBA program, gathered at the Boston campus. Hosted by the Institute for Social Innovation, the casual dinner provided the opportunity to connect/re-connect with fellow changemakers and have deep conversations about social impact and sustainability, from issues like plastics and food waste to ESG and values-based leadership.
We are also happy to host the Summer Venture Program (SVP) again this year. The SVP is a 10-week intensive experience that builds entrepreneurial skills and accelerates the development of student ventures. Each year approximately 15 teams are chosen among the most promising graduate and undergraduate entrepreneurs. We will be highlighting these talented teams on our LinkedIn page leading up to the SVP Showcase at the end of July on campus. Stay up to date and follow our page for details on that event and more coming this fall!
We hope you have a safe and healthy summer!
– The Babson Boston Team