Data Scientist Career Path and Business Analytics: Roles, Jobs, and Industry Out
February 12, 2021 | Read Time: 7 Minutes
By Karl Klaussen
A data scientist career is in demand, and can be rewarding, lucrative, and fun. But, there's more to what employers want than simply data. If you're on a data scientist career path, or a business analyst career path, a master's in business analytics can be the perfect fit to achieving and surpassing your career goals. And, the outlook is bright.
What Do Data Scientists Do?
In broad terms, a data scientist interprets and extracts meaning from data. This requires both tools and methods from statistics and machine learning, as well as a human touch.
A data scientist collects, cleans, and wrangles data into a simple format that can be easily analyzed and communicated. A data scientist must be persistent, statistics-oriented, and possess strong communications skills.
Employers today are looking for people who can do these three things:
Analyze data

Find solutions

Communicate effectively
This generally attracts people who are on a data scientist career path, business analyst career path, or similar career trajectory.
For instance, business analysts are business leaders who work alone or with other data scientists to formulate strategies out of data analyses, and communicate them effectively to senior management. Business analysts must possess business acumen, a strategic mindset, and effective communication skills. In short, these leaders use data analysis to help businesses determine what is working in an organization, and what needs to be improved, and it is imperative to be able to communicate these complex ideas to managers at all levels.
What Skills Are Needed for Data Scientists?
Data scientists must possess strong analytical and technical skills. According to the International Institute of Business Analysis (IIBA), there are several technical skills that all business analysts should develop this year, and are essential skills for data scientists, including:
Statistical analysis software (e.g. R, Python)

SQL databases and database querying languages

Programming skills such as Python and R

Survey/query software

Business intelligence and reporting software

Data mining

Data visualization

Database design

Machine learning

Statistical analysis
It also is highly important for data scientists to be effective communicators as well as high-level analytical thinkers.
Data Scientist Roles and Responsibilities
A data scientist career path can take many forms, spanning many industries. A data scientist's role combines computer science, statistics, and mathematics. In a data science career, you will:
Gather and analyze large sets of structured and unstructured data

Analyze, process, and model data

Interpret the results to create actionable plans for your company or organization
What Skills Are Needed for Business Analysts?
While you must have the technical skills required in order to excel in a business analyst career, technical skills are not the only thing that matters. Business analysts must communicate complex ideas that lead to data-driven decisions. Besides technical skills, some common skills for people pursuing a business analyst career include:
Leadership
Teamwork
Effective communication
Storytelling and communication with data (including data visualization)
Programming statistical software packages (e.g., Python and R)
Statistics and Machine Learning
Database Management (e.g., SQL)
Formulating strategies from data analyses
Business analysts pull, analyze, and report data trends. But, just as importantly, they must share that information with others and apply it on the business side. Therefore, there is much more emphasis on business skills for business analysts than for data scientists.
Common Data Science Job Titles and Descriptions
Data has applications in any business function. Some common business functions where MSBA graduates are highly valued and sought after include:
Marketing
Finance
Operations
Supply Chain
Product development
Because of this, the work that MSBA graduates perform is transferable, useful, and important to many businesses across industries. According to Great Learning, professionals can expect more data science job titles and roles like these in 2021:
Product Manager – Product managers look at the market and interact with customers to assess opportunities. They are responsible for finding the highest-value problems to solve and validating that the team has created a meaningful solution that aligns with the strategic initiatives of the company.
Market Research Analyst – Market research analysts gather data to help a company market its products or services. They study market conditions to understand the potential of a new product or service or to optimize its revenue. They help determine a company's position in the marketplace by completing rigorous competitive analysis, forecasting market trends, measuring the success of marketing programs, doing detailed analyses to identify target markets, and looking for opportunities to reach them.
Senior Financial Analyst – Senior financial analysts analyze current and past financial data and performance, prepare reports and projections based on this analysis, establish and evaluate profit plans, identify trends in financial performance, provide recommendations for improvement, and provide financial models and forecasting. They should have strong analytical, organizational, and problem-solving skills and be able to present financial information and models in a concise and easy-to-understand way.
Supply Chain Analyst – Supply chain analysts play a key role in ensuring that goods are delivered to stores and customers on schedule. They are responsible for overseeing all steps involved from order to delivery. Problem-solving skills are essential to determine ways to improve product delivery. Communication skills are important to interact with other management professionals and product vendors. Analytical skills are critical to review information about the supply chain process. And, math skills are needed to determine ways to reduce expenses.
Data Analyst – Data analysts are responsible for a variety of tasks including visualization, or, presenting complex data in a visual format to be easily understood. Data analysts also process massive amounts of data, perform database queries, and optimize techniques, methods, and algorithms to cull information from big databases without corrupting the data. Skills include: SQL, R, SAS, Python, plus old-fashioned problem solving.
Database Administrator – Database administrators are responsible for the proper functioning of all the databases of an enterprise and grant or revoke its services to the employees of the company depending on their requirements. They also are responsible for database backups and recoveries. Skills include database backup and recovery, data security, data modeling, and design.
Data Scientist – Data scientists offer the best solutions using data analysis and data processing. They perform predictive analysis, run a fine-toothed comb through disorganized and unstructured data, offer actionable insights, and identify trends and patterns that can help companies make better business decisions. Skills include R, MATLAB, SQL, Python, and other complementary technologies.
Other data science roles include Data Architect, Statistician, Business Analyst, and Data and Analytics Manager.
I was looking for a program at a premier business school that would nicely complement my professional work and bolster my existing skill set. The MSBA program at Babson checked all those boxes."
Michael Ricciuti MSBA'21
Senior Data Analyst, The RMR Group
Data Scientist Salary: How Much Do Data Scientists Make?
The data scientist career outlook is very promising due to an ongoing shortage of people who are currently on a data scientist career path. This hot job market also demands high salaries.
According to 2020 data from the Bureau of Labor Statistics (BLS):
The average data scientist salary is $126,830 per year depending on your skillset, experience, size of company, industry, and where you live.
The lowest 10% make an average of $69,990.
The highest 10% make an average of $189,780.
Data Scientist Career Outlook for Jobs
According to the BLS, employment growth of computer information and research scientists, which include data scientists, from 2019 to 2029 is expected to be 15%.
To land that first job, you could start as an entry-level data analyst, extracting structured data from MySQL databases or CRM systems, developing basic visualizations in Tableau, or analyzing A/B test results. Another route would be to follow a business analyst career path in organizations of all sizes.
Companies across all industries are investing in people who combine these special skills with leadership qualities.
Facebook, Google, LinkedIn, and Amazon are typically what people think of when they think of a data scientist career path or a business analyst career path.
But, small businesses, retail, and major league sports also are looking for experts to help them sift through big data to find the needle in the haystack that could be the difference between an average year and record-setting revenue. Data scientists may find themselves taking on:
Financial planning

ROI analysis

Budgets

Other responsibilities relating to the management of an organization
People on a business or data analytics career path can always look forward to emerging industries around the bend, according to Susanne Schneider-Kivelitz, Associate Director in Babson College's Graduate Center for Career Development. "There are so many new fields that emerge, such as sports analytics, so this is a growing industry."
Is a Business Analytics Degree Worth It?
There are many roles, industries, and businesses that are clamoring for quality employees to fill a variety of positions across numerous divisions. But, is a business analytics degree worth it? Is a data analytics degree worth it? Is a data scientist career worth pursuing?
If you like data, have a background in programming, math, and analytics, and are looking to take your career prospects to the next level, a master's in business analytics (MSBA) program may be the perfect place to start. In one to two years, you could be well on your way to a top-paying job or lucrative career move. Most MSBA students have been in the workforce for a period of years, are in their mid-20s, and come from a variety of backgrounds.
When looking into MSBA programs, be sure to look for special attributes or approaches that may suit your needs or goals. Babson's MSBA program is unique because it emphasizes communication and teaches future entrepreneurial leaders to think and act entrepreneurially, synthesize and draw insights from complex data, and use analytics to tell effective stories that impact business strategy.
At Babson, you are trained on state-of-the-art business analytics tools and techniques, master an entrepreneurial mindset, and deep dive into effective communication skills. That is a really unique aspect to Babson's MSBA program. And, of course, a Babson MSBA degree links data to decision making by combining statistics, economics, marketing, business strategy, communication, and innovation.
"The Babson MSBA is particularly focused on the business decision," said Mahdi Majbouri, Associate Professor and Faculty Director of Babson's MSBA program. "MSBA students gain a strong understanding of data and analyze findings very well. One thing that sets them apart is that they can communicate equally well with data scientists, business leaders, and business managers."
An MSBA program is a great place to start a data scientist career or to set yourself on a data scientist career path.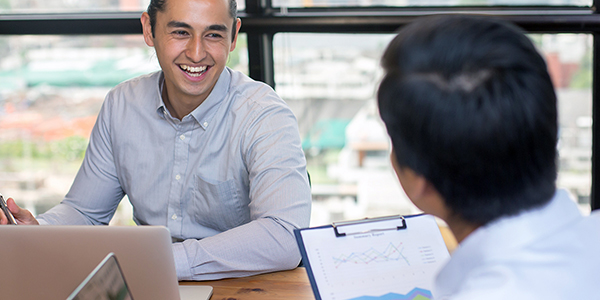 Explore Babson College's Master of Science in Business Analytics
Babson's STEM-Designated Master of Science in Business Analytics
Babson offers a full-time, STEM-designated Master of Science in Business Analytics degree that combines entrepreneurial education with all the traditional business analytics tools and techniques, differentiating it from the rest of the pack. Students can choose to complete the program in two or three semesters.
Majbouri underscores this approach. "It's essential for an MSBA graduate to have the skills of entrepreneurial leadership, because technologies change really fast and companies need to adapt really quickly to the world. An entrepreneurial leader has exactly the skills to operate in this ever-changing world because entrepreneurs need to be comfortable with uncertainty and taking risks."
Schneider-Kivelitz also notes that Babson's emphasis on communication sets it apart.
"Something that we've heard several times from employers is that it's not only about knowing how to program or code, or to use all these statistical methods, it's also how to tell a story. And, this is a huge part in how we see Babson students standing out from others."
Students learn both hard and soft skills, essential for the modern business world. And, since it's one of Babson's STEM master's degree programs, the MSBA is a great fit for international students who rely on work visas.
You Also May Be Interested In:
About the Author
Karl Klaussen is a marketing content specialist at Babson College.
Like this graduate school advice article? Have a suggestion? To contact our team with comments or article ideas, send us a note at news@babson.edu.