Do You
Need a Degree

to Be an Entrepreneur?
Why Studying Entrepreneurship in College and Earning a Degree Is Smart Business

July 8, 2021 | Estimated Read Time: 13 Minutes
By Kate Sitarz
Entrepreneurship in college is about so much more than starting a business. It's about learning how to communicate, persuade, and take action. It's about becoming a leader who can make a major positive impact, whether starting a business, returning to a family business, or working within any organization, role, or community.
If you've ever wondered what being an entrepreneur is like, what you can do with an entrepreneurship degree, or how to start a business in college, read on.
Do You Need a Degree to Be an Entrepreneur?
When the Mark Zuckerbergs and Bill Gates of the world dropped out of college, and Peter Theil and Gary Vaynerchuk are saying college isn't worth it, you might understandably question if you need a college degree to be an entrepreneur. However, these narratives are interesting news stories. Outliers. Data drawn from approximately 290,000 employer businesses reveals that more than half (51.4%) of all entrepreneurs hold at least a bachelor's degree. Only 3.6% of these entrepreneurs did not complete high school.
Research with the Global Entrepreneurship Monitor (GEM), the pre-eminent and largest survey-based study of entrepreneurship in the world involving over 60 countries, has shown that entrepreneurs of all kinds—no matter their race, gender, or ethnicity—are overwhelmingly more likely to have a college degree.
That's because studying entrepreneurship in college is a way to gain the behaviors and mindset you need to thrive anywhere. It gives you both the opportunity to learn and practice the skills you need to succeed as an entrepreneur, as well as the chance to expand your network. These two factors are critical to your long-term success.
The skills you'll learn earning a degree focused on entrepreneurship are varied, says Phillip Kim, the Lewis Family Distinguished Professor in Social Innovation at Babson College. They include creativity and design, critical thinking, leading teams, developing relationships with classmates from various backgrounds and geographic locations, and communicating and persuading others about your ideas.
"More importantly, these skills are learned in both the classroom and through cocurricular activities that support each other within the campus ecosystem. You'll find other like-minded classmates with whom you can share interests, discuss ideas, and pursue opportunities together," Kim adds.
What do entrepreneurs really look like?
Donna Kelley, the Frederic C. Hamilton Professor of Free Enterprise Studies at Babson College, notes that many of the entrepreneurs who do make the news are not representative of the entrepreneurial landscape as a whole. In a Harvard Business Review article, Kelley and her co-authors broke down the data behind who is starting businesses: 17% of black women are starting or running a new business, which is a larger percentage than white women (10%) and white men (15%).
"Entrepreneurship is inclusive," emphasizes Kelley. "What you see in the media is not typical."
Alexandra Dunk, director of marketing and outreach for The Arthur M. Blank Center for Entrepreneurship, agrees. "There are stereotypes around what entrepreneurs look like. We're broadening the definition of who is an entrepreneurial leader."
Many people, Dunk observes, already are demonstrating qualities of entrepreneurial leadership; they just don't have a word for it.
Earning a degree can help you improve your self-efficacy. "It's activating the community around you for support; realizing who you do already know," says Dunk, who also stresses the importance of self-awareness and recognizing the qualities in yourself.
The entrepreneurial world is extremely collaborative, and entrepreneurs of all kinds are welcome.
What Can I Do With an Entrepreneurship Degree?
Having an entrepreneurship degree allows you to strategically pursue your passions. That doesn't have to mean founding a business (though becoming a founder is an option). It may mean leading change within an existing organization, growing a family business, or scaling a startup.
That's because entrepreneurial leadership is bigger than business. It's a mindset. It's why at Babson, entrepreneurship is woven throughout the entire curriculum. Whether you're taking classes in finance, management, leadership, or the arts, you'll have the opportunity to practice.
Many students whom Kelley works with at Babson do not have a business idea when they arrive. Instead, they may be drawn to leadership and perhaps have participated in student government. Or, they may have organized and run an event. Or, mowed lawns.
"It's showing resourcefulness, taking charge, and figuring out how to do something. Having a vision and working toward it," says Kelley.
These entrepreneurial skills are more important than for any individual business, says Kim. "They are valuable in a wide variety of career situations, regardless of whether you launch your own venture, work for an established organization, or return to your family business."
Kelley recalls a professor telling her class they'd have six careers in their lifetime. "And, I really did," she says. "You have to assume that your career may take many different twists and turns, and you are the foundation from which all those careers can launch."
Having an entrepreneurship degree enables you to think creatively no matter what context or situation you're in, whether it's founding your own business or pursuing a new business idea within a company. Kelley points out you can even use it in your personal life, whether it's volunteering to run a charity auction or helping your school raise money for a sports team.
And, if you do want to start a business in college, it doesn't necessarily have to be selling a physical product. For example, Aria Mustary '21 founded Mai Soli Foundation. The goal of the foundation is to break the cycle of child marriage in Bangladesh by tackling issues such as gender inequality and lack of opportunity.
Giullia Jaques Caldeira '24 started Absorvidas, an organization bringing feminine hygiene products to a women's prison near Belford Roxo, Brazil, Jaques' hometown. Beyond providing reusable menstrual pads to the prison, her goal is to also provide lectures and materials to support menstrual education.
Is a degree in entrepreneurship worth it?
An entrepreneurship degree offers the opportunity for a significant return on investment. That's because, depending on where you earn your entrepreneurship degree, you stand to gain much more than a business degree.
At Babson, for example, you will gain experience in the liberal arts. You can take courses at Wellesley College and Olin College of Engineering. And, you can concentrate in everything from literary and visual arts to computational and mathematical finance. Its 20-year net present value, the calculation used to calculate the value of future payments and whether an investment is a good one, is $907,000, putting it within the top 10 schools, according to a study from Georgetown University.
As Kelley says, even if you don't plan to start a business, you'll likely work for a startup or a small business at some point in your career. If you go into finance, you may invest in entrepreneurs. "There are so many different ways you can be involved in entrepreneurship without having started your own business," she notes. "Understanding the business elements of whatever you do is really key."
An entrepreneurship degree also shapes your attitude, equipping you with the ability to not fear failure.
If you have an idea and don't know where to start, earning a degree can help move you in the right direction with support and resources you may not have access to on your own. For example, at Babson's Centers and Institutes, there are numerous resources for founders, but also for students who just want to get involved.
Dunk mentions Mustary, noting that when she came to the Blank Center, she knew the problem she wanted to solve—child marriage in developing countries—and had a passion for solving it. But, she didn't know where to start. Mustary took advantage of opportunities, including the Butler Launch Paid, CWEL Scholars, and Summer Catalyst in 2020, which ultimately led her team to win the B.E.T.A. Challenge in 2021.
The expert advice, accountability, and acceleration you get by earning a degree can not only help you get where you want to go, but can help you get there much faster.
Dunk also emphasizes that if you have no idea where to start, the Blank Center and other resources are there to help you take that first step and find a way to approach problems. "Student entrepreneurs can participate in a range of unique opportunities that can help accelerate your business or grow as a leader."
Programs such as the 10-week, intensive Summer Venture Program and other summer venture accelerator programs at the Blank Center help you build entrepreneurial skills and accelerate your venture. Dedicated advisors, mentors, and 24/7 workspace are just some of the resources that each team receives, totaling a market value of at least $200,000.
The Frank & Eileen™ Center for Women's Entrepreneurial Leadership (F&E CWEL) offers mentorship and programs such as the Women Innovating Now Lab®, which gives women entrepreneurs access to monthly coaching, strategic guidance from C-Suite experts, and more.
"As you're setting out on your journey, there are so many types of conversations and interactions that can have a huge impact," says Dunk. "It could be a conversation with a peer, professor, an entrepreneur in residence, an alumni entrepreneur, the list goes on." These connections can completely change your trajectory. And, the ability to find a mentor can give you a level of accountability, as well as access to a professional network that can help you move forward.
By earning a degree in entrepreneurship, you'll gain a solid foundation in business, but you also make connections that you can't put a price tag on.
How to Become an Entrepreneur in College
Studying entrepreneurship in college is not only valuable if you have a business idea (see the next section about how to start a business in college).
"We train our students to develop an entrepreneurship mindset," explains Kim. At Babson, this starts on day 1 during the yearlong Foundations of Management and Entrepreneurship (FME) program and continues through graduation and beyond.
Babson's Entrepreneurial Thought & Action® (ET&A™) is a proven methodology that teaches you to balance action, experimentation, and creativity with a deep understanding of business fundamentals and rigorous analysis as the ideal approach to creating economic and social value.
"This allows you to learn how to generate and identify new opportunities, evaluate them for their feasibility, marshall early resources, and convince others to back your ideas."
ET&A teaches you to start with the means at hand, take the first step, and make a difference by valuing purpose as much as profit.
Starting with the means at hand in college ensures that you can activate the community around you. That may mean your peers, but it also means all of your campus resources. At a campus like Babson, you have several options.
Dunk says start by answering, "What is it that you want to start?" Whatever you want to work on will determine the types of resources you need. The centers and institutes at Babson support a range of ventures and entrepreneurial leaders, and you don't need a business idea to work with them. What you do need is curiosity.
"Successful students are often independently curious and seek out new opportunities to pursue," observes Kim. "I recommend setting aside time on a regular basis to explore a new interest or hobby. Read widely including biographies, science fiction, and long-form articles on topics that sound fascinating to you."
What keeps you up at night? What problem do you want to solve? What are you passionate about? These are the important questions, says Dunk. "It's less the idea of 'I need to build a scalable, fundable venture,' and more what are you passionate about? That's what's going to motivate you as you move forward."
Whether you are a founder or you want to become an entrepreneurial leader, the Centers can help you build a number of skills, such as your pitching and communication skills.
What keeps you up at night? What problem do you want to solve? What are you passionate about? These are the important questions, says Dunk. "It's less the idea of 'I need to build a scalable, fundable venture,' and more what are you passionate about? That's what's going to motivate you as you move forward."
Whether you are a founder or you want to become an entrepreneurial leader, the Centers can help you build a number of skills, such as your pitching and communication skills.
Advice on how to start a business in college
There are as many ways to start a business in college as there are ideas for those businesses. But, there are a few areas you'll want to focus on in order to put your best foot forward.
1. Explore Your Possibilities
You may have an idea for a business or you may not. Either way, you'll want to expand your definition of what's possible. For example, there are many ways entrepreneurship can have an economic and social impact. If you're interested in social innovation, Kim recommends learning more about the UN Sustainable Development Goals (SDGs). "Pick one of the SDGs that motivates you to take action. Then learn more about how other entrepreneurs and social innovators are making a difference in this world in that particular area."
He also recommends learning more about the Meaningful Business 100 leaders, watching a documentary, or reaching out to someone who is involved with a social impact project and asking them how and why they are involved in the work they do. "Take notes and reflect on these lessons to help you uncover your own interests."
The College Investor also offers more than 100 ways you can earn money in college, which may give you ideas for ways you can bring your passion to life.
2. Experiment
At Babson, every first-year student takes Foundations of Management and Entrepreneurship (FME). This yearlong course teaches you how to become an entrepreneur in college by working with a team to create, develop, launch, and manage a new venture, using funding from the College. Regardless of if you want to start a business in college or not, FME gives you the entrepreneurial leadership skills you'll need no matter what you pursue during and after college.
3. Expand Your Network
As Aria Mustary, founder of Mai Soli knows, and many students who founded businesses while in college know, having support is crucial to running a business while going to school full time. The Babson community, from peers to professors, is designed to support you.
Don't be afraid to ask for help from experts who can help you work through business challenges and determine next steps when you get stuck.
4. Engage Your Resources
Look to institutes, events, and other on-campus resources that can not only help you expand your network, but also provide physical space and other opportunities to explore your ideas.
For example, the John E. and Alice L. Butler Launch Pad is a key resource for Babson entrepreneurs, offering access to faculty, office hours with entrepreneurs in residence, as well as opportunities to gain funding for your venture through pitch competitions.
Pitch competitions allow you to hone your pitch and communications skills. Rocket Pitch, for example, is a supportive, positive environment where Babson students and alumni, as well as Wellesley and Olin students, share their concept or venture and get feedback from the community.
B.E.T.A. Challenge, on the other hand, culminates in a live pitch event where there's thousands of dollars on the line.
Take each chance you get to practice. "You learn what it takes to deliver a really compelling message," says Dunk, pointing out the skill will serve you well whether you want to go the founder route or want to make a difference within an existing organization. "The ability to clearly and articulately express your idea and make ask and engage others in whatever it is you're trying to build, lead, or drive is incredibly important."
You can raise serious funding for your business as a student. Three Babson students—Maxine Anderson '22, Michael Ioffe '21, and Ryan Laverty '20—founded Arist, a text message learning platform that delivers critical informational texts about COVID-19 to people living in the Nakivale Refugee Settlement in southwesetern Uganda. The team has raised $1.9 million in seed funding, which they intend to use to hire more staff.
5. Keep Taking Action
Every step you take, even if it's a small one, moves you forward or equips you with new information you can use to make more informed decisions.
Of course, you'll want to balance your school work with the time you're spending on your business. At a school like Babson, you can apply what you're learning in the classroom to move your business forward.
You will likely be surprised where your curiosity can take you in four years.
Interested in learning more about Babson College for entrepreneurship?
You May Also Be Interested In: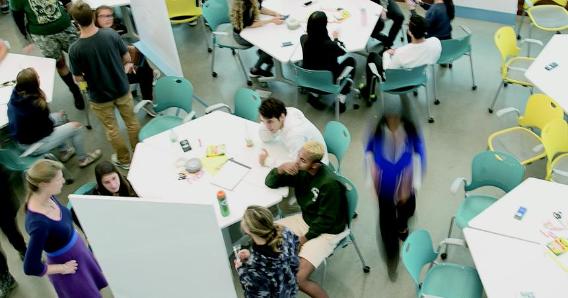 Looking for more guidance? We've compiled our best advice on college admission, career planning, and more to help you get your questions answered and start your journey.
Babson Thought & Action
In a six-part series, the Babson Thought & Action team took a look at a hallmark of the Babson experience: Foundations of Management and Entrepreneurship (FME). Join two students—Sophia Pantos '24 and Arya Patel '24—on their FME journey.
About the Author
Kate Sitarz is a copywriter and digital marketer with more than 10 years of experience helping startups, Fortune 500 companies, and every size business in between achieve their goals.
Like this article? Have a suggestion? To contact our team with comments or article ideas, send us a note at news@babson.edu.