Park Manor South
Newly renovated in the summer of 2015, Park Manor South is located in the Park Manor Quad.
This residence hall is conveniently located across from the Reynolds Campus Center and Horn Library and it houses undergraduate students on three floors. The building also includes several lounges, common kitchen, and a bike room.
Park Manor South is staffed by three resident assistants (RAs) and an area coordinator who oversees the day-to-day operation of the residence hall and provides direct supervision to their RA staff.
Area Coordinator: Dario Guerrero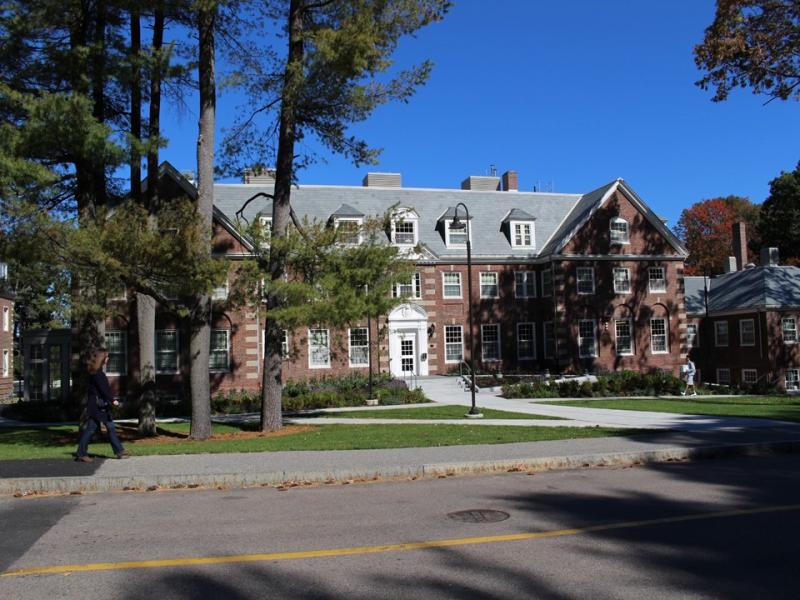 Room and Hall Features
2023–24 Room Rates: $5,308 – $6,802 per semester
Occupancy: 70
Number of Floors: 4
Room Types: Single, double, triple, quad (room layouts and square footage will vary)
Furniture: Loftable bed (extra-long twin), dresser, desk, desk chair, bookshelf, closet/wardrobe, blinds/shade, trash can, recycling bin. Furniture cannot be removed.
Gender: Gender specific by room/coed by room
Bathrooms: Gender-specific community bathrooms (showers, toilets, sinks) and gender-neutral private bathroom on each floor.
Carpet: No
Building and Room Access: Babson College ID card to access building and room key to access room. Residents must sign for the room key upon arrival on campus.
Elevator: Yes
Lounge(s): Yes
Lounge Television(s): Yes
Trash/Recycling Room: Residents are responsible for disposing of all personal trash and recycling in the receptacles provided in the trash room located on each floor by the elevator.
Laudry Room: If using Tide Pods, please note these must be put inside the washing machine with your clothing, not in the soap drawer which is intended for liquid detergent only.
Location: Campus Map