Part Time Certificate in Advanced Management (CAM)
Get the advanced management skills you need as an aspiring executive and entrepreneurial leader—without stepping away from your career to earn a full degree. This part-time business management degree gives you the flexibility to accelerate your career with MBA-level courses available on weekends, evenings, and online.
#1
MBA in entrepreneurship for 30 consecutive years
U.S. News & World Report
#1
for entrepreneurship Northeast Graduate Programs
Entrepreneur Magazine, The Princeton Review, 2023
No GMAT/GRE? No problem. There is no GMAT/GRE requirement for 2023 entry.
Next App Deadline
November 15
Location
Wellesley, Boston and Online
Test Requirement
No GRE/GMAT Required
Avg Work Experience
11 Years

Choose from 6 Specializations or Custom Create Your Own Path
When you earn either a 9- or 15-credit certificate, you can choose courses that will help you meet your specific professional goals. Your dedicated academic advisor can offer guidance on which of Babson's graduate courses make most sense for your career and your schedule.
44,000+
Babson alumni added to your network
A Highly Flexible Program, Customized to Your Schedule
The future is fueled by entrepreneurial leaders. No matter your industry, you need to see the creative potential where others just see chaos. You can gain those skills while maintaining your current role, allowing you to put your organization's challenges under the microscope to glean fresh insight.
Take up to three years to earn your certificate with the ability to mix and match weekend, evening, online, and in-person courses at our Boston and Wellesley campuses.
Refine your business acumen and build your data-driven, decision-making, and negotiation skills.
Course options include:
Decisions
Extended Enterprise Management
Leading Innovation: Creating Organic Growth
Negotiations
All of our programs are taught with an entrepreneurial lens, but these courses hone in on new venture strategy and a business growth skill set.
Course options include:
Entrepreneurial Finance
Managing a Growing Business
New Venture Creation
The Entrepreneurial Extension: Buying a Small Business
Venture Growth Strategies
Integrate social change into your business practices and bring intentional impact to your organization on topics like sustainability and social value creation.
Course options include:
Building and Leading Conscious Business
Leading Sustainable Innovation
Solving Big Problems
Learn how to use data science and analytics to manage, make decisions, and communicate.
Course options include:
Analytical Managers & Organizations
Artificial Intelligence for Business
Competing on Analytics
Business Analytics
Introduction to Data Science
Get into the mind of the consumer and learn how to innovate in a highly competitive and increasingly digital marketplace.
Course options include:
Consumer Behavior
Digital Marketing
Marketing
Product Management
View problems and opportunities from a financial perspective, growing your ability to offer advice on how to strategically leverage capital.
Course options include:
Capital Markets
Finance
Finance for New Ventures
Financing and Valuing Sustainability
>Introduction to Financial Management
Investment Banking and Financial Advisory
Begin to Transform Your Career Today
Start with the CAM, Finish with a Master's
Experience Babson without committing to the full duration of a graduate program. If you later decide to earn a graduate degree and have a 3.0 GPA or above, there are options to apply your credits toward a Master's. Plus, there is no GMAT requirement for the CAM program, and CAM students can waive the GMAT when applying to Babson's MBA program.

Hands-on Courses Taught by Innovative Faculty
As a Certificate in Advanced Management student, you'll find your mentors among faculty who are industry leaders, business owners, and accomplished researchers. Their specialties include new venture creation, investment banking, sustainable innovation, and much more, all founded on decades of practical experience.
Get to know the Graduate Faculty
Babson has amazing professors, and I've tried to absorb everything I can from them so that I can apply it to my own business. … (The Babson experience has shown me) a totally different way to learn.
José Rolando Campos
enrolled in the Certificate of Advanced Management program
Looking for Advice?
We've collected our best graduate student advice to help make the process of deciding between programs a little easier.

MBA Certificate: Everything You Need to Know
Learn more about graduate-level certificates, the value of certificate programs, and how an MBA certificate compares to a full MBA degree program.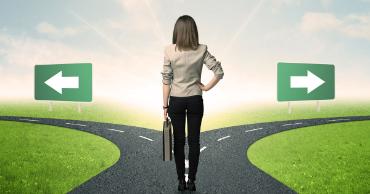 Master's vs. MBA: How Do I Decide?
Pursue the right advanced business degree for your career goals. The decision often depends on years of professional experience, if you want to change career paths, and more.
Act on Your Ambitions
Learn to see the potential where others just see chaos. Begin your application to Babson College today.