Why Babson?
Because you have big ideas and big dreams.
At Babson, we teach you how to find the opportunity in every challenge and then how to turn those ideas into real, valuable actions. We want you to go from today's learners into tomorrow's leaders—specifically entrepreneurial leaders who can navigate risk and uncertainty with agility and skill.
So why join us at one of the best undergraduate business schools?
We teach you to solve problems
We provide the tools to become a change-maker
We mix the theoretical with the practical
Our community succeeds together
You graduate with real business experience
A Babson degree gets you to your next step
We Always Come Out on Top
#10 College in America
– Wall Street Journal, 2023
#1 for Entrepreneurship
– U.S. News & World Report, 27 consecutive times
Best Value Business School
– PayScale, 2021
#1 Private Business School for Salary Potential
– PayScale, 2021
Best College for Business Majors
– Money, 2022
Let's dive into the reasons.
As you grow into an entrepreneurial leader at Babson, you'll challenge yourself (and the world), make lifelong friends, create a network of professional connections, and have a lot of fun.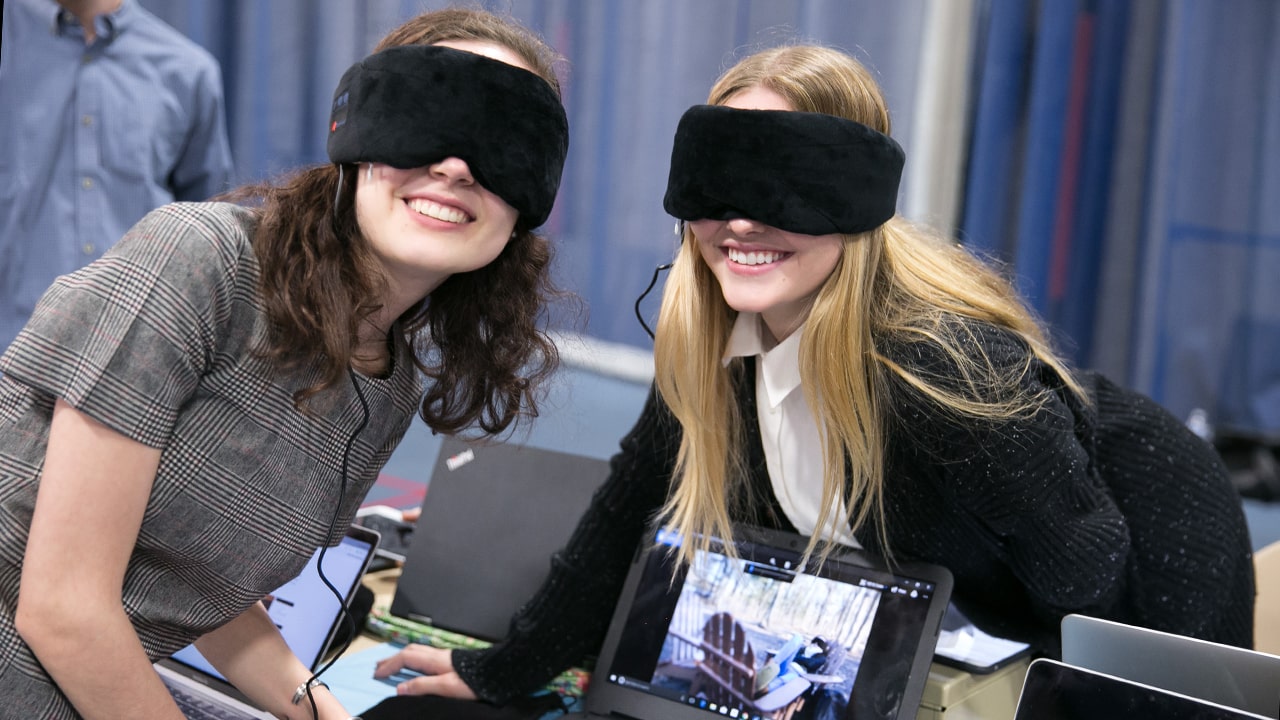 As the longstanding leader in the field, we revolutionized entrepreneurship education over half a decade ago. Our approach continues to grow as we teach entrepreneurial leadership, a skillset and mindset anyone can learn and implement.
Entrepreneurial leadership is people first, with an emphasis on experimentation and providing real social value, setting you up for sustainable success. Entrepreneurial leaders evaluate the impact their actions have on their lives, their communities, and the greater world, and then act, constantly learning and reacting throughout the process. There's no one-size-fits-all approach to it either, as Babson students and alums tackle challenges ranging from the role of technology in society to climate change to supply chain issues to healthcare access.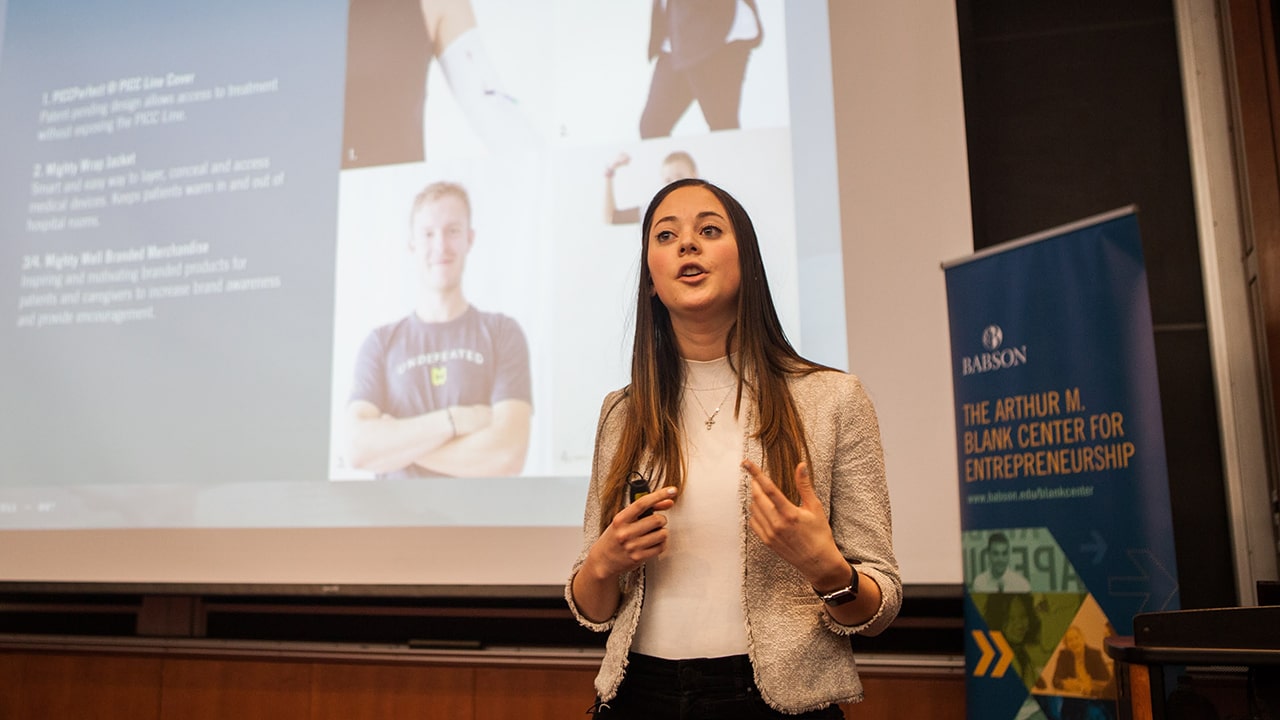 Entrepreneurial Thought & Action® (ET&A™), our signature methodology, is found in everything we do at Babson. It's a skillset and mindset combination that's exclusive to our curriculum. It allows you to analyze any situation and find creative, practical solutions through experimentation and thoughtful action.
Our students have the experience to turn challenges into economic and social opportunities with confidence. You manage risk, make strategic decisions, and provide value for society, yourself, and your larger community. You leave Babson as an assured, knowledgeable entrepreneurial leader, someone who not only wants to influence change but has the toolbox to enact it.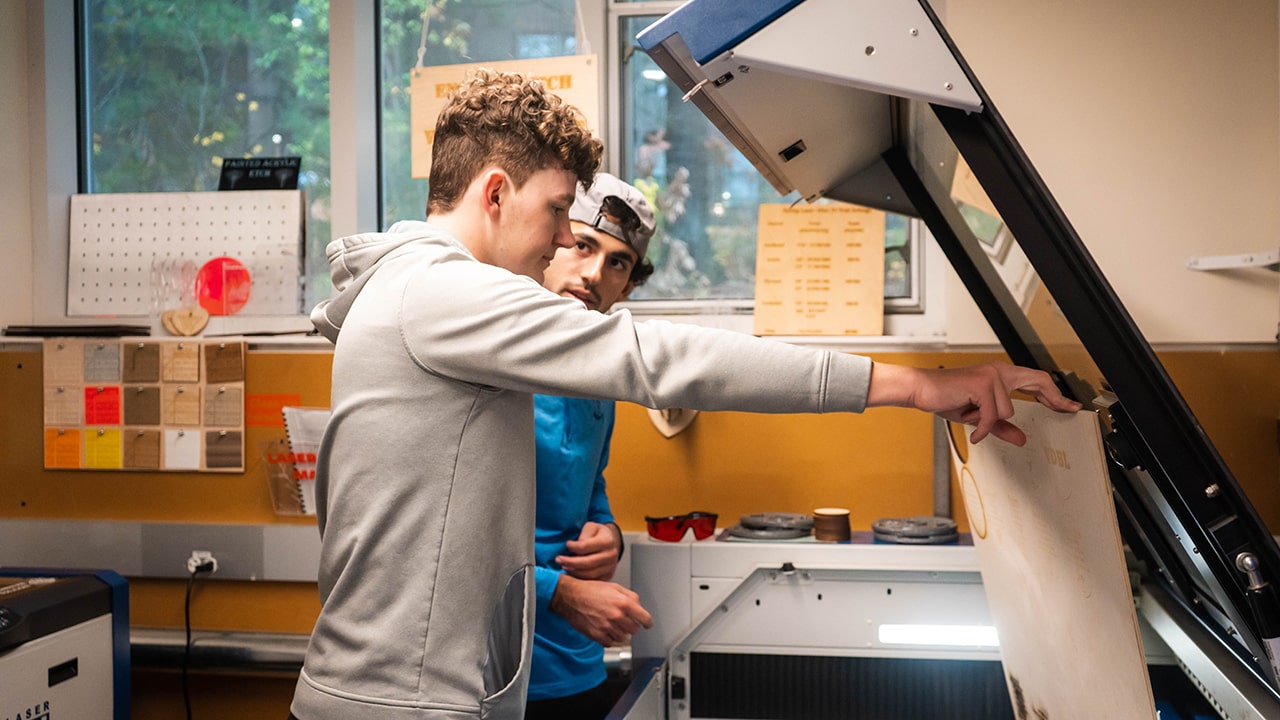 A Babson undergraduate degree comes with a healthy focus on the liberal arts and sciences—and that sets us apart as a top undergraduate business school. You take courses to not only build out your fundamental business knowledge but to develop the critical thinking and communication skills the professional world demands. When you graduate, you have the tools to determine the impact technology, individuals, and businesses can have on society and the planet, as well as the drive to make concrete changes that better our world.
Sustainability sits at the forefront of our curriculum, too. In your second or third year, you will take Socio-Ecological Systems (a required undergraduate course), which dives into the role humans play in causing and fighting climate change and explores possible solutions to this growing crisis. The class is taught by a natural scientist and a social scientist, emphasizing how society and nature are interconnected and how we can address issues regarding water, natural disasters, food systems, and urban development.
Entrepreneurship provides a tinge of optimism by giving us the ability to be proactive instead of reactive and to create long-term solutions before long-term damage becomes irreparable.
Lexie Cheng '25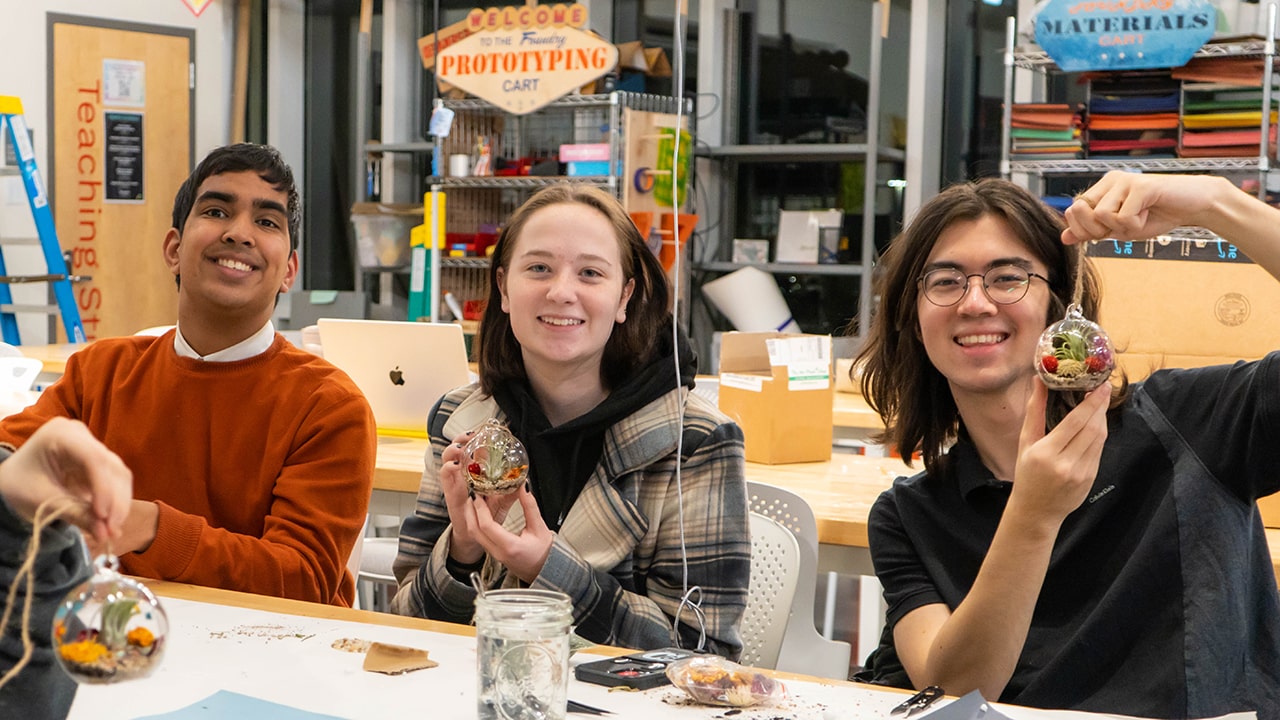 How you live, who you love, where you've come from, what you strive for—these are all things to live out loud here. With students from over 35 states and over 40 countries, our student population is diverse, and we are learning and working every day to build a campus that is equitable, inclusive, and accountable to everyone we serve.
Our goal is for our entire community to prosper together. Whether you're joining us from New England or are hopping on a plane, our close-knit, picturesque campus can't wait to meet you.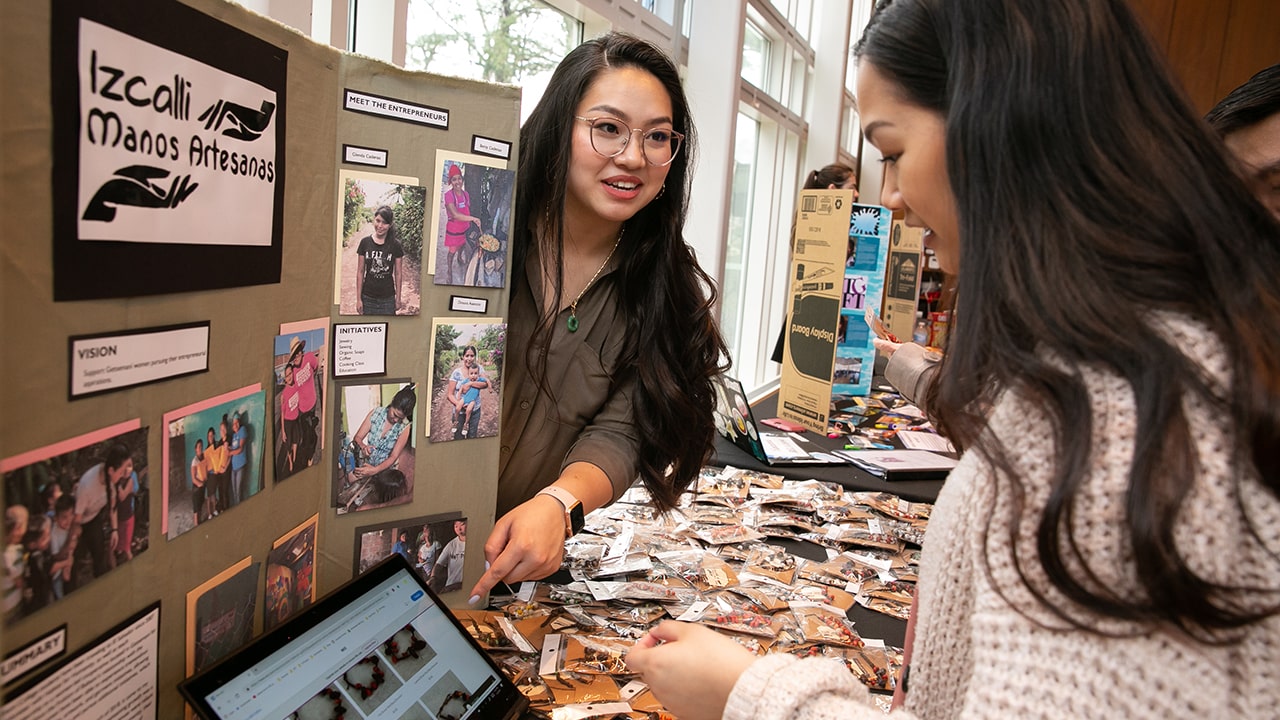 You read that correctly. In Foundations of Management and Entrepreneurship (or FME, as our students call it), you turn an idea into a tangible venture—all while learning what actually makes a business work. Business by doing business, and that's just in your first year. It's hands-on learning for a hands-on life.
And that's not all, as you'll have opportunities for hands-on experience during your entire time at Babson, through classwork, internships, job shadows, extracurriculars, and campus partnerships. In your fourth year, you will even tackle a company or nonprofit's actual business challenge IRL as part of your studies.
FME isn't just about creating a business. It's about creating positive change. Professors don't just talk about whether an idea is feasible, they talk about how you are giving back. They don't just want to create entrepreneurs, they want to create business leaders who will impact the world.
Sophia Pantos '24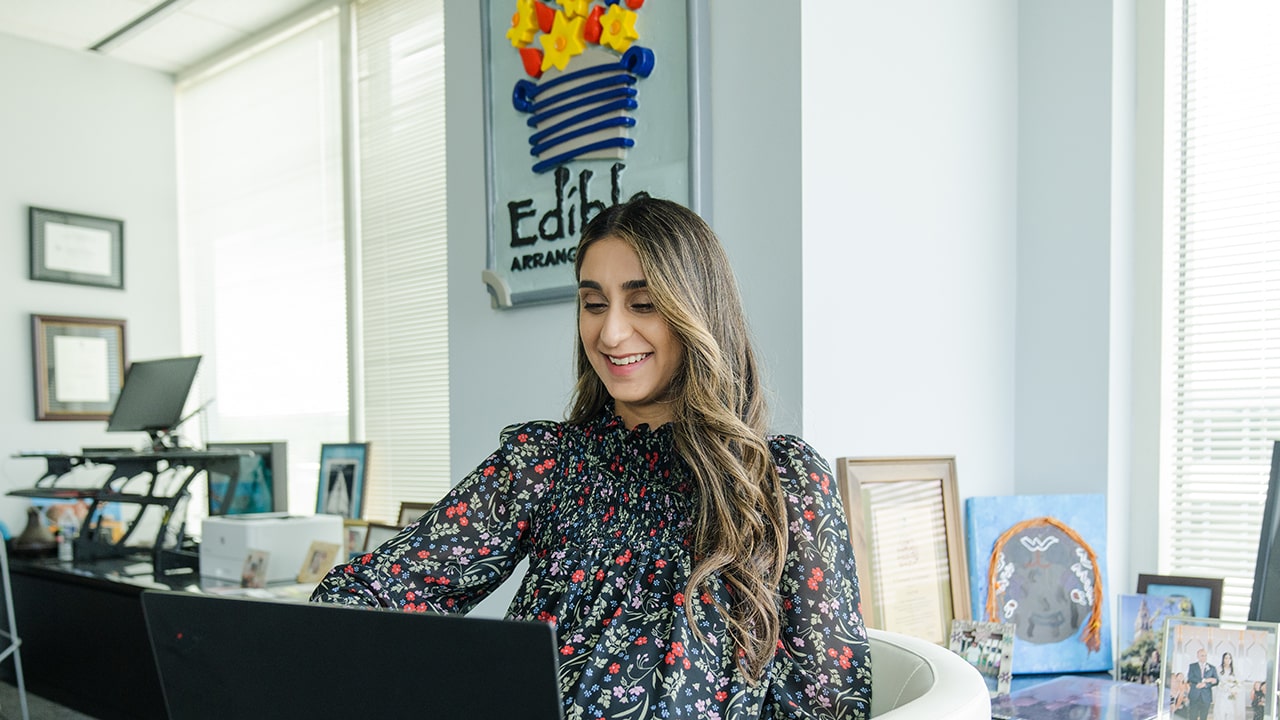 Through our hands-on learning courses and career resources, you discover where your passions lie. We have experienced faculty. Small classes. Real-world applications. A dedicated staff. An expansive alumni network. A global population (192 countries represented and counting). And over more than 20 concentrations, focused on a different area of business.
Future accountants, government workers, financial advisors, sustainability advocates, teachers, product managers, marketers, and supply chain experts all have a place here.
of classes are taught by professors
of students in the class of 2022 had at least one internship while at Babson
of students in the class of 2022 were employed, continuing education, or involved in volunteer, military, or service programs within six months of graduation*
*Based on responses from the class of 2022, with a knowledge rate of 83%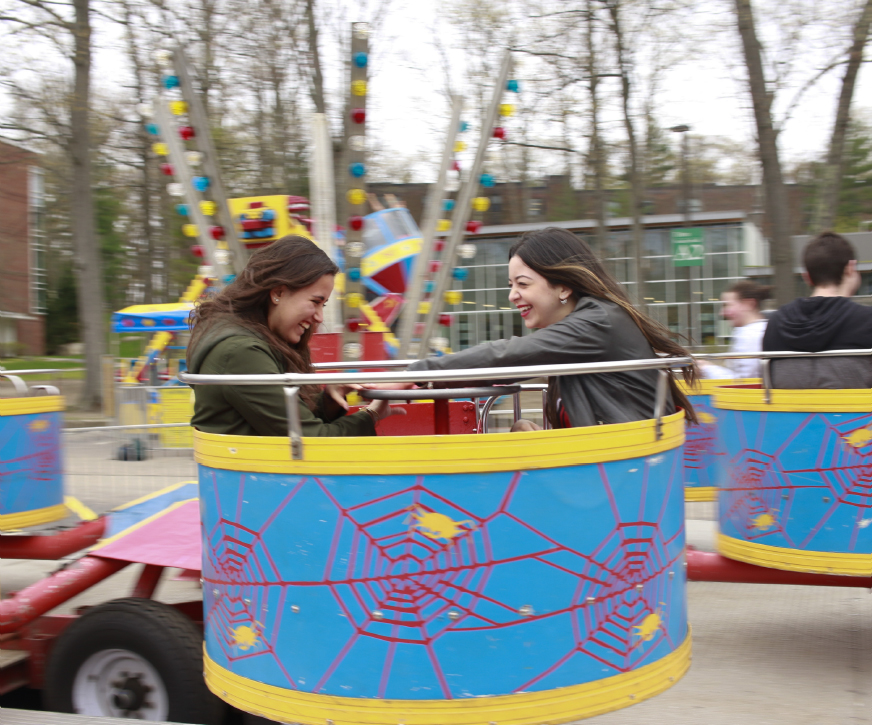 Did we mention our students have a lot of fun?
A new adventure awaits you. Come cheer on (or play for!) one of our over 40 athletic teams. Take part in our thriving arts community. Grab a late dinner at Trim or a before-class coffee at the campus Dunkin. Start planning your study-abroad experience. Build your own prototype at the Foundry.
Over 100 clubs and organizations means you'll find your place and your people.
Our list goes on and on.
Your next step is to get to know us even more. We are ready to answer all your questions about Babson.