MBA Salary Florida: What You Can Expect to Make After Grad School
February 12, 2021 | Read Time: 5.5 Minutes
By Karl Klaussen
When considering an MBA salary, Florida may be a great choice. Florida has a lower cost of living than many states around the country. And, MBA jobs in Florida are in robust industries that are currently rebounding from the COVID-19 crisis.
The result? Salaries are competitive, jobs are coming back strong, industries are hiring, and the future looks bright for MBA graduates in Florida.
MBA Salary Florida: An Overview
According to ZipRecruiter, the average MBA salary Florida can be as high as $127,990, and the top MBA earners in Florida make $101,377 annually. There are many opportunities for advancement and increased pay based on skill level, location and years of experience in various MBA jobs in Florida.
In Miami, the average MBA Salary according to ZipRecruiter is $88,832 and can reach as high as $169,969. And, with the right MBA program, you can expect to make $98,752.
According to World Population Review, Florida ranks 26th for cost of living in the United States, meaning, your dollar will go much farther. And, there are ample opportunities to explore a range of industries and a variety of job titles. When considering your MBA salary and post-graduation job in Florida, it is important to consider industry, quality of life, and cost of living.
MBA Industries In Florida
Post-MBA careers in Florida can be found in an interesting mix of industries across the state, including banking, real estate, health care, tourism, hospitality, aerospace, aviation, defense, agriculture, and fishing.
Many business schools in Florida help students gain entry into these strong industries with industry-specific MBA programs.
Top MBA Industries in Florida
According to Investopedia, Florida had the fourth-largest economy in the United States in 2019 behind California, Texas, and New York with a gross domestic (GDP) product of $1.1 trillion. With that size economy comes many large industries, investments, and potential for growth.
In its economic development strategic plan, Miami-Dade Beacon Council, a public private partnership in Miami-Dade County, has identified the following industries with the highest potential for job growth and high wages:
Aviation
Banking & Finance
Creative Design
Hospitality & Tourism
Technology
Life Sciences & Healthcare
Trade & Logistics
Florida's location between the Gulf of Mexico and the Atlantic Ocean offers MBA students in Florida easy access to ports and their associated industries, as well as leisure activities, making Florida a desirable place to work and start your MBA career.
The blended learning MBA is 20 years old now, so we're not creating something entirely new for the Miami community. It's something that we've been doing, and we know how to deliver a proven program."
Gustavo Trindade MBA'17
Director, Babson College Miami
Is an MBA Career in Florida for You? Think Miami.
If you're Florida-bound for your MBA program, Miami is the creme de la creme of all cities for MBA jobs in Florida in terms of salary. And, the industries, sectors, and opportunities are nuanced, according to Susanne Schneider-Kivelitz, who is the Associate Director, Graduate Alumni & Hub Career Advisor at Babson College.
"Generally speaking, industries that are popular in Miami are financial services and the hospitality and tourism industry. There is a large concentration of International banks, but also local banks, which includes private wealth & asset management and real estate, and real estate is a sub sector of financial services, and still growing," said Schneider-Kivelitz.
Miami also leads the way in other sectors, and offers industries that are intricately tied to Miami's destination as a port city, a growing city, and a hub for Latin America. According to Miamigov.com, a study released by the financial website SmartAsset determined that:
Miami's population grew by 9.43% from 2014 and 2018
Household income also grew by 31% in that same period
Miami ranked fourth among 500 U.S. cities the website studied for growth
"A big industry that many people don't think of but that's really important is international trade. Miami is the cargo gateway to the Americas because of the port. The Port of Miami is a large container port. And then there is Miami International Airport, which is the top airport for international freight. Those international trading patterns mirror where some of the MBA students are coming from," said Schneider-Kivelitz. International trade also fuels supply chain, logistics, and warehouse industries. And, it's important to note that besides being a busy cargo port, the three largest cruise lines—Carnival, Royal Caribbean, and Norwegian Cruise Line—all have headquarters in Miami, and have a major presence in the port.
"The fourth sector that is also strong in Miami is media and telecommunication," added Schneider-Kivelitz. Latin American radio stations like Telemundo and Sony Music Latino are located in Miami because of South Florida's strong Latino population and proximity to Latin America.
And, looking to harness the power of the location and talent pool, many companies located in Miami also have a Latin American focus. Over 1,000 multinational companies have offices in Miami according to Miami-Dade Beacon Council, including:
Mastercard
VISA
Apple
Bacardi
Diageo
Restaurant Brands International
Fresh Del Monte Produce
Spotify
Facebook
Another pull to the area is the number of Fortune 500 companies with headquarters in Florida, such as Publix Super Markets, World Fuel Services, AutoNation, Office Depot, Ryder System, Hertz, and Raymond James Financial.
These companies contribute greatly to the vast opportunities in South Florida. Other companies in the state that employ close to 10,000 people or more, and are Fortune 1000 companies, include ADT, Chewy, Spirit Airlines, and Bloomin' Brands.
Besides many large, successful companies, Miami's financial industry boasts the 2nd largest financial center on the East Coast, after only New York City. According to Reuters, and Inc.. recent companies to open offices in South Florida include:
Blackstone Group
Elliott Management
Citadel
Goldman Sachs
And, according to Business Insider, SoftBank, who already manages a $5 billion fund to invest in Latin American startups from Miami, has recently committed to investing another $100M to make Miami a new tech hub. These moves could open up and enhance the tech ecosystem in South Florida, as well as positively impact the venture capitalist industry there.
For those thinking of gaining career advancement, accelerating your career, preparing to take the next steps within your current organization, or looking to change industries, an MBA in Florida might be right for you. And if that's the case, Miami may be your best bet.
Destination Miami
One option for those seeking an MBA in Florida, with strong job prospects after graduation is Babson's Blended Learning MBA – Miami. You'll experience Babson's #1 ranked entrepreneurial MBA, in a city surrounded by growing industries, with a flexible schedule for working professionals.
Gustavo Trindade, Director of Babson College's Miami campus, notes the international flavor and geographic appeal of Miami itself.
"Think of Miami being the capital of Latin America. There are several countries including Mexico, those in Central America, Colombia, and Venezuela, who can get here in two to three hours. The main language in Miami is Spanish. 50 miles away, it's a totally different world," said Trindade.
Babson's full-time MBA alumni overall earn an average salary of $147,594 three years post-graduation according to Financial Times' 2022 Global MBA Ranking. This includes figures from alumni in developing countries that have weaker currencies than the US dollar. With the Blended Learning MBA – Miami, students earn their degrees in 2 years in a hybrid online/in-person format. Three times each semester, students attend in-person classes from Thursday through Sunday. Because of that blended approach, students can implement what they learned on Friday when they get back to the office on Monday.
"We're the only type of program in our area that's doing a true hybrid between a fully online program and an in-person, full-time program, giving students the flexibility they want without sacrificing learning or networking experiences" said Trindade.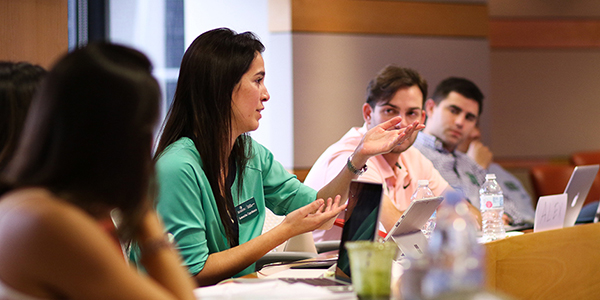 You May Also Be Interested In:
About the Author
Karl Klaussen is a marketing content specialist at Babson College.
Like this graduate school advice article? Have a suggestion? To contact our team with comments or article ideas, send us a note at news@babson.edu.