Social Impact and Sustainability
As a Babson student, you have numerous opportunities to take action on issues that matter to you alongside your professional and personal pursuits. Our undergraduate curriculum and our Entrepreneurial Thought & Action® (ET&A™) methodology emphasize the skills and mindset needed to create positive change wherever you end up in your life and career.
During your time on campus, you will gain real-world experience and competencies in creating positive social impact whether locally, nationally, or globally. Along the way you will be introduced to the multiple pathways for being a changemaker, from social entrepreneurship to activism to the social sector to impact careers.
10+
Greater Boston nonprofits that students work with
330+
Average hours per week Babson students work with community-assistance programs
100+
Babson undergraduates working on community-based projects a year
Social Impact Opportunities on Campus
The Institute for Social Innovation offers programming and resources to help you understand how you and your peers can advance the UN Sustainable Development Goals (SDGs), including issues like inequality, climate change, poverty, and education. The Institute provides guidance and tools to help you understand who you need to be—and what you need to do—to make your desired change in the world.
Natalie Taylor Scholars
Students passionate about creating social impact can apply to the Natalie Taylor Scholar program, which combines academic and co-curricular experiences to help students advance one or more of the aforementioned UN Sustainable Development Goals. Many Taylor Scholar alumni have become successful social entrepreneurs, social intrapreneurs, and social sector leaders. As part of this program, you take two courses in our entrepreneurship division: Be the Change: Evaluating Social Impact, and Scholar in Action.
Recently, three Taylor Scholars led a project for a new garden space on campus that honors the memory of Sudeeksha Bhati '22, a Global Scholar and student leader who passed away in 2020.
Sustainability Interns
Babson Sustainability Interns are undergraduate campus leaders who run office hours every weekday, connecting students to a wealth of resources, activities, opportunities, and ideas on climate change and other issues impacting our environment. They work on initiatives like Babson's Good Business Index and the Slash the Trash campaign.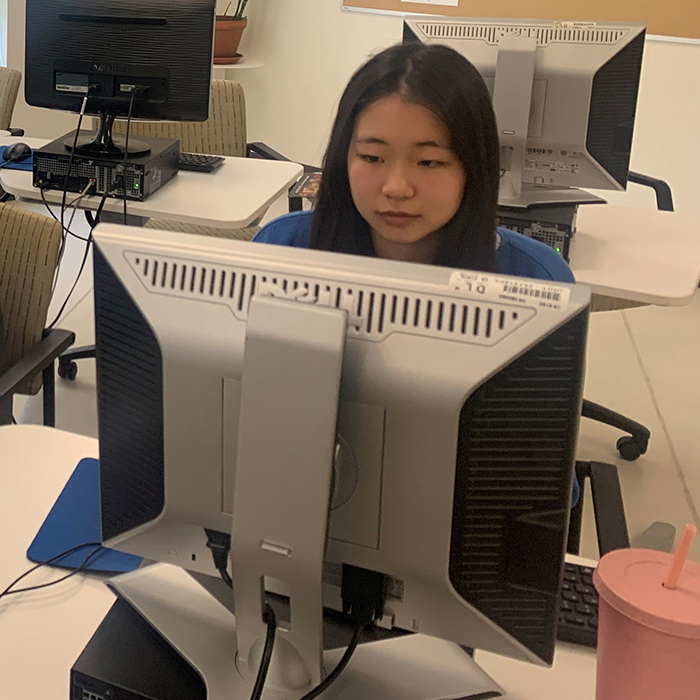 Alleviating the Stress of Tax Season
Each tax season, Babson students use their education to help people file their returns as part of the Volunteer Income Tax Assistance (VITA) program, offered through the Institute for Social Innovation. Find out how the program provides students, such as Emily Wang '26, with both an opportunity to give back and a chance to grow skills outside the classroom.
Given the privilege of being a student at Babson, I love having the opportunity to use my entrepreneurial mindset when giving back to the community and helping others.
Carissa Rubin '25
Volunteer at the Jewish Family Services Senior Technology Program
Service Immersion
During campus breaks, you can engage in intensive (and sometimes life-changing) service experiences, whether helping to build affordable housing in the Gulf Coast or El Salvador, or to teach entrepreneurship to youth in underserved communities in Tanzania or Guatemala.
Social Impact in the Classroom
In addition to the Taylor Scholars, Babson provides a solid foundation for undergraduate students looking to actively and professionally pursue social impact causes.
Socio-Ecological Systems
All undergraduates take Socio-Ecological Systems (SES), one of our signature courses, which teaches students how to think in systems through learning about a part of nature (for example, water management, food systems, farming, and natural disasters) and their role in protecting and managing it. After taking SES, you have an understanding of integrated sustainability, and how people, communities, and businesses need to work together to preserve our planet.
In addition to SES, we offer a variety of courses in the liberal arts and sciences as well as in business and finance that introduce students to social impact concepts and initiatives. These include introduction to sustainability, social media etiquette, social impact across the globe, corporate social responsibility, and how to think entrepreneurially about social and environmental issues.
(Socio-Ecological Systems) is about teaching them the ways we can try to make changes and to foster more sustainable systems. These are tools that apply to whatever they want to do.
Sarah Foster
Assistant Professor of Environmental Science
Concentrations
Our undergraduate program provides students with the opportunity to specialize in one or more concentrations. With over 20 options, you can tailor your degree beyond the business and liberal arts and science foundations our degree provides. Students interested in learning more about social impact have options that cover the wide range of our curriculum, including:
Undergraduate Clubs & Organizations
There's always something to do on our campus. Among the 100+ clubs founded by Babson undergraduates are clubs focusing on social and environmental issues and chapters of national organizations. Opportunities include:
Babson Sustainability Club

is a student-run environmental advocacy organization that empowers community members to be leaders in sustainability on and off campus.

You can join the Babson chapter of the

Food Recovery Network

, an organization that helps colleges and universities tackle food waste and hunger.

The Babson chapter of Habitat for Humanity

supports events designed to eliminate substandard housing in the Greater Boston area as well as on national and global levels.
Special-Interest Housing
Some of our student clubs and organizations also have a special-interest housing component. Living-Learning Communities are housing options where undergraduate students can live on campus with other students who share similar passions and goals. Many options, including some for first-year students, focus on social impact, including:
GIVE Tower

provides opportunities for students to create a positive social impact in the Greater Boston area and to grow their understanding of social issues.

Living Social Entrepreneurship

is available to first-year students interested in social entrepreneurship.

The

ONE Tower (Origins of Necessary Equality)

community is a safe environment for students from all over to come together and share their experiences and provide support for themselves and the greater Babson community through events and programs.

Members of

Women Giving Back

participate in on- and off-campus service events, including serving two off-campus group homes once a week.
See More Ways to Get Involved at Babson
Leadership, athletics, the arts, clubs: check out all the ways to experience campus. Or, if you're ready to apply, start your application now!