Van Winkle Hall
Van Winkle, housing upperclass students, is comprised of three towers containing pods of single and double rooms, and contains a kitchen, lounge, study room, and laundry room.
Numerous special interest housing communities are located in Van Winkle, along with several towers of general housing. Located next to Coleman Hall and the athletic fields, this is an energetic community of Babson students.
A1 Tower – Babson Political Association (The House)
B2 Tower – Women Giving Back (WGB)
B3 Tower – theStudio
C1 Tower – codePlex
C2 Tower – Entrepreneurial Tower (E-Tower)
C3 Tower – Healthy Living Tower (H-Tower)
Van Winkle is staffed by five resident assistants (RAs) and an area coordinator who oversees the day-to-day operation of the residence hall and provides direct supervision to their RA staff.
Area Coordinator: Cesar Cruz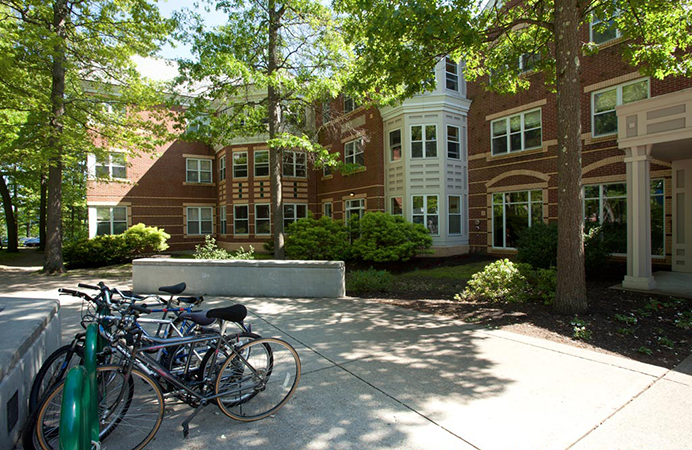 Room and Hall Features
2021–22 Room Rates: $5,955 – $6,399 per semester
Occupancy: 168
Number of Floors: 3; 8 towers (21 residents per tower)
Room Types: Single, double (room layouts and square footage will vary)
Furniture: Loftable bed (extra-long twin), dresser, desk, desk chair, bookshelf, closet/wardrobe, blinds/shade, trash can, recycling bin
Gender: Gender specific by room/coed by room
Bathrooms: Gender-specific community bathrooms (showers, toilets, sinks)
Carpet: Yes
Building and Room Access: Babson College ID card to access building and room key to access room. Residents must sign for the room key upon arrival on campus.
Lounge(s): Yes
Lounge Television(s): Yes
Bike Room: No
Trash/Recycling Room: Residents are responsible for disposing of all personal trash and recycling in the receptacles provided in the trash/recycling rooms located on each floor/pod.​​​​​​​​​​​​
Location: Campus Map