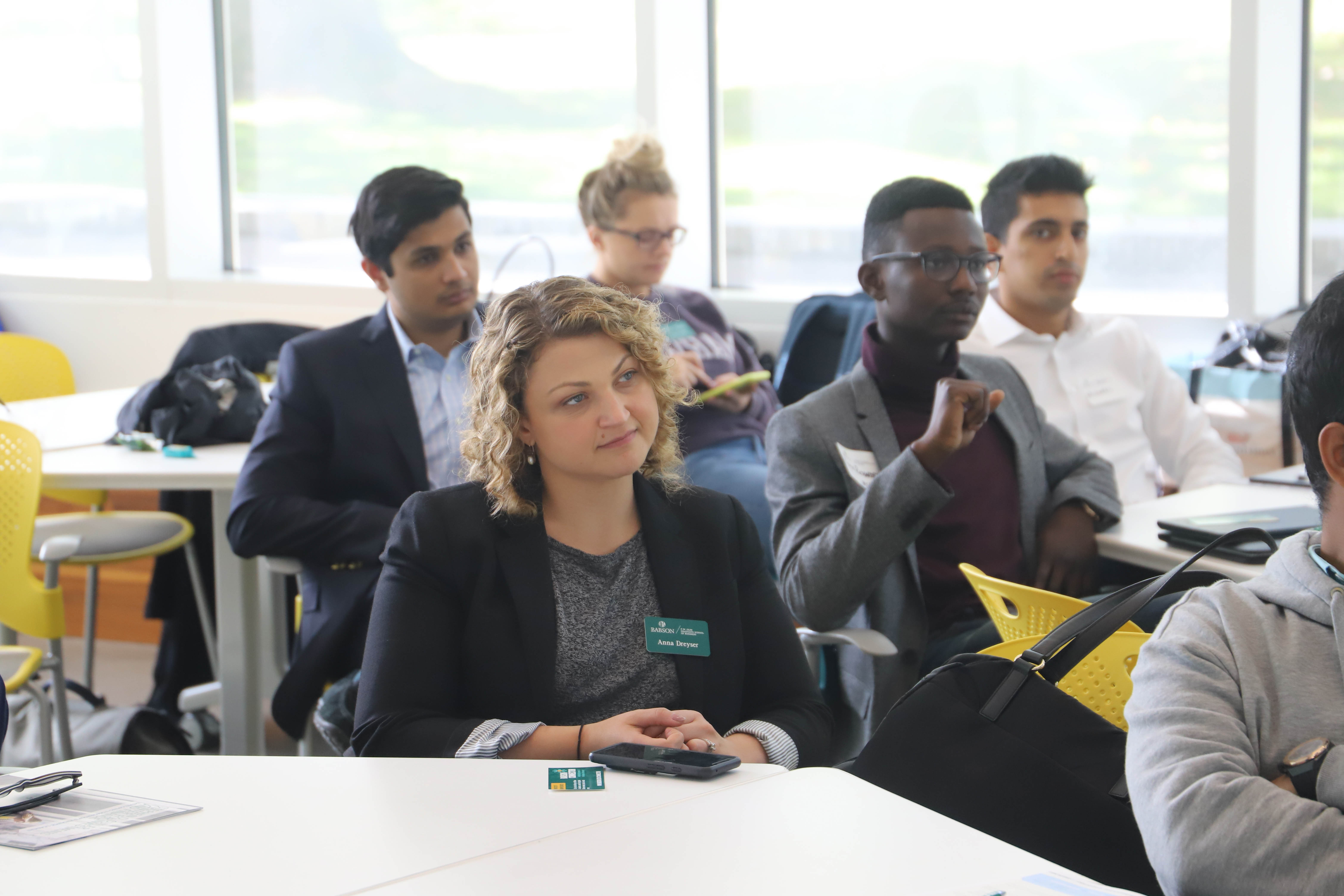 Student Groups and Programming
Experiential Learning
The Stephen D. Cutler Center for Investments and Finance supports the Finance Division's offering of rigorous, state-of-the-art programs of study in finance at both the undergraduate and graduate levels. The faculty's practical approach to education is enhanced by their experiences in industry and consulting for a wide range of organizations. The Cutler Center hosts several programs that allow students to develop practical experience while completing their degree. These programs include:
The Babson College Fund is an accredited course in which specially selected students from both the Undergraduate and Graduate schools manage a $5M portion of the Babson College endowment. The program is for highly self-motivated individuals with a strong interest in finance and investments. Participation requires a two-semester commitment. Learn More »
The Rotman International Trading Competition is an annual event that brings teams of students and their faculty advisors from universities worldwide to participate in a unique 3-day simulated market challenge. Teams are invited to participate in various activities including electronic and outcry trading cases, seminars with industry practitioners, and social events with their fellow competitors from around the world. Learn More »
The Management Consulting Field Experience course provides graduate students with the opportunity to apply what they have learned in the classroom to real-world consulting engagements. Companies sponsoring these engagements have included Highmount Capital, Brown Advisory Board, Cambridge Trust Company, Essex Investments, and LaunchCapital. Learn more »
Tools for Professional Development
To prepare students for a career in finance, the Cutler Center provides access to state-of-the-art information resources and educational opportunities in and outside of the classroom. Some of these programs include:
Market professionals around the world depend on Bloomberg as their source for real-time market data and news for all market sectors. Bloomberg seamlessly integrates data, news, analytics, multimedia reports, email, and trading capabilities into a single platform.
For further information please contact Leslie Romiza, Cutler Center Program Manager.
The Chartered Financial Analyst® (CFA®) designation is one of the fastest-growing professional credentials in the world and is a globally recognized standard for measuring the competence and integrity of investment professionals. Babson is a member of the CFA Institute's University Recognition Program; the College is provided with partial CFA scholarships that are awarded to top students taking the Level 1 CFA exam. The Cutler Center also purchased CFA study materials for students taking the exam.
For additional information on applying for an exam scholarship, please contact Patrick Gregory, CFA, Cutler Center Managing Director.
Wall Street Prep's online courses span Excel, financial and valuation modeling as well as technical finance interview topics and utilizing a video-based approach, are designed to replicate the interactive experience of intensive instructor-led live training seminars to ensure that all students pursuing finance careers have solid foundation across all of these core areas ahead of recruiting process and job commencement.
For further information please contact Leslie Romiza, Cutler Center Program Manager.
Career Development
At Babson's Graduate and Undergraduate Centers for Career Development (CCD), students can seek advice and resources to help recognize and pursue career opportunities. Their dedicated advisors are experienced professionals who regularly engage with employers to gain relevant industry insights and connections that are shared during one-on-one appointments and group learning sessions.
22% of the undergraduate class of 2018 landed in the Financial Services industry after graduation, with an average starting salary of $64,560.*

How does Babson help students get there? The Hoffman Family Undergraduate Center for Career Development has programs year-round geared towards helping students throughout their college to career journey. If you are interested in exploring a career in Finance, we recommend you participate in the following Events & Programs:
Finance Spotlight – Early September
Expo – Mid-September
Finance Career Panel – Fall
Resume Review Night – Mid-September
Spring Job Fair – February
Externships – During winter break or Spring Semester
Company Treks – Throughout the Fall and Spring Semesters
CCD drop-in hours
Job/internship postings
Intern Sponsor Award offered through the Intern Sponsorship Program

Check Handshake for details and to reserve your spot, as some programs fill up quickly!
(*Based on a knowledge rate of 87%)
What separates the Center for Career Development at Babson is our unique model. We offer you both career advising and company outreach, and our relationship managers work within assigned industries to ensure you get valuable insights to help you pursue your professional goals.
2018 Snapshot Outcomes:
» $96,485 U.S. Base Salary
» 83% were offered a job within three months of graduation* (*Of those seeking employment)
» $14,190 Signing Bonus
If you are interested in exploring a career in Finance, we recommend you participate in the following Events & Programs:
Graduate Consulting & Financial Services Spotlight – Early September
Finance Career– Fall
Babson Boston Connect – Late Fall
Graduate Spring Career Fair – Early April
Company Treks – Throughout the Fall and Spring semesters
Mock Interviews – Weekly throughout the Fall and Spring semesters
Internship Opportunities
Check Career Connect for details and to reserve your spot, as some programs fill up quickly!
Student Finance Organizations
Student finance organizations provide Babson College students interested in Finance with the opportunity to expand and deepen their knowledge of the finance world. These organizations often host speaker visits, workshops, and conferences.
Babson Finance Association (BFA)
The Babson Finance Association's mission is to bring together students with an active interest in finance and facilitate further exposure and engagement in the field. Our sectors and cohorts aim to encapsulate all relevant areas of interest and support different professional paths. Through workshops, speaker events, site visits, and competitions, BFA's initiatives collectively work to provide members with the skills, resources, and guidance needed to be successful in the finance industry.
To learn more about the BFA, follow them on LinkedIn and Instagram, and feel free to reach out to bfa@babson.edu with any questions.
Faculty Advisors: Laurie Krigman and Jerome Taillard
Babson Graduate Finance Club (GFC)
The Babson Graduate Finance Club is a graduate organization devoted to promoting the field of finance at the graduate level. Our mission is to enhance the financial literacy skills of all students who will be the world's future entrepreneurial leaders. The GFC partners with the Babson Finance Association (BFA) to promote greater learning opportunities between graduate and undergraduate students. Together, both groups organize regular conferences, panels, case discussions, workshops, and guest speakers to provide hands-on learning experiences, and to connect students with Babson's large alumni base. The GFC focus on all sectors including investment banking, private equity, venture capital, asset management, quantitative trading, and real estate.
To learn more about GFC, reach out to Sindhu Bommareddy with any questions.
Faculty Advisor: Jerome Taillard