Study, Eat, Work Out, Meditate, Play Lawn Games: Find Your Favorite Campus Spots
From quiet study nooks in Horn Library to your favorite patch of grass to throw a blanket on during the first 60-degree spring day, Babson has spaces for you to collaborate with classmates or just hang out. These are some of the most popular.
Reynolds Campus Center
You could say life at Babson orbits around Reynolds. The Donald W. Reynolds Campus Center is home to the Campus Store, Sustainability Office, Student Government Association (SGA), and Campus Activities Board (CAB) offices, mail services, Crossroads Cafe, ATMs, and Dunkin' Donuts (if you're a regular, the staff are likely to remember you and your drink order!).
We like to think of it as the (giant) campus living room, especially in the Global Lounge, where you can hang out or study for classes. You also can access free printers and borrow outdoor lawn games and board games.
The Weissman Foundry
A space for Babson, F.W. Olin College of Engineering, and Wellesley College students to create and collaborate, the Foundry is home to a woodshop, digital fabrication studio, printing studio, and a textile and electronics studio. This is where you can prototype a product or use studio space or the social kitchen to collaborate on your next big idea. You also can attend workshops to learn new skills like needle punching or 3D-printing chocolate.
Dining Spaces
When you think of college, you may think "dining hall." But, it doesn't quite do justice to the options at Trim Dining Hall, which incorporate local produce into the dishes (though you will find a waffle maker!). Beyond Trim, you also have options like Roger's Pub & Grille, which, in addition to food like salads and burgers, has a pool table and booths made for long conversations with friends.
Horn Library & Babson Commons
More than just a study space, Babson Commons at Horn Library has collaborative work spaces, information gathering areas, and a cafe for refueling. The entire third floor of the library is reserved for quiet study.
You'll also find the Math Resource Center, Writing Center, and Speech Center, all available to help you prep for exams, improve your communication skills, and more. You also can book one-on-one appointments or join group-study sessions with peer tutors who can help you with key courses like microeconomics and operations management.
Len Green Recreation and Athletics Complex
Get your sweat on. Open 94+ hours per week during the academic year, the Len Green Recreation and Athletics Complex houses the Lunder Fitness Center with cardiovascular machines and free weights, a 200-meter indoor track, and squash and racquetball courts. Plus, as a student, you have free access to exercise, dance, and martial arts classes and more.
It is also is home to Staake Gymnasium with two full basketball courts, Morse Swimming Center with a six-lane, 25-yard pool (with free swim hours!), and PepsiCo Pavilion with four basketball hoops, retractable batting cage, and inserts for tennis nets. However you want to work out, you'll find what you need to do it.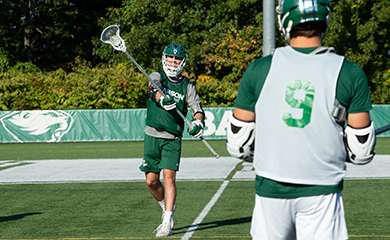 Athletics & Fitness
Learn more about Babson's 22 NCAA Division III sports, plus intramurals, club sports, and additional recreation facilities, including a skating rink, rugby fields, and more.
Kerry Murphy Healey Park
There are a lot of hidden gems on the Babson campus but arguably none as fascinating as the giant Babson World Globe. At 28-feet wide, the rotating earth is surrounded by 100 flags representing the countries of Babson students. Get ready to have a bajillion photos of this on your camera roll; it looks equally iconic covered in autumn leaves and snow as it does surrounded by flowers and sunshine.
Explore More Babson Spaces
Quality food and a good night's sleep are crucial to your college experience. See dorm and dining facilities, or, if you're ready, start your application.