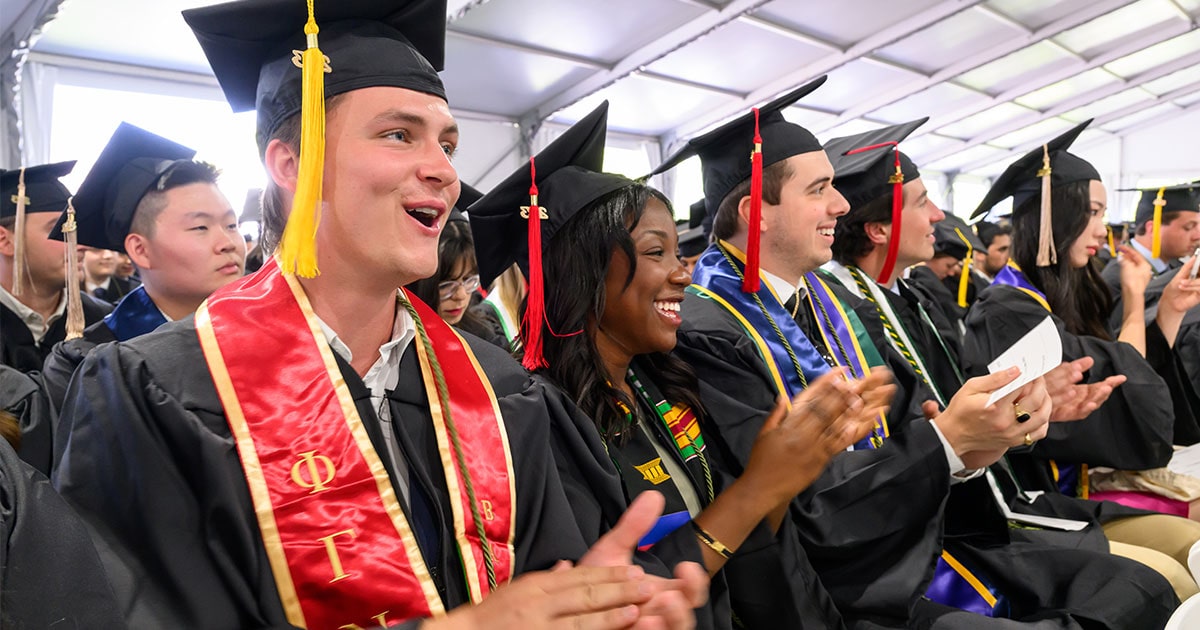 How
Business School Prepares You for a Career

Early
June 5, 2023 | Estimated Read Time: 5 Minutes
By Melissa Savignano
With an ever-changing economy and industries in flex, it's challenging to figure out what employers want from college graduates—and for entry-level jobs specifically. Landing your first big job is nerve racking, regardless of the field you choose to pursue. But it doesn't have to be so daunting.
How college and specifically business school prepares you for a career depends on what you decide to pursue while in school. As a business student, you'll already have an advantage based on the skills you'll gain in college, the experiences you'll have in and outside the classroom, and the networking opportunities available to you.
According to the U.S. Bureau of Labor Statistics, the average starting salary for someone with an undergraduate degree in business is around $65,000 (for the class of 2022 at Babson, it was $71,385), so the value of a business degree pays off immediately.
That's because the degree provides both hard and soft skills employers are looking for. It's not a one-size-fits-all degree, as the problem-solving and critical-thinking skills you learn while studying business can apply to many fields and also help you pivot if you decide you want to pursue something else.
It's about the skills and experience you have, not about the words on the degree.
Additionally, it's a globally-minded degree. You can use a business degree everywhere, and hiring managers will know what they are getting. The experiential learning you wdo at business school also provides fodder for your resume and internship interviews. You will have real-life examples to draw from to show your technical prowess and how you handle specific situations.
That's hard and soft skills at work. Plus, when you are networking, it's such a popular major and degree, people can relate to the experiences you have and know what you could bring to a professional environment.
How Business School Prepares You for a Career: Hard Vs. Soft Skills
As you research career paths and colleges, you may come across the terms "hard" and "soft" skills. They are a way of categorizing tactics you will start to learn in the classroom and use in your professional life. The main difference is the type of work that goes into developing these skills. These are skills that prepare you for an entry-level job.
Hard skills relate to technical aspects you gain through training and education, according to Indeed. That includes data analysis skills, learning how to build and analyze case studies, marketing and social media tool training, foreign language proficiency, and learning how to use specific software products and technology. At a business school, depending on the path you decide to take, you get access to various tools you can put on your resume. That includes using a Bloomberg terminal, marketing automation softwares, and tools to make presentation decks.
A soft skill has more to do with your personality. They include learning how to navigate a work day and coworker relationships, managing your time and your emotions at work, and learning how to lead a meeting. They are skills that are harder to demonstrate you have, but proving you can handle a business school curriculum is one way to show you have the soft skills to excel at a company.
The Hard Stuff
A big part of a modern business degree and how business school prepares you for a career is the hands-on experience you gain both in and outside the classroom. You will have access to tools and classes that will allow you to build your own business from the ground up, from product launching to market research to marketing and accounting. Every student at Babson College takes a course called Foundations of Management and Entrepreneurship: a class where first-year students, working in teams and with guidance from two faculty members, launch their own ventures and handle all the pitfalls that come with that.
Business schools will make sure students are up to date on various financial analyst, project management, and risk management softwares, including Risk, Basecamp, and Excel. With the growing investment in data analysis and management companies across industries are making, students pursuing business will have tangible experience in programs such as Tableau and Google Analytics.
Business schools also usually offer consulting experience at partner companies for their students and offer networking support and opportunities. You will gain experience building out decks in Microsoft Powerpoint and then presenting those decks to industry professionals. And some schools make this type of experience a requirement.
According to Arline MacCormack, the associate director of advanced experiential programs at Babson College, students will have a chance to provide real value to organizations. That could include doing research and analytics projects, leading projects that companies have had to put on the backburner, helping with seasoning items or complicated projects, and even being a part of new initiatives and strategies. "It is usually meaty enough to be significant work. It's real consulting," she says, specifically referring to the Advanced Experiential requirement at Babson.
Soft Skills for Business Majors
Soft skills are harder to build, as there isn't necessarily a test or certification that proves you've mastered them. You will need to point to specific examples of projects you've done, problems you've solved, and conflicts you've defused. Taking on a degree like business that puts you right into hands-on experience is a great way to start building soft skills quickly.
You will have developed team working skills through group business projects and presentations. You will have learned how you manage your time through classroom, internships, and other personal and professional obligations. This is a big part of how business school prepares you for a career.
The two of the biggest soft skills employers look for, according to Monster.com, are your ability to communicate both internally with coworkers as well as externally with clients, and your work ethic and willingness to learn and try new things. Some business schools will have a writing center and a speech center to help you draft cover letters and memos, as well as with those pesky presentation skills.
"In our experiential courses, you gain soft skills such as communicating with clients, time management, preparing for meetings, showing up on time, presenting, reading the room, running a meeting," MacCormack says. "[In some cases], our students are meeting with clients by week two of our consulting and experiential courses."
Business Students Are Seen as Problem Solvers and Changemakers
A well-rounded business education sets you up for success, not just starting your own business. Babson College's curriculum pairs the business fundamentals with the liberal arts and sciences, so you not only know what running a business entails but you can apply those skills to most fields.
And the outcomes for Babson students don't lie: 98.7% of the Babson College Class of 2022 was employed within six months. If how business school prepares you for a career excites you, apply to Babson today.
Sources
Business Insider
https://www.businessinsider.com/advice-to-class-of-2022-college-grads-corporate-america-2022-5
Indeed
https://www.indeed.com/career-advice/career-development/benefits-of-business-management-degree
Intelligent
https://www.intelligent.com/17-of-2022-college-grads-run-their-own-businesses-another-43-plan-to-follow-suit/
LinkedIn
https://www.linkedin.com/pulse/why-do-employers-want-employees-college-degrees-rajiv-nagare/
Monster
https://www.monster.com/career-advice/article/5-skills-employers-want-in-new-grads-and-arent-finding
NACE
https://www.naceweb.org/talent-acquisition/candidate-selection/as-their-focus-on-gpa-fades-employers-seek-key-skills-on-college-grads-resumes/
ResearchGate
https://www.researchgate.net/publication/358494058_Teamwork_skills_in_higher_education_is_university_training_contributing_to_their_mastery
About the Author
Melissa Savignano is a content marketing manager at Babson College
Get in Touch
Fill out the Request Information form below to connect with us. This will ensure that you learn about the academic experience, hear stories from our current students, and receive important announcements during the admission process … just to name a few.