Is a Master's in Leadership Worth It? Yes. Find Out Why
February 12, 2021 | Read Time: 5 Minutes
By Kait Smith Lanthier
If you've landed here, chances are a graduate degree is on your mind. Maybe your career is feeling stagnant. Maybe you're ready for a new personal and professional challenge, like stepping into a leadership role. Whatever your situation, you might find yourself asking: is a masters in leadership worth it, and will it help me achieve those goals?
You're in the right place.
Why is a Masters in Leadership Worth It? The Mindset.
Let's cut to the chase. Is a masters in leadership worth it? Yes, if career acceleration and organizational leadership are on your mind. It's a degree that's a smart choice to help you meet your goals.
In every industry and every role, great leaders have one thing in common: an entrepreneurial mindset. This make-it-happen mentality means having the ability to innovate and inspire. Possessing this mindset opens doors for personal growth, professional advancement, and organizational success. That mindset can be taught in leadership masters programs.
At Babson College, the No. 1 school for entrepreneurship, the Master of Science in Entrepreneurial Leadership (MSEL) gives learners the tools they need to catalyze their careers and lead organizations by developing an entrepreneurial mindset.
But, don't just take our word for it. To answer the question, "is a masters in leadership worth it," we asked graduates of Babson College's entrepreneurial leadership programs for their insight. Here's what they said.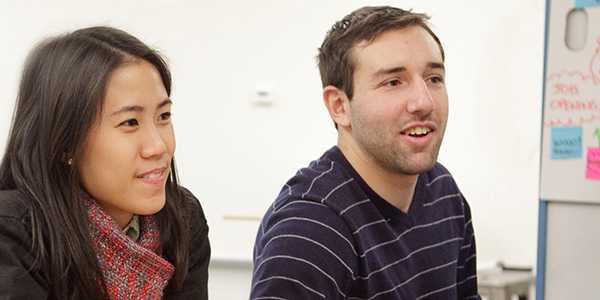 Discover why students think of Babson's masters degree in leadership cohort as a second family, and find out how you can earn a Masters in Entrepreneurial Leadership.
To Experience Hands-On Learning
To be an effective leader, you need to do more than just think—you need to know how to take action. The right leadership masters program will set you up with the skills needed to take that action, and the hands-on experience to go with it. To get this experience, you need to go beyond the traditional business degree into one that prioritizes immersive learning.
In Babson's entrepreneurial leadership master program, faculty focuses on individualized experiential learning, building both the hard and soft skills students need to achieve their career goals. One example of hands-on learning in action for masters in leadership students at Babson College:
Students in the MSEL program take Creating You: Building your Professional Life, a course that includes opportunities to coach aspiring high school entrepreneurs along with skill building and personal reflection.
In and out of the classroom, hands-on learning and leadership opportunities help students like Kaylin Goncalves MSEL'20 develop real-world skills. "(These experiences) helped me work on adapting my leadership style and recognizing the impact I was having on the people around me. I was able to learn how to read people and switch from a pacesetting leadership style to a coaching leadership style."
To Develop A Big, Diverse, and Global Network
Masters students bring a diverse set of skills, talents, and backgrounds to their programs. At Babson, these learners are accountants, financial analysts, and entrepreneurs, but also athletes, nonprofit organizers, writers, and artists. And, they come from all over the world. That community is a big reason why so many students say yes when asking, "is a masters in leadership worth it?"
"The amount of different perspectives, skills, knowledge, and experience shape the whole community. It is a community where learning is never-ending and the amount of knowledge that can be transferred is incredible," said Raed Attia MSEL'20.
Collaborating with peers from diverse backgrounds gives your leadership skills a boost, too.
Working with and learning from my peers in class have had the most tremendous impact on how I view global challenges, cultural contexts, and the benefits of working in a diverse team."
Franziska Ibscher MSEL'20
Product Manager, Next Gen HQ
To Earn A High-Power Masters in Leadership Salary
According to Payscale, masters of science in leadership graduates can expect salaries, on average, upwards of $74,000 a year.
Another benefit of a masters in leadership? Career acceleration.
From switching industries to having a more substantial impact in their current organization, masters in leadership students at Babson have big goals. And, they're on the path to achieving them.
In 2021, 94% of graduates of Babson College's specialized masters programs, including masters in entrepreneurial leadership alumni, found jobs within six months of graduation.
Beyond a rewarding master of science in leadership salary, graduates are prepared to change careers, launch new ventures, or take on new leadership roles within their existing organizations.
To Land One of These Jobs for Leadership Degrees Alumni
Leadership masters program graduates are versatile and can pursue careers in a wide range of organizations and industries. Moreover, students and graduates with an entrepreneurial leadership skill set have a competitive advantage: they can exert influence and lead from any position within an organization.
What can you do with a leadership degree or entrepreneurial leadership masters? Some popular roles include:
CEO: In 2019, $184,460 was the median take home pay for American CEOs. Beyond the attractive salary, many leaders are drawn to C-level roles for the opportunity to shape strategies that directly affect the organization's trajectory. Many CEOs are also motivated to inspire a broad range of employees.
HR Manager: Human resources managers work across all industries in organizations of all kinds, ensuring that programs and policies comply with ever-evolving employment laws. The average salary for HR managers in 2019 was $116,720.
Corporate Trainer: According to 2019 data, corporate trainers can expect annual salaries averaging around $113,350. It's a career perfectly suited for extraverts who thrive in collaborative, people-focused environments. It's also a career path with faster-than-average projected growth over the next ten years.
The Last Word
If you're looking to accelerate your career, break into one of the above jobs for leadership degrees graduates, or grow personally and professionally, a masters in leadership is absolutely worth it.
You May Also Be Interested In:
About the Author
Kait Smith Lanthier's writing has appeared in print and online in a variety of outlets including USA Today, Yahoo Shine, YourTango, CosmoGirl, and First for Women magazine. She earned her undergraduate degree in journalism and graduate degree in integrated marketing, both from Marist College.
Like this graduate school advice article? Have a suggestion? To contact our team with comments or article ideas, send us a note at news@babson.edu.