How
Undergraduate Experiential Learning

Can Pave the Way for Your Success
August 6, 2021 | Estimated Read Time: 9 Minutes
By Kate Sitarz
Experiential learning has become somewhat of a buzzword in higher education circles. If you've been looking at colleges for any period of time, you've likely stumbled across it in marketing materials. But what does it mean? And why is undergraduate experiential learning so critical to your future success?
Read on to dig into what the term really means and why it's important to weigh the different types of experiential learning opportunities when looking at colleges.
Key Takeaways
Experiential learning is learning by doing.
By gaining insight and direct experience with specific industries and job functions, you will gain a leg up when you apply to jobs.
Babson College offers a broad range of experiential learning opportunities.
What is Undergraduate Experiential Learning?
Experiential learning is learning by doing. Reflection on that experience is also a key component of experiential learning. You may see it also referred to as hands-on learning or real-world learning.
Vincent Onyemah, associate professor of sales and marketing at Babson College, puts it a little more eloquently: "Experiential learning is knowledge acquisition by doing in the context of a reality that is closest to what you will likely face when you graduate."
Lauren Beitelspacher, a marketing associate professor and division chair at Babson, recommends thinking of it as a continuum. "Some people consider working on a case study as experiential learning because you're talking about an actual business with actual problems and outcomes," she explains. "That's the baseline of experiential learning. At the opposite end of the continuum, you have an experience where you're completely immersed in a live business and live business problem."
Experiences like analyzing live data or meeting with guest speakers to understand business challenges may fall in the middle of that continuum.
There are also internships, externships (job shadowing), research opportunities, and more that schools may consider experiential learning. As U.S. News & World Report points out, many experiential learning opportunities may even happen outside the classroom with student organizations and activities.
But experiential learning in the classroom gives a more formal framework for combining real-world experiences with more academic-minded coursework that you don't necessarily get from a service project with a fraternity or sorority. Both are valuable to a well-rounded college experience, but experiential learning done right has several key components.
Beitelspacher notes that every class is different and each professor has their unique spin when it comes to experiential learning, but the model remains similar: "There's the experimenting and then the reflection on what you tried. I'm linear. I like to teach the concept, have the experiential learning application, and reflect on what we learned."
The reflection piece—or the breakdown—she says, is at the core of the experiential learning model. There are several ways to do that piece alone. It may mean a class discussion or a two-minute paper where you take two minutes and write down what you learned. "You really see how everyone's brain works differently, combine that, and it leads to a powerful discussion."
Other professors opt to begin with experiential learning and then teach the concept learned during the reflection portion. "Ultimately, we have to teach you the concepts to give you the language," she explains, noting that to be successful, students need to know what they're doing, what it is called, and the theory behind it.
The different pieces of experiential learning—lecture, applied project, reflection, reading a case study—allows students of all learning styles to absorb the concepts. Students with broad learning styles may feel like they're hitting the same concept more than they need.
"It's great for students to gain exposure to different teaching styles," emphasizes Beitelspacher. "You're going to work with all types of communication styles in your career. It's up to you to ask questions and advocate for yourself." Just as you would in the workplace.
Why is Experiential Learning Important?
One of the main benefits of experiential learning, beyond learning concepts by practically applying them as you will throughout your career, is you get to understand real problems a business has. You learn how to look at problems through reflective, critical, and thoughtful lenses.
Being able to assess real-world problems means you also get to provide solutions. This full 360-degree experience allows you to gain insight into specific industries and job functions that you may want to pursue post-graduation.
You can even include this experience on your resume, giving you a leg up when you do want to apply to jobs. Experiential learning helps you build skills that are harder to practice in a classroom setting. Skills such as leadership, teamwork, and communication are all strengthened in a real workplace setting.
"To succeed in life, you need to continuously think and do. Experiential learning ensures you have avenues to test and put into practice the theories learned in class," explains Onyemah. "[It] prepares you for the real world and helps you to be ready to hit the ground running when you graduate."
Experiential learning is also useful for strengthening concepts you are learning in the classroom. When you have a real-world scenario you can relate to a concept or idea, it helps solidify that learning. It brings ideas out of a vacuum and allows you to see how it has applied to real-world settings and how it will apply in professional settings moving forward.
"A lot of times we don't know what we don't know until we're in a situation and can recognize that we don't know," says Beitelspacher. She says one of the most powerful things is when students explore a business from all angles and hear from others and realize their strong opinions were based on their own personal lens. Realizing what works for you does not work for a target market, for example, is a powerful experience. "It creates empathy and makes you a more powerful, thoughtful business person," she concludes.
Experiential learning also offers you a way to learn that goes beyond a standardized test, allowing you to think creatively and thoughtfully. Beitelspacher says it helps her students realize that they can contribute to society in a real way. During 2020, her retailing class worked with four small businesses located near Babson's Wellesley campus. The students were able to make recommendations for companies being hit hard by the pandemic. "Every single company used some of the student recommendations."
Undergraduate Experiential Learning at Babson
Experiential learning at Babson begins your first year. Every Babson student participates in Foundations of Management and Entrepreneurship (FME). Students break into teams and come up with a business idea, determine whether that idea is feasible, create a launch plan, and qualify for a loan of up to $3,000 from the College as startup money.
You then run the business, using the skills you've learned in entrepreneurship, marketing, organizational behavior, and operations. All profits are donated to a service organization chosen by your team.
"FME is one of the things that truly separates the Babson learning experience from the rest," says Dave Heath '05, co-founder and CEO of Bombas. "Most schools rely on textbooks and case studies, while the FME experience puts theory into practice, exposing you to many aspects of business you can't learn in a classroom, such as team dynamics and real-time decision making."
Interested in learning more about Babson's Foundations of Management and Entrepreneurship (FME)?
Your experiential learning at Babson culminates with a semester-long project with a company or nonprofit. Courses like the Management Consulting Field Experience (MCFE) allow you to connect with a Boston-area business and get completely immersed in it.
Babson even offers a course, College Fed Challenge, that prepares you for the annual Federal Reserve Bank of Boston's competition, where teams present on the U.S. economy and give monetary policy recommendations.
At Babson's centers and institutes, there are even more ways to get your hands dirty. At the Weissman Foundry, you can work alongside students from Wellesley College and Olin College of Engineering to design, prototype, and build projects. As learning went online in 2020, the centers and institutes adapted. The Institute for Social Innovation has created Inventureships, paid or credit-bearing fellowships that allow you to pursue your social innovation project.
Through the Stephen D. Cutler Center for Investments and Finance, students can also join the Babson College Fund and manage a $4.3 million portion of the Babson College endowment.
Throughout 2020, Babson students, faculty, staff, and alumni adapted to remote experiential learning. Students in Senior Lecturer Sandra Bravo's Strategic Marketing class had multiple presentations in front of Scott DiGiammarino '84, founder and CEO of MovieComm. They ended the course with one major presentation to the company's entire marketing team and a group of investors.
"What we do really well at Babson is we apply these business concepts with real problems. We have so many opportunities to work with real businesses, understand their problems, and offer suggestions on how to overcome them," says Beitelspacher.
For her retailing class one semester, her students ran a pop-up store in Kendall Square. They partnered with mobile retailer, Flexetail (owned by a Babson alum), and sold artwork. Students ran the pop-up for five days, selling around $10,000 worth of art. They did everything from working with artists and Flexetail to choosing the store's soundtrack, posting flyers, and running the store. "Students didn't realize how hard it was," Beitelspacher recalls.
Similarly, many of Onyemah's classes take place on the street and company sites where students shadow sales professionals and get to experience the day-to-day of sales executives and their organizations. "Sales is the lifeblood of all organizations," begins Onyemah. "Having students engage CEOs, sales leaders, and rookies brings this fact to life sooner."
"Students quickly come to the conclusion that sales is a life skill and that entrepreneurship of all kinds needs sales to sail," he adds.
When you're looking at colleges, you want to look for opportunities like the ones Onyemah and Beitelspacher create for their classes. Experiential learning is valuable in all the ways it can take shape, but is even more powerful when you can apply skills you've learned, reflect on the experience, and use what you've learned moving forward.
It's how you'll operate throughout your career and the sooner you gain that experience, the more prepared you are at graduation.
You May Also Be Interested In: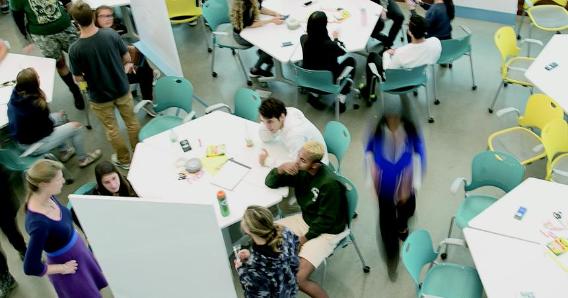 Looking for more guidance? We've compiled our best advice on college admission, career planning, and more to help you get your questions answered and start your journey.
About the Author
Kate Sitarz is a copywriter and digital marketer with more than 10 years of experience helping startups, Fortune 500 companies, and every size business in between achieve their goals.
Like this article? Have a suggestion? To contact our team with comments or article ideas, send us a note at news@babson.edu.