Community Resources
Contact any of these individuals and organizations for more information about the LGBTQ community and life at Babson.
Looking for more information? Check out off-campus community resources, online educational resources, or Babson's Safe Zone training program.
Babson Allies

While there are countless allies across campus, Babson is proud to recognize the growing number of groups and orgnaizations on campus who are commited to learning, educating, and supporting all of our students regardless of their diverse sexualities and gender/gender identities. Below is a sample of the 600+ Babson LGBTQ+ and alllies community members who have been Safe Zone and Gender Expansive trained for the 2017 year. Babson strives to be an inclusive campus where everyone can be their authentic self.
Glavin Office Department
Peer Mentors
Posse 2020
POW (Peers on Wellness)
Public Safety Department
Residential Life Department
Resident Assistants
Sigma Kappa
Writing Center
Babson's LGBTQ+Ally community has been an amazing support network, an effective resource, and a caring family for myself and many others. We treat each other with great respect and reach out into the community to raise awareness about LGBTQ issues.
Matt Hard '16
(left)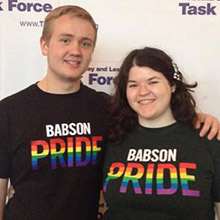 Being involved in the LGBT community at Babson has allowed me to meet amazing students, staff, and faculty. It's a different type of diversity that I like to share with those who are unaware of LGBT people and issues.
Wendy Sachs '15
(right)