Is College Worth It?
Peeling Back the Curtain on Your Anticipated College ROI

August 6, 2021 | Estimated Read Time: 14.5 Minutes
By Kate Sitarz
The short answer is yes: college is worth it for most students. But that does not mean all colleges are equally worth it. Depending on your specific situation and goals, as well as the college you choose to attend, you may see a higher or lower return on investment over the course of your lifetime.
To determine if a particular college is worth it for you, it helps to research the college or colleges you want to attend, break out the calculator, and do a little math. It's not as cumbersome as it sounds, so read on and find out how you can determine if a particular college is worth it for you.
Why is College Worth It?
Despite what you may hear regarding student loan debt, earning a bachelor's degree is still a savvy investment.
According to the U.S. Bureau of Labor Statistics, the median weekly earnings for someone with a bachelor's degree is $1,305. The median earnings for someone with a high school diploma is $781. That difference over the course of one year equals $27,248. Over the course of 40 years? It totals more than one million dollars, not adjusting for inflation or differences.
The unemployment rate significantly drops for college-educated workers, too. For 2020, the unemployment rate for those holding a bachelor's degree was 5.5% compared to 9% for those with a high-school diploma.
But how does your earnings potential compare with what you'll owe in student loans? When you see that across the U.S., students and graduates owe a combined $1.7 trillion in student loan debt, it can feel overwhelming.
Student Loan Hero breaks down the numbers, showing that the average monthly payment was $300 (before payments were paused during the pandemic). In 2019, the average debt at graduation was $28,800. But these numbers, while well meaning to give a sense of the student-loan-debt picture across the country, do not give an accurate sense of what the cost of college may look like for you.
Every student receives a financial aid package based on their specific situation, and these packages may vary from school to school.
What happens is a lot of families think the package at School A is going to be exactly the same package at School B. That's not the case; it's not a universal system.
Courtney Minden
former Vice President of Enrollment Management and Dean of Admissions
Financial aid packages explained
The best source for information is the school itself, says Courtney Minden, former Vice President of Enrollment Management and Dean of Admissions and Financial Aid at Babson College. "What happens is a lot of families think the package at School A is going to be exactly the same package at School B. That's not the case; it's not a universal system."
She cautions families to take checklists and other well-meaning financial aid tools from major media outlets with a grain of salt. The content often takes a one-size-fits-all approach. And that's not how financial aid ultimately works. Your financial aid package is tailored to what a school is able to provide.
One of the first steps you can take is to use each school's net price calculator. Legally, schools have to include it on their websites. Using information from your family's tax returns, you can get an estimate on what you can expect to pay at a given school and what the school will pay.
Although an estimate, Minden says net price calculators give you a good guidepost. "But this shouldn't be a complete technological experience," she stresses, encouraging families to have a conversation with someone in the financial aid office of each school to which they're applying. "You can talk about what to expect, but also talk about what opportunities exist outside need-based financial aid," she adds, citing merit aid, scholarships, and loan information.
She and her team help families navigate the loans process so they do not fall prey to high-interest loans and have a good understanding of what federal loans provide—all before you apply and regardless of if you ultimately choose Babson. Many colleges, Babson included, will provide you with an annual list of recommended lenders for you to consider as a starting point when selecting loan options.
This process can help you determine which school may be the best fit from a pure numbers standpoint. And, while many families assume a state school will be the cheapest option, they're often surprised that that's not always the case once you dig into the details.
What to look for when determining a college's worth
This so-called "sticker price" of a school—the tuition cost you see per year—is often not what you'll end up paying. So, the first thing to do when determining a college's worth is to use tools like net price calculators and have conversations with financial aid offices to get a sense of where you stand. As Minden says, when you're buying a house, you get the house inspected before you buy it. "Why wouldn't you do that with finances around college?"
But numbers only tell one piece of the story. It's critical to look at what goes on beyond the first year.
To determine if a college is worth it for you, start by comparing costs across all your choices. Once you have a rough idea of what you can expect to pay across all four years, consider the opportunities at each school.
Look at merit scholarship opportunities
Every school awards merit scholarships differently, says Minden. She encourages families to ask schools about their merit award system if it's not transparent on the school's website. Babson, for example, offers several merit scholarships, including several full-tuition and half-tuition scholarships, among others.
Minden says families can also look at whether a school offers an honors program that provides some sort of subsidy. Or whether you could be a Resident Assistant and get free room and board in your sophomore year. Or if you can secure a work-study job all four years.
Do the research to determine what is available and whether there are any supplemental application materials you need to include.
Talk to the financial aid team
Having a conversation with a financial aid office is one of the first indicators of how willing a college is to work with you. If you're not getting the information you need, it may be a red flag. "How a financial aid office treats you before you're even enrolled is a really good predictor of what the next four years are going to be," says Minden.
"This is your investment," she adds. "Make sure you understand the appeals process if a financial aid package isn't what you were hoping for." Particularly if your financial circumstances have recently changed, you'll want to work with the financial aid office to see what else is possible.
Dig into the post-graduation data
It's easy to focus on the short-term when looking at schools. After all, the cost you'll pay to attend is more immediate than the pay off after graduation. But it's helpful to look at what happens after students graduate from a particular college.
"If you're investing $X, how long is it going to take you to recoup that money in terms of your ability to get a job within six months of graduation?" This is a question Minden recommends students and their families answer by digging into student outcomes.
Many colleges will publish data around average starting salaries for their previous class, the percentage of students employed within six months of graduation, the average lifetime earnings of a graduate, and more. Minden also recommends looking at the default rate on loans per school, which can indicate if most students at that school are able to pay back their loans.
Get a sense of who you'll meet
If you look at the before (determining costs) and after (anticipated salary and the like) as it relates to college, you also want to look at the middle. How will your network build on a given campus? Minden emphasizes that college is so much about who you meet along the way. "There are faculty members who are going to set you up with their network," she says, based on her experience at Babson. "Students are going to meet their future business partners."
Consider what a school is going to provide you that will set you up for success later. "College goes beyond your GPA and how much fun you had," says Minden. "It's an investment through a network."
Talk to current students and alumni
Current students and alumni are great indicators of whether a college is really living up to its marketing materials. Talk with current students during a campus visit, or ask the admissions office if they have students that you can chat with digitally.
You can also look at LinkedIn to see what types of roles alumni currently hold and at what companies. You may even opt to call a school's alumni office to ask for more information about what the college's alumni are doing, or if they have any data on their alums.
At Babson, for example, you can connect with an Admission Ambassador, a Babson graduate who can discuss their Babson experience and how Babson may be a good fit for you. Alumni are located around the world so you may be able to meet with one in person or virtually.
Minden reminds students to consider looking at colleges through the lens of how will the student experience transform you? Many schools have open houses and show the most outgoing students, but not every student is starting a company in high school or participating in dozens of clubs. Visit campuses knowing that these students were in your same shoes only a year, two years, or three years ago. How will the college you attend take you to the next level? Can the schools you're looking at take you to the next level?
"You need to ask yourself, 'Am I going to go to an extension of my high school?'" says Minden. "Or, 'Am I going to go somewhere that will push me and turn me into something I never thought I could be?'"
Is Babson College Worth It?
Ask someone from the Babson College community and they will likely tell you yes, Babson College is worth it. But, beyond a very subjective answer from a community that has a lot of passionate alumni pride, it helps to break down the numbers to understand why, from a purely data perspective, it is worth it.
Babson financial aid
Babson meets 100% of incoming students' demonstrated financial need in the first year and commits to each student's level of Babson Grant for all four years, provided there is no change in the number of children attending college in the family and no major change to the family's financial circumstances.
This makes it a lot easier for families to get a sense of how much the college investment will be if their child attends Babson.
You can also use the net price calculator to better understand your cost.
Student outcomes
Beyond the cost of education and the financial aid available, you want to pay attention to outcomes. Outcomes to look for in order to weigh your investment include:
Percentage of students employed or attending graduate school within 6 months of graduation
Average starting salary of graduates
Specific areas of study as they relate to salary
Average earnings over lifetime
Mid-career earnings
At Babson, 99% of students are employed or continuing their education within six months of graduation. Of that 99%, 13% are pursuing additional education and 6% are starting their own venture.
The average starting salary was $62,399 for the undergraduate class of 2020. Babson has been ranked the number 1 private business school for salary potential by PayScale for the past five years. Of course, you can dig deeper into average starting salary numbers, too. Some schools, like Babson, include a breakdown of starting salaries by industry.
This success is because Babson's curriculum and co-curricular activities closely align with the eight career competencies that the National Association of Colleges and Employers cites as being critical to career readiness, says Jaime Doherty, Interim Director and Senior Associate Director, Corporate Relations and Recruitment at Babson. "The top two—teamwork and problem solving—are areas in which Babson students stand out."
Doherty cites Babson's experiential learning opportunities, such as Foundations of Management and Entrepreneurship (where every first-year student launches a business) and the Management Consulting Field Experience (where students work with real organizations on consulting projects), as prime examples that prepare students to thrive in the workplace.
"You are doing project-based work on a regular basis," she says, also noting that students gain global competencies from the diverse international environment. "When the time comes to answer an interview question like 'Tell me an example of a conflict you've had in a team environment and how you solved it,' you have 20 examples."
"The opportunities that students receive from employers is based upon experiences they have while students at Babson," Doherty explains. "Students are in front of companies, often not for recruiting events, but presenting to alumni, presenting to companies, working directly with organizations on a business challenge. This direct exposure, consistent feedback, and sharing of ideas means students are having real conversation with potential employers while gaining real world experiences."
The majority of Babson students also complete at least one internship during their four years. In 2020, 91% of students completed an internship while in 2019 it was 90%. "Coming in with the competencies that employers demand means Babson students can contribute from day one," stresses Doherty.
"Not only are you getting a job you love, you're on your way to paying back any loans," says Minden.
She also points out the default rate on loans. While on average, 15% of student loans are in default at any given time and 11% of new graduates default in the first 12 months of repayment, Babson students have a less than 1% default rate.
Depth and breadth of opportunities
Babson students aren't just getting jobs at a handful of companies, either. While some campuses work with a few major companies, says Doherty, Babson students land at any number of organizations (including major firms like Bank of America Merrill Lynch, PwC and EY). In 2020, there were 317 companies hiring Babson students, plus students went on to 26 graduate schools.
"Some schools focus on the top 20 employers," observes Doherty. "Babson has those, and they're strong partners, but our students are as diverse as the companies that hire them. They cover every industry, every function. You decide what you want to do and we help students define that."
Seeing what industries graduates enter can help you determine if a school is right for your career goals. Babson students enter a range of industries in the public and private sectors, including technology, financial services, retail and fashion, food and beverage, healthcare, marketing, real estate, legal services, and more.
You should also look into a school's career center. "Babson's Center for Career Development works closely with faculty," says Doherty, noting if a professor is interested in having a company talk to a class about a particular topic, career advisors work with them to find the right match. "What ends up happening is students see what's happening in a real company based on what they're learning. Then, they may recognize that company at a career fair and already have familiarity."
These organic interactions between companies and students are a product of Babson's size, says Doherty, where it's possible to have close relationships with faculty and students.
The Center for Career Development (CCD) offers other opportunities to help Babson students hone their skills and engage with companies through resume review nights, collaborations with Babson alumni from around the world, company visits, externships (job shadowing for up to three days), and more.
Doherty encourages students to engage with CCD so they can explore opportunities that are the right fit not just based on job description, but company culture. "It may be that a large organization isn't the best fit for you, you want to feel your voice is heard in a more boutique consulting firm. Or maybe they want to go work for a friend's startup."
CCD has partnered with the Office of Undergraduate Admission to offer summer sessions on topics like transitioning your high school resume to a college resume, personal branding, and prepping for future internships. "There's a lot for students to dig into when arriving on campus. The most important is to get acclimated," emphasizes Doherty. "Find out where the laundry is, meet friends, figure out your class schedule."
But she says first-year students are encouraged to join the fall career fair and even meet with the Center's student Peer Career Ambassadors. "Participate in programs when it makes sense for you."
She stresses that Babson students are able to continue working with CCD even immediately after graduation, and also have plenty of opportunities with alumni services for the rest of their lives.
Minden agrees. "Is your college experience going to end when you walk across the stage? Babson students aren't Babson students for four years. They're Babson students for life."
You May Also Be Interested In: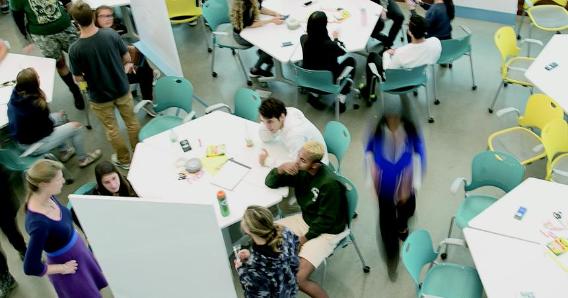 Looking for more guidance? We've compiled our best advice on college admission, career planning, and more to help you get your questions answered and start your journey.
Sources
U.S. Bureau of Labor Statistics
Student Loan Hero
EducationData.Org
National Association of Colleges and Employers
About the Author
Kate Sitarz is a copywriter and digital marketer with more than 10 years of experience helping startups, Fortune 500 companies, and every size business in between achieve their goals.
Like this article? Have a suggestion? To contact our team with comments or article ideas, send us a note at news@babson.edu.