How to Improve Leadership Skills in the Workplace
August 31, 2021 | Read Time: 8.5 Minutes
By Kate Sitarz
It's all too easy to get stuck tackling day-to-day tasks and developing others that you lose sight of developing skills necessary for your advancement within your organization. That's why learning how to develop effective leadership skills in the workplace is a must, whether you want to move from a manager role to a leadership role, or become a more effective leader.
The reality of today's workplace is that every leader is faced with more challenges than ever, whether it's managing complex interpersonal dynamics, working in global environments, leading organizations through a transformative period, or a combination of all three. And, as navigating a global pandemic is proving, the ability to adapt leadership skills to meet the moment is the difference between success and failure.
"Because our environment becomes more turbulent, more volatile, more uncertain and ambiguous, new problems show up every day," says Sebastian Fixson, associate dean of academic programs and innovation at the F.W. Olin Graduate School of Business and professor of innovation and design at Babson College. "The future of work is innovation work."
Here is how you can develop the skills you need to innovate in organizations of all kinds.
Key Takeaways
Being a leader is not about your position within an organization, but rather about your ability to solve problems.
Most organizations promote technical experts into leadership positions and do not provide the necessary training for this transition.
Transformational leadership training helps you bridge this skills gap and develop skills needed for career advancement.
What Is Leadership in Today's Organizations?
Today, being a leader depends on much more than your position within an organization. The most effective leaders know their influence does not come from the title they hold, but from the support they receive from their colleagues and subordinates.
Receiving this support comes from a leader's ability to identify, address, and solve problems, as well as equipping their team with the ability to do the same.
With many leaders using social media as platforms to spread leadership concepts, it may seem like leadership is about being an influencer as much as it is about influencing. But, that's not the case, says Nan Langowitz, the faculty director at the Center for Engaged Learning and Teaching. "It's the solution that should matter, not the leader."
This approach ensures your team will thrive long after you leave the organization. It also can make the difference between one organization's success and another's failure. Effective leadership can drive entire organizations to execute on a vision to make it reality. Ineffective or absent leadership can cause organizations to stagnate or, worse, fail.
How to Develop Leadership Skills in the Workplace
If you're a mid- to upper-level manager, particularly with direct reports, honing your leadership skills is not only necessary for advancing your career, it's mission-critical to innovation within your organization. And, innovation is ultimately an indicator of whether an organization will survive or flounder.
Here are three steps you need to take so you can focus on developing the leadership skills that will allow you to continuously innovate in any environment.
1. Redefine "Leadership"
Knowing that leadership comes from your ability to problem solve rather than your title or position in the organization is the first step in how to become a leader at work.
2. Recognize That No One Is Born a Leader
Not only is no one born a leader, but many organizations do not teach employees necessary leadership skills.
As the Harvard Business Review points out, many individuals in leadership and managerial roles were promoted because of their technical or functional skills. The responsibility is on you to bridge the skills gap between technical expert and effective leader.
3. Identify Leadership Areas You Need to Develop
Many managers don't realize the gap between technical expert and leader even exists until it's too late. Perhaps they aren't identifying the right problems to solve, are holding themselves back in their technical expert comfort zone, or any other number of missteps that will prevent them and their teams from moving forward and contributing to the organization's success.
Once you pinpoint how you want to develop as a leader, you can pursue the training you need to develop the necessary skills. This demands an openness to experimenting with new ideas and behaviors that take you outside your comfort zone.
If you're ready to embrace this growth, then it's time to start expanding your leadership skills.
Four Skills to Develop for More Effective Leadership
Depending on you, your team, and your organization, you may have additional skills you need to hone. But, across organizations, industries, and roles, there are several skills that unite the best leaders. Here are four of them.
1. Always Keep Learning
No business is stagnant—at least if it wants to remain in business. Therefore, its leaders cannot be stagnant, either. Langowitz's motto is "the best leaders are learners." Learners, she explains, are better at staying open to new ideas and considering various points of view.
That's because when you're learning, you realize how much you don't know and how much room there is for improvement. This allows you to seek ideas from experts and use this information to come to better decisions and improved solutions.
2. Think Big, Be Bold
Breakthrough innovation requires you to think big. Your work will change how your company creates value today and in the future.
This requires you to think beyond the day to day and look at the long term, an admittedly hard skill to develop and practice with many companies focused on next quarter's numbers, not necessarily what those numbers mean for the big picture.
As Professor Gina O'Connor said in a recent Fast Company article, "Innovation has a long time horizon, and companies must invest consistently in order to see payoffs." O'Connor's research backs this idea. As a professor of innovation management at Babson College and an instructor in Babson's executive education program, O'Connor says leaders need to:
Identify and commit to a few future-focused opportunity domain areas, rather than focusing only on short term issues.
Institute an organizational capability that identifies, incubates, and scales new businesses through the use of portfolio management for so-called Horizon 3 opportunities.
Design a management system that supports new business platform creation and aligns skills, process, governance, resourcing, and metrics, without ignoring the uncertainty inherent in this activity.
Develop a vision for your team, communicate it, and then support your team in making it a reality.
3. Make Fundamental, Not Incremental, Change
In order to cope with market shifts, business transformation relies on fundamental changes and improvements, not incremental ones.
O'Connor emphasizes the need for intentionality when it comes to innovation. "It should not be seen simply as a process, or a cultural characteristic, or driven by champions alone," she stresses. Instead, organizations need a specific vision for innovation with established metrics and a dedicated staff. Failure is part of experimenting, and teams must be able to experiment without punishment.
Whether your organization has a dedicated innovation arm or not, you can incorporate out-of-the-box thinking as a strategy within your team.
Allowing dedicated time, energy, and resources to the discovery, incubation, and acceleration of ideas beyond an R&D division has the power for major payoff, as O'Connor's research proves.
4. Develop Skills for You and Your Team
If you go on vacation for a week, a month, or even a year, your team should function without you. The goal of a leader is to not be irreplaceable. In fact, it's the opposite. The best leaders develop teams that are able to thrive even when the leader isn't there.
There's an instinct we all have to prove our value, especially when performance reviews are on the line. We want to make ourselves indispensable. But, the way leaders make themselves indispensable is by having the skills that allow them to create systems and develop team members in ways that ensure there is no single point of failure.
"Creating collaboration and high performance," says Langowitz, "sparks more innovation."
Know your areas of genius and where you may need to rely on others who have different zones of genius. Similarly, know the strengths of your team members so you can pursue projects in a way that leverages everyone's skills for an optimized result.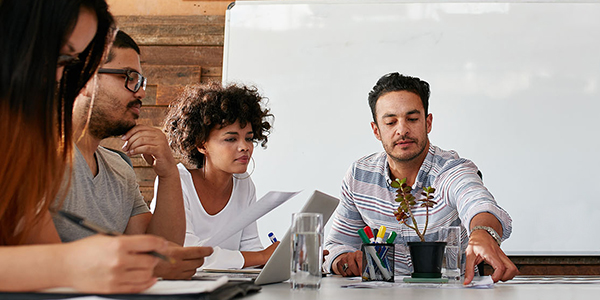 Interested in learning more about Babson's part-time MBA programs and the online flexibility they offer? Take the next step today!
Transformational Leadership Training
While leadership may come more naturally to some than others, it's not a skill we are born knowing. And, it's also a skill that is constantly evolving along with changing workplaces and interpersonal dynamics.
That may conflict with the image that some leaders project on social media and perhaps even in your workplace. Leadership isn't as clean or straightforward as it may look in an Instagram quote or Tweet.
Leadership can be learned through corporate leadership training and development programs. Leadership skills are improved and even created and developed through practice.
For many managers, pursuing a master's degree is the next step in advancing their skills. And, managers can pursue additional education while maintaining their current position. In fact, earning a master's while working is a great way to apply skills learned in the classroom and see their impact.
At Babson, the part time MBA teaches leaders how to effectively lead within their companies through business transformation and innovation.
These self-paced programs are designed for working professionals and give you the opportunity to earn the #1 MBA in entrepreneurship via a flexible, hybrid modality or 100% online evening classes.
Through courses like those taught by Fixson, the MBA program gives you the tools you need to elevate your impact and accelerate your career.
No matter your role within your organization, your ability to lead will come from your ability to take action. Start by taking action on your own leadership development.
You May Also Be Interested In:
About the Author
Kate Sitarz is a copywriter and digital marketer with more than 10 years of experience helping startups, Fortune 500 companies, and every size business in between achieve their goals.
Like this article? Have a suggestion? To contact our team with comments or article ideas, send us a note at news@babson.edu.