With Hands-On Learning, Turn Your Ambition into Action
At Babson, we know experience is the best teacher. Why wait until graduation to begin making an impact?
From your first to final years at Babson College, experiential learning stands at the forefront of your academic and professional pursuits. The ample hands-on learning opportunities and projects offered throughout the Babson undergraduate curriculum provide a well-rounded education rooted in both business and the liberal arts and sciences, practical real-world experience, and team-dynamic skill building. We designed our hands-on education to provide you with a problem-solving tool kit and career insight you can take to any field.
Experiential learning starts day one. You and your classmates will build a business from the ground up in your first semester (we call that FME, more on that below), and from there, your journey is your own.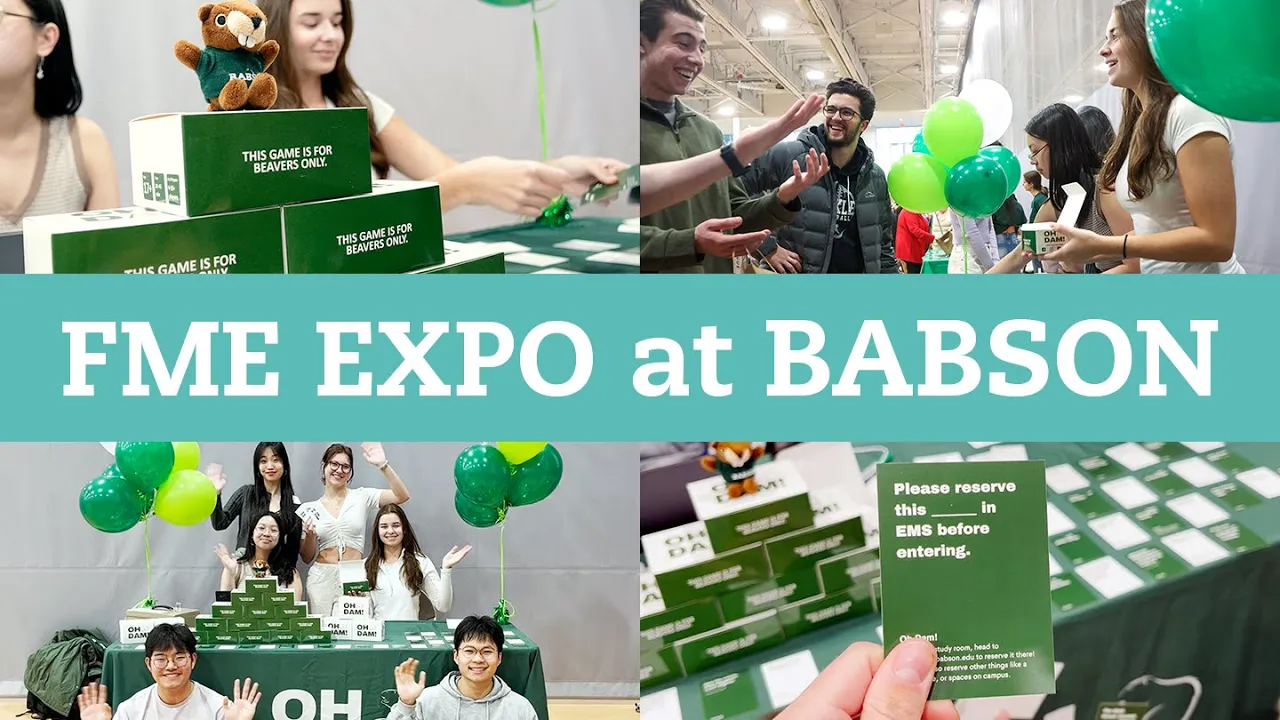 #BabsonUnscripted: Road to the FME Expo
Get the inside scoop about Babson College—direct from our students! Follow Emily Truszkowski '26, CEO of FME venture "Oh Dam!", as she and her team prepare for the FME Expo (Foundations of Management and Entrepreneurship annual showcase).
Watch video on YouTube
Experiential education at Babson isn't just classroom opportunities, either. Our students raise their own seed funds, run their own investment programs, take on leadership roles in clubs and organizations, intern across the globe, and engage in volunteer work that boosts their communities. They do independent research on pop music, teach their own courses, and use their entrepreneurial leadership acumen to tackle global problems.
It's your education to take out into the world and make something of it. We make sure you're prepared.
We Are a Top 10 College for a Reason
of students had internships while at Babson*
of Babson alumni were employed or in grad school six months after graduation*
*Based on responses from the class of 2022 within six months of graduation and based on a knowledge rate of 83%
Learn Business by Doing Business
What is hands-on learning at Babson? It's how we mix the theoretical with the practical. In Foundations of Management and Entrepreneurship (FME), you work on a team with first-year students to turn an idea into an actual venture. That means everything: designing the packaging, ordering inventory, running your brand's social accounts. Through this tactile learning style, you gain insight into what you might want to do professionally while building a list of experiences that prepare you for that career.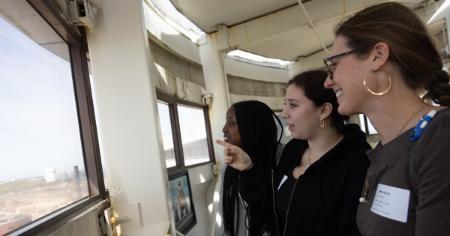 Exploring an Integrated, Systems Mindset
Global challenges demand complex solutions. Socio-Ecological Systems (SES), a cornerstone liberal arts and science course in the Babson curriculum, teaches you how to think in a system. Learning how to think in systems and how humans and nature are connected is fundamental to making the world more hospitable and sustainable.
Your Babson experience for the following three years can go anywhere from field trips to learn about the environment to partaking in the Ultimate Entrepreneurial Challenge to back to FME as a mentor. This four-year hands-on learning experience culminates in our advanced experiential courses. Maybe you want to try consulting? Or heard about how we let students manage a portion of the Babson endowment? Or want to help a company solve problems while learning about branding?
Whatever you choose, you cap off your college experience by tackling real business challenges confidently.
A Hands-On Campus for a Hands-on World
A true experiential education means having a place to actually practice. In between classes, you will test your skills and knowledge in numerous other real-world situations which our centers, institutes, and campus partners help you facilitate. There are hubs and communities across campus designed to help you grow and thrive as you explore experience-based learning.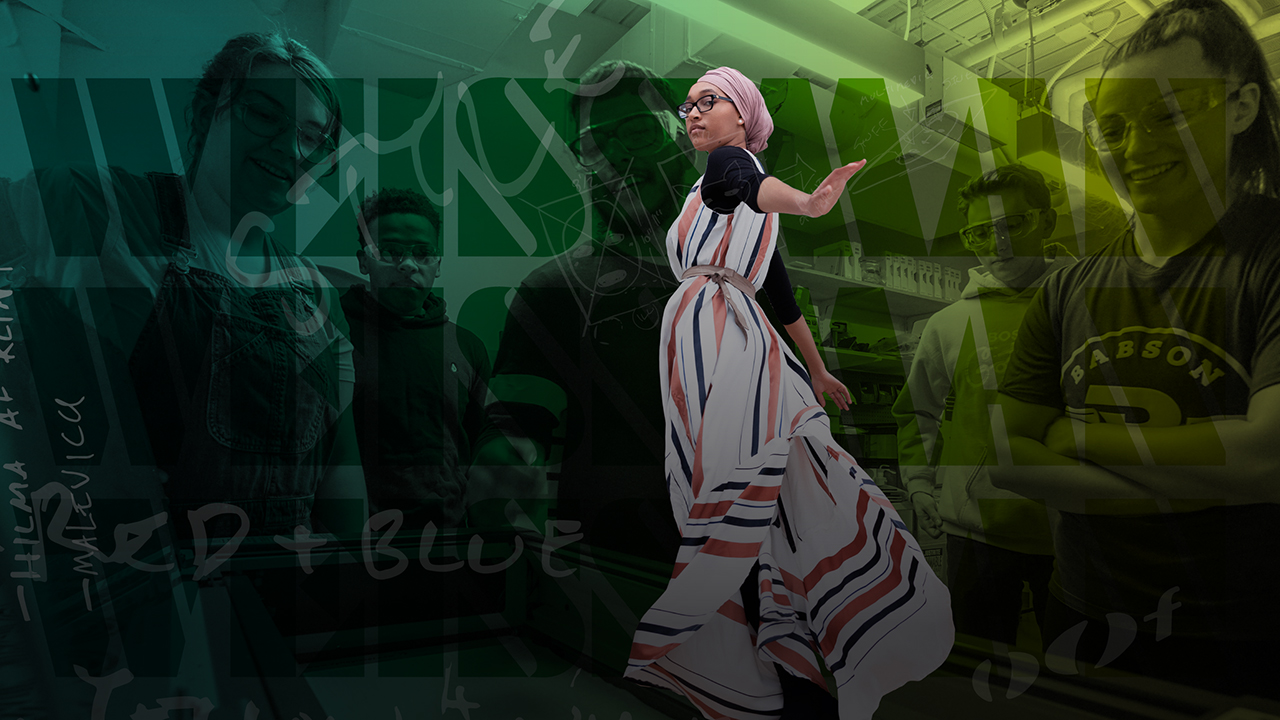 The Weissman Foundry
The Foundry is a design studio Babson students can use to create prototypes, pursue creative goals, and collaborate on hands-on projects across Wellesley and Olin colleges. This space, which includes a woodshop, digital fabrication studio, and textile and electronics studio, is open to all of our students. Come expand your knowledge of technological concepts such as AI and Blockchains, learn about crowdfunding, and get your start in the fashion industry.
Learn More
It's also home to many of our centers and institutes, where you can participate in fellowship and leadership opportunities, engage in special projects and programming, and take advantage of Babson's vast network of business and entrepreneurial leaders.
Centers and Institutes in the Blank School
Arthur M. Blank Center for Entrepreneurship
Bertarelli Institute for Family Entrepreneurship
Frank & Eileen™ Center for Women's Entrepreneurial Leadership
Institute for Social Innovation
Kerry Murphy Healey Center for Health Innovation and Entrepreneurship
Tariq Farid Franchise Institute

Stephen D. Cutler Center for Investments and Finance
Finance is one of the largest concentrations at Babson, and for good reason. Our resources and opportunities offer a road map to a career in finance, with emphasis in analytics and hands-on learning activities. The Stephen D. Cutler Center for Investments and Finance provides students with access to tools such Bloomberg and FactSet and the chance to participate in trading and fintech competitions.
Learn More
Explore More of Babson
Want a college with experiential learning opportunities that prepares you for a global career? Learn more about Babson.