Publishers Hall
Publishers Hall is one of the smallest halls on campus and houses first-year students.
Students living here in single, double, or triple rooms will often say how much they enjoy the close-knit community and how easy it is to make friends here. There is a large lounge and kitchen in the basement that residents often use for study groups, cooking, and social activities.
Publishers Hall is staffed​ by two resident assistants (RAs) and an area coordinator who oversees the day-to-day operation of the residence hall and provides direct supervision to their RA staff.
Area Coordinator: Zach Raso
Common Kitchen

Grill

Laundry Room

Meal Plan Required

Vending Machine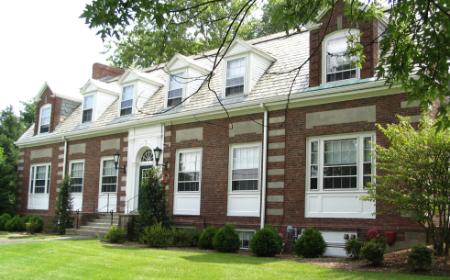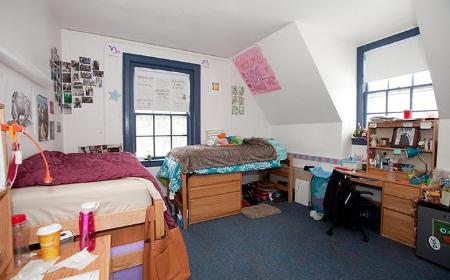 Room and Hall Features
2023–24 Room Rates
$5,308–$6,802 per semester.
Occupancy
44
Number of Floors
3
Room Types
Single, double, triple (room layouts and square footage will vary).
Furniture
Loftable bed (extra-long twin), dresser, desk, desk chair, bookshelf, closet/wardrobe, blinds/shade, trash can, recycling bin. Furniture cannot be removed.
Gender
Gender-specific by floor.
Bathrooms
Gender-specific community bathrooms (showers, toilets, sinks).
Carpet
No (ground level).
Yes (first and second floors).
Building and Room Access
Babson College ID card to access building and room key to access room. Residents must sign for the room key upon arrival on campus.
Lounge(s)
Yes.
Lounge Television(s)
Yes.
Trash/Recycling Room
No. Residents are responsible for disposing of all personal trash and recycling in the receptacles provided on each hall.
Location
North side of campus. See Publisher's Hall on the Campus Map.