Preparing for the GMAT: Tips for Success
June 22, 2021 | Read Time: 8.5 Minutes
By Rachel Blakley
Deciding to pursue a graduate degree is a big decision. There are a lot of choices to make along the way such as where to apply, what to focus your studies on, and what tests you need to take before you're accepted into your dream school. Whether you're just starting your process or you've already applied to schools, read on to find some tips and information from the F.W. Olin Graduate School of Business at Babson College to help make your process easier to navigate.
Breaking down the GMAT vs. GRE for MBA Programs
If you're applying for advanced education such as a graduate degree or business school, there are likely two exams from which your prospective schools may ask you to submit a score. The GMAT and the GRE are widely accepted standardized exams that measure a prospective student's preparedness for the rigor of graduate-level courses. It is said that one major distinction between the GMAT and the GRE is that the GMAT was specifically designed with business schools in mind, while the GRE tends to be more adaptable for general use across different types of graduate schools.
GMAT
The Graduate Management Admission Test (GMAT) is the exam most commonly used by top business schools. While many schools, Babson included, use a holistic approach to the application process, scoring well on the GMAT can help applicants showcase their quantitative aptitude and qualitative communication skills, both important characteristics for successful graduate students. The test looks at four key areas of focus: Analytical Writing, Integrated Reasoning, Quantitative Reasoning, and Verbal Reasoning.
The basic information snapshot for the GMAT:
Used for 5,400 programs offered by more than 1,500 universities and institutions in 83 countries
Test areas: Verbal, Quantitative, and Integrated Reasoning and Analytical Writing
Computer-adaptive test
$250 test fee
Scores valid for 5 years
Scores range from 200-800
Test time: 3.5 hours (prepare for 4 hours with breaks)
GRE
The Graduate Record Examination (GRE) is a standardized, multiple-choice exam developed to assess an applicant's readiness for graduate-level academic work. It is broken down into three sections: Analytical Writing, Quantitative Reasoning, and Verbal Reasoning. According to the Educational Testing Service, "the GRE is the only admissions test for graduate and professional school that lets you skip questions within a section, go back and change answers, and have control to tackle the questions within a section you want to answer first."
The basic information snapshot for the GRE:
Created and administered by Educational Testing Service (ETS), beginning in 1949
Major overhaul in August 2011
Test areas: Analytics (2 essays) and Verbal and Quantitative Reasoning
Experimental Paper-Based as well as Computer-Adaptive
$130-$210 test fee (depends on which country in which the test is taken)
Scores valid for 5 years
Test time: 3+ hours (depends on format)
Which Test Should I Take?
Unfortunately, there is no exact science when it comes to an individual's ability to succeed on either the GMAT or the GRE. With similar content, questions, and format, it really depends on the school to which you are applying. Most schools accept both scores, but it's best practice to research the preferred test for each institution to which you are applying. That said, the best method for figuring out which test makes sense is to do a practice GMAT or a practice GRE.
A Note About International Language Tests
If you are an international student applying to graduate school, you may be required to take an international language test along with your GMAT or GRE. While all schools' requirements are different, Babson's policies can be found on the International Students page of the admissions website.
For Babson, as well as other graduate schools, accepted English Language tests are TOEFL, iBT, IELTS, PTE, or Duolingo. If you are an international student whose native language is English, you have the option to submit an exam waiver. For Babson-specific questions, please email Graduate Admissions for additional instructions on how to request an exam waiver.
GMAT Waiver for MBA Programs
Many graduate schools, Babson included, have temporarily moved to a test-optional policy due to constraints brought on by the COVID-19 pandemic. This means GMAT/GRE test scores will be waived for all full-time graduate applicants with a 2021 program entry.
In Babson's case, the admissions committee will continue to use a holistic review process that evaluates your quantitative readiness, past academic performance, and your written and verbal communication. This is done by looking at responses to short answer questions, interviews, and career potential and/or progress through each applicant's resume and references. Students can elect to further demonstrate their individual qualifications for graduate school by submitting an optional essay. This not only shows the student's interest in attending Babson, but also enables the student to share any additional information they find pertinent and gives the admissions team the opportunity to learn more about the applicant.
Schools continue to emphasize that even though they may have waived the GMAT or GRE, it's still vital that candidates showcase through their applications that they can handle the rigor of a graduate program. Babson's graduate admissions site states an important note:
Please note that quantitative and academic readiness is a large component of any graduate business program, and applicants who have minimal quantitative experience as expressed on their transcripts or work experience may want to submit a test score to help showcase their quantitative aptitude.
But, what else is considered in a holistic review? Babson students are leaders who understand the importance of collaboration and creativity. They are global-minded and bring with them experience, skill sets, and world views that enrich the learning environment for their peers. Our students possess an entrepreneurial mindset and whether they are looking to build a startup from the ground up, advance a family business to the next level, or elevate their current corporate or non-profit organization, they come ready to take action and learn by rolling their sleeves up.
Graduate School Application Dos and Don'ts
When applicants are looking to bolster their application, there are ways to do that effectively and efficiently. Director of Graduate Admissions Colleen Hynes shares some application dos and don'ts.
Recommendation Letter
Do: ask colleagues with whom you collaborate regularly for their recommendations. It's ideal to have at least one recommendation letter from a current or former supervisor, but it's more important that you ask people who can speak to your strengths at work and your ability to thrive in teams.
Don't: ask someone whom you don't know well for a recommendation just because they have an impressive title. It's easy to tell when a recommendation letter is generic, and you want to make sure you have recommendations that really highlight all the wonderful work you do.
Resume
Do: highlight key skills in your current position, like quantitative expertise, team lead roles, or impactful individual contributions, and be specific about any value-driven examples you provide.
Don't: leave major gaps in your resume unaccounted for. Took a year off to backpack through Europe? Worked full time for a few years before starting your undergraduate degree? We value a diverse class, and we want to see a complete picture. You can choose to add any pertinent information to your resume or to our optional essay.
Essays
Do: answer the question completely, but succinctly. Your essay should be no more than 450 words, and should answer the essay prompt specifically. Make sure your work is free of grammatical and spelling errors, too, so the focus is on the message you're trying to convey.
Don't: feel like you need to write an Optional Essay. It is offered as a way for applicants to describe any gaps in their resume, academic background concerns, or interesting things about you that you feel weren't properly addressed elsewhere in the application. Admissions will be able to get to know more about you regardless of whether you submitted an optional essay during your admissions interview.
Interview
Do: dress appropriately, arrive on time, and come prepared with any remaining questions you may have about the program. These apply for virtual interviews, too.
Don't: be nervous! The interview is a time for both of us to assess program fit, and if you've done a thorough job answering our essay prompt and preparing your resume, you'll be able to approach the interview as a friendly conversation.
Last but not least, make sure to view your program's upcoming application deadlines. If you're applying to Babson, we take a holistic approach to application review and will consider all parts of your application during the admissions process. You'll also automatically be considered for scholarships, and will be notified of any scholarship at time of admission.
Pursuing an Online MBA: No GMAT Required
Many graduate schools offer programs that don't require a GMAT, GRE, or any other standardized test. This doesn't mean the programs don't require just as much rigor; rather, they are tailored for students with different educational and lifestyle needs.
If you're looking to earn an advanced degree but don't have the option to go back to school full time, many schools have flexible programs designed to work into your schedule, and many of these programs don't require the GMAT. Babson offers a variety of "No-GMAT-required" programs that are great examples of the many options available outside of the full-time business school model.
Test-Optional Colleges
Aside from certain programs that are "No GMAT required," some colleges have gone test optional altogether. They may assess your portfolio, resume, sample of written work, and depth of work experience. If a college or university is test optional, you are not required to submit any standardized test scores but you are welcome to submit a test score if you feel it will benefit your application.
If you do choose to submit your scores to test-optional colleges, they can help to strengthen your application. At Babson, despite test scores being optional with a 2021 or 2022 program entry, a significant percentage of applicants submitted a GMAT or GRE score with their application. In fact, the average score for students planning to enroll is higher than it has been in recent years, which indicates that students who are choosing to submit scores in a test-optional application process tend to do so when their scores are really strong.
Our best advice? Take some practice tests to see if your baseline score is better for the GRE or GMAT, prep for whichever test you prefer, and only report your scores to test-optional schools if your score helps to strengthen your application.
Preparing for the GMAT
When you're preparing for the GMAT, you'll want to know exactly what to expect going into the exam—the types of questions being asked and the structure of the exam—so you can tackle each section with confidence.
There are four main sections of the GMAT exam:
Analytical Writing Assessment (AWA section) – In this section, your critical thinking and effective communication skills are measured. This 30-minute writing test will have you look at a line of reasoning and evaluate your ability to decipher the information clearly and critically.
Integrated Reasoning (IR section) – In this section, your ability to analyze and interpret data in various formats is evaluated. It will be important to display your ability to take in large sets of data and make sound decisions as a result.
Quantitative Reasoning (Quant section) – This section looks at your ability to reason mathematically, solve quantitative problems, and interpret graphic data. Through two types of questions—problem solving and data sufficiency—you will display your ability to sort through relevant data and use logic to solve a problem.
Verbal Reasoning (Verbal section) – This section looks at your ability to read and comprehend written passages, your editing abilities, and if you can make sense of written arguments. Through three types of questions, Reading Comprehension, Critical Reasoning, and Sentence Correction, you will display your verbal skills of comprehension and analysis.
Practice questions and practice exams are a great way to expose yourself to the format of the exam. Familiarizing yourself with the style of the questions asked in the GMAT will set you up for success.
GMAT Practice Questions
It can be very beneficial to start studying and preparing for the GMAT as soon as possible. This will give you enough time to study at your own pace and reduce the amount of stress you'll have on exam day. Practice tests are a great way to experience the types of questions asked on the GMAT, improve your time management, and understand the grading format.
There are many reputable practice tests for the GMAT and the GRE. The Economist has a free seven-day trial as well as extensive GMAT preparation resources. You also can find an abundance of information on the GMAT and GRE testing websites. Good luck!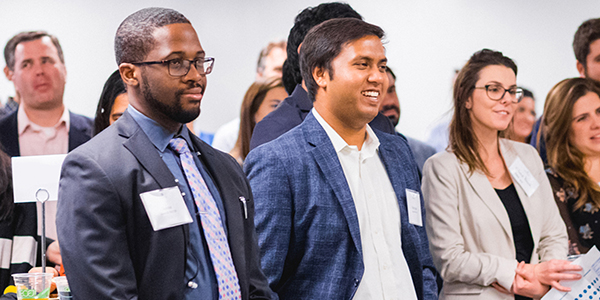 Ready to pursue an MBA degree built for action?
Full-time, part-time, on-campus, or 100% online. Earn a Master of Business Administration degree from the top entrepreneurship school.
You Also May Be Interested In:
About the Author
Rachel Blakley is a copywriter and digital marketing professional. An alumna of Purdue University, she has worked with startups, associations, direct-to-consumer businesses, and B2B brands across the country to improve their content strategy.
Like this graduate school advice article? Have a suggestion? To contact our team with comments or article ideas, send us a note at news@babson.edu.