Entrepreneurial Thought & Action
Entrepreneurial Thought & Action® (ET&A™) is a proven methodology for developing the skill set and mindset needed to not just launch a new business, but also make change in an established company, lead a team, or create social impact. It allows leaders to effectively navigate uncertainty by continuously taking action in order to move forward.
Balancing Prediction & Creation to Navigate Uncertainty
Traditional models of entrepreneurship have conditioned us to default to prediction: analyze what's happened in the past to better predict the future. The fear of failure looms large, leaving little room for creativity.
But, practicing Entrepreneurial Thought & Action allows you to balance both prediction and creation, so you can act even when you are faced with deep uncertainty. It also allows you to experiment and test quickly, making failure a step in the process—not the end of the road. Instead, failure becomes a means to acquiring more data so that we can quickly iterate or pivot toward smarter solutions rather than assume a solution doesn't work or, worse, give up.
A Practice-Based Approach to Entrepreneurship
No one is born with an entrepreneurial gene. The skills necessary to become an entrepreneurial leader—risk management, continuous learning, deep collaboration—aren't reserved for a certain class, race, or gender. It doesn't require dropping out of school to launch the next unicorn. Anyone can practice and develop entrepreneurial competencies and skills.
You can apply it to innovating within a family business, creating a charity, or solving global social issues. ET&A allows for the establishment of sustainable organizations that can have a positive impact on the economy, but also the environment and society.
What Entrepreneurial Thought & Action Looks Like
Entrepreneurial Thought & Action starts with what gets you up in the morning. What are you passionate about?
Instead of overly planning and analyzing, you have three action steps you can take:
1. Start with what you already have.
What do you already know? What about your past experiences can help inform your next steps?
2. Calculate how much you are willing to put on the line.
Instead of asking how much you want to make, ask how much am I willing to spend?
3. Invite others on the journey.
Get advice and feedback from colleagues; ask for assistance or moral, emotional, and financial support.
With each action you take, you get feedback, ask questions, get results, and then recalibrate where you need to go next. ET&A is not a linear pathway; it's iterative.
The Method of Entrepreneurial Thought & Action®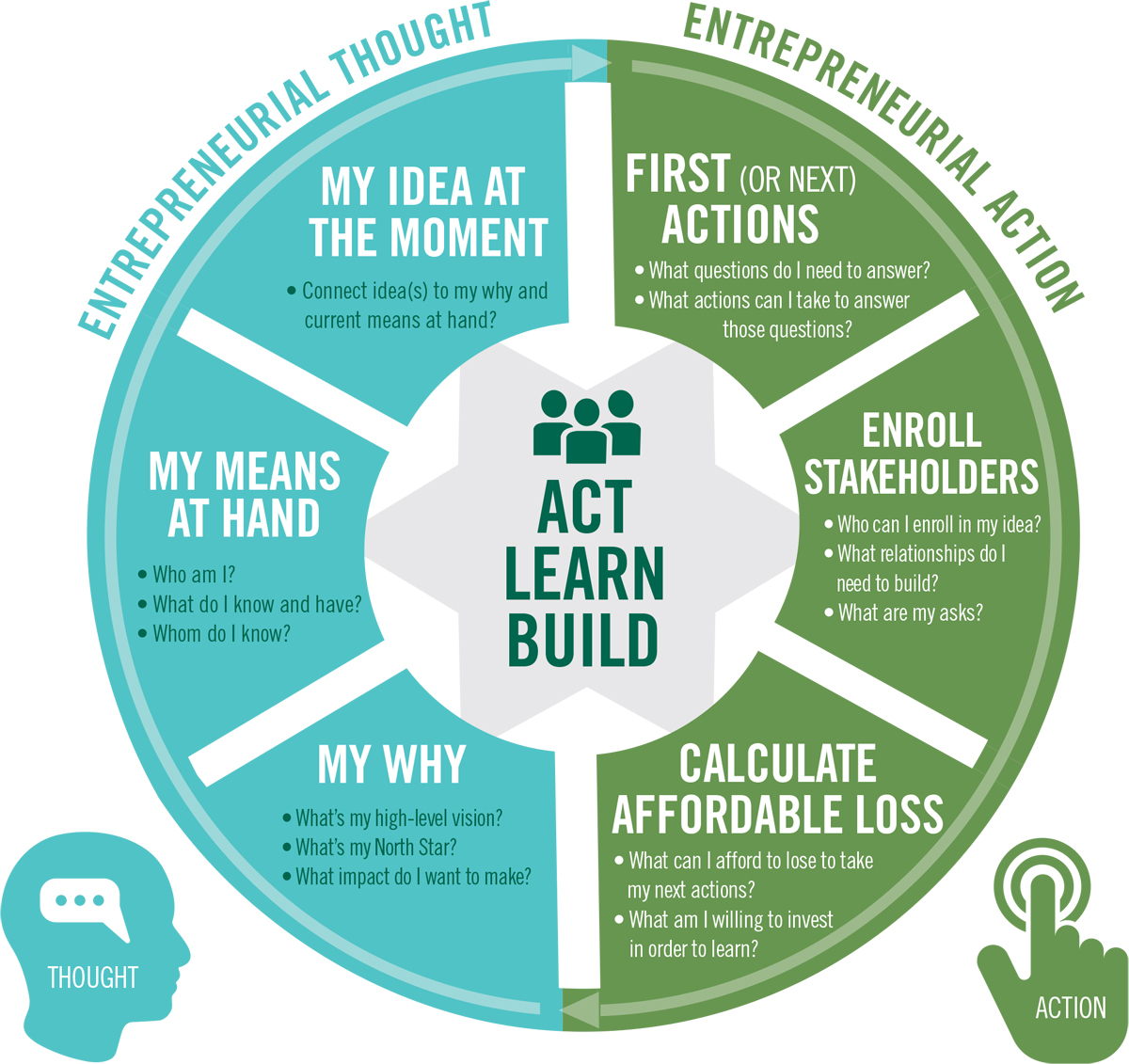 Adapted from Neck, Neck, & Murray (2021) Entrepreneurship: The Practice & Mindset, Sage Publishing.
Entrepreneurial Thought & Action is a registered trademark of Babson College.
© Babson College 2023, All Rights Reserved
Entrepreneurial Thought & Action (ET&A) is a method that can be practiced to embrace and confront uncertainty rather than avoid it. It emphasizes smart action over planning. It emphasizes moving quickly from the white board to the real world. It's a method that can be learned and should be repeated."
– Heidi M. Neck, Ph.D. Professor of Entrepreneurship at Babson
Why Entrepreneurial Leadership Matters
Entrenched models of leadership—not the leaders themselves—are failing society. With the right leadership model, we can solve the world's biggest challenges from climate change to poverty and hunger.
Entrepreneurial Thought & Action at Babson
Babson has infused ET&A into coursework at every level—from undergraduate and graduate classes to executive education programs—so that leaders can create, identify, assess, shape, and act on opportunities in a variety of contexts and organizations.
Starting on their first day, every undergraduate Babson student begins to experience ET&A via the Foundations of Management & Entrepreneurship (FME) course. FME is a yearlong course that allows students to develop, launch, and manage a new business venture.
The cornerstone of the Babson graduate experience is being able to practice ET&A in real-world settings. That may mean consulting at home or abroad through the Babson Consulting Experience or The Management Consulting Field Experience. Or it may mean getting feedback from investors on your venture during B.E.T.A. Challenge or Rocket Pitch.
ET&A is infused into executive education programs so that individuals and teams can address organizational challenges—despite change or uncertainty. Babson subject matter experts work across four focus areas: entrepreneurial leadership, entrepreneurship, inclusive leadership, and strategic innovation.
Working with institutions in more than 80 countries, the Babson Academy empowers educators around the world to teach entrepreneurship. Online and in-person programs are framed by Entrepreneurial Thought and Action, giving educators, administrators, and students an increased capacity to recognize and exploit entrepreneurial opportunity.
Learn More About Babson
Dive deeper into Babson's more than 100-year history of entrepreneurship education, plus see where we're heading next.