Entrepreneurs in Residence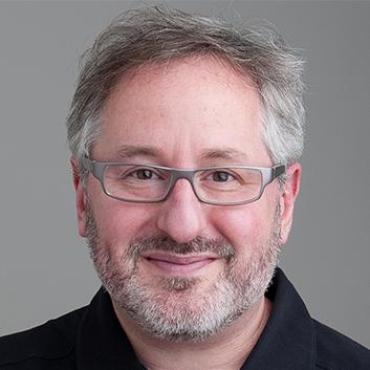 Craig Dubitsky
Blank Center for Entrepreneurship Entrepreneur in Residence
Craig Dubitsky joined Babson as an entrepreneur in residence in 2017. A consumer products serial entrepreneur and founder of hello® products, he is on a mission to make the things we regularly use better and more beautiful, and, in doing so, elevate the everyday. He leads the creative vision at hello, a new kind of oral care, crafted by a small, passionate crew, using naturally friendly™ ingredients. In record time, hello has become the No. 2 natural oral care brand in the United States and has been recognized as one of Inc.'s "25 Companies That Are Changing the World". Prior to hello, Dubitsky co-founded the Kind Group, conceiving eos, a women's personal care brand known for its ubiquitous spherical lip balm. He also has served as the CMO of Popcorn, Indiana, and as SVP of Venture Development at Simon Property Group, leading the initial investment in Method Products, where he served as a founding board member. Dubitsky was named one of Advertising Age's "Creativity 50," Brand Packaging magazine's "Brand Innovators," and The Internationalist's "100 Most Inspirational Marketers in the World."
Lawrence Ganti '97
Blank Center for Entrepreneurship Entrepreneurial Leader in Residence
Lawrence Ganti is a seasoned executive with over 25 years of experience leading companies through transformations, transitions, and scale-ups. He currently serves as the CEO of Fortify, a defense tech startup focused on next generation antenna devices. He recently closed a Series B round of funding which included the first ever co-investment from Lockheed Martin and Raytheon.
Prior to Fortify, Lawrence served as the President of SiO2 Materials Science, where he led the scale-up of the company during Covid-19. While pivoting the company, he secured over $200m in non-dilutive investment from the US Government and subsequently served on the Presidential task force "Operation Warp Speed" as a key operator for the pandemic response. At SiO2, he oversaw a 400% growth in manufacturing capacity and grew sales from $1m to $50m annually.
Lawrence has a demonstrated track record of helping founders and venture capitalists scale their companies. Through mentorship, fundraising, and direct operating, he has raised over $1 billion of capital, launched million-dollar products, created award winning marketing campaigns, structured public private partnerships, and grew companies with award winning record results. Lawrence spent his formative years climbing the corporate ladder at pharma and chemicals giant, Merck. During his 16 year career with Merck, he lived and managed businesses in the US, Europe, Japan, China, India, Middle East, and Latin America. As the CEO of Latin America, he led a team of 3,000 employees driving $1.5 billion in revenues. His exceptional leadership has earned him numerous CEO Awards for Leadership, Business Performance, Talent Development, and Change Management.
Lawrence is an active angel investor. He currently supports founders in the Fashion, AI Software, Deep Tech, AgriBio, Digital Health, and Medical Device sectors. Lawrence serves on the boards of numerous startups; is on the Oversight Committee of Canopy Healthtech and maintains mentoring relationships with former employees and many start-up founders. He is a published author on the topics of Transitioning from R&D to Commercialization and frequently writes for Forbes and FastCompany.
Lawrence started his career in Pharmaceutical Sales for Johnson & Johnson and then did ethnographic research for a joint initiative between McKinsey & Company and Harvard Business School.
Lawrence obtained his BA from Babson College, where he served as Class President and Editor in Chief of the Babson Free Press. He obtained his MBA from the International Institute for Management Development (IMD) in Lausanne, Switzerland. He is an alumni of various executive education programs at Wharton and Kellogg.
Leonard C. Green
Leonard C. Green is a CPA, MBA, entrepreneur, and an entrepreneur in residence at Babson College. He is the founder of The Green Group, an accounting, tax, consulting, and advisory firm, and also is involved in 14 businesses in diverse markets. Green is one of the founders of the NASDAQ publicly traded Blue Buffalo pet food company that is the fifth-largest company in the United States in this category. His other business ventures include commercial and residential real estate, thoroughbred horses, sports teams, other publicly held companies, and several charities. Green also sits on the board of directors and board of advisors for a number of companies and foundations, and was elected a trustee at Babson College in 2013. In the past 15 years, Green has taught two of the most highly rated entrepreneurial courses at Babson College, including The Ultimate Entrepreneurial Challenge. His classes have been featured on CNBC Squawk Box and on ABC networks. In 2001, Green received the Edwin M. and Gloria W. Appel Award for outstanding contributions to the entrepreneurial spirit of academia at Babson College.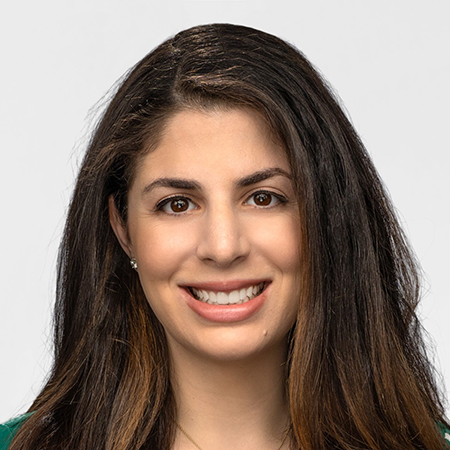 Nina Kandilian MBA'19
KMH Center Senior Fellow
Nina Kandilian MBA'19 is Vice President of Healthcare and Life Sciences Venture Capital Relationship Management at Silicon Valley Bank, a division of First Citizens Bank, where she manages relationships with traditional venture capital firms focused on healthcare and life sciences investments.
Prior to her time at SVB, Nina led product marketing and strategy at digital health startup Orbita. Prior to Orbita, Nina led operations at the MassChallenge HealthTech startup accelerator program helping hundreds of digital health startups scale their companies through meaningful partnerships with corporations and the venture capital community.
Nina started her career in various product and digital transformation roles at the Mass General Brigham health system in Boston, MA. Nina received her MBA at Babson College and Bachelor's degree from Suffolk University.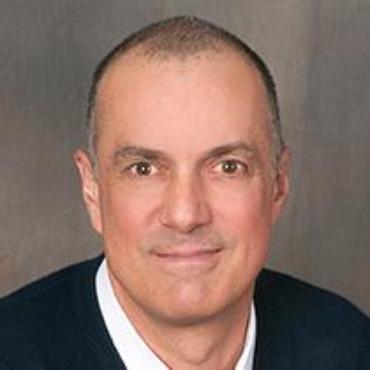 Stephen Martiros
Stephen Martiros '83, MBA'85, P'21 '21 is the founder of Financial Building Blocks, an unbiased, financial education software platform. Previously, he served as the managing partner of CCC Alliance, America's largest private network of single-family offices. He founded Summitas, a cloud-based software company to provide family offices and investment advisors with a secure portal for client engagement. He earned his BS and MBA from Babson College, where he serves on the College Advisory Board, is an Entrepreneur in Residence helping to advance the Bertarelli Institute for Family Entrepreneurship, and is a recipient of the College's Snyder Award for Distinguished Service.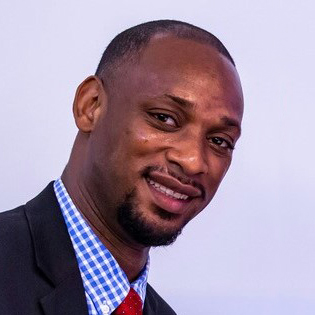 Reginald C. Mbawuike '97
KMH Center Senior Fellow
Reginald Mbawuike is an award-winning innovator responsible for pioneering the applying of artificial intelligence and electronic medical records over a mobile phone platform for reduction of health disparities through live voice and video streams. Due to this innovation, produced in 2013, he was made the Mobile Health Fellow at Harvard University's Faculty of Arts and Science in the Spring of 2014. Here, he introduced this innovation to every doctor at Harvard Medical School and Harvard School of Public Health and assembled the world's premier medical team and tech team for reducing health disparities using telehealth. Reginald is a mobile technology design developer with an emphasis on social venture design, innovation leadership, and strategic communications. He works with clients to develop, synthesize and communicate complex ideas across cultures to create new and more impactful ways of working.
Reginald contributed design, business strategy, and facilitation expertise to clients across a variety of projects with companies like Optum -Beacon Health Options and Bain & Company. His innovation "GIVE mHealth" was highlighted at the Harvard Faculty Club with Kaiser-Permanente's Chief Medical Information Officer, Harvard Medical School's Director of Global Primary Care, and Harvard Medical School's lead doctor for clinical trials ethics. It was awarded at the House of Lords in England, and he was named "Top 100 Healthcare Leaders".
He lectured topics in IT and digital health at Yale, Wellesley, Northeastern, Babson, Massachusetts Institute of Technology, and Harvard University. Most recently, he worked on the behalf of the City of Washington DC in lecturing the Bank on DC program where he worked directly with the FDIC and the SEC on educating finance to underserved members of Washington DC region, presenting with the Head of the SEC. His research has been used by several companies including Bain & Company for over 30 successful projects.
He was CEO Research Associate to Dr. Michael Porter -author of the best-seller "Redefining Healthcare"- at Harvard Business School. Here, he was responsible for new global multi-billion dollar per-annum CEO selection, identification, and industry competitive analysis. The 12 CEOs he selected and produced industry research for subsequently increased revenues by $3.2 billion the following year.
He was Research Associate to Dr. Henry Louis Gates for the Oxford University Press publication which was the foundation of the critically acclaimed PBS program "Finding Your Roots". He also drafted the "tax-free textile clause" to AGOA while serving as the National Chair of the African Growth & Opportunities Act Committee for the Carnegie Endowment for International Peace. He was National Institute on Aging -Startup Challenge Finalist 2022, RESI (Redesigning Early-Stage Investment) -Finalist 2022, won the Health 2.0 -Outstanding Leadership Award 2022, the House of Lords -Euroknowledge Telehealth Leadership Award 2020. He was the US Secret Service Presidential Transition Liaison to the Democratic Nominee for President of the United States in 2004. He also co-authored the Relief for AIDS in Africa bill for Senator John Forbes Kerry in 2000. Along with his honors at Harvard, he has a degree from Babson College.
Rich Palmer
Blank Center for Entrepreneurship Entrepreneur in Residence
With nearly 20 years of experience, Rich Palmer is a serial entrepreneur and AI/ML expert who has created several successful technology companies, built influential products and teams from the ground up, invested in dozens of AI and tech startups, and is an advisor and board member to promising businesses and executives.
Rich rises above the crowd as the former co-founder and CTO of Gravyty, the first and leading company using AI for social good which had a highly successful exit. His focus on helping non-technical organizations understand and adopt AI led to industry awards, patents, publications, and accolades such as the Boston Business Journal's coveted 40 Under 40, a patent for proactive and intelligent communications, and Babson College's esteemed Entrepreneurship Award where he was also a Price Babson MBA Fellow and graduated Summa Cum Laude. He holds a dual major BS from RPI in Economics and Information Technology.
Prior to Gravyty, Rich led product development at Relationship Science (RelSci), a business and nonprofit intelligence platform which raised $120M and was head of portfolio analytics for S&P CapitalIQ's quantitative intelligence team.
As a frequent speaker and educator, Rich coaches on cognitive technologies, innovation, product development, and new venture creation. He specializes in helping companies and startups in non-technical and traditional industries apply emerging technologies to overcome their biggest challenges in practical ways.
He lives in the Greater Boston area with his wife, Brittany, and their dog, Atlas.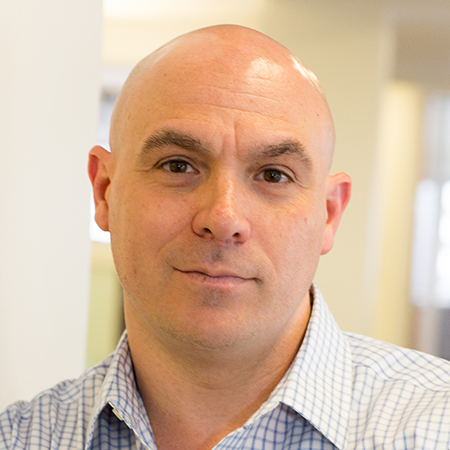 John S. Reale Jr. '98
KMH Center Senior Fellow
John S. (JR) Reale Jr. '98 partners with founders at their earliest stage to build the future. JR founded Integr8d Capital, a seed-stage venture capital firm, in 2017. Integr8d's mission is to help founders realize their vision by building enduring enterprise software businesses.
JR serves as Venture Executive for the Texas Medical Center (TMC), leading the TMC Venture Fund that invests in early-stage digital health and med device startups transforming the future of health. In addition, JR serves as Executive-in-Residence (EIR) for TMC Innovation by being as an in-house resource for startups in the TMC community.
Previously, JR co-founded Station Houston, Inc. (Station), Houston's hub for tech innovation and entrepreneurship, where he served as its CEO from inception through August 2018. In April 2018, Station announced its partnership with the City of Houston and Rice University to develop and launch the Houston Innovation District, now called the Ion. Prior to Station, he worked in early-stage go-to-market roles for two Fraser McCombs Capital (FMC) portfolio companies. He started his career in the financial services industry at Morgan Stanley and JP Morgan, as well as Founding Member of Avalon Advisors, a wealth management and advisory firm based in Houston.
JR serves a variety of civic organizations focused on education and entrepreneurship. JR served as Chair of Mayor Sylvester Turner's Innovation Task Force to develop the City of Houston's strategy and plan to spark the long-term growth of Houston's innovation and technology entrepreneurship economy.
JR serves as an Advisor to SnapStream Media; the Advisory Board for the Rice Alliance for Technology and Entrepreneurship; the Investment Committee for the Cougar Venture Fund at the University of Houston; was the past-President of The Indus Entrepreneurs (TiE) Houston chapter; and mentor at numerous start-up acceleration programs. JR is a Lecturer at Rice University's Jones School of Business focused on management and entrepreneurship. Finally, JR co-founded the Mentoring Initiative at Cristo Rey Jesuit Preparatory High School in Houston (Viva Cristo Rey!).
JR received his B.S. in Finance and Investments from Babson College in Massachusetts. JR and his wife, Kim, are the proud "founders" and parents of their daughter, Juliana, their most important Houston-based startup!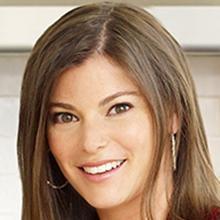 Gail Simmons
Gail Simmons joined Babson in 2013 to work directly with the Frank & Eileen™ Center for Women's Entrepreneurial Leadership and the Institute for Social Innovation to mentor and guide Babson entrepreneurs, especially in designing strategic marketing and communications approaches to their enterprises. Simmons is a trained culinary expert, food writer, and dynamic television personality. Since the show's inception in 2006, she has lent her extensive expertise as a permanent judge on Bravo's Emmy Award-winning series Top Chef. Now in its 10th successful season, Top Chef is rated the No. 1 food show on cable television. Simmons also is host of Top Chef: Just Desserts, Bravo's pastry-focused spinoff of the Top Chef franchise, which aired its second season in the fall of 2011. She joined Food & Wine in 2004 and directs special projects for the magazine, acting as liaison between the marketing and editorial teams on magazine events and chef-related initiatives, working closely with the country's top culinary talent.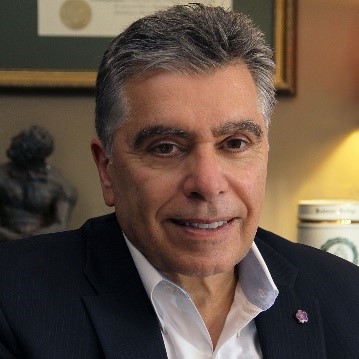 Michael S. Varadian '72
KMH Center Senior Fellow
Michael S. Varadian '72, MBA, JD is an accomplished, national health care leader and innovator, successfully operating at the highest levels of medical technology start-ups, hospitals and health care management, legal and regulatory functions, and health care mergers and acquisitions.
Most recently, he has held comprehensive national and statewide leadership positions in the nation's largest publicly traded community behavioral health provider and was the former Executive Director of RI Department of Health, and RI Department of Behavioral Healthcare, Developmental Disabilities and Hospitals. Prior to that, he was the Healthcare Division Director at the MA Office of the Inspector General, together with senior responsibilities at Boston area academic medical centers, national managed care companies, and strategic national consulting and law firms. His current special expertise is in the innovative health care start-up space, where he is co-founder of two start-ups and advising three additional emerging healthcare technology companies.
Michael has led national pilots in integrated physical and behavioral health care for CMS, as well as a state Medical Marijuana program, and has established and advised statewide Drug Courts in multiple states. He has extensive multi-dimensional operational experience, performed over $1B health care mergers and acquisitions, has national Medicare/Medicaid fiscal, legal, regulatory and quality oversight experience in some of the most innovative health care organizations and environments in the nation. He has presented on health care finance and reform around the world and has been a guest lecturer at Babson College, Brown University Graduate School of Public Health, Providence College and the American University of Armenia.
Michael has been a long time mentor at Babson for the MBA program and has judged multiple entrepreneurial pitch competitions at the college, and has advised multiple start-up companies founded by Babson students.
He lives in Norwood, MA with his wife, Armenie, who is a hospice nurse.
Andrew Zimmern
Andrew Zimmern joined Babson in 2012 to share his experiences and mentorship with Babson students, and play a role in Babson Food Days through a partnership with the Institute for Social Innovation to further innovation in the food system. As the co-creator, host, and co-executive producer of Travel Channel's hit series, Bizarre Foods with Andrew Zimmern, he travels the world, exploring food in its own terroir. From world-class restaurants to street carts and jungle markets, it's all about discovering and sharing the authentic experience. To date, Zimmern has explored food cultures in more than 32 countries, including hands-on experience working with food innovators and food entrepreneurs.