Community Messages
A selection of messages to the Babson community.
Dear Babson Community,
We are nearing the end of another invigorating semester at Babson. With undergraduate exams underway and graduate courses approaching their conclusion, I wanted to extend my warm wishes to our entire community before we join family and friends for the holidays.
In the spirit of the holiday season, I'm reminded of Babson alumnus Tim Ryan's ('88) inspiring 2023 commencement address. Tim's message to the graduating class was to remember that the communities they enter will look to them for love and continuous support.
After a semester full of meaningful interactions, new relationships, and strengthened bonds, I see how Tim's message comes to life within our own community. Here's just a glimpse of the ways Babson comes together: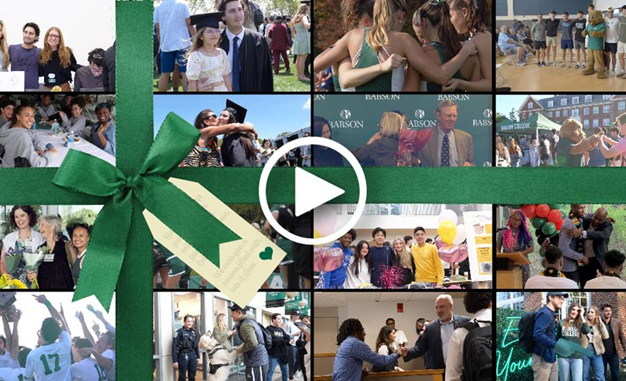 Supporting one another with love is a core belief of the Babson community. From my family to yours, I wish you a happy and safe holiday season and a healthy new year. I look forward to seeing what we'll accomplish in the new year.
With love,
Steve
Dear Babson Community,
I wanted to take a moment to reflect on this semester as we prepare to go our separate ways and celebrate the Thanksgiving holiday with families and friends. It's been busy on campus, and I'm proud of what we have accomplished so far. The energy across our community has been invigorating and has reminded me what makes Babson special.
Our historic Wall Street Journal top-10 ranking and continued placement atop U.S. News & World Report's entrepreneurship rankings are evidence of Babson's leadership position across higher education.
Thought-provoking events enriched our co-curricular experience and brought unique context and perspective on the entrepreneurial process and mindset. The conversation with Shark Tank's Kevin O'Leary and Professor Jack McCarthy taught us that embracing failure is a critical component along the path to success. The keynote address during Global Entrepreneurship Week by Life is Good Co-Founder John Jacobs reminded us of the power of approaching challenges with optimism and opportunity. And the deep scholarly engagement of our faculty instills entrepreneurial leadership skills in our students each day.
Major milestone celebrations like the launch of Babson ELevates—the next phase of our campaign following unprecedented success in eclipsing previous goals of $300, $400, and $500 million—brought friends and supporters from around the world to campus to see how their generosity leaves lasting impacts.
While I'm grateful for these moments of celebration, I know that there is so much more to be thankful for that may go unnoticed. I'm particularly thankful for the many ways that we support one another as we learn, teach, and work together.
I'm also aware that current events and conflicts around the world may leave us feeling uncertain during a time that should be filled with rest, rejuvenation, and thanks. I encourage you to continue to support one another during this break and for the remainder of the semester. Togetherness is something that our world so deeply needs.
Know that I am thankful for each member of our special community. I hope that you have a relaxing and fulfilling Thanksgiving break.
My best,
Steve
Dear Babson Community,
I'm reminded each year that Veterans Day is a day for gratitude. I know that many in our community have family members and friends who have served. Like you, I'm grateful for their service, commitment, and sacrifice.
My family has experienced that commitment firsthand. My sister served in the Air Force, my father-in-law in the Marines, and my father in the Army. My father spent years in the South Pacific and fought in the Battle of Guadalcanal during the Second World War. I appreciated his service when I was growing up, and I appreciate it even more today.

Veterans have long played a vital role in the life of Babson. Throughout the early 1940s, the College closed and was turned over to the Navy Supply Corps School to provide important spaces and resources to train more than 2,000 reserve officers on campus. After the war, many veterans looked to Babson to begin the next chapters of their lives and pursue fulfilling careers. That cohort brought with them a lifetime of experiences and skillsets that enriched the college experience for our entire community.
I am glad that the spirit of this cohort remains with us to this day, with veterans continuing to contribute to our campus. To all those who have served, I offer a sincere thank you on behalf of the entire Babson community.
My best,
Steve
Dear Babson Community,
I'm pleased to share that Babson has once again been named the No. 1 undergraduate school for entrepreneurship by U.S. News & World Report for the 27th consecutive time. This astounding achievement is a testament to our position as the flagship institution in the country for educating entrepreneurial leaders.
We compete in an increasingly competitive market, as others have begun to see the power that entrepreneurship can harness as a catalyst for positive change. The continued growth in entrepreneurship education only validates what we have known from the beginning: The future is fueled by entrepreneurial leaders, and Babson will continue to proudly serve at the forefront in educating, connecting, and mentoring these leaders on their mission to change the world.
This No. 1 ranking adds to our incredible momentum, fueled by the stellar placement by The Wall Street Journal as a top-10 best college in the country. I have heard from numerous members of the Babson community that this ranking truly puts the College in an unprecedented tier, and I could not agree more. This ranking is even more impressive considering the Journal's shift in how rankings are calculated, taking into consideration student outcomes and focusing on graduation rates and graduate salaries. Our students' success has played an important role in this accomplishment, and faculty and staff play a crucial part in helping our students achieve at such a high level. This ranking is made possible by your hard work and dedication to Babson's mission and strategy. Thank you for playing a role in our success.
We've long known that we are pioneers in entrepreneurship and business education—a status that's been reaffirmed by this No. 1 ranking—but today, the world is validating Babson's place as a leader across our entire industry. While our longstanding positions as No. 1 in entrepreneurship at both the undergraduate and MBA levels are accolades that we proudly embrace, the Journal's ranking represents a broader affirmation of the role that each member of our community plays in setting Babson apart from our peers.
This is only the beginning. We look forward to accelerating our leadership position. By thinking innovatively and not seeing any challenge as too large, we can ensure that Babson remains a top destination for students and professionals who seek to change the world.
I look forward to the many ways we will build on this momentum and expand our reach and impact. Know that we could not have reached this remarkable milestone without each member of the Babson community.
My best,
Steve
Dear Babson Community,
I'm proud to share that Babson was ranked as the 10th best college in the country by The Wall Street Journal. This top-10 ranking is clear validation of Babson's strength in the market, not just in entrepreneurship and business education, but across all of higher education.
This ranking represents a significant rise in the Journal's standings, with Babson ranking in previous years just outside of the top 100 colleges in the country. An article accompanying these rankings lauded the measures we take to ensure our students' success in their careers through our core curriculum and key focus on entrepreneurship. Our unique first-year programming created through Foundations of Management and Entrepreneurship played a significant role in our achievement, with a current student noting that the FME experience set Babson apart from other schools she considered.
Importantly, the Journal also recognized Babson for our commitment and achievement related to career preparation, clear proof of the impact of our Center for Career Development and the Arthur M. Blank School for Entrepreneurial Leadership and its Centers and Institutes. This achievement is recognition of the important and intense curriculum that our world-class faculty deliver. Babson alumni ranked 4th in earnings above a high-school graduate's annual salary, just behind MIT, Princeton, and the University of Pennsylvania.
This stellar ranking comes at a time when many colleges and universities are facing steep enrollment challenges and broader questioning of the value of a college degree. It is validating to see that the strategic vision that we created together as a community is yielding clear and definitive results for Babson.
As we well know, the Babson community is perpetually aspirational, never resting on our achievements. Validation of our strength in the market reminds us that we will need to continue to think innovatively and ambitiously. I am grateful for your partnership in these endeavors, and I look forward to continuing to assert our position as leaders in entrepreneurship and business education.
My best,
Steve
Dear Babson Community,
It is an exciting time to be at Babson. We've been busy this summer planning for the year ahead. While markets and society in general prove to be fraught and dynamic, Babson remains poised to continue our ascension as a positive force.
This community is an empowered one, made special by the many different backgrounds and ideas that coexist on campus. We're stronger at Babson because of our diversity of experiences, opinions, and beliefs, which bring with them an opportunity to embrace our differences and learn creative approaches. Babson values you and all that you contribute to this community, our community.
Creativity will serve us well in the year ahead. From the classroom to the conference room and the boardroom, we're continuously thinking of innovative ways to approach tomorrow's biggest challenges. Embrace the opportunity to have an impact on how we learn and work together throughout the year. Step out of your comfort zone. That is when entrepreneurial leaders work best.
As always, there will be roadblocks along the path to success. Remember to be there for your peers and colleagues along the way. We are most successful when we work alongside one another.
I'm excited for the year ahead, and I hope that you are, too.
My best,
Steve