How to Write a College Essay:
The Personal Statement and Writing Supplement
March 31, 2021 | Estimated Read Time: 8.5 Minutes
By Rachel Blakley
Whether you are applying to college through The Common Application or directly from the college's website, you will be asked to write a college essay, sometimes called the personal statement. Here, we will explore how to write a college admission essay you feel proud of by exploring tips from college admissions counselors and looking at college essay examples for admission.
The Basics: How to Write a College Essay
Before we talk about how to write a college admission essay, let's take a step back and talk about the process and how to set yourself up for success.
Start early
It may be intimidating to sit in front of a blank computer page and start writing, so think about gathering your thoughts in a different format. Before you sit down to write, consider taking notes on your phone or on sticky notes around your room as ideas come to you. When you do sit down to write, try laying out your ideas in an outline first and then draft it into complete sentences later. Breaking down the process in this way can be less daunting and will allow you to focus on the topic and the most important part of the essay—YOU!
Schedule time to write
No matter how hard you try, there will always be something that seems more pressing than sitting down to write your essay. As you prepare for your college application process, schedule time into your day to write. Find a quiet, distraction-free space, and write your thoughts down. Whether you just work on a few sentences or you're able to write the bulk of your essay, you'll be glad you set time aside once it comes time to submit your applications.
Read the instructions
This is the most simple yet possibly the most important part of the essay-writing process. You want to read each part of your application carefully, including the essay prompt. If you submit something that doesn't follow directions, the admissions counselors may assume you won't know how to follow directions, and it could affect your chances of getting into your desired school.
The Common Application
The Common Application, known as Common App, is accepted by more than 900 schools, and helps streamline the tedious process of applying for colleges. Information, including your name, address, grades, extracurriculars, and parental employment, will just be entered one time so you don't have to spend extra time inputting this in multiple applications.
It's a good idea to start your Common Application around August 1, when applications open up. This will give you enough time to get all of your background information in and explore any questions you have before you get ready to start your senior year. The essay you will write in the Common App will be used by all colleges you choose to apply to, so it's important to keep your essay broad but specific to yourself.
When you apply via the Common Application you will be asked to write an essay responding to one of seven prompts. Be sure to read each prompt carefully and choose the one that speaks to you the most or the one you feel you have the most to write about.
Editing the College Essay: Dos and Don'ts
Before we get into tips for college application essays, we want to make sure we don't skip over an important step in the writing process. It is essential that you go into your essay-writing process with the expectation that you will write multiple drafts of your essay. Admissions counselors are expecting your best work, so you don't want to submit a first draft.
There are many options when it comes to editing your essay. You can have a parent or guardian read your essay if you feel they are capable of giving good feedback, you could seek outside help from a paid service, and you can ask peers or teachers to help edit your essay. Any of these choices can be a good option, but just be sure to not let anyone overedit your essay. You still want it to sound like yourself.
Things to look for when editing your essay
Edits can be done in a couple of rounds, and while you want to make sure your essay is perfect, that doesn't mean each draft needs to be perfect. Your first draft should get all of your ideas onto paper. Your second draft should sharpen up your ideas and focus on your content. Show, don't tell. Your third and final draft should be checked for grammatical errors, spelling, and punctuation.
When you receive feedback from someone editing your essay, take each suggestion for what it is—a suggestion. The important things to remember are to keep the essay in your voice, the way you would say it, and not to let someone rewrite your essay for you.
College Essay Tips from Admissions Counselors
When you're learning how to write a college essay, it can be helpful to hear directly from the source who will be reading your work. We talked to two Babson College Admissions Counselors: Jared Pierce, Associate Director of Undergraduate Admissions, and Eric Laboissonniere, Assistant Director of Undergraduate Admissions. Here are their top tips for college admissions essays.
"Keep it simple. My favorite essays have consistently been those essays that are about the seemingly most mundane and ordinary aspects of an applicant's life—it is these topics that often showcase a student in the best light."
"Don't write what you think we want to hear, write about YOU—your passions, what excites you, life experiences that have shaped you into the young adult you've become."
"Use the essays as an opportunity to share something about yourself that you may not already have shared in the rest of your application."
"It's all about the hook! A catchy opening line, when used properly, can do wonders for an essay, baiting the reader to hang on the edge of every sentence."
"Don't restrict yourself with the traditional three- or five-paragraph essay. This is a great opportunity to express yourself creatively and take some risks. Structure your essay in the way that you feel will best tell your story!"​​​​​​​​​​​​​​​​​​​​​​​​​​​​​​​​​
"Choose a topic that might not be as easy to see in your application." Maybe you have a hobby that doesn't show up on your transcript. Your essay is the place to talk about that passion and show your authentic self.
"Don't stress."
Babson College essay examples for admission
If you've read all you can about how to write a college essay but you still can't seem to get your writing juices flowing, check out some college essay examples for admission from our recent graduates.
"When it comes to defining yourself, no one knows you better than yourself, so don't be afraid. You don't have to package yourself into an ideal student, because there isn't one; you just have to tell them who you are."​
Writing Prompt: Some students have a background, identity, interest, or talent that is so meaningful they believe their application would be incomplete without it. If this sounds like you, then please share your story.
"...everyone believes the world's greatest lie." A boy asked, "What's the world's greatest lie?" "It's that at a certain point in our lives, we lose control of what's happening to us, and our lives become controlled by fate. That's the world's greatest lie" –The Alchemist.
I was in Mr. Franklin's World Literature class as he brought Paulo Coelho's words to life. For me, there was no one point in which my life became controlled by fate. Instead I believed my life was shaped by my ethnicity and the world I grew up in. Mr. Franklin prompted me to take control of my life rather than let fate, and the world's greatest lie, control who I am.
I had believed fate was the only thing that could explain the near impossibility of my parents falling in love. My dad from Taiwan and my mother from Korea, they traveled separately to Australia to learn English. Neither's English was very good, but they met and found common ground speaking Japanese. A few years later, my mom was wondering what to call her next baby and "Demi" stood out, mainly because Demi has no "l," "n," or "f," so it was easy for both my parents to pronounce.
Demi fits me in so many other ways too. Demi represents how my Korean and Taiwanese sides meet in the middle of the American culture in which I study. As I learned how others saw me, it seemed impossible to find a definite answer for who I am. Half did not mean one foot in two cultures; it meant each foot stepping quickly over the hot coals of each culture; I never fit in anywhere.
In Korea, I am often made aware that I am not Korean "enough." While shopping, store clerks seem to intuitively understand I am not entirely Korean—speaking English to me or turning to my mom to answer questions I had asked. I speak fluent Korean and wondered what "gave me away" as a foreigner; looking in the mirror, I suspected my undyed black hair in a sea of trendy brown hair was the culprit. Surprisingly, once I dyed my hair, I was more accepted as Korean.
Yet, the minute I started to find my bearings in the Korean half of my life, my grasp of the other eluded me. When I returned to Taiwan where jet black hair is fashionable, people negatively viewed my lightly colored hair—leading to the surreal feeling of being treated as an outsider in my hometown. Even my fluent Mandarin was not enough to shake the assumptions of some. Demi, cutting across two cultures, left me with two seemingly incompatible halves.
Eventually, doodling helped me understand how artificial boundaries are. I saw how my creativity often went beyond borders, something instinctive inside me that resisted limitations. During my summer internship with the Bach Institute, a Taipei-based music conservatory, my ability to cross cultures through art found expression in the commemorative T-shirt I designed for performers of the Chelsea Music Festival to mark their trip to Taipei. Uniting the imagery of Taipei and New York in my design allowed me to explore how the cultural forces of Taiwan, Korea, and my American education have shaped my creative expression.​
Growing up between two borders in a world in which everyone else tried to define who I am, Demi has come to represent the whole of me; two sides that may not always be in harmony, but the tension inherent in my identity has empowered me to assert my independence. Mr. Franklin's speech reminded me that half of life is where you come from and the other half is finding who you want to become. When Mr. Franklin finished reading, I realized that I'm the writer of my story—someone who does not believe the world's greatest lie.
"More often than not, seemingly insignificant events or experiences can best exemplify your passions and personality. Instead of just asking 'how' an event has shaped your life, try asking 'why' you have become the person you are today."
Writing Prompt: Some students have a background, identity, interest, or talent that is so meaningful they believe their application would be incomplete without it. If this sounds like you, then please share your story.​
My mother was 15 years old when I was born.
My father has been in prison since my first birthday. He is not coming home.
When I was younger, I would go on the long drive with my father's family to visit him. At first, I enjoyed the two hour long rides; they were adventures. Soon enough, however, those two hours began to feel like two years—I did not want to see him anymore. I did not want to deal with the awkwardness of pretending to be a family and ignoring the fact that he had killed another human being. He was the hero in their stories, but from my mother's tears, I knew soon enough he was much less than the courageous hero they made him out to be.
My father's family could not accept that I wanted to be as far away from their world of ignorance and verbal abuse as possible. I put up walls to keep them out. It seemed everyone did what they thought was best for me, but never once did they ask how I felt. Eventually, I decided I did not want to exhaust myself trying to care for my identity against their expectations. I closed myself off from the world in order to save myself from drowning in the confusion, manipulation, and emotional drama I battled every day.
Over time, this became too difficult. The mental torture of feeling lost in my own mind was worse than what awaited outside of the walls. This past September, I faced one of the tallest and widest walls: my name. For nearly 17 years, I lived with my father's name—"Reyes." I was Angellica Reyes. I am now Angellica Diaz. More aware of my past and the realities of my life, I chose to sever off the only connection to my father I had left, his name. I was now the "villain" of his family's stories. Yet, I believed this action would finally release me from my walls because it would erase my past. I wanted to forget that I had wasted 17 years shutting myself away. All my life I had believed I found strength in silence and reservation. Now, I am deeply ashamed that it took me 17 years to realize vulnerability is the truest measure of our strength and character.
I regret my silence.
I understand now that a name can not fix the void I have created for myself. I know these walls will hold me for years to come, but today I acknowledge that I will always be a product of the past. What matters is I am still searching for that place that exists free from the walls. Today, I do not allow spite or hate to faze me or my visions for the world. I am grounded and balanced. From living in the shadow of ignorance I am now driven to change the lives of others, to inspire with peace and compassion. I am fighting hunger and food waste in my community, I will soon start teaching yoga classes to underprivileged children, and I hope to start a healthy lifestyle education program at my local youth center.
My confidence stems from the understanding that as an active agent, the world I envision is the world that will be. I am still breaking through a world blocked behind walls but no longer do I wait for the world to change. Every day I challenge my family's categorization of my place in the world.
Today, I will not wait for anyone's approval. I am not coming home.
"If your essay is taking you awhile to write: stop. Your brain is letting you know that you have selected the wrong topic to write about. The essay should flow, from your mind to your fingertips, with ease."
Writing Prompt: Some students have a background, identity, interest, or talent that is so meaningful they believe their application would be incomplete without it. If this sounds like you, then please share your story.​
My name is Oussama. Yes, it is pronounced Osama. Growing up with this name, especially post 9-11, was not easy. Although it's spelled differently, the reaction produced is still the same. I will always remember the painful first days of every new school year, but I particularly recall my first day of eighth grade. I dreaded morning attendance. As the teacher moved down her roster, past the L's and the M's, my heart thumped furiously. With the O's looming closer, I wanted to grow smaller. When she got to my name, she paused for what seemed like an eternity. A look of confusion crossed her face, and then her mouth writhed in a feeble attempt to say my name: Oussama Ouadani. I meekly mumbled a "here." Shocked, all of the students swiveled in their seats to gawk at me, and a few muffled snickers arose from the edges of the class. Eyes probed my Algerian features, and I sat with cheeks ablaze, wondering what they made of me. I remember going home and crying, wishing that I had a "normal" name, or at the least, a middle name I could use. It became so unbearable that I even questioned my parents' choice to name me Oussama. Looking back, I realize that these awkward days of school have revealed a great deal to me about human nature.
My name in Arabic means the lion, the brave. To others, I've found out, it may mean a whole host of things. I work at Staples, where I wear a name badge that openly states who I am. I get different reactions to it each day. Some people get nervous as a result of my nametag. They glance at it surreptitiously, and then delicately look back at me. Some people are more blatant about it and stare, shamelessly, at my nametag. Some question it, curious about its pronunciation and its roots. Some try to sympathize with the troubles my name has brought me. But then there are those, a very select few, who simply call me "Oussama." Even though it is such a basic form of respect, it always catches me off guard. It makes me feel normal. I don't want people to be afraid of my name, or falsely sympathize with me. I simply wish to be me.
Although my name has been an object of hardship, it has also been my greatest teacher. It has put me in positions characterized by emotions ranging from irritation to humiliation. However, I believe these situations have served as the catalyst for my growth in character, and as result, I am a more resilient person. The fact that I no longer want to change my name proves this. My name also acts as a portal through which I can empathize with others. I grasp what it means to truly respect someone, to the core, so they feel important. I appreciate what it means to feel ostracized. I know what it's like to be shamed by others, and how it feels to reject your own name, your sole identifier, your individuality. Being laughed at has taught me not to laugh at others. Being shunned has taught me to open my arms to others. Being pitied, I've learned not to pity others. I try my best to consider the struggles of others, and why their actions and words may be the product of a storied past. I sympathize with the shy, the loud, and the attention seekers. It has allowed me to acknowledge that potentially everyone has a secret fear or personal struggle that I might not know about. My name is an integral component of who I am, for not only does it reflect my cultural heritage and lend me a visionary quality, but it also represents an eternal gift from my parents.
"My advice to prospective students is to really think about what your application is missing—​what you can write about that brings personality to all the parts the evaluators have in front of them. The essay is your chance to give evaluators some insight of who you are, not only as a student, but as a person."
Writing Prompt: Some students have a background, identity, interest, or talent that is so meaningful they believe their application would be incomplete without it. If this sounds like you, then please share your story.​
Christmas has always made me happy. The mountains are glossed by snow as the nearby branches hang low from the weight of the recent blizzard. The smell of fresh Maine pine trees and burning wood fill the crisp air. My family decorates the tree humming along to James Taylor's Christmas album. But above all else, at the focal point of every Sheehan Christmas, is my favorite Christmas movie, It's A Wonderful Life.
The movie follows the life of George Bailey, who, after many years of selflessness runs into a financial crisis. As George begins to act out, family and friends ask God to help him through his tough times. In response, God sends an angel named Clarence to sort out the issue. George asks to see a world in which he was never born to which Clarence reluctantly obliges. In this new George-less world, George witnesses a dreary, alternative universe in which all of his family and friends lead miserable lives. Seeing this allows George to see how important his life actually is and he begs God to let him live again. The story is meant to show people what is truly meaningful in life—that, whether they realize it or not, one person's actions can cause a positive ripple effect in the lives of so many.
To say this movie is my personal Bible is an understatement. It's A Wonderful Life has been the centerpiece of many dinner conversations and family gatherings. I try to bring it up as often as possible because it gives me an appreciation for the lives of those around me. Each person's life touches so many, and when that person isn't around, there's an awful hole that can't be filled.
Certainly there are other influences in my life, but none have quite affected my definition of what it means to live well. I have the choice to be an integral part of everyone's life. The movie particularly made me curious about people's passions and caused me to do a lot of self-reflection. I couldn't remember the last time I asked the people closest to me what it was that made them happiest; I couldn't tell you their favorite things, or much about their personal lives. These were some of the most important people in my life and I couldn't even understand why they were the way they were. There's a difference between knowing someone on the surface and truly knowing who they are. It's A Wonderful Life encouraged me to delve into the lives of those around me.
There's a line from another great movie, Patch Adams, that says: "Our job is to improve the quality of life, not just delay death." The message resonates well with what It's A Wonderful Life did for me. It's easy to get caught up in our personal lives and not worry about the surrounding world. But what's easy is not always what's best. My biggest fear is to have the opposite effect that George Bailey had—If I were to not be a part of the world, that nobody's life would be different. So I've dedicated my life to making sure that every day I seek to improve the quality of life of those around me.
Every person I've met, every relationship I've had, every hello I've said, my actions stem from the lessons I've learned in It's A Wonderful Life. I now realize that I can have a serious impact on the lives of those around me. I'm more curious, I'm more engaging, I'm more positive in my relationships with other people all because of a two hour and fifteen minute Christmas movie. Every year, as the snow begins to fall, as the temperature drops, as I set up my family's nativity scene, I can't help but feel excitement knowing that it's time to watch It's A Wonderful Life again, the movie that changed my life.
The Babson Writing Supplement
When you apply to Babson with The Common Application you will be asked to submit a writing supplement in response to the following prompt:
Your moment has arrived. Share with us the moments or experiences that have led you to apply to Babson College.
You are invited to respond to the writing supplement with either a traditional essay (500 words maximum) OR a one-minute video. Whichever you choose, no preference is given to either format in admission decisions.
Babson College supplement examples for admission
We asked the admission staff to select some of their favorite essays. We hope they will provide inspiration as you craft your stories.
"It is so important to be true to yourself and speak from your heart. The admissions officers don't want to hear y​our resume, but what makes up YOU."
Writing Prompt: Your moment has arrived. Share with us the moments or experiences that have led you to apply to Babson College.
"Your vision defines you. Make sure you share your own voice and your own personal vision. Your supplement is not about creating the most interesting story. It's about voicing your own."
Writing Prompt: Your moment has arrived. Share with us the moments or experiences that have led you to apply to Babson College.
"How does this little devil open?!" My father glanced at the closed tupperware, then at my mother. My mother laughed as she sarcastically replied: "I don't know, Gawgela!"
Gawgela is an Arabic slang verb for googling something. It was the first time I had ever heard that word in context. I froze. As my mother said Gawgela a few more times, all I heard in my mind was "Eureka."
6 months later, I was one of the youngest business owners in my beloved country Lebanon.
Neither the Tupperware nor my father's inability to open the Tupperware, however, had anything to do with my business idea. My idea was triggered by the simple word Gawgela. After I heard it, I found myself creating the first customized web-based guide to "Google" attractions and sites in Lebanon.
I strive to take every word around me as an opportunity. I strive to take every word around me as an idea that I can execute. Today, entrepreneurship is not perceived as a career choice in my country, but with Babson, I will be able to change that.
Babson for me is the perfect setting for applying creative thinking in interdisciplinary fields. The reason I am mentioning interdisciplinary fields is because beneath my passion for Business and Innovation comes a passion for Music. Babson is my opportunity to nurture my admiration for both fields.
I find that the field of music is fortified by the field of entrepreneurship, which is why I aim to experiment with new ideas to make music more accessible to people and more practical to musicians.​
During my journey at Babson, I see myself stepping on the stage of the Carling-Sorenson Theater with the Babson players, aiming to grow my vocal and theatrical capacities. I see myself sitting on the stool in front of the black Yamaha grand in the Glavin Family Chapel, composing an instrumental piece of music. I see myself discussing Dr. Caroline Daniels's research on entrepreneurial strategies in the Future Trends and Entrepreneurial Ventures course. I see myself integrating Sir Eric Palson's User Interface strategies in my web-based startup Gawgela. I see myself at Babson.
It is only most fitting to end with the common saying that we Lebanese have what is called Joi de Vivre, or "Joy of Living." The Lebanese people have witnessed immense tragedy, and yet always found their way through. The Lebanese grounds have inspired me and taught me everything I know. Today, I strive to learn and innovate in order to develop them. I will use my Babson education to learn, to innovate, to lead, to invent, to impact, and to serve.​
Babson is my challenge to become the Entrepreneur and the Musician.
"Remember the moment when you knew Babson was your perfect fit. Write enthusiastically, share your ideas confidently, and imagine yourself on campus. Show Babson who you strive to be."
Writing Prompt: Your moment has arrived. Share with us the moments or experiences that have led you to apply to Babson College.
I immediately smiled at the sight of my favorite board game. Babsonopoly. I love the combination of strategy and luck in this traditional family pastime. Seeing this on the wall in the admissions office gave me immediate comfort; I knew I was home. Babson College presents itself unlike any other college. I can picture myself on campus interacting with students who appreciate challenging themselves like I do. I was surrounded by sophisticated and mature individuals, and my entrepreneurial passion was exploding. The opportunities at Babson are the epitome of my dream school and even exceed my expectations. The close-knit environment, purposeful group work, and freedom to develop the direction of my career all in one place will be my favorite four years.
It is natural for me to be in a small class where more than one language is spoken. I am accustomed to discussions with diverse viewpoints, open minds, and where differences are seen as advantages. I embrace my cultural uniqueness, and I will add my voice to the community. I can't imagine not continuing this in college.
While walking around Babson's campus, my tour guide articulated she is in classes for a set number of hours per week, and the rest is hers to manage independently. Just like her, I balance my busy schedule. And then, as we passed the Bloomberg Terminals, I saw students working diligently. I could envision myself sitting with them evaluating the stock market and predicting trends.
I thrive when my peers share the same drive to succeed as me. I want to be surrounded by students who take on challenges and have a desire to learn. Babson's Foundations of Management and Entrepreneurship course immediately captivated my attention. I picture myself brainstorming ideas, making adjustments, and contributing my style to the team. I believe knowing who you are and what you stand for is essential to running a business. My perseverance and ambition will contribute to the process of my FME company. Giving college students the opportunity to be founders of a startup and run it themselves is an amazing gift of responsibility. Babson recognizes the potential of their students, and FME is a great way for young entrepreneurs like me to find our place in the business world and learn from our mistakes. I am capable of this challenge and will conquer it with tenacity. I will bring my dedication, commitment, and innovative skills to Babson College.​
Now it's my turn to pass go and collect my Babson acceptance letter. I've found my next challenge.
"Tell a story. In doing so, show who you are, what you want, and why you want it."
Writing Prompt: Your moment has arrived. Share with us the moments or experiences that have led you to apply to Babson College.
Mission: Possible
"Your mission, agent, should you choose to accept it: infiltrate the business sphere, and weed out any injustice you find." The communicator crackled to life unexpectedly.
I jumped, hurriedly checking the new mission file. 'Objective: Infiltrate and investigate a region of high business activity for unscrupulousness.'
The voice from the communicator continued, "Your base of operations will be at Babson College, where you will train and report to your fellow agents and me."
Upon mention of my meeting point, images of tall, stoic-looking men in dark business suits, chanting the creeds of Wall Street and the NYSE, paraded around my mind. My brows furrowed. "But why is Babson my base of operation—aren't they a capitalist hub themselves? Wouldn't I do much better in a small liberal arts school dedicated to humanities and social justice?"
The voice sighed. "Why not Babson? It's the ideal place to learn the actual tools of the trade from professors who are passionately dedicated to teaching. Perfect for specialty training, wouldn't you say? And—"
"And great for blending in. Who would suspect that advocates for change in the business world be based in a prestigious business school?" I relaxed a bit, my own words resonating around my mind. It seemed like a worthwhile mission, no doubt, but I still had a few qualms. "Isn't a name like Agents of Social Change a bit obvious though?"
Once again, the voice wasted no time correcting my misgivings. "That might be our official name, but we operate under a number of alias organizations within Babson. Some of our top agents are professors of justice, citizenship, and social responsibility. We also have a group of agents under the Office of Faith and Service, among other clubs and activities. In that sense, we're not exactly very covert at Babson, if that's what you mean."
"So Babson isn't just a base of operations for future corrupt entrepreneurs, huh?" "No," returned the voice, flatly.
Finally, it all came together. This mission sparked the same passion that I felt when I first had thoughts of becoming an agent. The desire to develop a positive influence on the business world, to examine why income inequality and the wage gap were so prevalent in the society, to help rectify these pervasive issues instead of simply recognizing their injustice. I want access to the tools that can more readily put my aspirations of understanding and improving the lives of the underprivileged into practice.
I want to find a place, as an economically liberal girl, in what is otherwise perceived as a prestigious institution accessible mainly to conservative men. I want to prove that I can wield my privilege to fight the inherent justice that afflicts the less-fortunate.​
Am I ready for this? I steel my nerves and speak. "Mission accepted."
Good Communication Skills Are Critical to Your Success
Whether you've come here to learn about how to write a college essay or to learn more about Babson College's admissions process, we encourage you to check out Babson's one-of-a-kind education that balances action, experimentation, and creativity. From day one, students learn by doing through immersive, hands-on experiences that complement our innovative, rigorous academic curriculum.
Effective communication is critical in business. Babson offers highly regarded courses in writing and public speaking to prepare our students for the challenges of the business world so that they are best equipped to lead.
Learn more about Babson College admission requirements.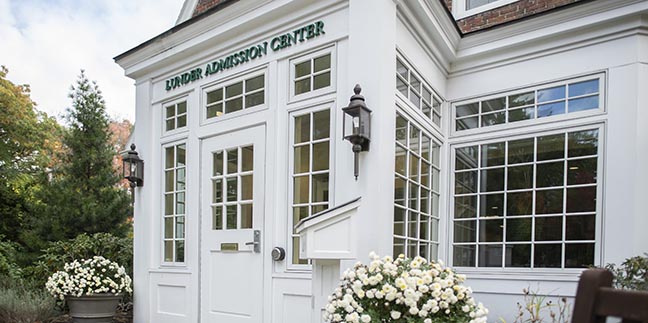 Take the Next Step Today!
You May Also Be Interested In: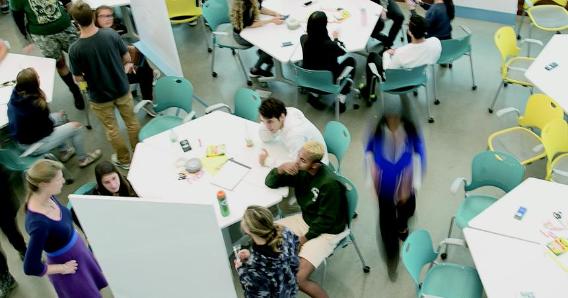 Looking for more guidance? We've compiled our best advice on college admission, career planning, and more to help you get your questions answered and start your journey.
About the Author
Rachel Blakley is a copywriter and digital marketing professional. An alumna of Purdue University, she has worked with startups, associations, direct-to-consumer businesses, and B2B brands across the country to improve their content strategy.
Like this article? Have a suggestion? To contact our team with comments or article ideas, send us a note at news@babson.edu.