Entrepreneurial Mindset
An Entrepreneurship Course for College Students from All Disciplines
An entrepreneurial mindset doesn't just require critical thinking skills—it is an outlook that combines the ability to find or create new opportunities with the courage to act on them.
Through the Entrepreneurial Mindset course, students can deepen their innovative and creative thought and action practice with the help of techniques developed by expert faculty members at the No. 1 college for entrepreneurship in the United States. This entrepreneurship course empowers students to navigate uncertainty and ambiguity, while also embracing new ventures that arise under such conditions.
Developing an entrepreneurial mindset requires practice, so this course encourages action, learning, and building in order to begin developing the courage to act on entrepreneurial opportunities in the future.
Registration Deadline
TBD
Learning Objectives
Differentiate between entrepreneurial and managerial thinking
Explore Babson's signature Entrepreneurial Thought & Action® (ET&A™) methodology
Practice shaping ideas into bold opportunities
Develop the confidence and courage to act outside your comfort zone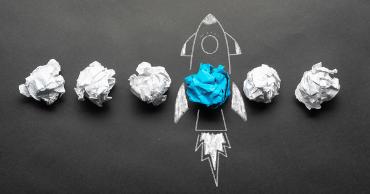 How to Generate Ideas That Work
Explore award-winning Babson professor Heidi Neck's research on the IDEATE method, a toolkit to help students grow their opportunity generation skills.
Who Should Attend
This course is designed for bachelor's degree students from all disciplines who want to develop an entrepreneurial mindset and learn how to create and identify new business opportunities.
Upon completion of the program, students will receive a certificate of participation from the Babson Academy.
This interactive online course consists of five collaborative online live sessions, and four hours per week of independent assigned work through Babson's Canvas platform. All live sessions will begin at 9 a.m. ET.
Faculty
This program is led by Eliana Crosina, PhD, Assistant Professor in the Entrepreneurship Division. She holds a Bachelor of Science in Business Administration and a Master in Business Administration from Babson College, as well as a Master of Science and a Ph.D. in Organization Studies from Boston College. Prior to academia, she worked in the for-profit sector as an investment banker, as well as in the not-for profit sector, managing international development projects.

Crosina's research interests lie at the intersection of identity, entrepreneurial behavior, and cognition. She tackles these issues through largely qualitative methods in two main research streams: (1) examining novel processes of identity; and (2) exploring organizing dynamics in nascent entrepreneurial contexts. Her recent research includes a study of former Lehman Brothers' bankers career experiences after the demise of Lehman Brothers; an ethnography of first time founders in the process of launching their ventures from the same coworking facility; and a longitudinal field study examining the development trajectories of nascent entrepreneurial firms.

Her work has appeared in outlets including the Academy of Management Journal, the Annual Review of Organizational Psychology and Organizational Behavior, and Harvard Business Review. In 2016 her dissertation research was awarded a fellowship from the Kauffman Foundation.
How and when will I have access to the course materials?
Course materials are provided via Canvas, Babson's online learning portal. Materials will be made available to participants approximately one to seven days prior to the first live online session, depending on the amount of pre-work that participants are expected to complete in advance.
Where can I find the schedule for the days and times of the live online sessions?
The schedule will be sent to registered participants in the registration confirmation email (see the link in your confirmation email to the EVERYTHING YOU NEED TO KNOW document).
Do I need to join the virtual sessions live? Will they be recorded?
We highly recommend that participants join the live online sessions. It is an opportunity to ask questions, participate in rich discussion, and learn from the experience of your program peers. Session recordings will not consistently be available, and as such, it is expected that participants engage live in the virtual sessions.
What technology do you use for the live online programs?
Canvas, Babson's online learning portal—course calendar, readings, pre-work, faculty bios, presentations and post-session recordings are posted here.
Video-conferencing Platform—we will use a virtual meeting application (like Webex or Zoom) that allows you to see and communicate with other participants simultaneously and in real time. Your instructor can share documents and interactive media, invite participants to share content, and engage with you in real-time participation. Links to sessions and more information will be provided on Canvas.
What do I need to participate? How do I prepare for the live online sessions?
Live sessions will be delivered via WeChat and Zoom.
Prior to each virtual session, please ensure you are prepared with the following:
A computer/laptop with a webcam (built-in or external camera) for optimal viewing, but you may also join from a tablet or cellphone.
Internet connection or cell hotspot
Operating system: Windows: 7,8.1, or 10; Apple: OS 10.9 or higher
Recommended browsers for optimal experience: HIGHLY RECOMMEND Google Chrome. Internet Explorer 11, Firefox 52, Safari 11 are not as optimal but should work as well. (Microsoft Edge, Internet Explorer 8, 9, 10, and Safari 7 are not recommended.)
Headset with microphone (recommended but optional)
Test your connection, audio and microphone by joining a Zoom test meeting.
What happens if I have technical issues?
Additional, detailed instructions will be provided on Canvas. Babson staff will be online and available to assist you, and will identify themselves during each live online delivery. Contact the staff via the chat function for help, or email them if needed. Contact information is available in the EVERYTHING YOU NEED TO KNOW document.
How long will I have access to the online materials?
Course materials on Canvas will be available for six months following the completion of the program.
When is payment due and what types of payment do you accept?
Payment is due in full at the time of registration. Babson accepts Visa, MasterCard, or American Express.
Do you offer discounts?
Discounts on Babson Academy courses are available for the following:
Alumni of Babson College (undergraduate or graduate)
Babson Collaborative members
Groups of three or more registering at the same time
Please email BabsonAcademy@babson.edu for more information and for discount codes before registering. In addition, please note that discounts cannot be combined.
Do you offer online programs for large groups from the same company?
Yes, we can customize a program to your company's specific needs from our diverse certificate and courses portfolio. Please email BabsonAcademy@babson.edu for additional information.
What will I receive upon completion of the program?
Each program participant receives a certificate of completion. We invite participants to add the program to their LinkedIn profile. Note that a certificate will not be provided if there is insufficient evidence of participation.
Do you have translation for non-English speaking participants?
We do not offer translation in our programs. Although we do not require the TOEFL, all Babson Academy programs are taught in English, so it is a prerequisite that you speak, read, and write English proficiently.
Where can I find information for in-person programs?
Explore Babson Academy's full suite of programs.
What is your cancellation policy for live online programs?
Registration changes must be requested in writing to Babson Academy.
If requested 30 days or more prior to the program start date:

Cancellations receive a 100% refund
Substitutions* are allowed, subject to a $250 administration fee
One-Time Transfers* allowed subject to a $250 administration fee, to be utilized within a one-year period

If requested 8-29 days prior to the program start date:

Cancellations receive a 50% refund
Substitutions* are allowed, subject to a $250 administration fee
One-Time Transfers* are not allowed

If requested 7 days or fewer prior to the program start date:

Cancellations do not receive a refund
Substitutions* are not allowed
One-Time Transfers* are not allowed
*Substitutions and transfers are subject to approval to ensure that participants and programs are suitable.