Full Time MBA
Whether you want to start a new venture, switch careers, or advance in your current organization, the one- or two-year MBA will help you get there. Both options will arm you with the #1 ranked MBA in entrepreneurship and the entrepreneurial leadership skills needed to make an impact in business, in your community, and around the world.
#1
MBA in entrepreneurship for 30 consecutive years
U.S. News & World Report
#1
for entrepreneurship Northeast Graduate Program
Entrepreneur Magazine, The Princeton Review, 2023
#3
MBA Globally for Career Progress
-Financial Times, 2022
"Business as Usual" Has No Business Here
At many top institutions, lectures don't move past the lectern. But, at Babson, our professors are practitioners. Each year, more than 80 partner organizations bring their real-world challenges to class, giving you consulting opportunities. You'll meet with business leaders locally and abroad and workshop your startups in the classroom.
When you graduate, you not only have an expanded network of high-performing peers from around the world, but you also have tangible examples of problems you've solved for real organizations. Whether you want to launch a startup, take a family business into the next generation, or innovate within the world's largest companies, you can apply your entrepreneurial mindset to manage risk, navigate uncertainty, and explore ambiguity.
No GMAT/GRE? No problem. There is no GMAT/GRE requirement for 2024 entry.
Duration
12 and 21 Month Options
Next App Deadline
1 Year: January 10
2 Year: January 10
Test Requirement
No GRE/GMAT Required
Avg Work Experience
6–8 Years

2 STEM MBA Concentrations
Quantitative Finance and Business Analytics and Machine Learning
Two STEM-designated concentrations allow international students to apply for 36 months of OPT vs. 12 months of OPT for students in non-STEM programs.
Babson MBA Curriculum
The Babson MBA is 45 credits whether you opt to complete it in one or two years. All MBA students earn their first 15 credits via the nine core courses, including real-world learning. One-year students complete the program in 12 months, while two-year students earn their MBA in 21 months.
The rest of your MBA consists of electives. Choose from seven concentrations, or seven intensity tracks, in addition to experiential learning opportunities, that enable you to focus on areas of interest. Our small size means that students, faculty, and career advisors co-create a tailored experience that helps each student achieve their professional goals.
Leading Through Opportunity and Design
Entrepreneurship
Strategy
Financial and Sustainability Reporting
Managing People and Organizations
Leading Through Innovation and Growth
Business Analytics
Marketing
Operations and Information Management
Finance
Babson Consulting Experience
Active, project-based work with a client partner
Specialize and build skills in a variety of areas, including:
Machine Learning Methods for Business
Business Strategy and Game Theory
Artificial Intelligence for Business Decisions
Disruptive Change and Enterprise Transformation
Food Entrepreneurship
Leading Business Turnarounds
Leading for Social Value
Negotiations
New Venture Creation
Real Estate Investment Fundamentals
Experiential learning is part of Babson's DNA: More than 80 partner organizations bring their real-world challenges to class. Students consult with client companies, meet with business leaders locally and abroad, and workshop their startups in the classroom. Here are some of the signature experiences you can look forward to during the Babson MBA:
Combine learning inside and outside the classroom. Intensity tracks, typically a series of courses, provide additional opportunities for experiential learning.
Science, Technology, and the Enterprise (STE)
Seven concentrations allow you to specialize in specific academic areas, including:
One Year MBA vs. Two Year MBA
With Babson's Full-Time MBA, you have the flexibility to pick and choose from more than just electives, concentrations, and intensity tracks. You're also able to select the pacing that works best for you and your schedule. Discover the main differences between Babson's one and two year MBA programs:
| | One Year | Two Year |
| --- | --- | --- |
| Duration | 12 months | 21 months |
| Pace | Take electives over 2½ semesters | Take electives over four semesters |
| Summer | Take a full course load | Land internships, take classes, and participate in Babson's startup accelerators |
| Start Date | May | Late August |
Babson's MBA program provided me with new lenses, frameworks, and practical applications to look at problems from a variety of perspectives and a constant reminder that solutions are forever evolving.
JerDrema Virginia Flynt M.Ed, MBA'22
Four Learning Goals
Babson's Entrepreneurial Thought & Action® methodology prepares you to become an entrepreneurial leader so you can address the greatest challenges of business and society, including innovation, growth, integrated sustainability, and globalization. Whether you're making an impact within an established organization or starting your own venture, your increased self-awareness, expanded mindset, and refined skill set will allow you to create both economic and social value.
This experience is guided by four learning goals.
Collaboration
Collaborate with and learn from others to accomplish a common goal or create an original work.
Leadership
Lead people to work toward shared goals with consideration of the ethical implications of their actions.
Communication
Develop and express ideas strategically, through written, oral, and visual formats, to a specific audience for a desired purpose.
Problem solving
Analyze and assess ideas and data to make decisions and recommendations appropriate to situations and stakeholders.
Varied Perspectives Drive Your Success
Diverse backgrounds and experiences make our environment richer and help us acquire new ways of working. Learning alongside students from all over the world, you'll gain exposure to unique perspectives that strengthen your own. And, because you take your core courses with your cohort, you and your classmates form strong, lifelong connections.
After Babson, the global network of 44,000+ alumni across 128 countries will have your back throughout your career.
Domestic students of Color
8
Average years of work experience
Domestic students of Color
6
Average years of work experience
Optimize Your Potential with Babson's Full-Time MBA
Whether it's launching a venture, changing industries, or accelerating your career, a Babson degree will help you move from where you are to where you want to be.
Full Time MBA alumni are making an impact across organizations and industries, earning an average of $147,595 three years after graduation. Employers hiring full time MBA graduates include Accenture, Boston Children's Hospital, CVS Health, Deloitte, Examity, Huntington National Bank, Ocean Spray, Partners Healthcare Innovation, PwC, Sensata Technologies, Staples, Vertex Pharmaceuticals, and more.

$142,871
Average salary 3 years after graduation
-Financial Times, 2022
MBA Students who accepted a job offer 3 months after graduation, 2022

Flex Your Entrepreneurial Leadership Skills
Professional growth happens just as much outside the classroom at Babson as it does inside. Join one of 25+ student-run organizations—hold a leadership role or join as a member. Pitch your business idea (with $100K on the line) during ePitch, help organize signature Babson events that bring world-class speakers to campus, or get involved with Babson's renowned centers and institutes.
Explore Student Life
Initially I sought Babson because of its highly regarded reputation in entrepreneurship. What sold me was the community. I came for a visit, sat in on a class, had lunch with professors and students, and immediately realized that they were the kindest, most diverse group of people and personalities I had ever been around. I wanted to experience more of that and get a phenomenal education on top of it.
Sarah Stefanon MBA'21
Looking for Advice?
We've collected our best graduate school advice to help make the process of deciding between programs a little easier.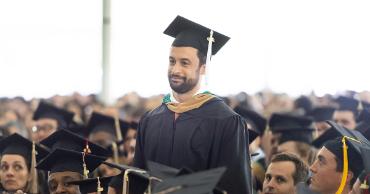 The Big Question: Is an MBA Worth It?
In a word: yes. But ultimately, the decision is a personal one. See what Harvard Business Review, The Washington Post, and others have to say about the value of this degree.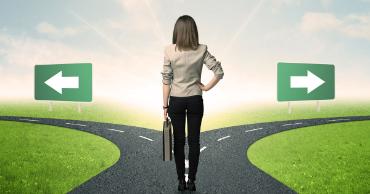 Master's vs MBA: How Do I Decide?
Pursue the right advanced business degree for your career goals. The decision often depends on years of professional experience, if you want to change career paths, and more.
Act on Your Ambitions
With small class sizes, hands-on learning opportunities and customizable degrees, you'll be able to get from where you are to where you want to be. Start or continue your application at Babson today.