How to Use
Acceptance Rate and Class Profile

to Guide Your College Search
June 5, 2021 (Updated September 14, 2022) | Estimated Read Time: 9 Minutes
By Kate Sitarz
When you're looking at colleges, you may see some tout low acceptance rates and others merely mention the acceptance rates. (And, some may not mention it at all!) But, what do college admission statistics, such as acceptance rates, really tell you about a college? Here's what you need to consider when using data to inform your college search.
How Are College Admission Statistics Calculated?
First things first: it's important to understand what types of data you may encounter and how to use it to guide your search.
A college's admit, or acceptance, rate is one of the most looked at college admission statistics.
An acceptance rate is the number of students accepted to a college divided by the number of total applications. So, if a school admitted 2,500 students and received 6,000 applications, the school has a 41.6% admit rate for that year.
Other statistics are more straightforward, like the range of SAT and ACT scores. For example, schools may give a score range for the middle 50% of students.
You also may look at class profiles. This data, including the percentage of men, women, first-generation students, states and countries represented, and more can reveal the level of diversity at a given institution.
Finally, look for outcomes. Look at data like graduation rates and employment. Many colleges report the percentage of students who end up graduating, calculated by taking the number of graduates in year four divided by how many originally enrolled with the class in year one.
Also, look for the percentage who are employed, pursuing additional education, or participating in service within six months of graduation. Often, this statistic is self-reported, in that it relies on students answering college surveys.
How college admissions statistics can inform college rankings
Some of these statistics are used to calculate rankings. For example, U.S. News & World Report uses factors like graduation and retention rates in its rankings. Other factors include graduate indebtedness and undergraduate reputation (based on a peer assessment survey). These factors are all weighted differently.
Other rankings, such as PayScale's return on investment rankings, take into account statistics such as how much a graduate from a given school can expect to earn over 20 years. Read more about the methodology for PayScale's ranking.
This ranking allows you to understand which schools may be better investments than others. The Babson undergraduate school, for example, has been ranked the #1 private business school for ROI every year from 2014 through 2020.
Factors that Impact Acceptance Rates and Class Profiles
According to U.S. News & World Report in 2021, the average acceptance rate for all colleges reporting their data to the publication was 68%. There were even several schools—22—that accepted 100% of applicants.
Babson, like many schools, maintains a relatively consistent admittance rate year after year. Jared Pierce, Director of Undergraduate Admission, points out that leadership changes or new policies may influence the acceptance rate and how much emphasis is placed on the metric.
"The times it can really shift and change is if a school admits students from the waitlist," he explains. With many students who are waitlisted potentially accepting offers at different colleges, it can increase the number of students an institution needs to admit to reach the number of students they hope to enroll in a given year.
How test optional policies impact college acceptance rates
Test-optional policies also can increase the number of applications schools see. Pierce notes that these policies can make programs more accessible. "Students think, 'if testing isn't a requirement, that may let me reach for schools that wouldn't have been an option before.' "
For the 2020–2021 admission cycle, IvyWise reports that 72% of colleges went test optional, with many opting to keep those policies in place for the 2021–2022 admission cycle (including Babson). This stands to impact admit rates: if a school receives 7,000 applications instead of 5,000 in a "normal" year, but still plans to enroll 2,500 in a given year, the increase in applications can make it appear more selective.
How to Use College Admission Statistics to Guide Your Search
It's best to look at any data within its greater context, especially if you're going to use it to influence an important decision like where you'll submit college applications.
For example, when looking at the school's acceptance rate, you'll also want to look at the total number of applicants. If a school has a 10% acceptance rate, but received 50,000 applications, that's still 5,000 students who are admitted. But, if a college has a 50% acceptance rate and only receives 10,000 applications, that's still 5,000 students admitted.
The acceptance rate, average test scores, and class profiles don't tell you the full picture of a school.
Pierce recommends that students avoid focusing on college admission statistics at the beginning of the process. "It's important for students to know going into the process how selective a school is, but we don't want to scare students away. We want students to understand the opportunity they have."
You may use admittance rates to build your college list, adding a mix of schools that have a more selective admit rate, as well as some with a higher admittance rate. The number can help set expectations and understand what may be more of a reach school.
For sophomores and other young students exploring options, Pierce says the statistics can help provide a game plan for a school you really want to attend. "It can help you plan out your future (high school) coursework and ensure you're academically prepared."
When looking at rankings, consider the methodology behind each ranking. Which factors matter to you? If minimal debt is an important factor, look at rankings that take this into consideration and weigh it at a level that reflects its importance to you.
HowStuffWorks emphasizes knowing where various rankings get their data. For example, U.S. News & World Report gets its data directly from schools, whereas PayScale, for its ROI ranking, obtains data from approximately 1.6 million college-educated workers who complete PayScale's own survey.
What Babson's Admitted Student Profile Means
As Pierce points out, there is far more that goes into selecting each Babson student than a number, meaning there is no one student profile for college admission. "The 22% admit rate makes up a very diverse and interesting group of people. There's a lot you can't quantify in a number." The Babson Class of 2026 includes softball catchers, activists, debaters, dancers, horsemen, and entrepreneurs. Like all Babson classes, to call it unique is an understatement.
Of course, when you look at an admitted student profile, know that you're only getting a glimpse into one class. You'll likely interact with students from multiple classes (and potentially even graduate students), so examine the statistics knowing you're looking at only a piece of the student body. Some classes may have more international students and/or more states represented.
If you can, seek out data that gives you a full picture of the student, faculty, and staff community. The Common Data Set is a useful tool.
Here's a glimpse at Babson's most recent admitted student profile:
Select Babson Class of 2026 Statistics






Knowing, for example, how many countries and states are represented on campus can give you a good idea of students' diverse cultural, ethnic, and geographic backgrounds. This can play a major impact on your experience at college.
For example, Babson's diversity is reflected in its events, student clubs, and organizations. Annual events include Multicultural Fair, LGBTQ & Allies Welcoming Reception, Students of Color Welcoming Reception, multifaith dinners, and more. More than 80 clubs include AMAN: South Asian Students' Association, the Russian Speaking Club, Babson Hillel, and the Art of Cooking, which facilitates intercultural exchange through food.
Learning from and with students with diverse perspectives helps you gain a broader understanding of the world and can lead to diverse experiences. These experiences may even influence what paths you opt to pursue in your professional life!
But, while the class profile, much like other admission data, can give you a sense of Babson's diversity, it can't tell you the individual stories behind each admitted student. That's why Pierce emphasizes the holistic admission process.
"Some students only have one AP class available to them, but maybe one of their peers was able to take 11 AP classes," Pierce uses as an example. "That's why we dive deeper into reviewing the entire application. We gain more context about what is offered at each student's high school."
Babson uses the holistic review process, with the greatest emphasis placed on your academic performance over your four years of high school. Other factors include:
Writing ability (evaluated based on your personal statement and writing supplement)
Leadership, creativity, and enthusiasm
Academic motivation and ability to challenge yourself
Rigor of coursework, including accelerated, honors, and AP classes
Extracurriculars, including activities and/or work experience
Optional test scores
Make Your Application Stand Out
When you're looking to apply to schools, use the information available to you to help strengthen your application. Pierce notes that Babson looks for a strong math background with at least pre-calculus. This allows even seniors who are interested in Babson time to take classes they need to take to strengthen their application.
For students who are strong candidates but don't necessarily test well, Pierce says test-optional admission requirements can help. "It allows us to dive deeper into students' academics, their stories, their personal selves, rather than being hung up on a score."
On the other hand, Pierce recognizes that there may be students who didn't necessarily get the best grade in a math class but did really well on the math portion of the SAT.
Having the option to take or not take the test gives students the ability to present the application that best represents their abilities.
"We also like to see extracurricular activities that involve leadership roles," adds Pierce. While you may want a formula for what it takes to get into a school like Babson, Pierce emphasizes that there is no magic number of five extracurriculars, three AP classes, and a 1300 SAT. "Some students do two activities and invest all their time in them, leading them. Someone may have a lot of interests and do 12 things."
"It's really about looking at the entire person. A lot of schools say that, but we really practice it."
You May Also Be Interested In: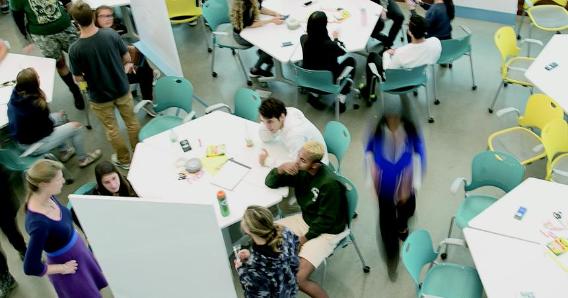 Looking for more guidance? We've compiled our best advice on college admission, career planning, and more to help you get your questions answered and start your journey.
About the Author
Kate Sitarz is a copywriter and digital marketer with more than 10 years of experience helping startups, Fortune 500 companies, and every size business in between achieve their goals.
Like this article? Have a suggestion? To contact our team with comments or article ideas, send us a note at news@babson.edu.