Impact Unplugged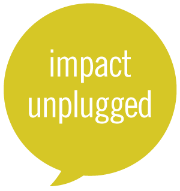 Join us for this Uncommon Table series on service, sustainability, and social innovation.
Sustainable, positive social impact can occur through a wide spectrum of activities. Individuals must first decide what problem they want to solve, and then determine how they can best influence the greatest change. How can you bring an entrepreneurial mindset and social design thinking to more effectively address the UN Global Goals, like poverty, climate action, and inequality?
Impact Unplugged provides a space to share insights that lead to action. These conversations are curated by The Lewis Institute and Service & Justice Programs and occur most Fridays from 11:30am - 12:30pm ET.
As with all of our Uncommon Table conversations, come when you can, stay as long as you'd like.
All are welcome.


Fall 2020 Schedule
Friday, November 6
11:30 a.m. - 12:30 p.m. EST, Zoom meeting
B Corps
How can companies meet social impact, sustainability, environmental performance, and accountability standards while being transparent to the public? What does B Corp Certification mean, and what are the pros and cons of going through this process?
with Ty Thiele MBA'17, CEO and Founder of Andorra
Friday, Nov. 13
11:30 a.m. - 12:30 p.m. EST, Zoom meeting
Adapting to Climate Change
What can communities do to become more resilient and adapt to climate change? What roles do residents, local, and state governments need to play in driving these efforts? And why are equity and inclusion crucial for developing sustainable prosperity and community resilience?
Join our open conversation with Camille Manning-Broome, president and CEO of the Center for Planning Excellence (CPEX). Her leadership on issues of land loss, coastal community sustainability, climate change resilience and adaptation as well as resident-led community planning has contributed to the transformation of cities, towns, and parishes throughout Louisiana.
Friday, Nov. 20
11:30 a.m. - 12:30 p.m. EST, Zoom meeting
Understanding the Global Goals
How can we use an entrepreneurial mindset to tackle the UN Global Goals for Sustainable Development? What's the market opportunity? How can we create sustainable social value?
Join an open conversation for understanding how to use the UN Global Goals as a framework for finding opportunities and creating positive impact. Come with your questions and ideas for making your desired change in the world.
Attending this event satisfies the requirement for the Business and Social Innovation Intensity Track.
Previous Impact Unplugged sessions:


October 30: Circular Economy with Ravish Majithia MBA'18, CEO and founder of Magnomer
October 23: Inclusive Prosperity with Elmer Moore, executive director of Scale Up Milwaukee and founder of Milwaukee Denim
October 16: Demystifying the Social Sector with Rick Yngve, Lewis Institute Senior Fellow in Social Innovation
October 9: Qualities of a Changemaker with Daquan Oliver'14, CEO and founder of WeThrive
October 2: Careers with Impact, with Dave Stangis, Entrepreneur-in-Residence and Jessica Student, CMO of Net Impact
September 25: Cities Reimagined, with Alex Johnston, founder of Cities Reimagined

September 18: Creating a Movement, with Mike "Ambassador" Bruny, a Babson employee, alumnus, and founder of No More Reasonable Doubt
September 11: The Art of Reflection, with Professor Kerry Gibson, an expert in workplace relationships and relational identity
September 4: What is Social Impact?, How can you use the framework of the UN Global Goals to take action and create social impact right now?
June 24: Questioning Justice, with Cheryl Kiser, The Lewis Institute

June 17: A Conversation on Unapologetic Leadership in Times of Social Crisis, with Karen Proctor, Lewis Institute Senior Fellow in Social Innovation

June 10: The Language of Change, with Deborah Leipziger, Lewis Institute Senior Fellow in Social Innovation
June 3: Investing in the Global Goals, with Alison Smith, Managing Director of Cornerstone Capital Group
May 27: The Individual Donor's Edge, with Katie Smith Milway, Principal of Milway Consulting and Lewis Institute Senior Fellow in Social Innovation
May 20: Quantifying Purpose, with Professor Brigitte Muehlmann and Chris Lloyd, Lewis Institute Senior Fellow in Social Innovation
May 13: Giving Voice to Values, with Mary Gentile, Lewis Institute Senior Fellow in Social Innovation
April 29: Leading Nonprofits During Crisis, with Pam Martin, Lewis Institute Senior Fellow in Social Innovation