Register for an Event
The Cutler Center hosts and sponsors a wide variety of conferences and events throughout the academic year. These events allow Babson students, faculty, and alumni to learn, network, and innovate in a collaborative setting.
Our various events on the Wellesley and Boston campuses also bring together leading figures in finance to share their experiences, provide perspective, and identify the areas of greatest opportunity and risk. These speakers, who present cutting-edge research, market outlooks, and insights from their real-world experience, have included:
Sarah Biller, Executive Director, Vantage Ventures and CoFounder, FinTech Sandbox
Tim Chae, General Partner, 500 Startups
Karina Funk, CFA, Portfolio Manager; Chair of Sustainable Investing, Brown Advisory
Sallie Krawcheck, CEO & Co-founder, Ellevest
Peter Lynch H'96, Investor, Mutual Fund Manager, Philanthropist
10:00 AM - 11:00 AM




Gerber Hall 102
9:00 AM - 12:00 PM




Babson College: Boston Campus
11:00 AM - 12:00 PM




Cutler Center Finance Lab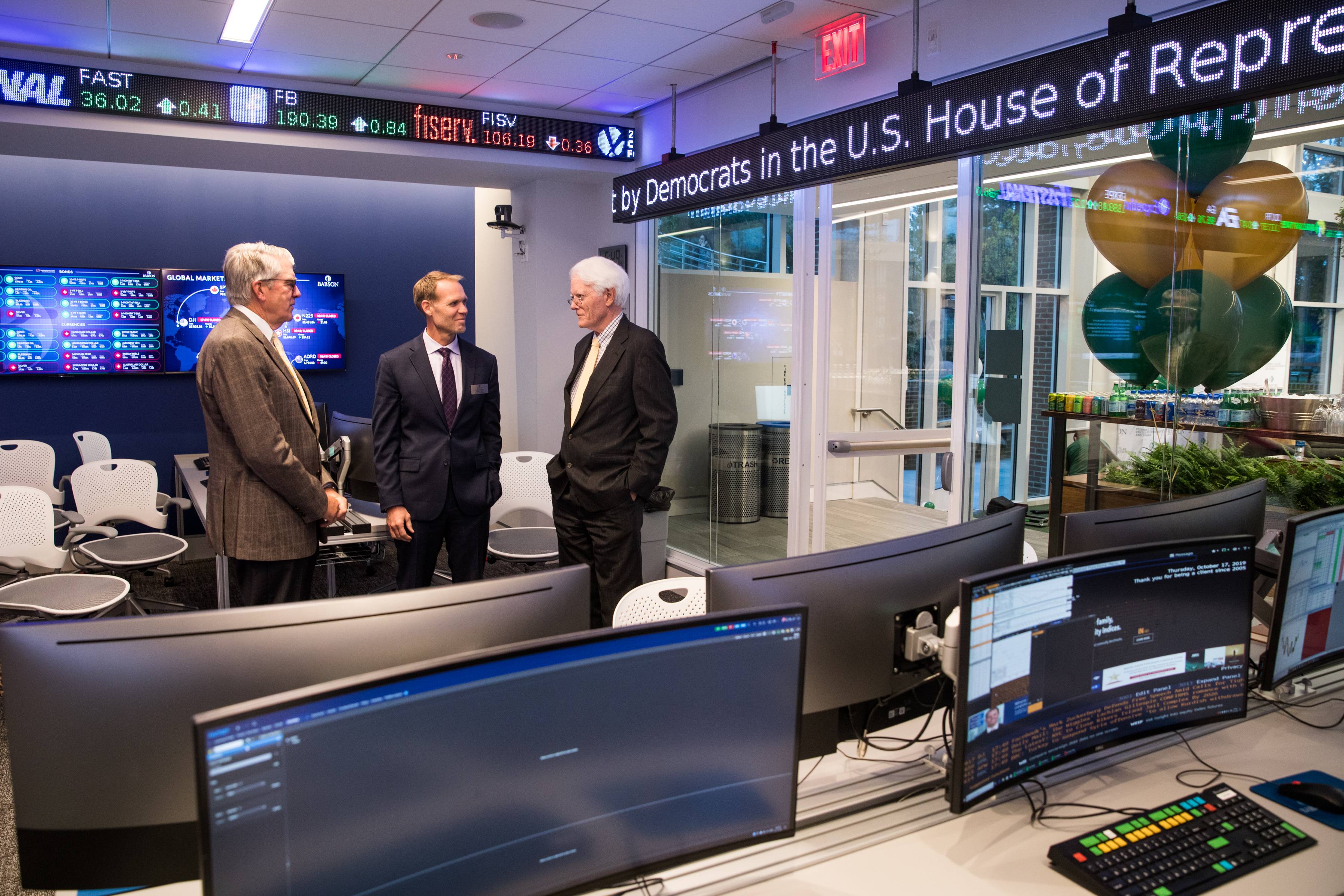 Stephen D. Cutler Center for Investments and Finance Lab Grand Opening
While most people are worried about the economy and forecasting, well-known investor Peter Lynch says it's more important to have a "finger on the pulse now, not in the future." Lynch joined Babson for the opening and celebration of its reimagined finance lab in the Stephen D. Cutler Center for Investments and Finance.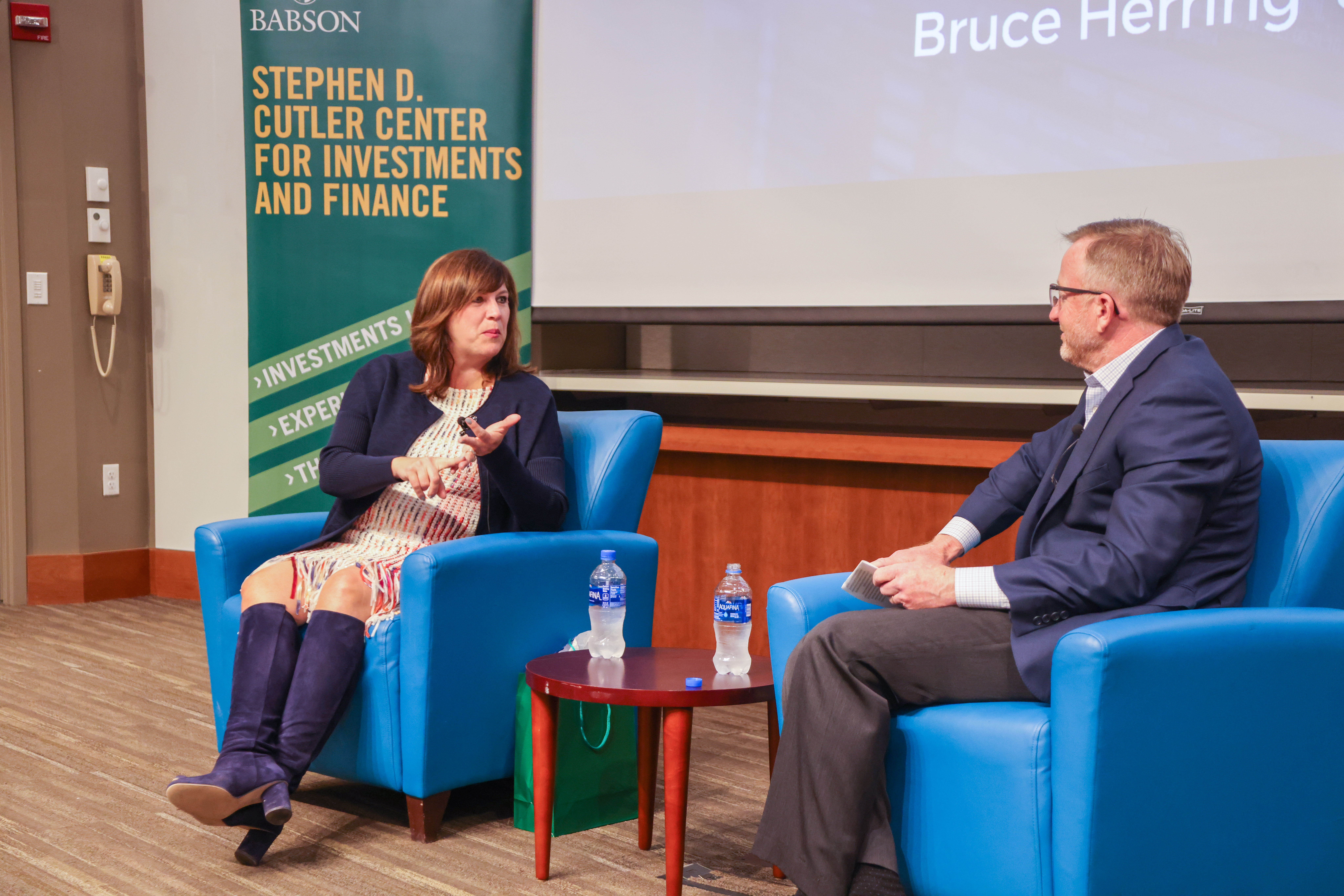 Distinguished Speaker Series with Jean Hynes of Wellington Management
In partnership with the Babson Scholars of Finance, the Cutler Center hosted Jean Hynes for our Distinguished Speaker Series, which features a candid conversation with a well-known thought leader in finance. Ms. Hynes is the Chief Executive Officer, Managing Partner, and Portfolio Manager at Wellington Management and is only one of five female CEOs among the top 20 asset management firms. Special thank you to Bruce Herring '87, P'19 for moderating the conversation.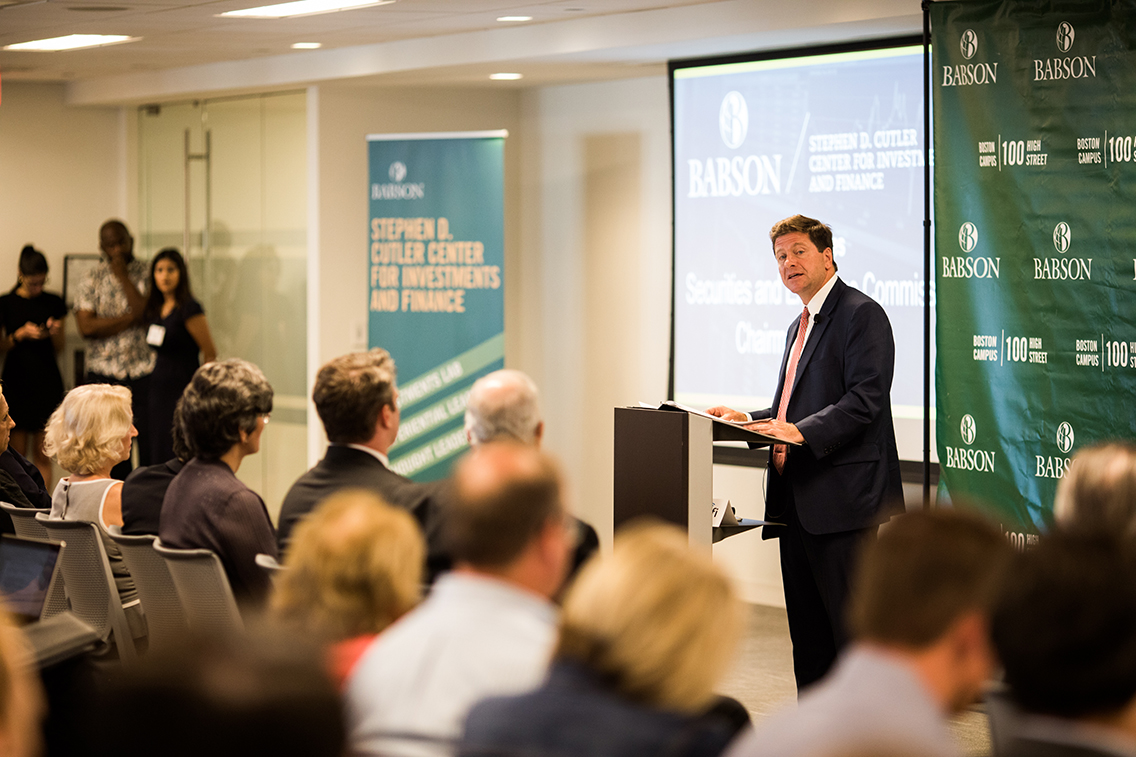 SEC Chairman Clayton's Discussion of the Standards of Conduct for Financial Professionals
The Securities and Exchange Commission (SEC) passed a new rule that will require brokers to act in the best interest of investors and disclose more about potential conflicts of interest that could impact their advice. Jay Clayton, chairman of the Securities and Exchange Commission, visited Babson Boston to share his insights on the new regulation, which has been a decade in the making.

Previous Events
Check out some of the past events at the Cutler Center!
$avvy Virtual Screening & Panel Discussion
$avvy is an award-winning documentary film that investigates the historical, cultural, and societal norms around women and money. With incisive humor and captivating honesty, $avvy questions why women often take a backseat to managing their money, and reveals why it's increasingly critical for women to take the reins of their financial futures. After viewing the film online, attendees tuned in for interactive panel discussion with the filmmaker, Robin Hauser, and Babson faculty, alumni, and students whose passion is to help advance financial literacy.
Women in Finance Panel Discussion
Now, more than ever, finance needs more women. The Cutler Center was proud to welcome an accomplished group of women professionals to talk about their career choices, experiences and offer advice to Babson students.
Women in Investment Management: Choosing a Career in Investment Management
Now, more than ever, finance needs more women. The Cutler Center hosted the CFA Society of Boston, which welcomed an accomplished group of women professionals to campus who spoke about their career choices and investment management experiences.
Entrepreneurship in Finance
In partnership with MassChallenge FinTech, the Cutler Center hosted a panel of industry experts to discuss what they've learned as fintech entrepreneurs, investors, and partners. From the collaboration between fintechs to emerging technologies and key trends, this impressive group of panelists discussed the evolution of fintech and what's ahead for the industry.
Investing with Impact
In partnership with Global Entrepreneurial Leadership Week, the Cutler Center hosted the session, Investing with Impact. The panel discussion, featuring Brian Dixon MBA '13, Priya Parrish '05, and Scott Perry, CAIA, '06, discussed how they're providing capital to address some of the world's most pressing challenges and the opportunities for investors who want to make an impact in renewable energy, agriculture, housing, and healthcare.
Watch the recording » | Babson Magaine Feature with Brian Dixon MBA '13 and Priyah Parrish '05 »
Finance Career Panel & Networking Reception
In partnership with the Center for Career Development, undergraduate and graduate students were given the opportunity to hear from our panel of Babson alumni discuss what finance jobs entail on a day-to-day basis, the skills needed to succeed in their respective sectors, and how they broke into these competitive fields.
Founders Summit: From Entrepreneur to Investor
Cutler Center Advisory Board member Catherine Friend White MBA '86 joined a panel at the Founders Summit, hosted by the Blank Center. The session focused on making the transition from entrepreneur to investor. White was joined by Tim Chae '13, General Partner of 500 Startups, and Angelo Santinelli, lecturer on entrepreneurship at Babson College.
Finance Lab Grand Opening with Peter Lynch H'96
Peter Lynch H'96, one of the most successful and well-known investors of all time, grew the famous Magellan Fund from $18 million to $14 billion in 13 years. You could say he knows a thing or two about investing. It was only fitting then that Lynch joined Babson for the grand opening of its new finance lab at the College's Stephen D. Cutler Center for Investments and Finance.
Fireside Chat with Bill Cummings
Bill Cummings, real estate mogul, entrepreneur, and philanthropist sat down with Lecturer Paul Griesmer to offer keen insights, cautionary observations, and the pioneering thinking that produced great prosperity and a multibillion-dollar enterprise.
Conscious Capitalism Distinguished Speaker Series: Ron Shaich, Founder and Chairman, Panera Bread
After decades of building Panera Bread into the most successful fast-casual restaurant chain in the industry, Ron Shaich shocked many when he announced that he was taking the company private in July 2017. He explains why he took this step, and what we must do to counteract the extremely damaging short-termism and narrow agendas that now permeate our capital markets.
Babson FinTech Start Up Pitch Competition
At the end of the fall 2022 semester, the Cutler Center hosted its first-ever Babson FinTech Start Up Pitch Competition, sponsored by BlueSnap. The competition featured select students from the undergraduate fintech course pitching their start up ideas to a group of esteemed fintech professionals for a chance to win cash prizes. A special thank you to our judges Ralph Dangelmaier, Deniz A. Johnson, Abdul Abdirahman, and Linghang Zeng for taking the time out of their busy schedules to engage with our finance entrepreneurs.
The Expansion of Digital Finance
In June 2021, State Street Corporations announced the launch of a new division focused on addressing the industry's evolving shift to digital finance. The Cutler Center hosted State Street Digital Vice President Nicole Olson for a fintech fireside chat where she talked about her current role where she is focused on the new era of innovation in financial markets – blockchain and digital ledger technology. The session was moderated by Damanick Dantes, CMT '12, owner of Dantes Outlook LLC, which specializes in global macro and commodities. He is also a crypto market analyst at CoinDesk where he writes the daily Market Wrap and provides technical analysis.
Fireside Chat with Mike Massaro '00, CEO, Flywire
As Chief Executive Officer of Flywire, Mike Massaro '00 has grown the business from a concept into the global and growing company it is today. Most recently, Flywire made its public market debut on the Nasdaq after raising $250 million in an initial public offering. In this fireside chat exclusively for Babson students, Mike spoke about his career path from Babson, experiences at Flywire, and what it's like to take a company public in the middle of a global pandemic. Earlier in the day, Mike also stopped by the new undergraduate fintech course as a guest speaker to take a deeper dive into the history of Flywire and highlighting key points from their recent earnings call.
Investing in Cryptocurrency: How Blockchain Is Changing the Finance Landscape
According to Forbes.com, large numbers of investors are becoming big believers in cryptocurrency, while the Federal Reserve is currently studying developing a digital currency. The Stephen D. Cutler Center for Investments and Finance hosted a group of cryptocurrency experts who discussed how it's impacting investors and entrepreneurs and discussed predictions for the future.
Babson Connect Worldwide: Innovation in FinTech
Innovation through financial technology has flourished in recent years, as companies like Square, Venmo, and Credit Karma have changed the way we manage our money. What role will these types of startups play in the next wave of innovation? Industry professionals weigh in during Babson Connect Worldwide.
Boston FinTech Week 2019
To kick off the academic year, students and alumni joined the Stephen D. Cutler Center for Investments and Finance, and Babson Boston, for Boston FinTech Week 2019. The focus? How technology will affect the future of financial services.
FintechWomen: Let's Start with Allies
FintechWomen's inaugural program, Let's Start with Allies, featured leaders from Boston's fintech community to participate in an honest and candid discussion on the state of gender diversity, the need for allies, and as male leaders, what they see as their role in bringing about change. Constance Armstrong chaired the discussion with Dan New, Paul Brassil, and Vasilios Roussos. The panelists and guests facilitated an energized breakout session to ideate practical solutions to enable gender balance in fintech.
Babson Finance Conference: The Future of FinTech
Hosted at the Federal Reserve Bank of Boston, the sold-out conference included a keynote address and breakout sessions that allowed students, alumni, and industry practitioners to interact with fintech leaders who discussed the future of fintech, including the latest in artificial intelligence, blockchain, and cryptocurrency.
The Finance Fridays series is for the Babson community, including undergraduate and graduate students, faculty, staff, alumni, and friends, which covered various finance topics featuring Babson faculty, alumni and industry thought leaders.
Finance Fridays
4/9/21 - Navigating the Real Estate Markets | Lecturer Erin Degnan Escobedo and Stephen Congel '91 | Recording »
3/26/21 - Private Equity Explained | Professor Angelo Santinelli and Jim Milbery '85 | Recording »
2/26/21 - Career Perspectives & Market Insights From a Successful Family Office Founder | Assistant Professor Jasmina Hasanhodzic & Elliot Dornbusch MBA'98
2/12/21 - Pioneering Computerized Trading | Professor Erik Sirri & David Whitcomb '63
11/6/20 - Finance Industry Overview: Investments | Edward Ciancarelli, CFA, '00, Tim McDonough, MBA '09, Kristoff Nelson, CFA, '08, MBA '09, Brad Weafer, CFA, MBA '11
10/30/20 - Finance Industry Overview: Corporate Financial Management | Edward Ciancarelli, CFA, '00, Bob Eddy '95, Chris Malone '00 MBA '07, Megan O'Neill, CFA '11, Erin Schaffner '98
10/23/20 - Finance Industry Overview: Corporate Advisory | Eric Crawley MBA'09, Kathryn Hersey, CFA, MBA '10, Yan Katz '00, Jason Nicastro, '03, MBA '10
10/9/20 - Investment Banking, M&A, and Private Equity | David B. Ragins '94 | Recording »
9/25/20 - Financial Planning | Craig DuVarney, CFP '99
9/11/20 - Machine Learning and AI: An Intuitive Introduction | Sri Krishnamurthy, CFA, CAP MBA '11 | Recording & Slides »
The Financial Impact of COVID-19
This weekly webinar series focused on the financial impact of COVID-19. Students, staff, faculty, and alumni tuned in each week to hear from faculty and alumni thought leaders as they discussed and answered questions on various topics amidst the current COVID-19 crisis.
5/01 - Equity Market Turmoil: Finding Opportunities while Mitigating Risk | Lecturer Patrick Gregory, CFA | Recording & Slides
4/24 - Current Crisis and the Impact on Real Estate | Lecturer Paul Griesmer | Recording & Slides
4/17 - Hedge Funds, Price Volatility, and the Career Ending Margin Calls | Lecturer Glenn Migliozzi, CFA | Recording & Slides
4/10 - Equity Market Volatility in the COVID-19 Era | Assistant Professor Luke Stein | Recording & Slides
4/03 - Lawsuits: Securities Litigation Precipitated by the COVID-19 Crash |Associate Professor Steven Feinstein | Recording & Slides
3/27 - Past and Present Crisis: The Policy Response | Professor Jerome Taillard | Recording & Slides