Discover Alumni Engagement Opportunities
Alumni have countless ways to stay connected with the Stephen D. Cutler Center for Investments and Finance. The programs and engagement opportunities below provide a brief overview of how you can support current students with your expertise and guidance along their career journeys. If you are interested in learning more about one or more of these opportunities, please fill out the Cutler Center Alumni Interest Form.
Mentor Program
The Cutler Center mentor program matches undergraduate and graduate students with industry professionals from across the world of finance. Mentors are paired with a student majoring in finance with the goal of enhancing the student's personal network, helping to develop their career path, and providing advice, guidance, and feedback. Applications for the 2022-23 academic year are due by Friday, September 16th.
The Cutler Center mentor program runs from October to May, and mentors commit to a minimum of six hours with their mentee during these eight months. To participate, potential mentors and mentees each must complete their respective application forms to help with the matching process.
Once mentors and mentees have been matched, each pair will work together to schedule times to meet throughout the program's duration. Participants decide on the communication method(s) best suited for them (email, phone, in-person meetings, Skype, etc.). To help set the expectations needed for the relationship, the Cutler Center will provide training materials to help engage mentors and mentees. Participants also may choose to attend various events and programs hosted by the Cutler Center.
Benefits to Students
With access to industry professionals, our finance students come away with invaluable perspective and inspiration from like-minded individuals who have found success in a wide array of settings and industries. As a mentee, you will:
Learn the benefits and purpose of mentorship and the value it extends beyond job placement.

Gain confidence in your career strategy

Refine networking and communication skills

Further develop networks of support that will extend throughout your lifetime
Benefits to Mentors
While serving as a mentor requires a commitment of your time, this program also provides professional development and networking opportunities for our mentors. As a mentor, you will:
Develop mentoring strategies valuable to leadership progression
Gain access to an extended network of professionals affiliated with the Cutler Center
Build relationships with an outstanding talent pool of next-generation finance professionals who can build a pipeline of potential employees for your firm
Stay apprised of leading finance education trends
Apply
To learn more about the program or to apply, please complete the mentor or mentee online application form or email Leslie Romiza, Cutler Center Program Manager.​
Speaker
Alumni speakers are invaluable to our students as they provide real-world perspectives on career pathways and opportunities. Speaking engagements exist in the classroom, on industry panels, and through conferences and panel discussions hosted by both our Student Finance Organizations and the Cutler Center.
Corporate Site Visit
The Cutler Center works with the Center for Career Development to host several Experience the Industry Company Treks throughout the Fall and Spring semesters. These company visits are an opportunity for a group of students to visit up to 3-4 firms in one day. They provide a unique opportunity for students to meet and interact with several representatives from the company, learn about the culture, and see the physical office space.
Recruit and Hire
Approximately one-quarter of Babson's graduating students secure jobs in the field of investments, finance, and accounting and are recruited by leading global organizations. Money Magazine has ranked Babson as the #2 Best School for Undergraduate Business Majors and U.S. News & World Report has ranked our undergraduate business program 30th in the nation. See additional Babson rankings.
Babson finance education programs have a successful placement track record and many alumni are well established in the investment field. This is just a sample of our students' impressive job placement history.
Aberdeen Group
Barclays Capital
Blackrock
Citigroup
Deutsche Bank
Essex Investment Management
Fidelity Investments
Goldman Sachs
HSBC Securities and Capital Markets
J. P. Morgan Chase
Morgan Stanley
Price Waterhouse Coopers
State Street Bank
UBS Investment Bank
Wellington
Contact the Centers for Career Development to partner with Babson College to post jobs and internships to recruit Babson talent for your team.
Hoffman Family Undergraduate Center for Career Development
Caroline Hayes
Sr. Associate Director, Employer Engagement & Career Advising
781-239-4323
Graduate Center for Career Development
Margaret Jones
Associate Director, Relationship Manager for Financial Services, Real Estate and Non-Profit/Education
781-239-6490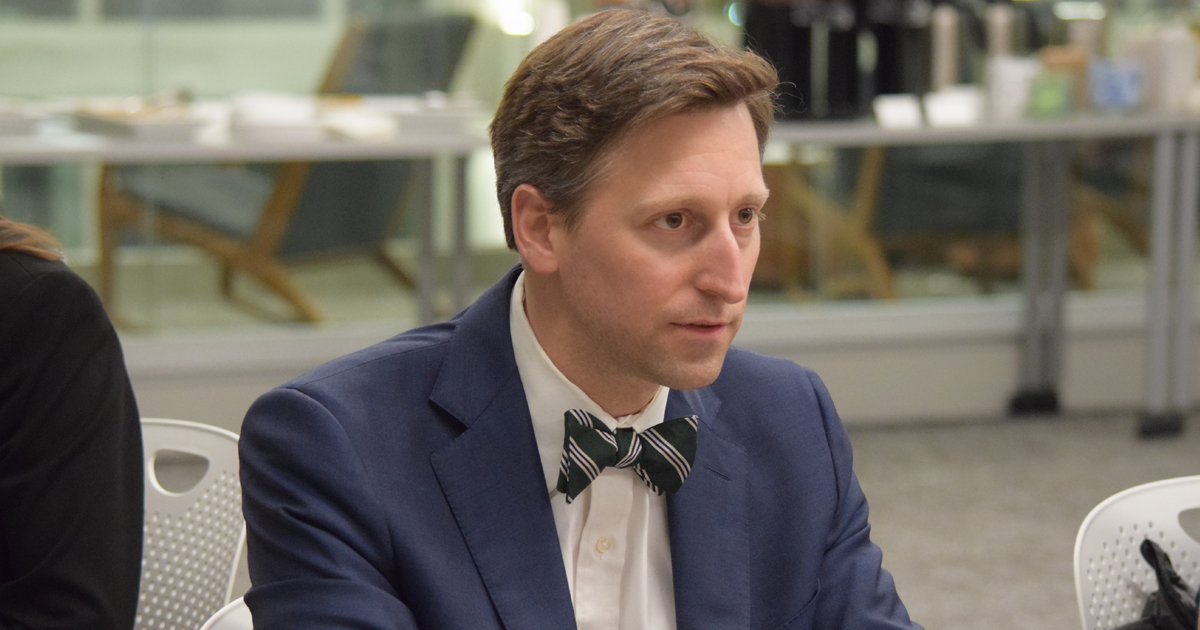 Giving Back
In the industry of finance, attitude is everything. It's this sentiment that Eric Crawley MBA'09 finds himself alluding to when he's coaching students as a member of the Cutler Center Mentor Program.
Read the Babson Magazine Article