Babson College Impact Report 2011
I am pleased to present to you Babson in the Community, a summary of the College's active participation as citizens of Wellesley and Needham and the broader community.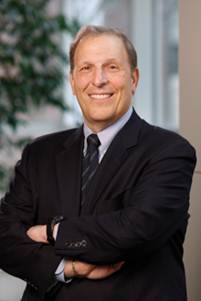 Our collaboration with Wellesley and Needham dates back more than 90 years and takes many forms: purchasing from local businesses, offering our facilities, hosting events, and providing student, staff, and faculty volunteers. When we consider the cumulative impact of these and many other ways we are involved locally, we know we are making a difference.
Every year we find new ways to make this difference. For example, Babson is increasing its efforts to achieve broad-scale sustainability and energy savings. 2010 carbon emissions on Babson's campus were 19 percent below our fiscal year 2005 emissions—and we continue to reduce our energy use. This fall, we launched a new certificate program on sustainability with Wellesley College and Franklin W. Olin College of Engineering. In October we hosted Food Day, partnering with local farmers and vendors and holding activities open to Wellesley and Needham community members. Increasingly, we also are partnering with the city of Boston. For example, Babson now has a presence on South Boston's waterfront in the Innovation District—with space for graduate school classes, conferences, and a "hatchery" for new businesses.
Please continue to join us on campus for Babson educational, sports, and cultural events that are open to the citizens of Wellesley and Needham. Whether on or off campus, we look forward to many more years of a strong and productive partnership.
Leonard A. Schlesinger
President Emeritus, Babson College
The surest way to live forever is through the giving of love, time, and money. To live today, we must earn and save; to live forever we must serve and give.
Roger W. Babson
Reaching Out
As an active member of the community, Babson reaches out to residents of Wellesley, Needham, and beyond, supporting educational activities on and off campus, and encouraging participation in performances, exhibits, lectures, library opportunities, and other programs.
Wellesley and Needham Scholarships
For more than three decades, Babson has granted scholarships to qualified residents of Wellesley and Needham. This academic year, five students from Wellesley received $29,000 in Wellesley Town Scholarships, and six students from Needham received $31,500 in Needham Town Scholarships.
Wellesley Education Foundation
Babson donated $3,750 to sponsor teams for the annual Wellesley Spelling Bee and sent a faculty and staff team to compete.
Babson Audit-the-Class Program
Wellesley and Needham senior citizens may audit Babson's undergraduate classes on a space-available basis at no cost. This academic year, four Wellesley senior citizens took five courses worth $20,740, and two senior citizens from Needham took three courses worth $12,220.
Sodexo Education Services
Sodexo Education Services, which provides dining services in all Babson facilities except the Babson Executive Conference Center:
Works with the parent-teacher associations of Wellesley's Ernest F. Upham School, Fiske Elementary School, St. John's CYO, and the Wellesley Middle School on fundraising events
Donates use of kitchen and dining facilities at Trim Dining Hall for the Wellesley Middle School's annual pasta dinner
Donates catering for the annual Wellesley Club dinner held on campus
Supports the Wellesley Seniors' Thanksgiving dinner held the Saturday before Thanksgiving in Trim Dining Hall
Contributes to the Wellesley Community Children's Center annual Fun Run
Partners with Advocates Employment Services to provide handicapped individuals with work opportunities
Supports with the College community (sororities, fraternities, Bernon Center, and Athletic Department), the Cans Across America food drive every November. This past year they donated 500 pounds of canned food to the Place to Turn Food Bank in Natick.
Supports the annual Bernon Center Spaghetti Luncheon, which funds student participation in Habitat for Humanity
Wellesley Community Children's Center
Babson College and Wellesley College help support a daycare center for children of the community and the colleges' employees. During 2010–2011, the center served 44 children from Wellesley and 13 from Needham. Twenty-two are children with a parent who works or studies at Babson.
Richard W. Sorenson Center for the Arts
The Sorenson Center for the Arts fosters an environment of creativity and exploration through enhancing the natural synergies between entrepreneurship and the arts, encompassing literary, performing (dance, film, music, and theater), and visual arts.
The Center presented a wide variety of programming in theater, dance, music, film, and video, and the literary arts. Most events are open to the public, and parking is free.
The Babson Players performed Ken Ludwig's comic play Moon Over Buffalo in the fall of 2010, and Neil LaBute's drama The Shape of Things and the musical How to Succeed in Business Without Really Trying in the spring of 2011. The Franklin W. Olin Players from Olin College of Engineering presented Shakespeare's The Tempest in the spring of 2011. The Black Student Union presented Ntozake Shange's For Colored Girls Who Have Considered Suicide When the Rainbow Is Enuf in the spring. Students also presented a spring production of Eve Ensler's Vagina Monologues.
Other Babson-sponsored events open to the public during the 2010–2011 academic year:
Babson Dance Ensemble every semester
AMAN (South Asian culture, dance, and music show) every semester
BAPSA (Asian and Pacific culture, dance, and music show) spring semester
Malcolm Stearns Memorial Film Society/ Class Movie Nights throughout the year
Global Film Series screenings each term curated by professors Julie Levinson and Jenny Rademacher
Philanthropy Tower Mock Band competition among Babson students, staff, and faculty interspersed with bands from Berklee College of Music
Liberal Arts Tower competitive talent show
Student Concert Series (piano recital; a cappella groups from Babson and Olin; jazz bands with students from Babson, Olin, and Wellesley; the Olin Conductorless Orchestra; and traditional Chinese and Indian music
2011 Thompson Poet (the annual visiting poet reading and discussion held in February) was Bob Hicok, author of Words for Empty and Words for Full
A number of area community arts and cultural organizations present programs in the Carling-Sorenson Theater. Due to the increase in student performances, external clients are no longer able to rent the facility during the fall and spring terms.
Visual Arts
Exhibits of artistic, cultural, and historical interest abound on campus on a rotating schedule. Exhibit hours include weekends, evenings, and by appointment to make the shows community-accessible. In addition to rotating exhibits of student work, offerings this year included:
"Traditional Chinese Brush Painting" by Babson student and Sorenson Scholarship recipient Suopeng Gao
"Microclimates," artwork directly inspired by the connections between the creative process and the life cycle of the garden, by sculptor, painter, and installation artist Alison Williams
"Points of View," sculptural paintings that explore people's interactions with public art and museum spaces, by Boston University professor Dana Clancy
"Sea of Ice," a temporary site-specific mural inviting the viewer to consider our relationship to the landscape, by painter Chris Faust
Lectures and Programs
Babson hosts world leaders speaking on business, cultural and current events, and the arts. These events are often open to the public at no charge.
Office of Multifaith Programs–The Glavin Family Chapel
Babson College is an institution dedicated to fostering an environment of religious pluralism and respect. The Office of Multifaith Programs exists to serve, support, and nurture the religious and spiritual development of all within our campus community. Multifaith programs include regular worship services in a variety of religious traditions, multifaith dinners, yoga instruction, meditation sittings, liturgical and musical events, seasonal celebrations, and educational seminars. The Multifaith staff is devoted to supporting students as they face spiritual issues in their life through open discussion and pastoral counseling at all levels.
Horn Library
Wellesley and Needham residents may use materials on open shelves at Babson's Horn Library and may check out books for four weeks.
The Pan-Mass Challenge
Babson was one of four host sites for the Pan-Mass Challenge (PMC) weekend in August 2010, accommodating more than 5,000 visitors for registration, 3,000 cyclists families and volunteers for the start on Saturday, and 2,000 riders and supporters for the start and finish site on Sunday. In 2010, PMC raised $30,384,200 and had a goal of $35 million for the 2011 calendar year. More than 50 percent of funds raised for Dana-Farber Cancer Institute through its Jimmy Fund comes from the PMC.
In June 2011, 350 children participating in the PMC Kids Rides® at Babson raised $112,519. Participating riders and volunteers included Wellesley and Needham residents, as well as Babson students, faculty, and staff.
Boston Marathon Jimmy Fund Walk
Babson is the halfway point start site for the Boston Marathon Jimmy Fund Walk each September. Babson volunteers included students, faculty, and staff, giving them the opportunity to honor friends, family, co-workers, and patients facing all forms of cancer.
World of Wellesley
Babson has supported the World of Wellesley in a variety of ways since its inception, including the recent donation of $500 plus staff time.
A Neighbor to the Community
As a neighbor to residents of Wellesley and Needham and beyond, Babson offers use of its facilities to community members, participates in a range of programs and efforts, and works with numerous organizations.
The Webster Center serves as the rain location for Needham and Wellesley highschool graduations.
Babson is a Wellesley Chamber of Commerce board member:

Babson sponsors the Chamber's annual Local Business Recognition Dinner.
Babson sponsors the Chamber's annual golf tournament.
The Chamber hosts the Babson College/ Wellesley Bank Business Series breakfast meetings on campus.

Babson hosts the Wellesley Police Department's Annual 5K Stewart Savage Road Race and Fun Run, providing facilities, equipment, space, and employee labor.
The College hosts the annual religious education program of the Grace Knight Babson Fund, attended by 500–600 residents. The group makes financial contributions to local religious institutions.
Babson's Trim Dining Hall is the site for both the Upham Elementary and Fiske Elementary bingo nights.
Babson hosts the Wellesley Club's annual Town Affairs Dinner in Trim Dining Hall.
Babson has implemented a multimillion dollar series of energy conservation projects during the past two years to reduce energy consumption in support of Wellesley's Municipal Light Plant's (WMLP) goals and to encourage our faculty, students, and staff to support sustainability.
Babson is working closely with WMLP to evaluate the potential installation of up to two megawatts of solar photovoltaic carport structures in campus parking lots, which could reduce our direct use of WMLP energy by an additional 8 percent to 10 percent.
We have opened a campus Sustainability Office and implemented programs to raise awareness and encourage actions on campus to support these programs. We also have supported the town's sustainability awareness programs during this past year. We will continue working closely with the town of Wellesley to evaluate ways we can work together on this effort.
Babson signed the American College and University Presidents' Climate Commitment (ACUPCC), a promise that we will exercise leadership in our community and throughout society by modeling ways to eliminate global warming emissions.
The College's Climate Action Plan defines our approach to achieving carbon neutrality in measurable ways during a specified timeframe. See the ACUPCC Report of Reporting Institutions for details.
The College achieved a Silver Rating from the Sustainability Tracking, Assessment & Rating System™ (STARS), the newest and most extensive rating program for sustainability in higher education.
Babson has reduced its carbon footprint by more than 19 percent over the past six years.
For the fourth year, Babson was named to the President's Higher Education Community Service Honor Roll sponsored by the Corporation for National and Community Service, the President's Council on Service and Civic Participation, the USA Freedom Corps, and the U.S. departments of Education and Housing and Urban Development.
Network for Teaching Entrepreneurship (NFTE) provides programs that inspire young people from low-income communities to stay in school, to recognize business opportunities, and to plan for successful futures. To date, NFTE has worked with nearly 350,000 young people in programs across the United States and around the world. Since opening its doors in 1991, NFTE New England has reached more than 11,000 students from low-income communities with entrepreneurship education programs.
President Schlesinger serves on NFTE's board of overseers.
Babson is home to the NFTE New England office.
Jennifer Green M'08 is executive director of NFTE New England.
Babson hosts NFTE events throughout the year.
Babson students serve as NFTE instructors.
Community members may participate in recreational sports and athletic competitions through the Boston Sports Club, the Babson Skating Center, and other on-campus athletic facilities.
Babson Summer Camps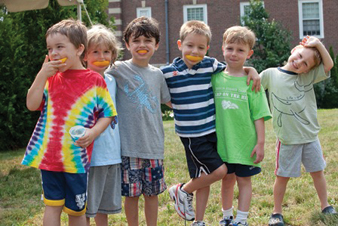 The Babson Summer Camps office includes Internal Summer Camps, managing 15 to 17 camps from June through August, and External Summer Programs. The camps account for approximately 30 sessions occurring during a seven-week period for local children ages 5–15. Children and adult participants in the External Programs stay on campus for two to 10 days for overnight conferences or multiday retreats.
Each program on campus, from mid-May through mid-August, is managed by the Summer Programs Office. A portion of the External Summer Programs is managed directly through organizations on campus, including the Glavin Office of International Programs, the Arthur M. Blank Center for Entrepreneurship, and the Undergraduate School.
Babson offers a variety of summer sports and traditional day camps for children, including soccer, basketball, baseball, ice hockey, field hockey, tennis, lacrosse, and Camp on the Hill, a traditional program for children ages 5–10.
Babson also contracts with professional conferences and academic and sports camps during June, July, and August.
In summer 2011, 15 in-house sports camps were designed, promoted, and implemented with approximately 2,400 participants. Externally, approximately 20 programs were run with more than 2,500 participants.
The Summer Programs Office employs camp directors and as many as 150 camp counselors. Many of them currently play on teams or are coaches and teachers in neighboring towns.
Babson Skating Center
The Babson Skating Center, owned and managed by Babson College, serves the community in many ways:
Needham High School's hockey team uses the rink for its home games
Wellesley High School uses the rink for its home games
Wellesley High School girls' and boys' hockey teams each have their own locker rooms at the rink
Local residents take advantage of public skating on weekday mornings and Sunday afternoons
The skating school enrolled more than 400 students from Wellesley and Needham in 2010–2011
Many Needham and Wellesley adults are members of groups that rent ice time during evening hours for hockey games
The rink serves as the site for parties for a number of schools
Wellesley schools:

Dana Hall
Hardy
Hunnewell

Needham schools:

Broadmeadow
Eliot
Hillside
Newman

The rink donates public skating passes to local schools for their fundraising efforts
Tenacre Country Day School in Wellesley holds a skating program there each winter
The annual August Hockey Clinic enrolls skaters from both Wellesley and Needham
Members of the Wellesley Youth Hockey Association are recognized each winter at a Babson varsity hockey game
Webster Center and Athletic Fields
The Webster Center facility and athletic fields are used by several area groups for team practice and play, including Wellesley High School swim, field hockey, lacrosse, and track teams; Needham High School swim and track teams; Wellesley Swim Association; and the Wellesley Recreation Department.
Babson is a traditional host of games for the MIAA Division II Girls' Lacrosse Tournament.
Babson hosts more than 150 intercollegiate competitions throughout the year that are open to the public, free or for a nominal charge.
Boston Sports Club
The Boston Sports Club (BSC) in Wellesley is a premium health club located behind the Babson campus. BSC offers cardio machines with personal entertainment screens, a 25-yard swimming pool, supervised express workouts, personal training, massage, indoor tennis, basketball courts, summer camp, laser tag, swim lessons, child care for ages 3 months to 10 years, Pilates, yoga, kickboxing, spin, and more, and includes a new six-pool outdoor summer complex.
BSC holds active membership in the Wellesley Chamber of Commerce, and hosts or sponsors a number of fundraising events, including road races and walk-a-thons for charities such as the Make-A-Wish Foundation and the Dana-Farber Cancer Institute.
$21M Financial Support For Local Economy
Babson College makes direct and indirect financial contributions to Wellesley and Needham.
We estimate that Babson and its affiliated programs directly contributed more than $21 million to the economies of Wellesley and Needham during 2010–2011, with additional contributions coming from indirect sources.
Babson purchases a significant amount of products and services from Wellesley and Needham businesses annually. Babson spent $5,645,897 in Wellesley and $2,260,478 in Needham, including credit card sales, this fiscal year. The total spent in Wellesley includes a $75,000 payment in lieu of taxes to the town.
Babson employs 98 residents of Wellesley and 70 residents of Needham.

This represents approximately 15 percent of the College's employees and $12.8 million of the College's annual payroll budget.

Babson employs 1,004 full- and part-time workers who are not residents of these towns, but who patronize local businesses.
The North Hill retirement community in Needham, located on land owned by Babson College, paid $587,000 in property taxes to the town of Needham.
Babson Executive Conference Center (BECC)

Purchased $162,000 worth of services and products from Needham and Wellesley businesses
BECC payroll budget for residents of Wellesley was $66,159
BECC paid $61,654 to the town of Wellesley in room occupancy taxes and for licenses and fees

The average student spent approximately $1,750 on personal expenses. Half of that—$875 per student—is estimated to have been spent on campus or in the local community.
For the 2010–2011 academic year, five undergraduate Babson students lived off campus in Wellesley and Needham, providing rental income to townspeople.
The Babson Park Post Office—ZIP code 02457, offering full service to patrons—operates rent-free in a Babson-owned building.
Boston Sports Club (BSC), a recreation facility owned by Babson and leased by Town Sports International, regularly purchases products and services from vendors in Wellesley and Needham. BSC paid wages to more than 275 employees, some of whom are residents of Needham and Wellesley.
Babson invested $9.7 million in building projects and another $13.8 million in plant maintenance. While it is not possible to detail how much of these funds directly benefited the towns of Wellesley and Needham, it is a major contribution to the economy of the Commonwealth of Massachusetts. Most of the materials and services used for plant maintenance are from local vendors and contractors.
Babson Volunteers
Babson students, faculty, and staff donated more than 26,000 hours of their time to volunteer activities through Babson's Bernon Center for Public Service this year.
Every day, students and staff donate their time to the broader community both on and off campus. Students get involved through the Bernon Center's weekly programs and special events, residence halls, Greek organizations, athletic teams, and clubs. Babson individuals contributed their time locally, nationally, and globally. They taught English to Haitian residents of Mattapan, mentored young entrepreneurs in Boston's first Lemonade Day, and built homes with Habitat for Humanity in Louisiana and El Salvador.
The Bernon Center supports the annual Cruickshank 5K Race for Shelter, which attracted more than 300 participants, raising almost $5,500 for Babson's Habitat for Humanity chapter.
Community service is an integral part of the undergraduate curriculum; many students give back to the community, completing service-learning projects as part of their academic requirements. More than 400 students in the Foundations of Management and Entrepreneurship (FME) course— required of all first-year students—created 16 businesses and donated their time and their companies' profits (more than $25,000) to the following organizations:
Birthday Wishes/Rodman Ride
Boston AIDS Africa
Boys and Girls Club of Boston
Charles River Center
Community Servings
Cradles to Crayons
English as a Second Language Program
Friends of the Homeless of the South Shore
Habitat for Humanity
National Multiple Sclerosis Society
Nativity School of Worcester
Needham/Wellesley Housing Authority Program
Nyansa Project
Special Olympics of Massachusetts
Web of Benefit
FME student businesses have donated more than $350,000 to area charities in the last 10 years.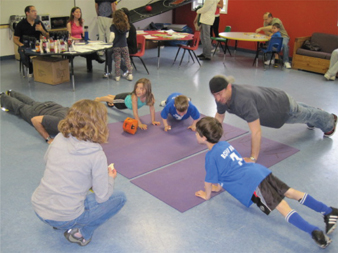 Babson MBAs held the first Babson Gives Back Day May 7, inviting students and alumni to give back to the community in meaningful ways as part of the kickoff to the Babson MBA Grad Week.
An MBA student team competed at Duke University against 18 other business schools to raise money for Special Olympics, placing second overall and raising more than $3,000.
The following organizations benefited from the many hours donated by Babson student volunteers:
American Red Cross
Autism Walk for Research
Boston Public Schools
Camp Sunshine in Maine
Greater Boston Food Bank
Junior Achievement Program, Natick Elementary Students
Make-A-Wish Foundation
Needham Food Pantry
Toys for Tots
Wellesley Council on Aging
Wellesley and Needham Housing Authorities
Students and staff continue to serve during their semester breaks:
Thirty-five students and staff traveled to Africa in January to teach English and entrepreneurship to adults and children in Ghana.
In March, volunteers traveled to El Salvador and Louisiana to work with Habitat for Humanity building and refurbishing homes.
In August, a group of staff and faculty returned to El Salvador to build two more homes.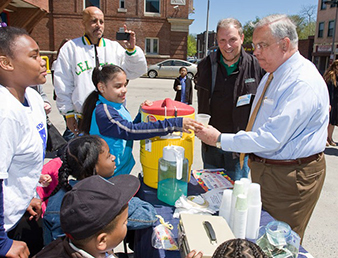 Babson College sponsors Lemonade Day Boston, an experiential learning program that teaches youth how to start, own, and operate their own business—a lemonade stand. Lemonade Day began in Houston, Texas, in 2007 and has grown from 2,700 to 120,000 kids in 31 cities across the United States and Canada.
Lemonade Day gives Babson the opportunity to introduce entrepreneurship education activities to young children. The program complements Babson's mission to educate leaders who can create great economic and social value everywhere.
Babson College, through the work of its students, faculty, and staff, and through financial contributions, adds significant value to the towns of Wellesley and Needham, and to the community at large.