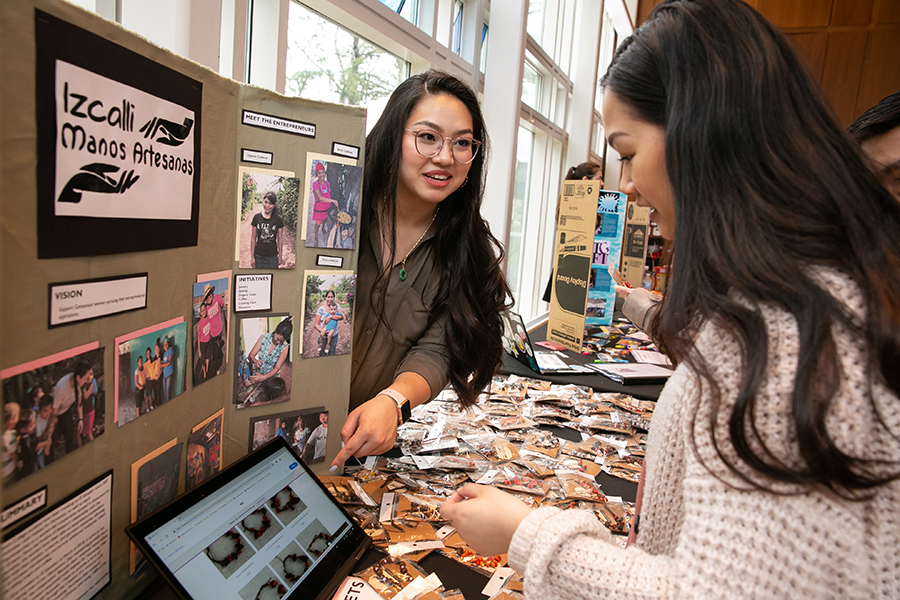 Taylor Scholars
Taylor Scholars are committed to utilizing their entrepreneurial leadership and mindset to make a positive social impact and work towards social justice.
The program formally engages students in service and social change embedded in their academic and co-curricular experiences. The program recognizes, rewards, and distinguishes students who have committed themselves to service, social impact, and justice. The program is open to all first-year and sophomore Babson undergraduate students.
Natalie Taylor Scholars must:
complete two 2-credit EPS courses:

Be the Change: Evaluating Social Impact
Scholar in Action

complete an independent social change project that helps advance one or more of the UN SDGs
complete 300 hours of service to the community, including at least one service immersion experience
Students who successfully meet the required criteria will receive distinction upon graduation. Taylor Scholars will be recognized at the senior awards ceremony and will wear a stole of recognition at graduation.
Embracing Who We Are
For his Taylor Scholar project, Wes Woodson '20 focused on empowering people to express themselves unapologetically through clothing and storytelling
Read story
During her 26-year tenure at Babson, Dr. Natalie Taylor inspired countless students, pioneered a progressive approach to teaching social entrepreneurship, and elevated its prominence within the Babson MBA program. In 2009, she was named Professor Emerita of the Entrepreneurship Center at Babson College. Her legacy lives on today through the Natalie Taylor Scholar Program, which recognizes and rewards students who are committed to service, community engagement, and social responsibility.