Culture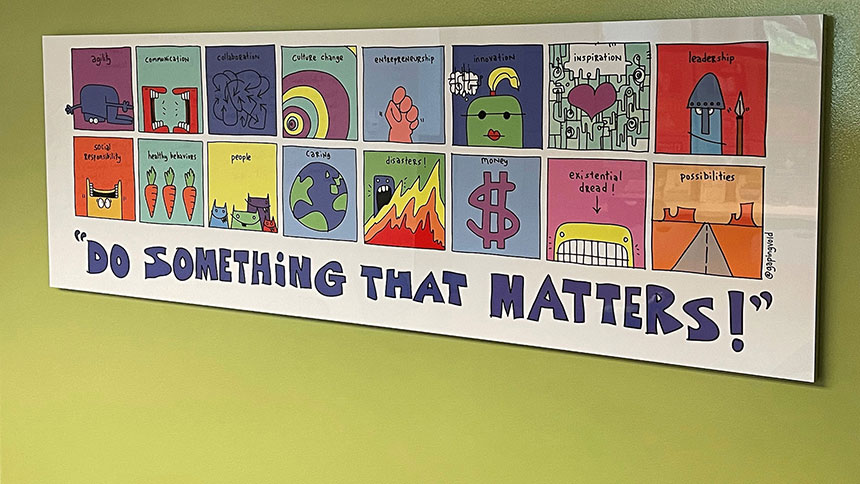 Do Something That Matters
For years, when people walked into the Institute for Social Innovation office suite, they would see this Gapingvoid art—a powerful gift by former Babson president Kerry Healey—on one wall. And on the opposite wall? The 17 United Nations Sustainable Development Goals (SDGs).
Our Mindset for Action
Do Something That Matters has become a mantra and a movement. It has activated changemakers to reflect on what calls them to do what they do. It has encouraged students and entrepreneurial leaders to take their next steps in advancing one or more of the UN Global Goals, regardless of their role or sector. And it has helped bring together a collaborative community of positive disruptors.
We are living in a world where the expectations on business have shifted and increasingly; the lines between business, government, and the social sectors are blurred. Each sector is now expected to address societal dilemmas in new and expanded ways, but it will take sophisticated combinations of each sector's unique designs to produce common good outcomes.
While traditionally each of these sectors focuses on breakthrough innovations, at the Institute for Social Innovation, we hyper-focus on breakthrough interactions as the starting point that yields powerful new social innovations. What we do is intentionally introduce and reconfigure relationships in such a way that new and expanded social impacts and innovations come about.
Our approach
Our core practices stem from the following:
Entrepreneurial Thought & Action® (ET&A™) as the mindset for creating positive disruption and activating change within individuals (from youth to seniors), organizations, and communities.
The UN SDGs as a framework for defining and creating social impact.
Social design as the set of principles for understanding how to work with and through others to achieve better outcomes.
Our culture
The creation of effective responses to complex challenges requires flexibility, agility, and unconstrained action. Our learners develop skills and practice in the following areas:
Promoting unusual partnerships
Steering non-linear journeys
Engaging change leaders
Cultivating authentic relationships
Igniting breakthrough interactions
Fostering social value in business
Always finding a way to say yes