Digital Responsibility
Where technology, entrepreneurship, design, and social impact meet
Digital Responsibility is an action tank providing opportunities, resources, seed funding, and support for students to initiate and launch social ventures to address the UN Global Goals by utilizing new and emerging technologies.
Originally launched as the IoT for Good Lab and sponsored by a three-year grant by The Verizon Foundation, the lab facilitates interdisciplinary teams of entrepreneurial, engineering, design, art, and liberal arts students.
Technologies like the Internet of Things (IoT) are being hailed as the next technological revolution and will generate new entrepreneurial opportunities, business models, and solutions to some of the world's toughest challenges, like the UN Global Goals.
How are we exploring Digital Responsibility?
Inspire
Classrooms & Convenings
We raise awareness and explore opportunities for addressing the UN Global Goals through digital-enabled solutions.
Ideate
LabWork
Interdisciplinary student teams use ET&A to experiment with technology and develop solutions that address specific UN Global Goals.
Initiate
Pitch
Students will have the opportunity to enter a pitch competition and to receive resources, seed funding, and support to launch their winning venture.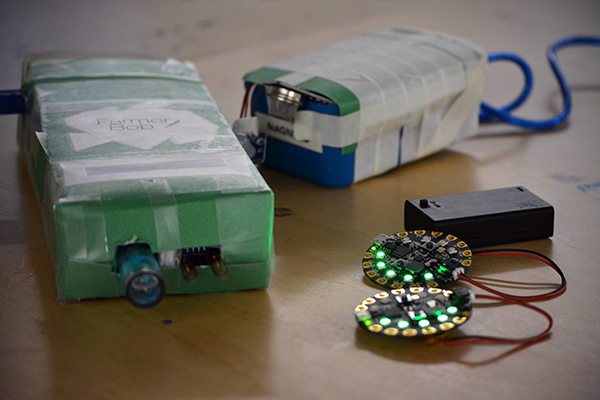 Wearable Technology Showcase
Hear how student teams developed business solutions and wearable prototypes, demonstrating the role of technology in addressing social issues.
Learn more
Sponsor
Verizon and Babson have been thinking partners in the space of social innovation for many years. Both have been on a journey to understand how to create economic and social value simultaneously. Both have assets that can be deployed to innovate around technology and address many, if not most, of the UN Sustainable Development Goals. Verizon's Innovation Center in Waltham has unlimited potential to attract the best and the brightest from Boston area schools to leverage Verizon's technology to create and scale solutions that can address such challenges as mitigating food waste; creating a culture of health and wellness; addressing safety and well-being; addressing climate change; creating connected, sustainable, inclusive cities; addressing infrastructure issues; and more.