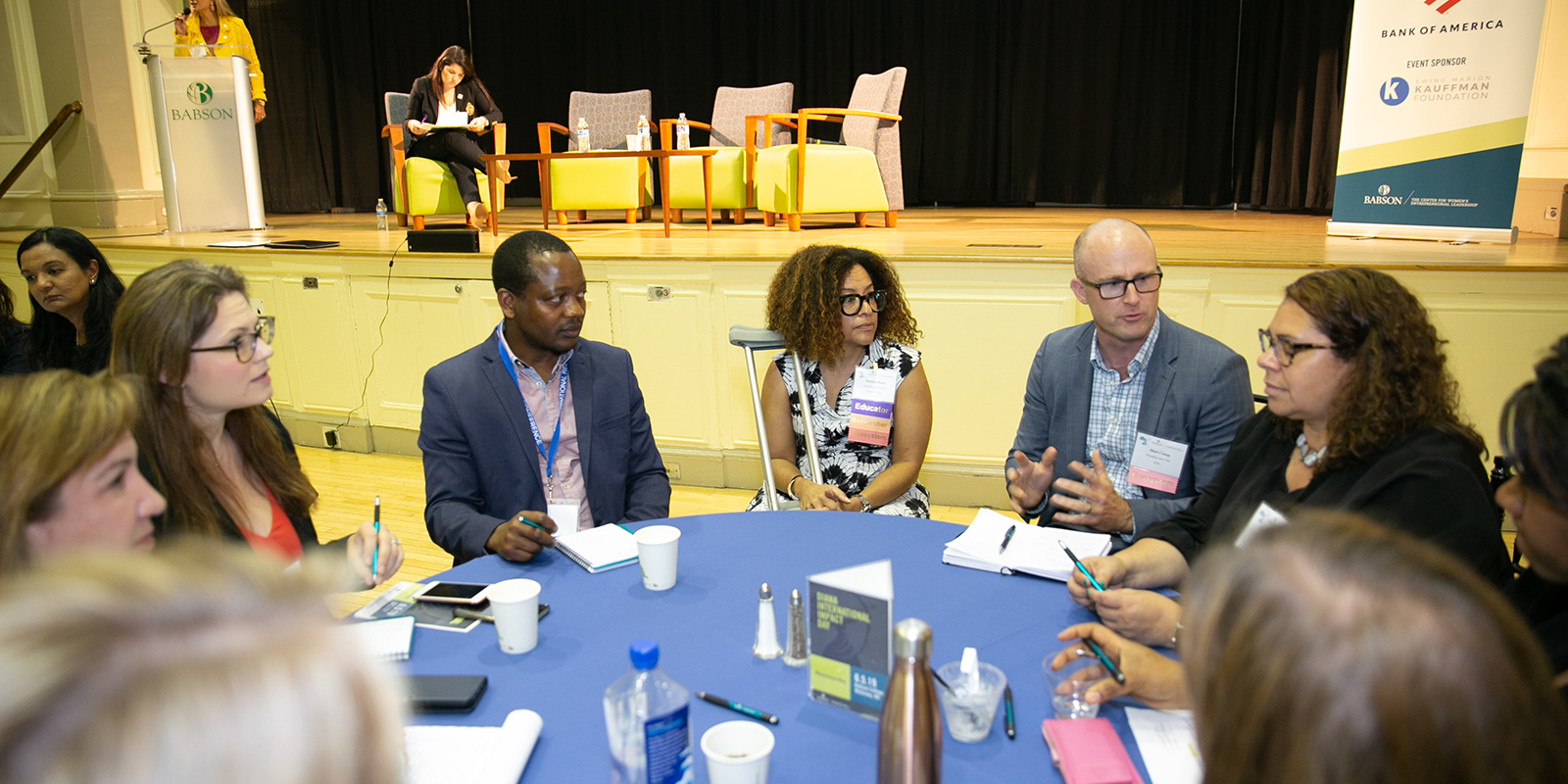 DIRI Researcher Roundtable Discussions
Join us for a series of virtual researcher round table calls with experts from around the world to discuss inspiring new research directions, theoretical lenses, methods, and approaches that can lead to new understandings of women's entrepreneurship.
These roundtable calls are open to all DIRI members for free. Non-members must pay a general registration fee of $50 per webinar or a student registration fee of $25 per webinar to participate. To become a DIRI member, learn more here.
Upcoming Events:
Self-Empowerment and Equity for Change (SEE Change): Developing and deploying behavioral interventions designed to foster personal agency for women entrepreneurs
Date & Time: March 9, 11:00 AM EST
Developing a successful entrepreneurial mindset requires a strong sense of personal agency. Women living in resource-poor settings face significant challenges on the path to entrepreneurship, in large part due to poverty and discriminatory social and cultural norms. Overcoming these challenges requires access to resources and finance, and they must also have the personal agency to exercise their rights and take advantage of opportunities to build their business - to move from knowledge to action. Our team at the Self-Empowerment and Equity for Change (SEE change) Initiative at the Johns Hopkins University, Bloomberg School of Public Health, has spent more than a decade developing, testing, and deploying behavioral interventions designed to foster personal agency for women working in low- and middle-income countries, with a focus on female entrepreneurs. The 'Empowered Entrepreneur Training Program' draws from diverse theoretical backgrounds in positive psychology, adult learning, and neuroscience, and is unique in its global focus. In this roundtable discussion, we will share lessons learned to-date about scaling personal agency approaches and highlight current avenues for research and program collaboration with SEE Change.
More About the Speakers:
Anita Shankar is an Associate Scientist in the Department of International Health at Johns Hopkins Bloomberg School of Public Health and is Executive Director and Lead Trainer for the Self-Empowerment and Equity for Change (SEE Change) Initiative. Her more than 25-year research career in health and development has spanned more than 10 countries worldwide, where she has lived and worked, focusing on a range of public health issues including personal empowerment, maternal and child health and nutrition, and human resource capacity building.
Paul Spurzem is a Lead Trainer and Program Director at SEE Change with a focus on communications, technology development, and program management. Since 2013, Paul has worked with educators and entrepreneurs globally to adapt and use personal agency-based empowerment & leadership practices for their own contexts and goals. Paul is also a certified public accountant and co-founder of Visionaria Network, a non-profit organization activating local visions for personal and sustainable development in Latin America.
Gender and Entrepreneurship: Insights From and For Research and Teaching
Date & Time: March 25, 11:00 AM EST
More than a decade has passed since Shane (2008: 126) observed that the "only thing you need to know" to predict whether someone will start or run their own business is "his or her gender." Many believe that the past few years have been a sort of 'golden era' for women entrepreneurship with the number of women entrepreneurs increasing dramatically, as reflected in pronouncements such as "female entrepreneurs represent the fastest-growing category of entrepreneurship worldwide" (Cardella, Hernandez-Sanchez, & Sanchez-Garcia, 2020: 1557). We will look at the state of women's entrepreneurship, highlight the insidious role of gender stereotypes in the entrepreneurial process, and discuss how we can deal with these issues in our research and teaching. Given that women make up about half of the world's population, and are increasingly competing on an equal footing with men in academic and professional pursuits, we delve into the possibility of gender parity in entrepreneurship, and how scholars (researchers and educators) can contribute to this goal.
More About the Speakers:
Vishal K Gupta is an Associate Professor at The University of Alabama. He has published over seventy-five research articles and book chapters, including in many prestigious journals, such as Academy of Management Journal, Academy of Management Review, Journal of Applied Psychology, Strategic Management Journal, Entrepreneurship Theory & Practice, and Journal of Business Venturing, among others, receiving multiple awards and honors. His recent book 'Great Minds in Entrepreneurship Research' discusses the contributions of the winners of the Global Award for Entrepreneurship Research over the 1996-2020 time-period. His work is regularly discussed in national and international publications, including Wall Street Journal, New York Times, Business Insider, Forbes, and Fortune. He has taught at several leading institutions worldwide, such as Bahrain Institute of Banking & Finance and Indian Institute of Management, among others. He grew up in a family business, where he received his practical training in entrepreneurship and management before making his way to a Ph.D. from the University of Missouri. He is also the author of the forthcoming text Small Business: Creating Value Through Entrepreneurship with Wiley.
Topic: COVID-19 Impact on Women's Entrepreneurship Research: New Questions, Approaches and Methods
Diana Host:
Dr.

Amanda Elam, Research Fellow, Diana International Research Institute
Panelists:
Dr. Donna Kelley - Professor of Entrepreneurship, Frederic C. Hamilton Chair of Free Enterprise, Babson College / Board of Directors, Global Entrepreneurship Monitor (GEM) / Team Leader, GEM United States

Dr. Susan Marlow - Professor of Entrepreneurship, Queen's Award for Enterprise, University of Birmingham

Dr. Karen Hughes - Professor in Strategic Management and Organization (School of Business) and Sociology (Faculty of Arts), University of Alberta

Dr. Friederike Welter - President and Managing Director of IfM Bonn, Professor of SME Management and Entrepreneurship, University of Siegen
Topic: Exploring Entrepreneurship Policy from a Gender Perspective
Sponsored by Global Women's Entrepreneurship Policy Research Network (Global WEP)
Moderator:
Dr. Karen Hughes - DIRI Research Fellow & Visiting Scholar, Professor in Strategy, Entrepreneurship and Management (School of Business) and Sociology (Faculty of Arts), University of Alberta
Speakers:
Dr. Atsede Tesfaye, Assistant Professor, Addis Ababa University in Ethiopia
Dr. Rosa Nelly Trevinyo-Rodriguez, Family Business Most Trusted Advisor and Board Member
Discussants:
Dr. Susan Coleman, Professor of Finance Emeritus, University of Hartford
Dr. Barbara Orser, Full Professor and Deloitte Professor in the Management of Growth Enterprises at the Telfer School of Management, University of Ottawa