Diana International
The Diana International Research Institute will be the first global research institute in the world dedicated to being the source of all research, policy, and educator information about women's entrepreneurship. By supporting and connecting a worldwide community of scholars, we will bring together the brightest minds conducting, translating and disseminating rigorous research about women's entrepreneurship that can directly impact teaching, policy and practice.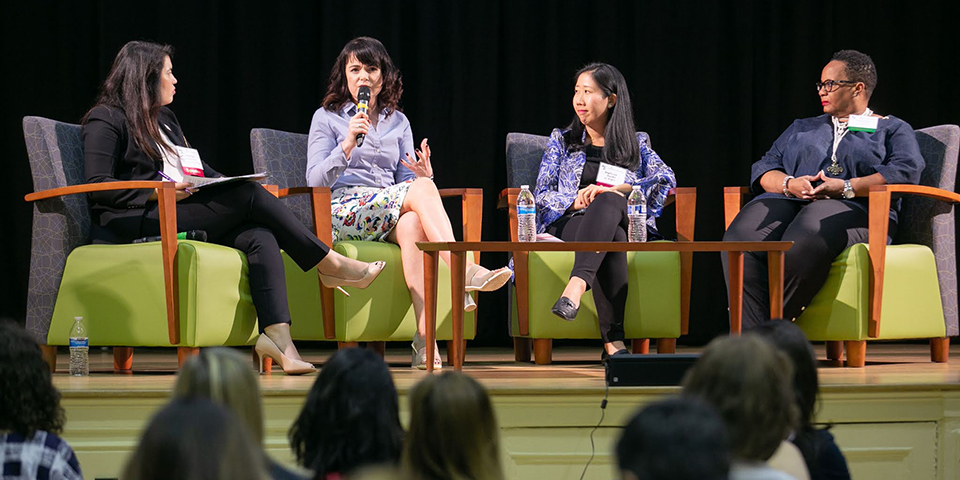 Become a Member
Join a global community to share best practices and develop practical approaches to further research and action on women entrepreneurs. Click to learn more about our membership program.
---
THE OPPORTUNITY
Empowering women entrepreneurs will create jobs, increase incomes, lift thousands of households out of poverty, and lead to greater economic and social transformation. Even though 224 million women entrepreneurs run businesses around the world, there are only seven countries where men and women start businesses at an equal rate. Globally, women own about 30 percent of the businesses currently operating, but only employ around 6 percent of the workforce.

Imagine then, how women entrepreneurs could shift the economic trajectory of the world, if we better understood how to enable them to launch and grow successful ventures through research. Despite the significance and size of this potential impact, scholarly research including or focusing on women entrepreneurs comprises less than 10% of all academic studies. This means that most of what we know about entrepreneurship is based almost exclusively on research about men. We lack research that allows us to understand the differences between men and women in the ways they start, lead, or grow their ventures.
---
THE SOLUTION
Without research and data, designing effective policies and programs for women entrepreneurs that will meet their needs is nearly impossible. To solve this problem, we propose the creation of The Diana International Research Institute, the first, and only, research institute in the world dedicated to studying women's entrepreneurship. The Institute would comprise the following:
The Diana International Research Institute will provide support for the annual Diana International Conference and serve as a collaboration mechanism for scholars doing research in women's entrepreneurship world-wide.
The Diana International Membership Organization is a global community of researchers, educators, policymakers and other entrepreneurial stakeholders who collectively identify, investigate, and share best practices while developing practical approaches to further research and action on women entrepreneurs and their businesses.
Members are:
Scholars advancing research on gender and women's entrepreneurship for women entrepreneurs, their businesses, and context
Educators and Program Directors sharing best practices and teaching innovations for gender and women's entrepreneurship
Policymakers supporting women's entrepreneurship through policy development and deployment as well as data dissemination and advocacy
Practitioners supporting the women's entrepreneurial ecosystem by contributing to research, education and policy.
Through engagement in the Diana International Research Institute
All members will:

Connect with scholars, educators, and policymakers investigating, educating and advocating gender and entrepreneurship, women entrepreneurs, women-led businesses and contexts surrounding women's entrepreneurship through an online platform
Learn more about membership and it's benefits, here.
The Diana International Research Conference is the only research conference that brings together the top international scholars on women's entrepreneurship annually.
The 2020 Diana International Research Conference will take place October 19-20 and will be located at IPAG Business School, in Nice, FRANCE. We invite participants to consider submitting manuscripts that relate to this year's theme: the role women entrepreneurs are taking within family firms, on many diverse levels. More specifically we are interested in exploring if belonging to a family-owned firm fosters or hinders female entrepreneurship differently in comparison to women who do not have a family business background. We are also interested in exploring how the different roles that women have in their families (daughters, mothers, sisters, spouses, grandmothers) differently affects their commitment towards entrepreneurial activities and entrepreneurship. Finally, we seeks to explore the role of women in entrepreneurial teams (familial, mixed and non-family teams).
To learn more about this year's conference, head here.
The Diana International Foundation will provide financial support (grants and travel expenses) for junior researchers and PhD students from less developed
economies to attend academic conferences to present their papers and scholarly work.
The Diana International Senior Visiting Research Fellows Program will provide support for senior visiting research fellows who would spend 6 months to 1 year working on scholarly research at the Institute.
---
Thanks to our Diana International Partners

BANK OF AMERICA PRIVATE BANK
Bank of Amercia Private Bank has been a vital partner in the Diana International Research Institute through it's collaboration on Diana Impact Day and a new study entitled Beyond the Bucks, which examined how women entrepreneurs overcome challenges to business growth beyond venture funding. Read more here.

---
INTERNATIONAL JOURNAL OF GENDER AND ENTREPRENEURSHIP (IJGE)
The Diana Project International supports and connects the community of scholars dedicated to the study of women's entrepreneurship and their businesses, and provides a forum for scholarly debate, presentation and dissemination of this research, translation into teaching, policy and practice. These aims align directly with the aims of the International Journal of Gender and Entrepreneurship (IJGE), which occupies a unique position within scholarly research as the only journal focusing on Entrepreneurship in the context of Gender.